I'M always surprised when a footballer answers back.
I've only experienced it a couple of times. Whether that was an ex-Liverpool player who muttered the word "prick" to a disgruntled and annoying Paddock regular who felt the need to constantly tell him he wasn't very good, or the opposing player who replied "I'm just trying to fucking get a touch," when told to hurry up with a throw in during a particular game.
Without stating the unmistakable, footballers are phenomenally unique individuals. Often seen by us as nothing more than bursts of orchestral colour across a sea of green, while surrounded by a cacophony of noise they are expected to remain completely alien from.
Yet once in a while we're reminded of their humility, of their mere mortality as young men in their 20s and 30s being bombarded with expectancy and maturity beyond their years and ours.
They are fully aware of it. Terry McDermott has talked openly about how he and his teammates would often try to avoid the same fan in the Lower Kemlyn who would be on their backs if they weren't on their game.
In today's game, the involvement of social media adds another dimension completely, of course. Lost somewhere in the ether of point scoring and "he said, she said", players can find themselves as pawns in a contest completely removed from the football pitch, and often without a shred of its decorum.
The question then becomes about motive. What is your motive when watching Liverpool and wanting them to win a game of football, wherever in the world you're watching them?
If you want to win because watching this team fills you with joy and pride and they are a set of lads who you feel you could easily go for a pint with, then great.
If you want them to win so you can reinforce the notion that you've survived another day on a platform of banter with a set of strangers, worse still a part of you doesn't want to win just you can say "I told you so", then maybe you need to reassess this thing entirely.
Those privileged with entering the Anfield turnstiles this season have generally been in this for all the right reasons.
We are a crowd that is constantly evolving our own culture, a culture which we have spontaneously formed over decades and has no template to what we do next.
Fan groups such as Spion Kop have added youth and vibrancy to a stadium varied in diversity and lived experiences, all striving for a collective harmony.
The aspirations of atmosphere at Liverpool are often mocked by fans from all over the country putting on strange southern accents to ask us where it is or tell us this is a library.
Yet we know atmosphere isn't just about having songs so others can rip them off and sing about us when we're not playing them.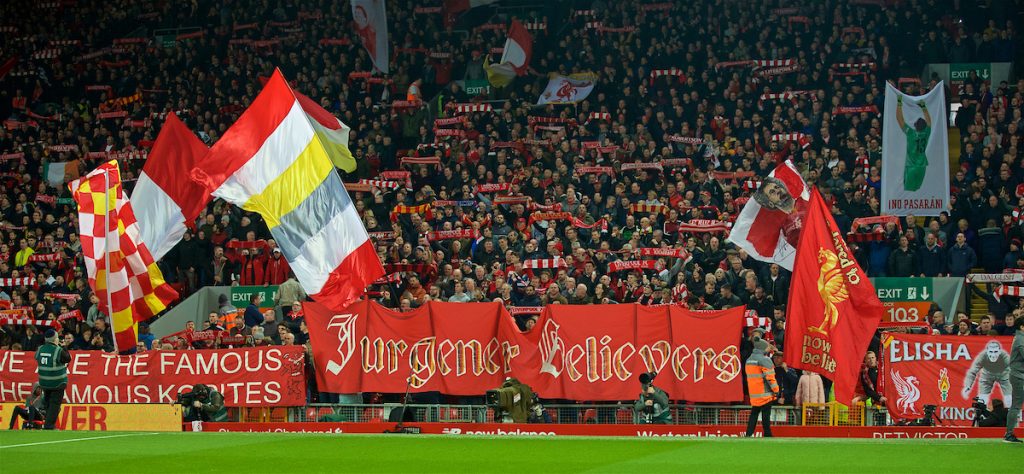 It is about doing what makes the difference. Extinguishing any tensions and anxiety which could filter down on to the pitch, and redirecting any angst and frustration at opposing players and officials we see as barriers to our goals, holders of our points.
Atmosphere should be making the pitch as claustrophobic as possible for those on it. About closing in all four corners of the stadium to make the home and away team feel like we matter, that we're a part of the outcome of each individual game.
This is a hard balance at times. Enjoying the day while simultaneously wagering so much of that enjoyment on the outcome of the encounter always creates an uneven chemistry..
However, fulfilling a promise to be fully invested in backing our team for 90 minutes should be the minimum level of commitment we apply to any Liverpool side whenever we all come together.
Anyone feeling pressure should remember that pressure comes from those who want the situation you're in. They should not cloud your own desires and they certainly should not be allowed to taint your identity.
We have been on a journey of many things under Jürgen Klopp. We have assessed ourselves and each other and found a new medium coupled with a team we can absolutely back to the hilt.
That hasn't always been the case. Think about some of those atmospheres before we went on this journey. About how it occasionally felt like nothing you witnessed struck a chord with the person you are and how, all things told, you weren't really enjoying yourself at times.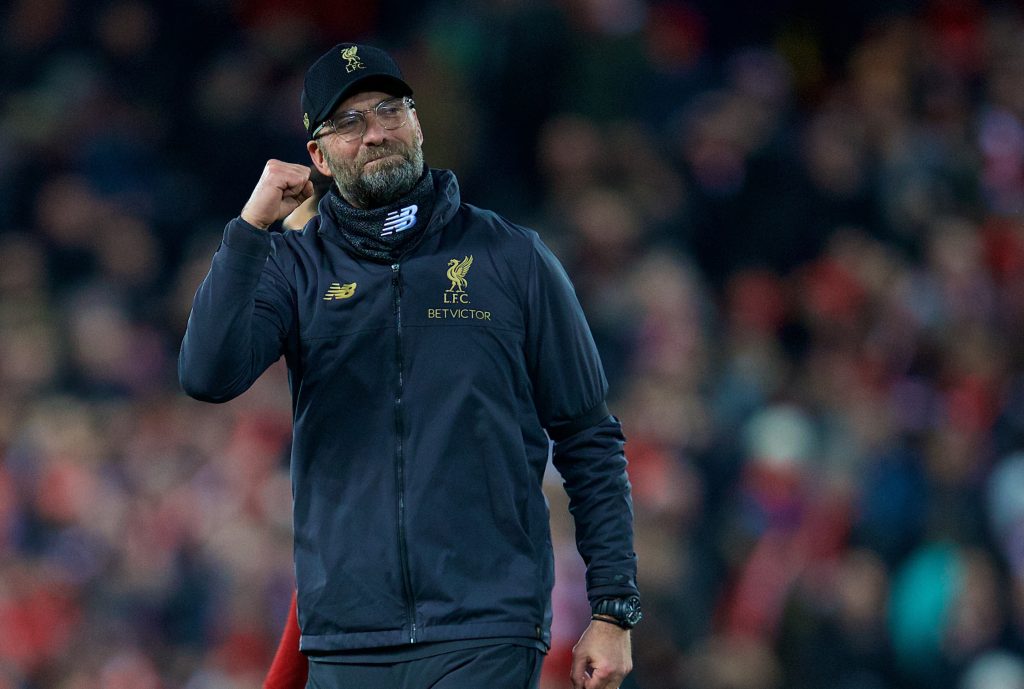 We will continue to learn with each other. In the past fortnight we've learnt about how much thwarting our own happiness burns deep at the heart of our rivals more than ever before.
That's something we will carry forward. Something we will gain a touch more swagger and nous from when it happens next, and something we will address together and get better from. Come at the king, you best not miss.
In a world where arguments and anxieties from complete strangers on various platforms affect you in all manner of ways, think of what's real.
Being in that stadium, think about how lucky you are. Anfield is real; it is not a place for questions of bottle, for timelines or notifications. It's about them and us; anything else is redundant for 90 minutes of your life.
The team will do their best to galvanise such positivity, this team are invested in us more than we realise. They care about making us proud of them and they openly rely on us in a way other Liverpool sides were far too fearful to ever admit.
As Andy Robertson told The Anfield Wrap: "We've only got nine games left and half of them will be at home so if we can create an atmosphere that will make even a small difference to the lads then it will stand us in good stead."
If we've learnt anything from this season, it's the smallest of differences which could ultimately matter the most.
"You don't win the League in December or January.

"This is the bit that matters, and we've given ourselves a hell of a chance." ✊

🎥 WATCH our 35-minute exclusive interview with Andy Robertson in full here 👉 https://t.co/9Xx4DPzmQj pic.twitter.com/WH5QRbQxDR

— The Anfield Wrap (@TheAnfieldWrap) March 8, 2019
Recent Posts:
[rpfc_recent_posts_from_category meta="true"]
Pics: David Rawcliffe-Propaganda Photo
Like The Anfield Wrap on Facebook