SUNDAY was a good day.
Considering it started with me dry heaving in the shower after over-excessing at a wedding the day before, the rest of it represented a great turnaround we can all be proud of.
I left the house at around 8am, grabbing a dozen or so beers I couldn't yet face and a mountain of sandwiches I appeared to have drunkenly made the night before.
I spent the Merseyrail train to town sat on my own evaluating my life choices and wondering if I should jump off the train at Central and go straight back to bed. But soon I was on a Virgin train to London and raring to go. It's amazing what all your mates and starting drinking again can do for your spirits. Even if your mates are a dreadful as mine.
But I also had my mood lifted by the presence of an eight-year-old lad we know on his first away trip.
There had been a couple of dropouts the day before and so we offered the ticket to young Ben and his dad because we know how much he loves football and not, I repeat NOT, because we realised we were travelling to London on a family railcard and had no kids with us. No it was all about making young Ben's dreams come true.
He was very excited, though. Also, kids know so much more about football than us, don't they? And it's meant to be my job and that. I mean I know a lot about Liverpool, good places to drink around away grounds and shirt sponsors from the 90s, but that is about it really.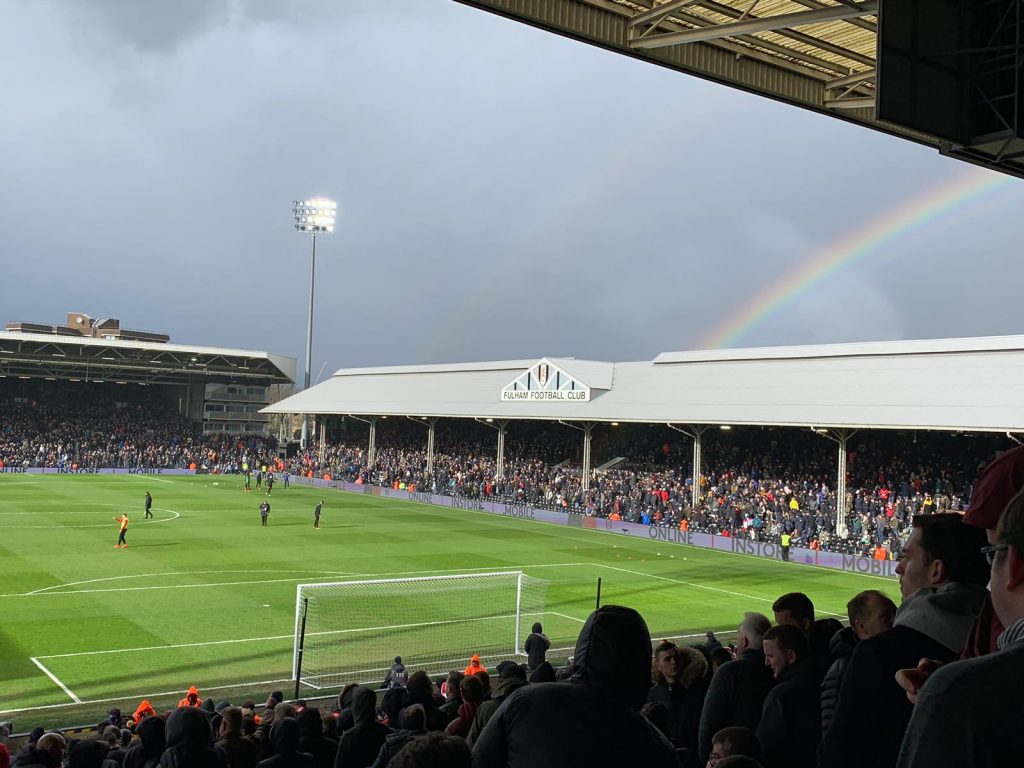 Ben knew all about the Fulham players and everything, and worst of all he seemed to expect us too as well. He'd look at us and say things like "bit of a surprise to see Fosu-Mensah start at right back" and "Chambers normally plays in midfield for Fulham, doesn't he?" and seemed to be expecting a bit more back than a blowing of the cheeks or "Yeah… Mad, isn't it?".
One of our mates only realised Ryan Babel played for Fulham when he saw him on the pitch. But it's always good to start disappointing children as early as possible in their lives, I suppose.
There was very little else that disappointed Ben that day. You forget when you go to so much football just how exciting the whole thing is. The masses of people in one area. The colours, the singing. It's almost overstimulating, almost too much to take in. You'll see young people mesmerised by the whole thing.
But of course the footballers are the main attraction. Everything is about them and their brilliance.
On the day, the Liverpool footballers scored more than the Fulham footballers and that left all the travelling Scousers happy, young and old. But a victory isn't all Ben left with.
At the end his dad took him down to the front to try and get a memento to take home. There were no promises, how could there be? But it was worth a shot. Sometimes a footballer will throw his shirt in. They will usually pick a child. One who might be eight, but looks a bit younger.
Of course it is pot luck. Right place, right time. Even if the footballer decides to give his shirt away, there is no guarantee he will go to your section. So when James Milner came so close but then picked another lucky kid it looked a case of so near, so far.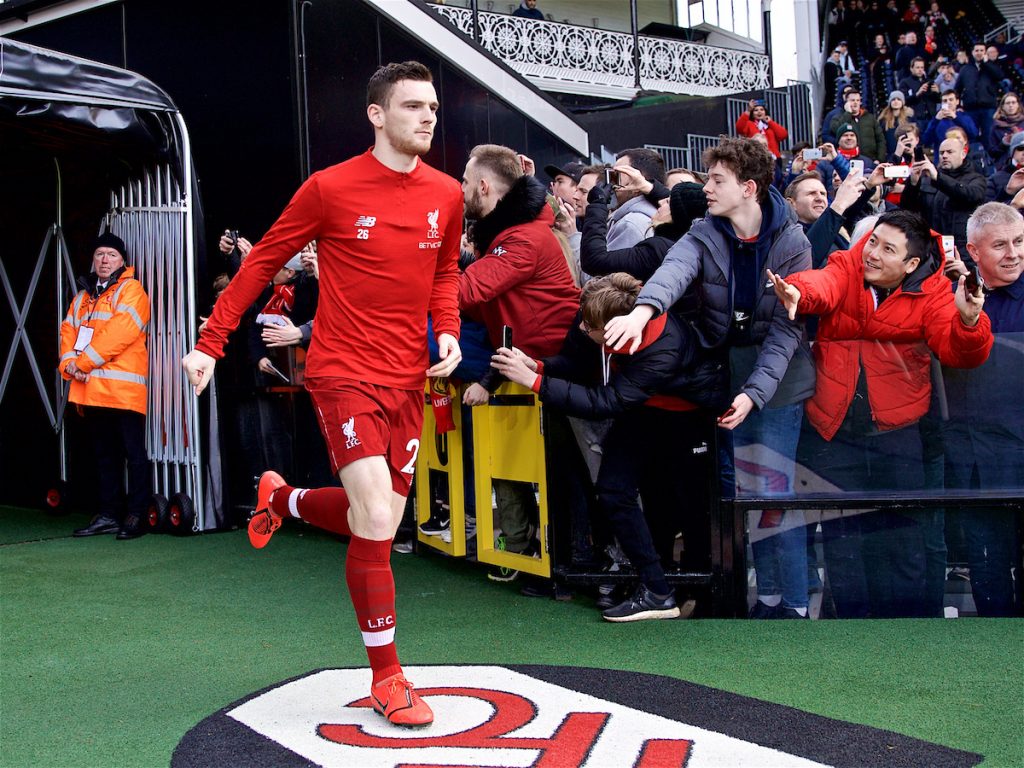 But then Andy Robertson followed him over. And like all the best moments in football — Gerrard against Olympiacos, Origi against Everton — everything went in slow motion. He couldn't, he hasn't. He has! We celebrated it more than the winner.
Coming out it felt like being in the presence of a celebrity. Even more than when I go the match with Neil. Everyone wanted a picture or to say hello to the kid who got Robbo's shirt. The shirt he was wearing that was the length of a dress.
Soon Andy himself tweeted about it. Match of the Day tweeted about it. First away game and you go viral. The rest of us had to wait for Millwall away in our 20s to get so much media attention…
Apparently Ben only took it off when he went to bed, and only then because his mum wouldn't let him sleep in it because it was filthy. Covered in rain, mud and beautiful Scottish sweat.
I doubt he has stopped smiling yet. A small gesture from a footballer that means the world to a young kid who dreams of becoming him. And reminds the rest of us what football is all about.
It was my favourite game of the season by far. Although I'm still hoping at least one this season will top it…
"We shall not, we shall not be moved…" 🎶

✅ Post-Match Show
✅ Post-Match Pint
✅ The Anfield Wrap
✅ The Review
✅ The Second Look

🗣 Subscribe for all of our reaction to Liverpool's 2-1 win over Fulham that saw The Reds go top of League 👉 https://t.co/lmNtBz4ADz pic.twitter.com/AVFRKijFFc

— The Anfield Wrap (@TheAnfieldWrap) March 19, 2019
Recent Posts:
[rpfc_recent_posts_from_category meta="true"]
Pics: David Rawcliffe-Propaganda Photo
Like The Anfield Wrap on Facebook