IT'S a funny old game.
After the media had spent the week laughing at Jürgen Klopp for mentioning the wind as a factor in Liverpool's 0-0 draw at Everton, it was somewhat ironic that they spent this weekend going "blimey, the wind's affecting things a bit here".
Nowhere were the conditions as bad, and then good, and then horrendous, and finally lovely than Anfield on Sunday afternoon. At one point a long ball from Virgil van Dijk beat a Burnley defender, then beat him again as it blew back past him.
The Reds overcame the gusts, the hail and an appalling early refereeing decision to vanquish Sean Dyche's men 4-2. Perhaps the weather and early goal against played a part in slapping the players and fans awake in the midday kick off.
The wind was bracing, and there were braces in the wind as Roberto Firmino and Sadio Mane bagged two goals apiece to take Liverpool back to just one point from the top of the Premier League.
The final nail in the coffin came in injury time when Mane ran onto a Daniel Sturridge ball and rounded Tom Heaton to roll in the home side's fourth just after Burnley had reduced the deficit to one and cranked up the nerves around Anfield.
It was Mane's 50th goal in a Liverpool shirt in 109 games, and his 16th of a league campaign that has seen him fighting for the golden boot among the usual contenders of Mo Salah, Sergio Aguero, Harry Kane and Pierre-Emerick Aubameyang.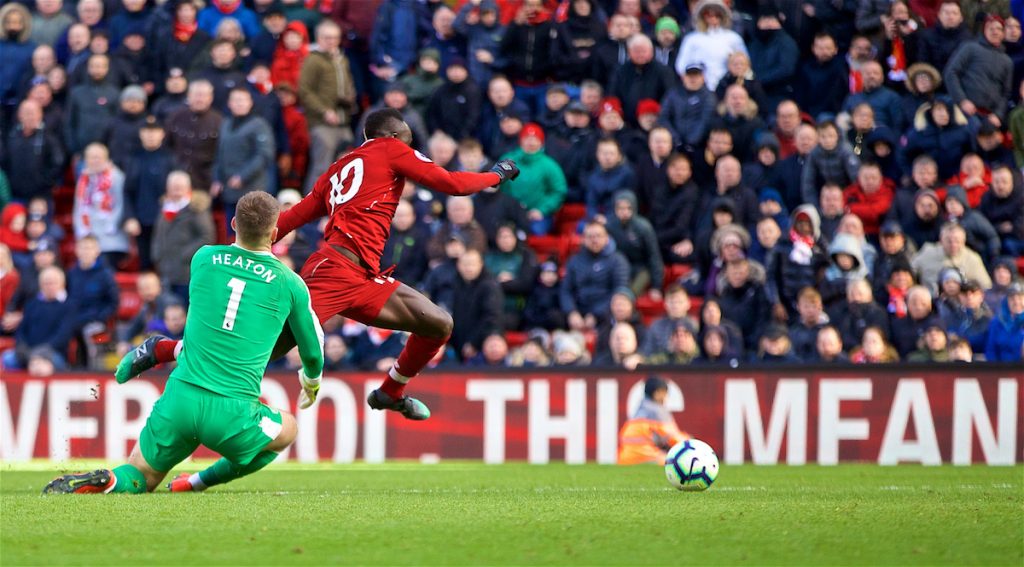 The former Red Bull Salzburg attacker also joined an exclusive club of Liverpool players to score in six consecutive home games in the Premier League, along with Michael Owen, Fernando Torres, Luis Suarez and Salah.
Then of course there was THAT goal against Watford the week before last (seriously, is he messing?) that even had the conceding goalkeeper acknowledge its sheer audacity and brilliance on social media. The sort of goal that only a player with the cheeky inventiveness of Mane could have thought of, let alone pulled off.
It is a wonder then why the Senegalese international seems to be relatively underrated compared to his peers.
It's not that anyone really thinks Mane is a particularly limited player, or is undeserving of playing in this sensational Liverpool side. There just seems to be a general subconscious idea that he's almost "the other one" of The Reds' attacking machine.
I read an article recently that was actually designed to praise his potency in front of goal, but also referred to him being considered to be the "weak link" of the front three. I've watched Liverpool games among non-Liverpool fans before and if Mane misses a chance, the response is often something as baffling as "of course he missed, it's Mane".
There's a chance that rival fans who don't watch him every week could just be missing what we see, but it does seem a bizarre take and got me wondering where it all comes from in the face of fairly impressive numbers and performances. Perhaps the fact he was once merely a decent Southampton player is still being held against him.
I remember when Liverpool were first linked to Mane, there was a certain feeling among the fans of being underwhelmed. Not that he wasn't rated as a player, but during a transfer window where it felt we really needed to bring in a belter to push on and bring some goals, we went and got yet another lad from The Saints who possibly wasn't even as good as Graziano Pelle (Ron Howard voice… "He was".)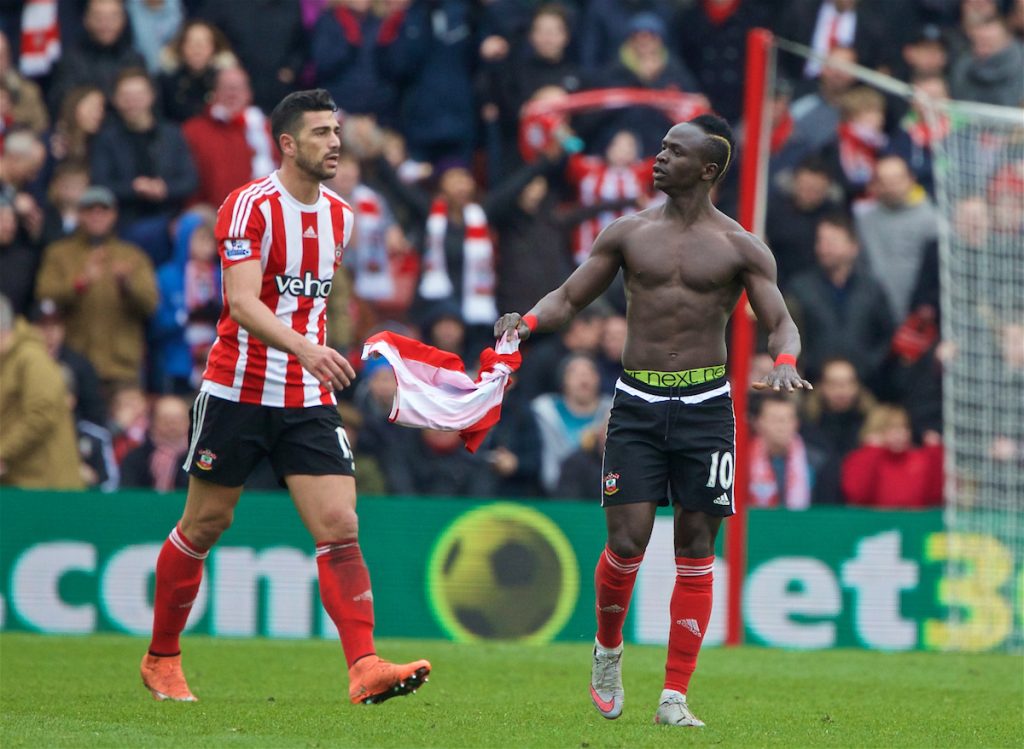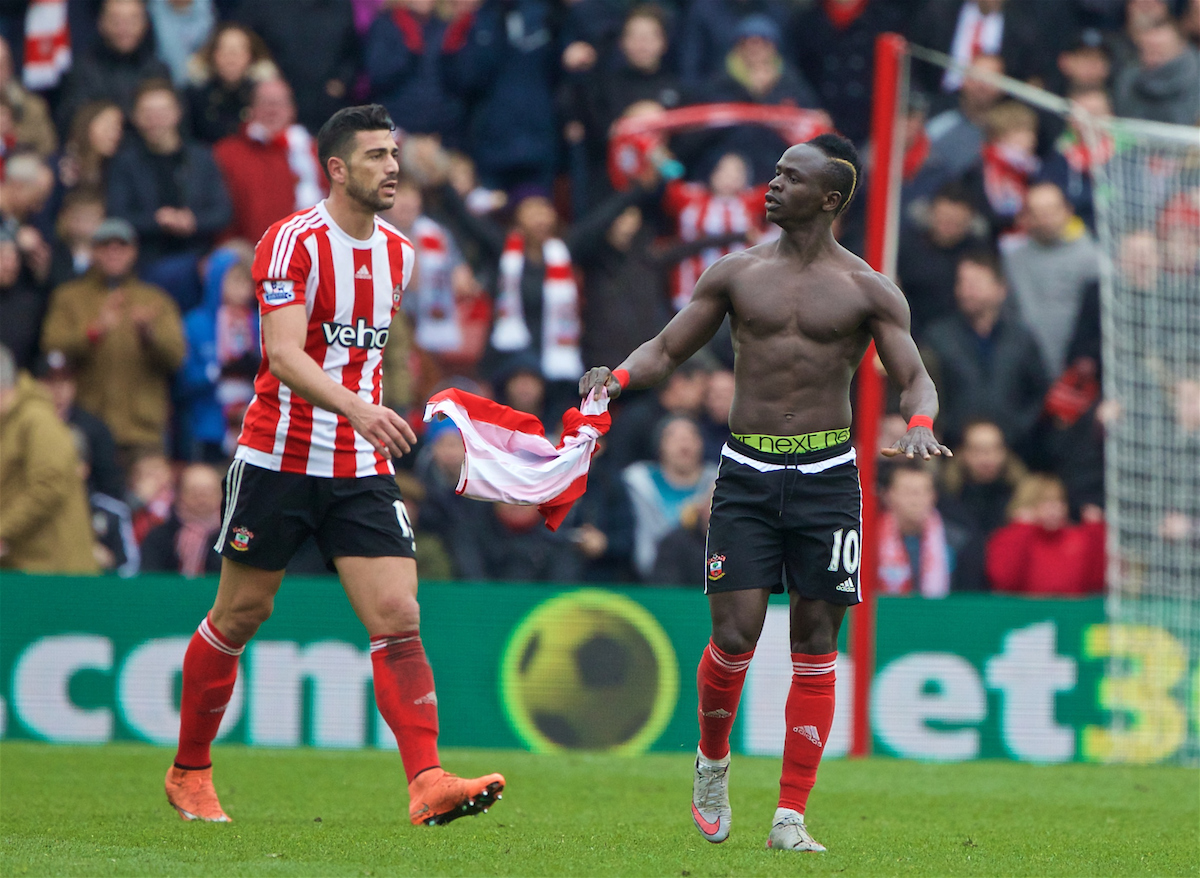 Then, when it came out that The Reds were paying over £30m for him — back when that was a lot of money — the general consensus was "are we messing?"
Mane had reportedly turned down Manchester United and Tottenham to come to Anfield, and it soon became apparent that Liverpool had themselves a potential superstar. His goal at Arsenal was a statement goal, and he went on to be Klopp's best lad during his debut campaign.
In his second season on Merseyside he had to adapt, moving from the right to the left to make room for a certain Egyptian King. There were some teething problems but eventually he made the role his own and had a crucial part to play in Liverpool's run to the Champions League final, scoring in every round from the group stage onwards.
He made us dream by scoring the equaliser in the final in Kyiv, and also hit the post with an effort from range. With a bit more luck (for him and his teammates) he could have ended up being the hero of the night.
Reds fans will be hoping he can carry on his Champions League tradition by scoring in the last 16 second leg against Bayern Munich on Wednesday.
The main thing that Mane has to master now is consistency. Recent games have perhaps been a microcosm of his career to date. Sensational performances against Watford and Burnley have come amid more anonymous showings at Manchester United and Everton.
There's an inconsistency with his finishing as well. He scored a supremely well-taken goal to put Liverpool 2-1 up on Sunday, and then managed to hit the bar on the stretch from three yards out in the second half.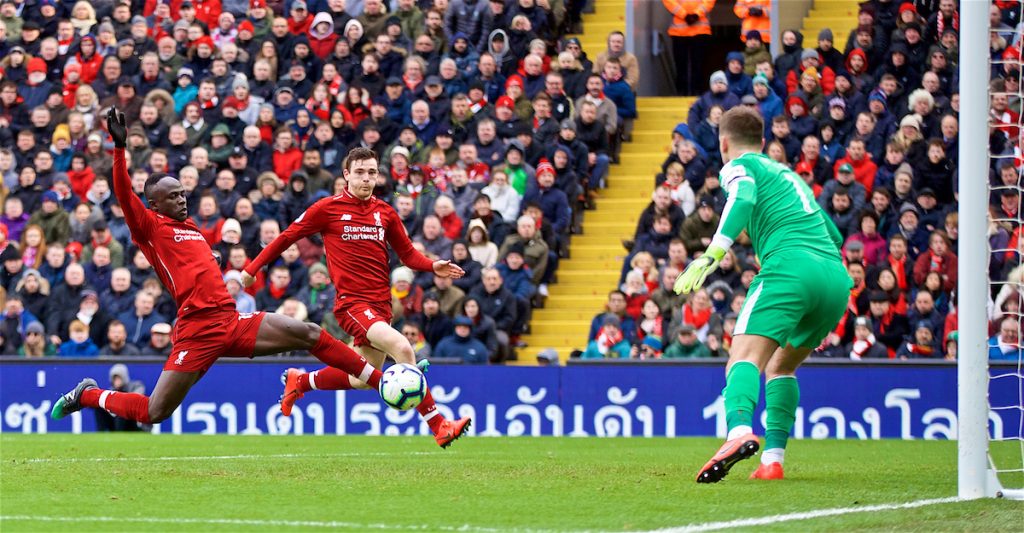 That said, even the very best miss far more than they score. Kane misses plenty, as does Aguero, and as we've seen lately, so does Salah. The key is to keep being in those positions to score, and Mane showed just that capability with his second against The Clarets.
Sadio is every bit the equal of Firmino and Salah. He's often as key to the tempo of performances as Bobby and is starting to match Mo for goals. Some outsiders may not see it, but there's very good reason that there was a huge collective sigh of relief when the player signed a new long term deal at Anfield in November.
Mane surely knows how loved he is here. He has his own song and people are seemingly constantly asking him for pictures in supermarkets, but he may feel that in order to get the recognition he deserves in the wider game, he needs to win trophies. That could explain why he is currently playing with the determination of someone who really wants to win this league title.
If he can put in a few more showings like Sunday, he'll give himself and his teammates every chance to do so.
I'm sure he still has a Champions League itch that needs scratching too.
"We're all focused on the League but European football is amazing.

Tomorrow night is going to be spectacular." 👏

🇩🇪 Bayern Munich preview with @PeterMooreLFC pic.twitter.com/Vw8PMNUESl

— The Anfield Wrap (@TheAnfieldWrap) March 12, 2019
Recent Posts:
[rpfc_recent_posts_from_category meta="true"]
Pics: David Rawcliffe-Propaganda Photo
Like The Anfield Wrap on Facebook