YOU kind of know when you've seen the champions play. You just do.
There is not one defining quality or trait that singles out the team that finishes top of the league, they just have an air about them — a certain demeanour, a bearing, a whiff of something superior.
Liverpool didn't really smell of anything at Goodison or Old Trafford. No scent, no tracks you could follow, no clues as to whether they are going to get this thing done or not.
Sometimes they look the part, sometimes they look the pretenders. Twenty-nine games into the season and I still can't make my mind up about them. And I'm not even sure that Jürgen Klopp can anymore.
Each selection, each substitution seems to give us a fresh insight into who and what he trusts at any given time but it's not a team that picks itself right now, and not since the United match in mid December has Klopp made a change from the bench that made a change to the game.
I was at Goodison on Sunday. Me and my man flu, surrounded by baying Blues in the Main Stand, waiting for Liverpool to raise their game above the squabbles and the squalls and take care of business.
They were probably one sure-footed finish away from being widely credited with a textbook champions' display. One goal would have sorted it, quietened the din, silenced the doubters.
For some reason it's those gritty, growling, ground-out wins that seem to bring the best character references from the pundits during the run in. "Playing badly and winning," is a perceived virtue.
Liverpool didn't even play that badly, they just didn't have that champion whiff. Last Wednesday, yes. Last Sunday, no.
The really bad news was that some observers were even starting to feel a bit sorry for them by the time I reached Keele Services. One tweet from a leading football writer saying, "dethroning a side as brilliant and dominant as City were last season was always going to be a big ask", got thousands of sympathetic likes.
Liverpool don't need anyone's sympathy. They have not been after "likes" at any stage of this campaign. They may even have been more fun last season, they just weren't this good, weren't this ready.
They've been single mindedly stalking the Premier League trophy. Ki-Jana Hoever didn't come on at Wolverhampton to show everyone how promising the future is. This season has been all about the here and now. Whatever comes next will look after itself if the current potential is first realised.
The FA Cup compromises were designed to keep the powder dry for a shot at the prime target, a means to end the long wait for a league title.
Never mind the progress, feel the priority.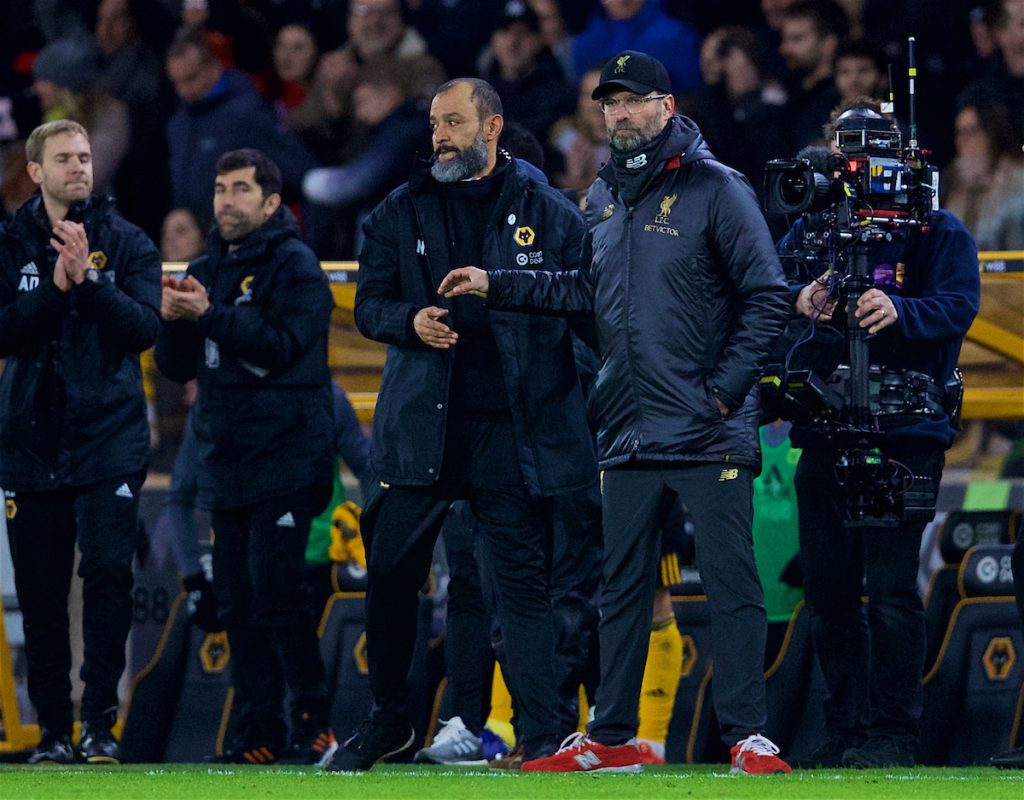 That priority has not changed because the league table that never lies is now saying that Liverpool's fate is out of their hands for the first time this year. Yes and no. I'm pretty sure that winning the remaining nine games will still be enough. It's so close and the first challenge is to keep it that way.
Prioritising does create its own pressures, though.
A silly simplicity descends upon football analysis as the finishing line moves into view. A scuffed shot, a terse interview, a reluctance to throw extra forwards at a tight game are all sagely diagnosed as symptoms of, well, "bottling it". You can't even talk to a ballboy.
Are Liverpool looking nervous? I bloody well hope so. Major honours are not worth winning unless challenging for them stirs your emotions.
You could almost see the thought bubbles coming out of the players' heads at United and Everton; "We've got a bit of control of this game… We're making some chances… We should really be winning it but we are not… Do we stick, do we twist?"
This is a group of players that are entering uncharted territory together every week. They can't all look as chilled as Virgil van Dijk when it matters this much. You don't even want them to.
The reason the manager connects with the fans is that he goes through the same wringer that you do, sees it through the same rosy red shade of spectacles.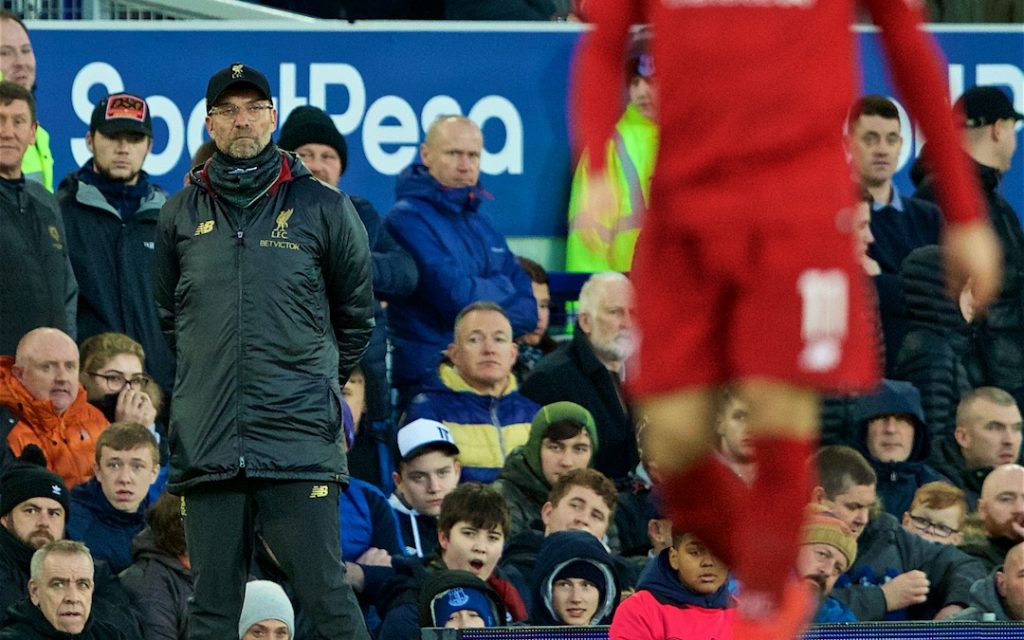 Klopp is (thankfully) not the kind to listen to media management advice, but it may be better if he stopped talking about City, stopped mentioning the "29-year wait" and stopped referring to the wind for a while, and just whipped up a hurricane inside the four walls of his dressing room.
What he is constructing is built to last, but this is not a time for taking comfort from the promise of Rhian Brewster and Harry Wilson, not a time for drooling over the balance sheet and wishlisting the other players that can fuel the future. This is a time for fixing the blinkers and focusing on the next two months. Nothing else.
You never know in football, never know when the next chance as good as this one will come along. This is a quest for silverware not silver linings.
Perhaps it was my man flu but I just got a sense on Sunday night that some Liverpool fans were almost accepting of the fact that this may not quite be the time. That fourth to first, that a 25-point leap, might be too much to realistically expect in one year. That this squad will be even better equipped next season.
If you think that football is reality, you're not watching closely enough. Next season? Fuck that.
Liverpool are right in this. They just need to get that smell of success back.
"I've watched loads of shit Liverpool seasons and this isn't one of them.

"We're in a sustained title challenge for the first time in a long time, we've got to stay positive." 👏

🗣 Listen to this week's FREE Anfield Wrap show in full here 👉 https://t.co/52wsh6SmxI pic.twitter.com/6mTemQo3y3

— The Anfield Wrap (@TheAnfieldWrap) March 4, 2019
Recent Posts:
[rpfc_recent_posts_from_category meta="true"]
Pics: David Rawcliffe-Propaganda Photo
Like The Anfield Wrap on Facebook