WELL, somebody's got to say it…
That was not a great Liverpool performance. Not for me, Clive.
Great result, deserved result, decisive result. Such a great result that you can tell me that the performance doesn't matter, tell me to stop being a grumpy old man, tell me to go and reproduce with myself.
I just think this Liverpool team are better than that. Even better.
You could be reading the most heavily veiled compliment that Jürgen Klopp's side will ever receive but I don't think they played to their potential last night, that's all. If they do perform as they can in the remaining weeks of the season, I think they have an opportunity to make this a time that you will never forget.
I saw Liverpool win in Munich in 1981 and it wasn't pretty. I have seen all five finals that the club have won and they probably only played to their capabilities in the first of them. The good old days weren't all good.
This is a cup competition. The result is the only thing that really counts. Manchester United got lucky in Paris, Liverpool's only slice of luck last night was that Bayern were so poor. It is a measure of Klopp's progress at Anfield that the best team in Germany seemed to fear the worst against him.
I saw nothing in Munich to suggest that Liverpool are not quite ready to win either or both of the glittering prizes they are chasing so proudly, so promisingly. I just know they will need to perform better than they did last night to conquer either summit. I hope someone on that jubilant flight home was bold enough to say it out loud.
If I'd known they were going to win 3-1 in the end, I could have almost laughed at some of those misplaced passes. There were dozens of them. The classic Bob Paisley mantra of "pass to the nearest red shirt" was being followed comedically at times. Bayern just kept giving it back rather apologetically.
I swear, the Champions League became the Childwall League for a spell. Division three.
Yes, I know it was tense, top-level competition but there is a lot more of that to come if the biggest boxes are going to be ticked. Liverpool will need to be better. Just saying.
Andy Robertson's late, lamented yellow card was symptomatic of the untidiness, the carelessness. Too much of the decision making was messy and muddled. Never have I shouted "keep it" so many times at a slab of plasma.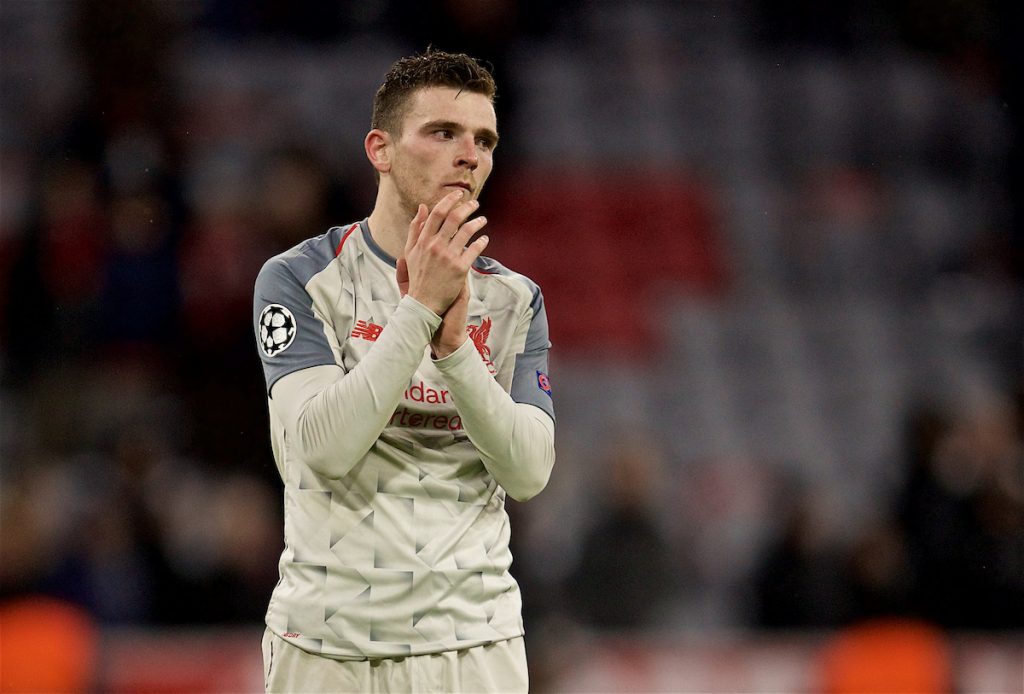 As if to strengthen the tetchy case I'm making against your heroes were the three shafts of blinding light that won the tie. The goals were all superbly crafted and taken.
They were the three irrefutable items of evidence that Liverpool can rise to heights several planes above the level at which they idled along for too much of last night's game. They were Liverpool goals.
If Ludwig van Beethoven had been at the match, he'd have gone home and written a symphony about Sadio Mane's first. In about five movements. Each element of the goal deserved a standing ovation.
UEFA should have called for a five-minute suspension of play the instant that Mane tamed the awkward ball dropping over his shoulder with the outside of his right foot.
After a period of appreciation and thanksgiving for that stunning first touch, Sadio could then have performed the impossible turn that opened up the chance before a further pause in the action for Manuel Neuer to find his way back into the stadium.
Then, as the cascading applause for that balletic manoeuvre began to die down, the referee would have blown his whistle to cue the Liverpool number 10 to deliver his piece de resistance with a delicate lofted dab of his left foot. It was more a ceremony than a goal.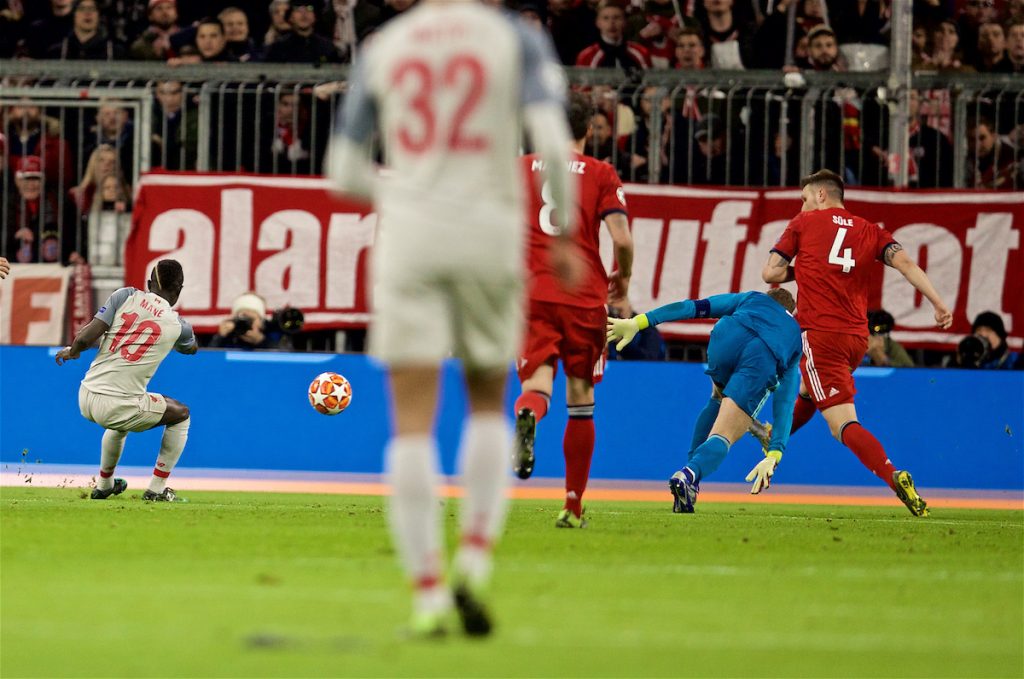 The other two goals were of a similar standard of precision execution too.
The default reaction of every pundit is to find a scapegoat for any set-piece concession. "Who was picking up van Dijk?" Well, two Bayern defenders were not only picking him up but roughing him up to try to prevent him from leaping to connect with a corner of Tom Brady accuracy.
James Milner's delivery had all the destructive beauty of a guided missile homing in on its crosshairs. The floating Dutchman couldn't miss.
Then came the third and even I could stop yelling "ffs don't lose it" at the telly.
Mo Salah has been dividing opinions like Brexit just lately, but the subtle invention of his scoring pass was a further thing of beauty and there was the twisting frame of the man of the moment leaping to improvise another fearless finish. That's what they can do, that's how good they are.
There was a passage of play a couple of minutes before the third goal… 82 minutes, Divock Origi waiting to come on… When Liverpool played half-a-dozen crisp, concise simple passes in little triangles and 15 seconds disappeared off the clock without fuss or bother.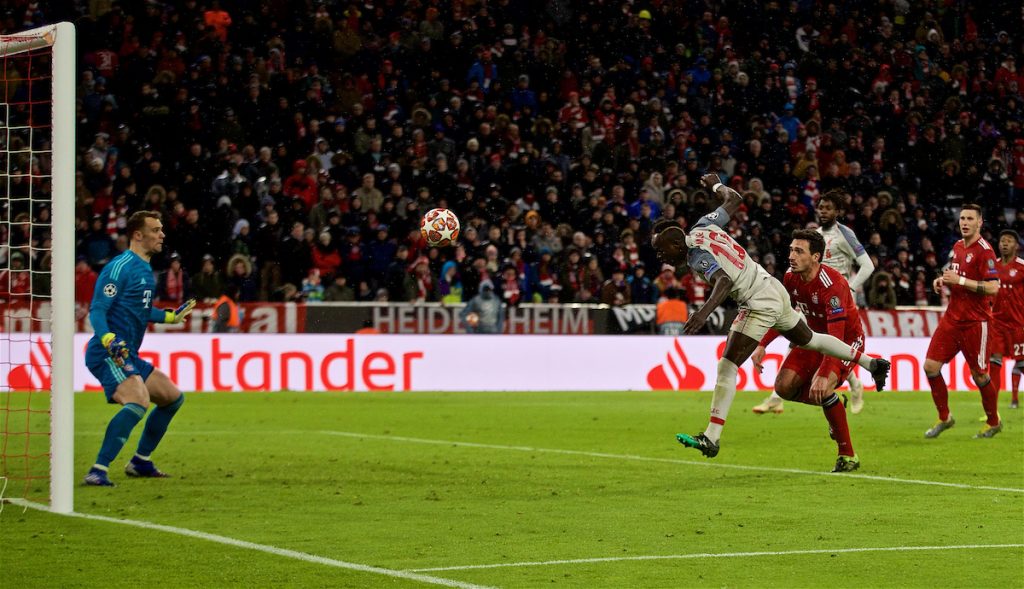 In its own way, it was as uplifting as any of the goals. It was the mature, measured winning football that they are well equipped to play.
So good was the result that it automatically inspired quotes and tweets suggesting that Liverpool had played that kind of football all night long, that they produced a classic, clear-thinking, controlled European away display. I wish I could agree.
They found a laudable way to win. No more. The really good news is that they can play a lot better than that.
If I sound demanding, it is because the challenge of the next two months is going to be very demanding indeed. It is already a very good season, already a very good team and squad. Liverpool have created a tantalising double opportunity for themselves to raise their game and their reputations to the highest heights.
I think it is an opportunity they have the ability to seize. I just didn't see all or enough of that ability in last night's performance. There, I've said it.
"This is a phenomenal football club, one of the very best in the world… and then there's Bayern Munich as well." 🔥

🗣 Subscribe to #TAWPlayer for our immediate reaction as The Reds beat Bayern 3-1 in their own ground to reach the quarter finals 👉 https://t.co/XZAK9veWt7 pic.twitter.com/kSjW6MCemg

— The Anfield Wrap (@TheAnfieldWrap) March 13, 2019
Recent Posts:
[rpfc_recent_posts_from_category meta="true"]
Pics: David Rawcliffe-Propaganda Photo
Like The Anfield Wrap on Facebook