"WE don't draw up a season and say the best way to go through it is to go out of all the cup competitions early.
"Now it is closer to the end of the season and it is allowed to go out of the Champions League without even trying to go through? That's really mad."
Jürgen Klopp was in no mood for what he perceived to be ridiculous and slightly malicious notions around prioritising competitions in the buildup to Wednesday night's 3-1 win over Bayern Munich in the Allianz arena.
Once again he was proved to be right.
To try and negotiate a sale of the European soul for any slight semblance of domestic advantage was shown up as the erroneous viewpoint it unquestionably was.
Whether such theories had a taint of Manchester attached to them or not should not be contemplated. However the concept of somehow giving up on Europe's elite tournament and nights like Wednesday should've been more widely condemned.
Liverpool should never underprioritise European football at any point. There is a body of evidence going back almost three decades now to provide supporters of all ages with feelings of emptiness and irrelevance as a result of not being part of a conversation around the Champions League table.
Some will remember being humbled by Leicester City while Mancunians were creating history in Turin in the late 90s, others may recall watching Chelsea lift their first and only European Cup a week after a purgatorial Liverpool side finished the season with a 0-1 defeat away to Swansea City in 2011-12.
Getting back to the point of what now feels like regular European qualification alone has itself been torturous, at times.
To think of the anxiety ridden buildup to final-day deciders against Middlesbrough and Brighton & Hove Albion over the past two years, only to now devalue the competition at this point is absurd.
Klopp could not hide his jubilation after the victory on Wednesday, with repeated cries of "we are back" symbolising not only the significance of conquering another historic giant of world football, but also referencing Liverpool's consistent reemergence as a continental force.
European victories can be symbolic. This week has been mooted as season defining, but marker victories such as Wednesday can become era defining for teams and fans alike.
How much of Gerard Houllier's era do you associate with nights like Michael Owen's brace in Rome? Similarly, think of how victories at the Bernabeu and San Siro are etched in the memory when you think of the best of Rafael Benitez's time at Liverpool?
Generations of fans come of age with those nights and this competition. Friendships are formed and blossomed around a sea of European culture and foreign rendezvous points all splashed in Liverpool red.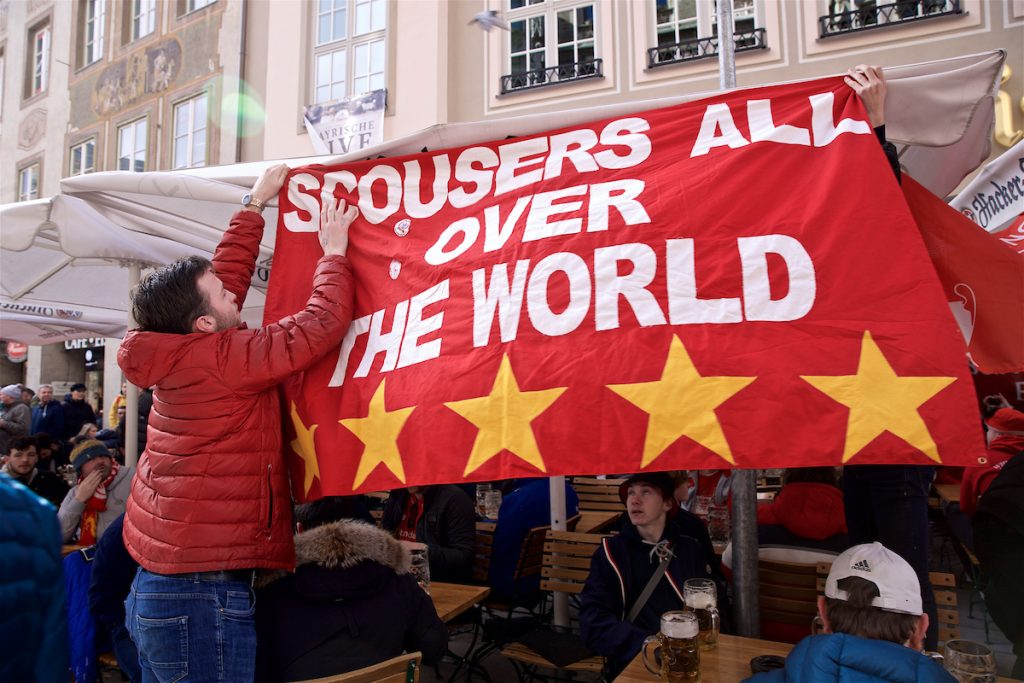 Being a Liverpool fan and what that represents to the rest of Europe is showcased in a way that manifests itself in respect and fun.
People are able to go to places they have never been and ordinarily may not have thought to go unless to watch their team.
Along with those experiences is the knowledge that those travelling Kopites have an elite group of players who are unapologetic to a man about being at this level of world football.
This is not a team built on waves of motivation with one or two outstanding individuals. There is no house of cards waiting to give way, this is a team laying foundations while currently aspiring to be the best about.
Wednesday's win was momentous given the record of Bayern at home, but ask yourself how many Munich players would currently get in this Liverpool team?
Matts Hummels, maybe? Even that isn't a given with a fully fit Joe Gomez.
Klopp has carefully constructed a squad of players he can trust to compete consistently at the highest level and not take minor setbacks, of which have been witnessed in recent weeks, as something so personally detrimental to derail a season.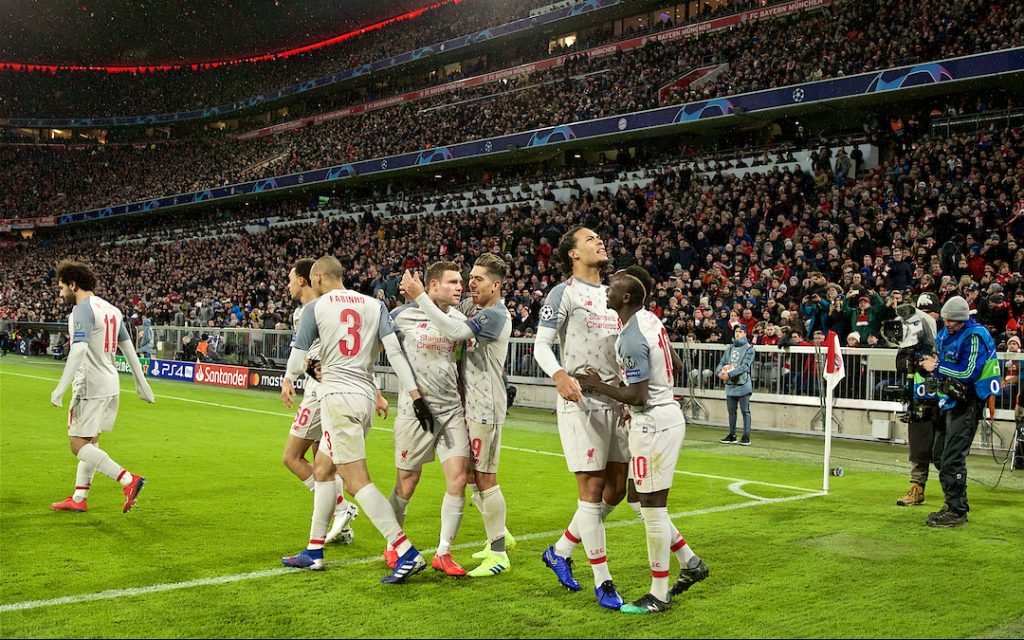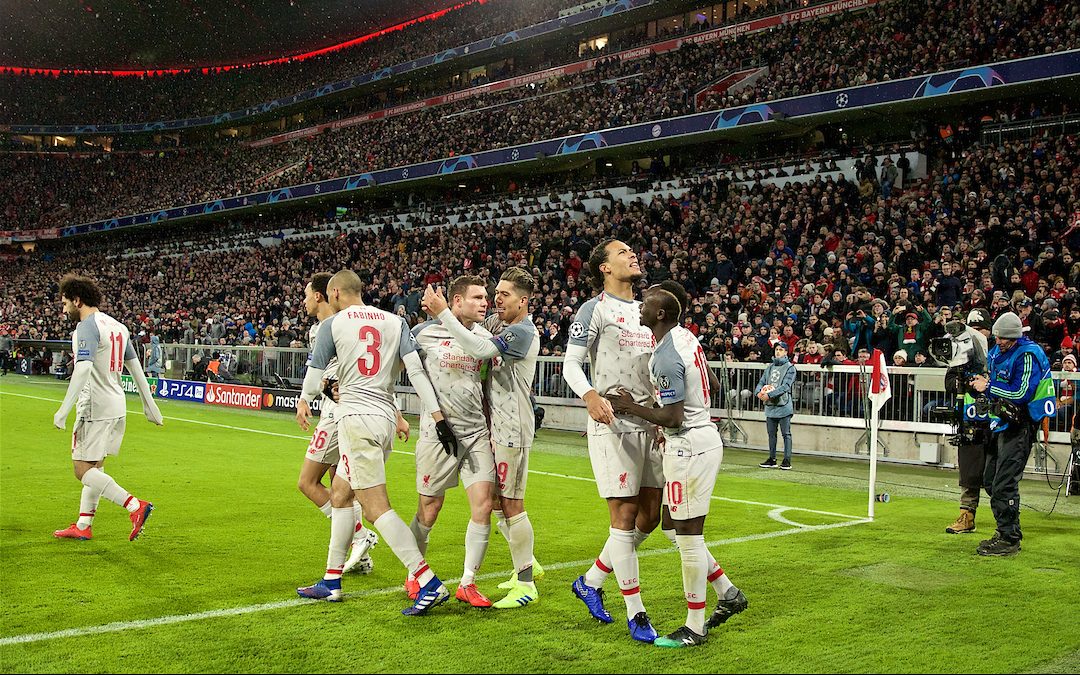 Therefore it becomes unreasonable to set in motion a process of forming a Liverpool team which is both mentally and physically adept to winning both a domestic title and Champions League, only to then ask they prioritise one over another.
It does not work like this in football. Should Liverpool have exited the competition in Germany they could easily have found themselves in a league slump they cannot afford under any circumstances at this point.
That would only require the merest fog of doubt to emerge over Melwood. It can feel at times this whole thing is quite fragile, but in truth it isn't. Winning breeds status, status breeds motivation and motivation breeds relentlessness.
The devotion and self pride invested into a 38-game test of endurance, coupled with the intoxication of being in the last eight in Europe ensures that both competitions will look after each other and act as a motivating and driving factor for everyone involved.
Anybody telling Liverpool that being in Europe can always come again is not your pint. They invest in risk-free bonds, they swerve holidays in favour of touching up the bathroom and they iron socks.
Liverpool in Europe will only ever be a good thing. Going as far as the point of holding that prestigious trophy aloft in May should be the only possible desire.
To do things any other way is sheer madness.
"Bayern Munich are one of the best teams in world football and Liverpool made them look shite.

"What a trip." ✊🇩🇪

🗣 Subscribe for all of our reaction to another famous night for The Reds in Europe 👉 https://t.co/XZAK9veWt7 pic.twitter.com/OTe8W0vPYx

— The Anfield Wrap (@TheAnfieldWrap) March 14, 2019
Recent Posts:
[rpfc_recent_posts_from_category meta="true"]
Pics: David Rawcliffe-Propaganda Photo
Like The Anfield Wrap on Facebook