TRANSCENDENT.
Here's the scene.
Last season in this fixture late in the game, Mo Salah went around their whole side and finished beautifully.
It went off.
It meant nothing. Both there and then and in the bigger picture.
This season he just keeps it alive back across goal and it ends up there in instalments via all sorts of nonsense. It's one of the worst goals ever scored. It is one of the best I have ever seen.
It went off.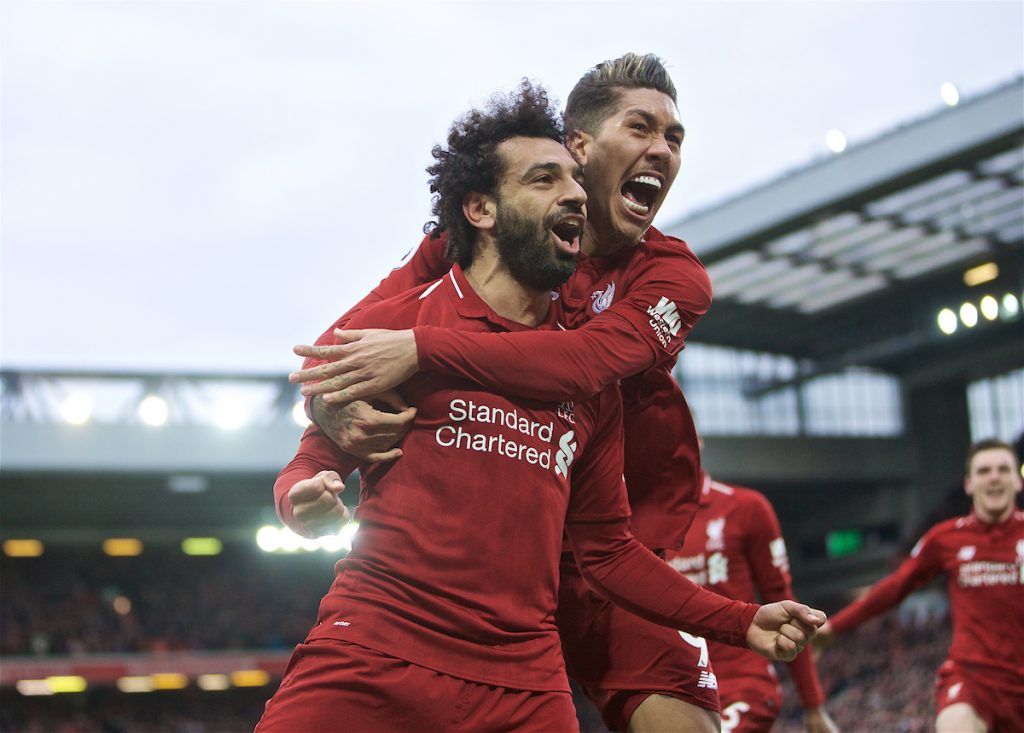 It meant everything. It means everything. Everything now. And in terms of the bigger picture? It would be easy to say "we'll see". But that's not true. It means there actually is a bigger picture to look at. It may seem an exaggeration, especially when I say to you that Liverpool can both drop points and end up champions but they couldn't drop those points, not today, not after being ahead, not given everything.
It was transcendent. There is a lot of all football support which is a slog. Remember Huddersfield Town away? Nil-one Liverpool, dismal stuff but what 0-1 Liverpool does is set up this. Huddersfield away made this possible you know, in a way you forget.
The whole point of this enterprise is when it transcends reality, makes Monday morning seem something another person needs to deal with, injects absolute joy into your veins. Leaves you with nowhere to go but wallow in paradise.
It transcends everything. Transcends the game itself, analysis and so on. But we must try. The rules…
Liverpool go in half time the better side and their own worst enemy, a goal light and most likely to bring about an equaliser against them. They failed to put the hammer down at 1-0 and that is the greatest failing of that first half midfield.
It was a first half contest of two sides trying to make the pitch big, rare at Anfield these days. Tottenham tried to shape in a way which asked Liverpool questions but once the side started playing those questions were answered. But Liverpool failed to connect properly until the Andy Robertson cross and Roberto Firmino header led to it being 1-0 and very little thereafter.
That was the first half. The second saw Tottenham be the better side. By some distance. They changed their shape and dominated the half spaces. And the whole spaces. They owned Anfield. It was some performance until they scored, to be honest.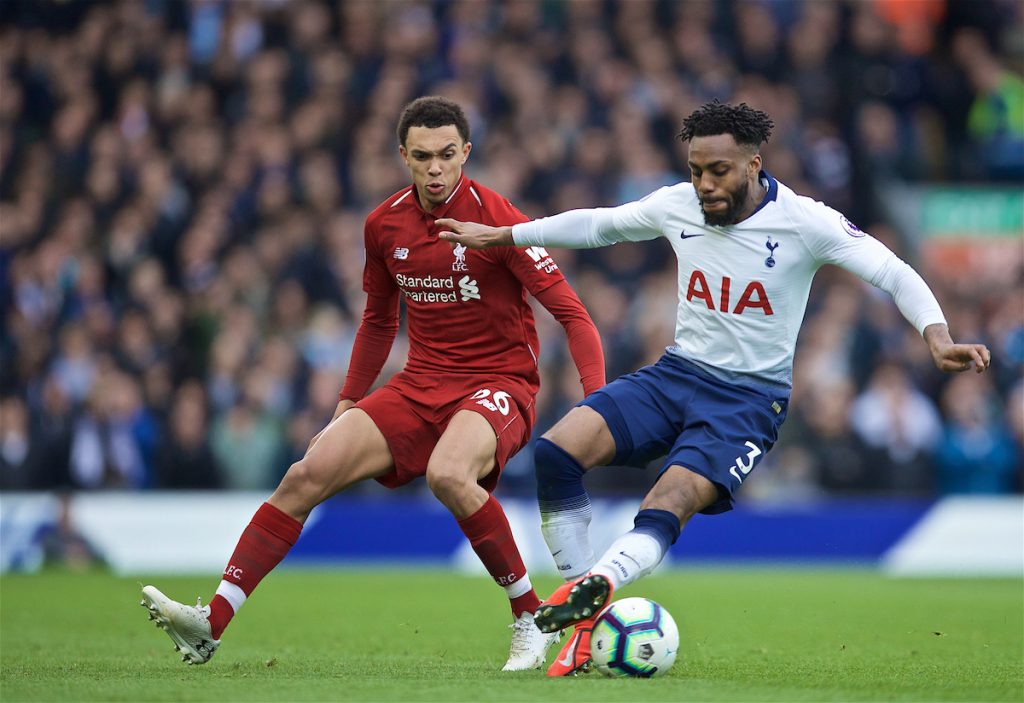 In the five minutes prior to their goal, Klopp and Henderson were trying to change the shape but it just didn't take. It needed the change which came too late. The goal probably shouldn't have stood but it was reward for the best period of play from any away side at Anfield this season. Spurs were excellent and showed why they are the third best side in the league this season. Fabinho came on, made a difference but it felt too little too late.
Moussa Sissoko's miss is among the best things ever to happen in association football. Virgil does brilliantly, don't get me wrong. What he does makes Sissoko make a decision he doesn't want to make.
Two-one was everything. It felt both deserved and stolen, both in equal measure.
I mean, it hurt prior to the goal. The abyss was everywhere. More abyss than you can shake a stick at. It looked like it was without end, but then there was nothing scarier than when it went 2-1. Remembering last season there was no relief just another form of torture. When Tottenham came back at us it gnawed inside. Imagine throwing it away twice. Imagine that.
It didn't happen. Liverpool transcended the table, the occasion and possibly our lives.
Few things have ever felt like this, you know. I sobbed through the last 10 against City in 2014 at 3-2 up, overwhelmed by everything. But this wasn't that. Nor was it Yossi at Fulham.
There is something both rawer and roarer about this sojourn. Something which isn't defiance or improbability but pride. Been this thing that these lads are our lads and there are 20 of them. Divock Origi and Xherdan Shaqiri. Joel Matip and Naby Keita. Along with the stars, along with the hits.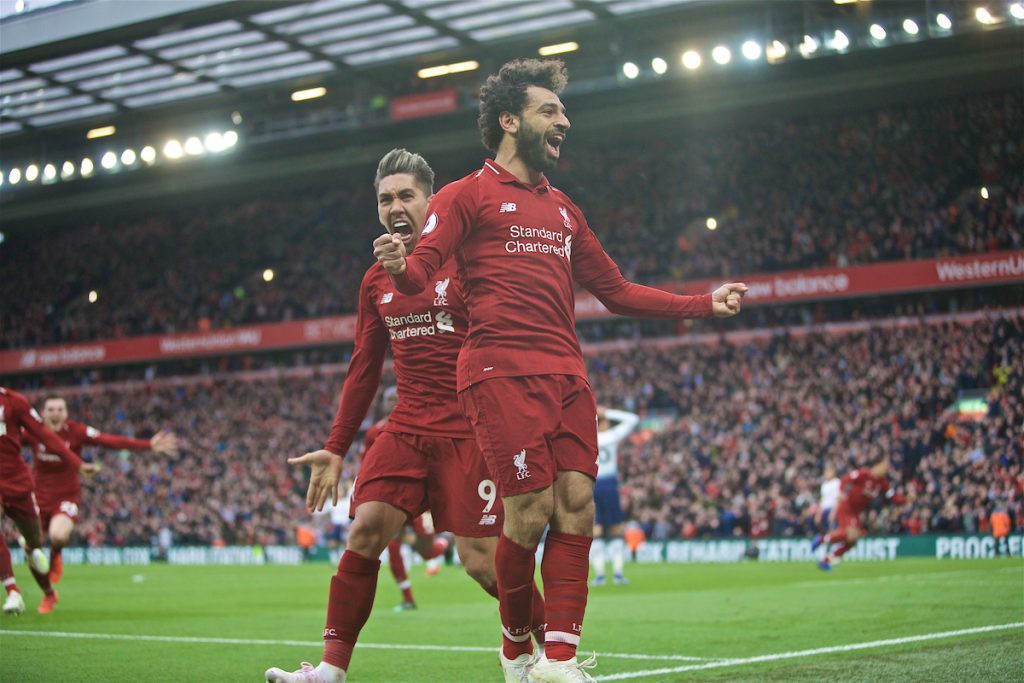 You saw it all tonight, the crescent and the whole of the moon.
Transcendent. We ended playing with or in the sky; Wall-E with the fire extinguisher in space on the one hand, or Formby beach when the wind blows and the sky is enormous on the other and everything makes sense, when you suddenly make sense, when this whole adventure clicks in, kaleidoscopic twisting, the beauty lost in a moment. All you hear is time stand still in travel and feel such peace and absolute.
I don't know if we can handle this again. But we might need to.
Thirty-two down. Six to go.
It was a joy to be alive this day, my friends. It was agony, too. Imagine that. Taste it. Six more heaves.
"Oh my god, oh my fucking god.

"Those celebrations were some of the best ever." 🔥

🗣 Subscribe and listen to our immediate post-match reaction show after Liverpool's dramatic 2-1 win over Tottenham 👉 https://t.co/XZAK9veWt7 pic.twitter.com/gYuo6SN44X

— The Anfield Wrap (@TheAnfieldWrap) March 31, 2019
Recent Posts:
[rpfc_recent_posts_from_category meta="true"]
Pics: David Rawcliffe-Propaganda Photo
Like The Anfield Wrap on Facebook