A LONG time ago, back in the days of holding a season ticket in the old Main Stand, I had the misfortune of being stationed in front of a miserable bloke who had a serious problem with Patrik Berger.
The Czech international created a hearty highlights reel of blockbuster goals during his time at Anfield, but it's fair to say he wasn't everyone's cup of tea.
Some said he would shirk a tackle. Others thought he opted to shoot too much. Yet more questioned his workrate.
This man by me went for all of the above. And more.
And that's all sound, of course. Football has always sparked debate and will continue to do so for evermore. So it should. It would soon get boring if everyone's opinions were the same.
But reasoned opinions are one thing. This fella, though, just wasn't having Berger. Anything he did right, anything good, even those aforementioned goals… Nothing, not a peep of positivity.
Make any kind of error, though, a misplaced pass, a shot off target, anything at all, and he'd be up and out of his seat with his stock line: "Ohhhhhh go 'way, Berger."
To me, this fan just wasn't being fair about it. He'd decided Patrik Berger wasn't for him and that was that; his mind was focused on the negative and his eyes sought to add to the body of evidence he'd built inside. A cognitive bias was clear.
Perhaps we're all guilty of it at times. I know I am. I couldn't be arsed watching anymore John Arne Riise by the end of his Liverpool career. It's just the way it was.
As the train pulled into Sandhills station around about 11am yesterday, the team news broke. And there, in the starting lineup, was Adam Lallana.
My response started in "for" and ended in "sake'. What about Naby Keita, the man who Jürgen Klopp recently told us he was playing into form?
What about Xherdan Shaqiri, who had proved so potent in December?
And why Lallana, whose last goal for The Reds came way back on the last day of the 2016-17 season?
Now 30, and with a nightmare spell of injuries and frustration that seemed to bubble up just over a year ago when Lallana throttled Spurs player George Marsh in an under-23 game, his recent history didn't show many highlights.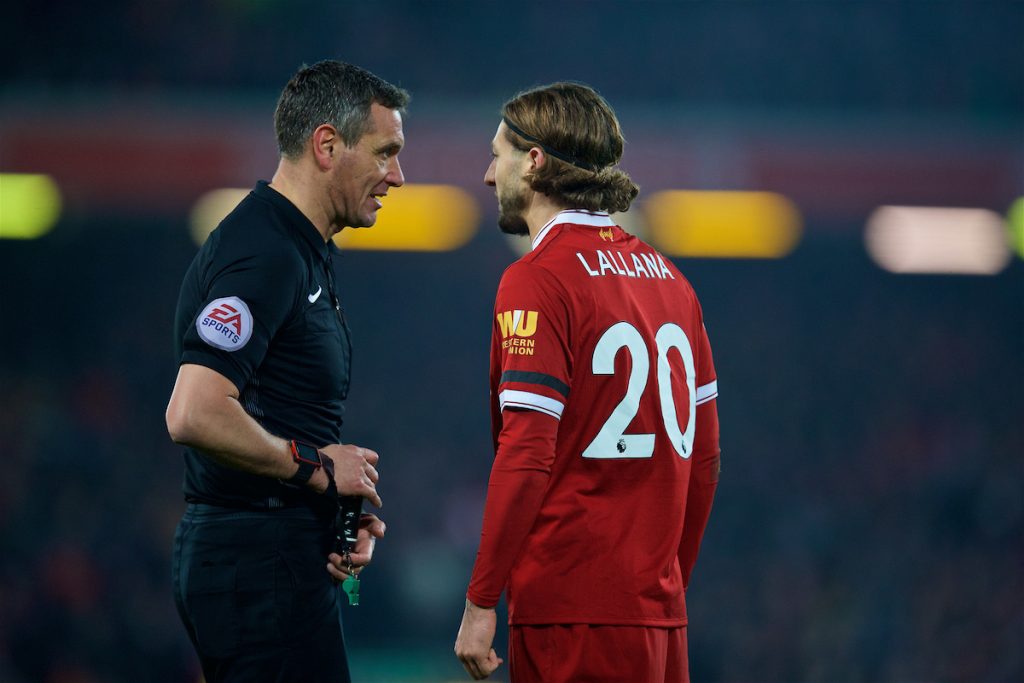 And so if there was a worry around his selection for a game that Liverpool just had to win, it wasn't without foundation for a fan watching from afar.
Klopp, though, as he later highlighted, will always know more than we do. So while we might think about Lallana's start at West Ham, or his cameo at Goodison Park, the manager will think about those things too. Plus what he's seen in training.
"We had a long training week and we had a lot of sessions," Klopp said.
"I said at the beginning of the week that it is possible [for players] to show up.
"We play a lot of times with 12, 13, 14 players, so it's important that the boys know that. Adam used that. It is not only Adam, but especially [him]. It was clear; if he can play like he trained, then he will help us a lot and that is exactly how it happened."
Lallana did not turn in a perfect performance on a difficult day for champagne football. But he did provide running, energy, endeavour and commitment, culminating in a closing down of the ball that resulted in a goal.
It's perfectly fine to appreciate and applaud those qualities, and the effect they have on others.
"I just thought the ball was there to be won," Lallana said.
"The manager highlighted Millie doing it a couple of weeks ago against Watford I think, and sometimes those moments can just create an intensity and a feeling.
"The fans pick up on it and sometimes it can result in a goal, so happy days."
Lallana nailed it there, and his showing drew much deserved applause from the Anfield crowd and an appreciative hug from his manager.
Of course one performance does not fix everything. Can Lallana regularly contribute to the level we saw at Anfield on Sunday and better? Are his injury worries behind him?
Do we even need to answer these questions right now?
If he can, great. That can surely only be good for Liverpool, who need as many squad members contributing during the business end of a season that could still result in the biggest of wins come May.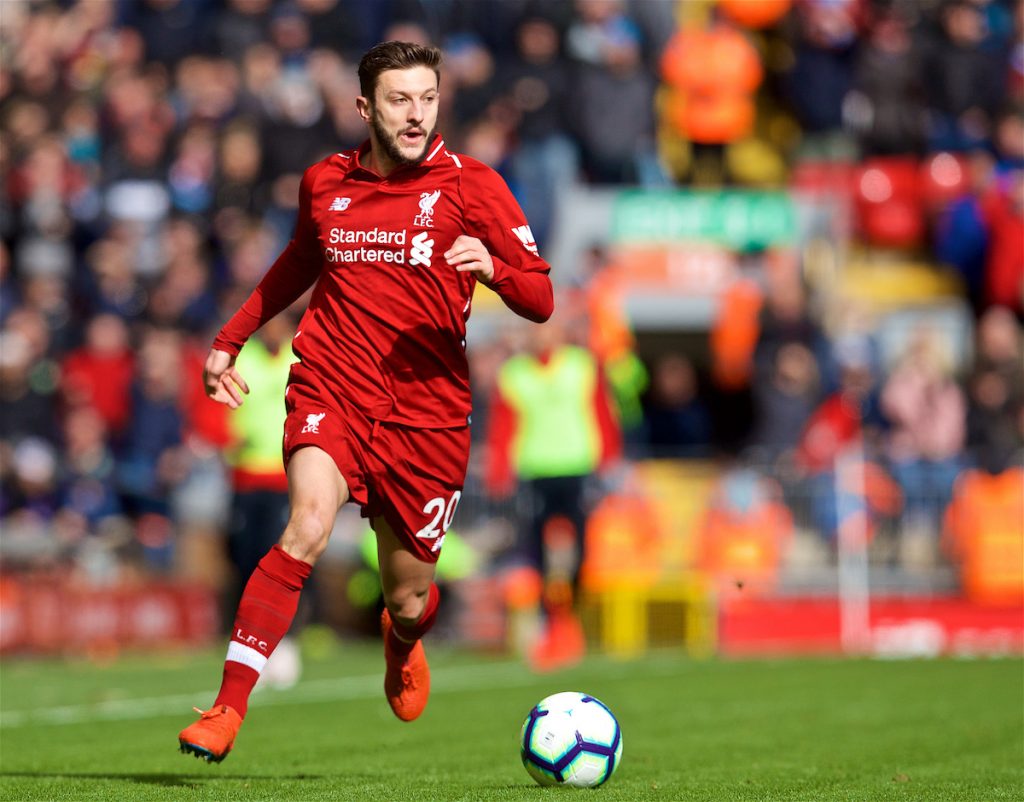 On an individual level, it's also perfectly normal to be glad for a lad who has struggled for so long with injury. And a lad who plays for the team you support.
With all eyes on Lallana after an unexpected selection, he justified his inclusion and could leave the pitch with his head held high.
Yet the Berger behaviour from the man in the Main Stand still lives on. Lots of Reds committed positive thoughts about Lallana to social media post match. He also attracted big ticks from journalists, the TV pundits and of course Klopp.
Yet rather than revel in an important win, the revival of a squad player and the good vibe created by a 4-2 win, some questioned everything — from the opposition Lallana faced to every aspect of his time on the pitch and his career to date.
Such is the entrenched position on Lallana one Liverpool fan had reached, social media was used to seek out and argue with other Liverpool fans — presumably strangers to him — offering him *any* praise.
Before you say it, yes. Just ignore it, move on, leave it, don't rise to it. Block, mute, unfollow. I've heard it all. But it's easy said than done sometimes, isn't it?
Especially after a Liverpool victory…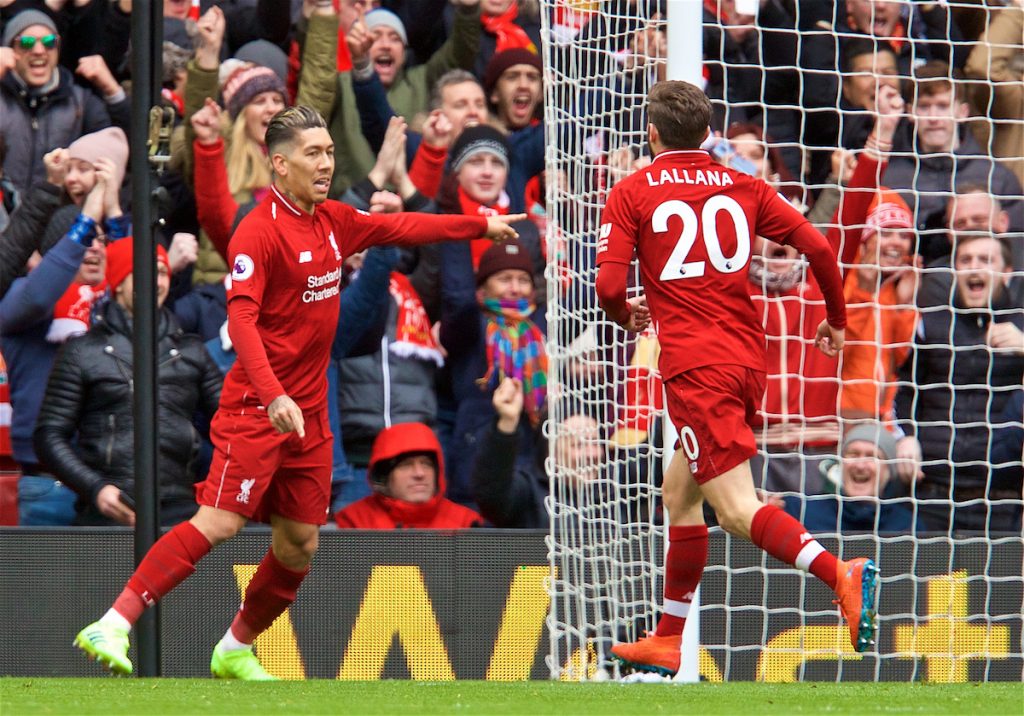 But on we go. The theories continue, some madder than others. Apparently some players are praised because they are English, one theory goes. Ignoring that every Red uniformly loves Virgil van Dijk, Gini Wijnaldum has his name sung every game and murmurs of a Fabinho song have now begun too.
Mo, Mane, more. All loved, all revered. All not English. Yet theories like that are not only written and shared, but liked, added to and rolled onto the next time. All because you can't possibly rate Lallana. There must be another reason.
Sometimes it's fine to say you don't rate a player but say he performed well. Sometimes it's fine to say you were wrong. Humans often are and much of football conversation is built on joining the dots.
Past me, who raged about Lallana's selection, was wrong. Hindsight me was impressed with his performance and hopes he does it again soon.
The Reds won. The Reds march on. And the players you love or hate now go all out to do it all again. Good vibes could possibly lift them, bad vibes could possibly knock them.
Support and believe, the banner says. It's not a bad idea, is it?
The Post-Match Show ✅
The Post-Match Pint ✅
The Anfield Wrap ✅
The Review ✅
The Second Look ✅

🗣 Subscribe to #TAWPlayer for all of our reaction to Liverpool's 4-2 win over Burnley 👉 https://t.co/lmNtByMZeZ pic.twitter.com/TcJG7qdJtY

— The Anfield Wrap (@TheAnfieldWrap) March 11, 2019
Recent Posts:
[rpfc_recent_posts_from_category meta="true"]
Pics: David Rawcliffe-Propaganda Photo
Like The Anfield Wrap on Facebook