LIVERPOOL Football Club has produced several great players and one truly great leader. There may be another one on the way.
The strong statesmanship of Sir Kenny Dalglish made the immediate aftermath of the Hillsborough Disaster somehow a little more bearable for hundreds of those most personally affected by the tragedy.
Kenny and Marina led both a nation's mourning and counselling as if born to the impossible task.
John Barnes may be the man to lead a national campaign to tackle racism.
He has spoken more sense with more passion on the subject than anybody else I've heard. He's probably spoken more sense than anyone on Brexit too, but I'm sorry, politics can't have him. Football needs him to get to the bottom of this blight on its name.
The central plank of John's compelling argument is that racism is a societal issue and not football's problem alone. But he doesn't make that point by way of conveniently passing the buck, he just wants to get to the root of the trouble.
His credentials are unrivalled. The kind of headline abuse suffered by Danny Rose in Montenegro on Monday night was a routine part of John's working life in the 1980s. He's been there, seen it, withstood it. He's intelligent, eloquent and forthright. When he speaks, we listen.
You may not agree with everything he says but he is guaranteed to make you think. And that is half the battle.
Racism is not black and white. It's a complex, contradictory problem. Many racists do not even think they are racist. It's an area laced with unconscious preconceptions and ingrained favouritism, it's infected by lazy associations, institutionalised bias and subliminal stereotypes.
Long words. No short answers.
The common call is for better education. I'm all for that. But how? How do you find a platform on which someone can speak openly and frankly about such a sensitive issue, and speak with the authority and intellect to make people take a long look at themselves?
You put John Barnes on the air, that's how.
Just yesterday he said: "People go into the workplace every day and there are invisible banana skins thrown at them. Unspoken racial abuse. Closing stadia and issuing banning orders is tackling the symptom of racism. We have to look at the cause of it, and the cause is much more complex."
Anyone arguing with a single word of that?  Anybody wondering if they are guilty of allowing their own innate human prejudices to register as even stares and glares of abuse? Can we pretend that the heightened football emotions that we glorify as passion and fervour don't spill over into hurtful abuse?
I know I can be guilty as charged.
Recognising our crimes is the first step towards solving them. John Barnes possesses the sharp, inquisitive perception to make us look in the mirror.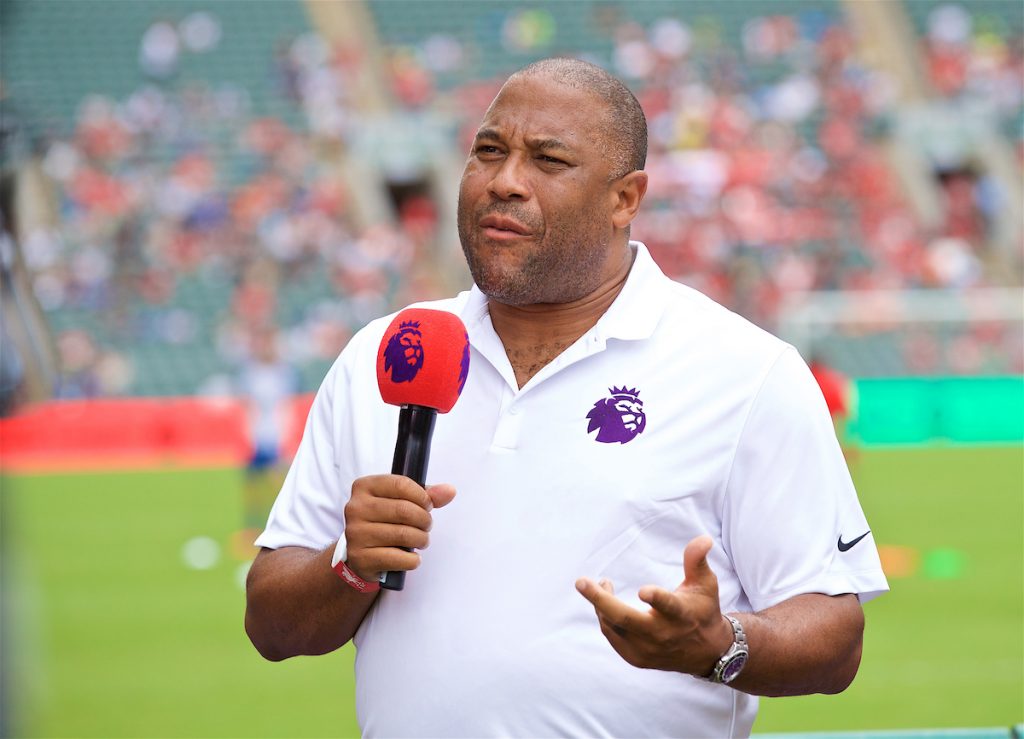 People actually need help with some of this stuff. They need help recognising it and countering it. They need help with considering it from the point of view of somebody else. They need to see how their misguided version of "banter" can hurt and offend.
I think John is a man who can get all of this into the national conversation and make it better debated and understood.
You may be aware that I was in the eye of a Twitter storm on Monday. Twitter storms are aptly named because they usually blow over. Occasionally, they can cause untold wreckage to a career and reputation in 280 characters.
Like storms, you're never quite sure which way they are going to blow. Like storms, they are scary at the time.
My failing was not to hear the abuse of Raheem Sterling that he said he couldn't hear either. There was a lot of hearsay flying around in Podgorica amid the hard facts of the appalling treatment of Danny Rose.
I couldn't criticise what I couldn't hear. I would have taken some consolation from witnessing the awful racist abuse if I could have been the one to identify it and lead the condemnation of it. I suspected it but I didn't hear it.
I was even accused of racism for pronouncing Montenegro correctly.
Not that I'm ever glib or dismissive of any public criticism. It does and must make you think. It should make you review your journalistic responsibilities and I've spent a lot of time since Monday speaking to other people who were there, a lot of time mulling it all over.
John Barnes was one of a number of valued voices to defend my name and that means a lot to me because I know he would have given me both barrels if he thought I'd got it wrong. That's John.
As chance would have it, I gave the keynote address at the start of a Kick It Out seminar on racism just six days before the England game. I said a lot of the same things that the excellent Gareth Southgate said about the strange helplessness of being a middle-aged white guy trying to come to terms with the whole issue.
Neither of us were looking for sympathy. We all need better understanding.
The Kick It Out meeting was full of anger and frustration. And so it should be. There is some weird shit going on out there at the moment.
But anger alone won't solve it. And we need to get closer to finding lasting solutions. When I listen to John Barnes speak on the subject of racism, I hear anger channelled through reason and reality into genuine initiatives and ideas.
If he can be persuaded to take up a position of leadership that allows more people to hear and get his message, we just might get somewhere.
"We shouldn't be talking ourselves out of this.

"We've got every chance of winning this League, so let's get behind them and see where we end up." ✊

🗣 Subscribe to #TAWPlayer as we buildup to a potentially historic few months for Liverpool 👉 https://t.co/lmNtBz4ADz pic.twitter.com/h6Ae1irkse

— The Anfield Wrap (@TheAnfieldWrap) March 26, 2019
Recent Posts:
[rpfc_recent_posts_from_category meta="true"]
Pics: David Rawcliffe-Propaganda Photo
Like The Anfield Wrap on Facebook