YOUR heart pounding when James Milner steps up.
Your head hurts a little bit, that might be a sign of last night, your head hurts and your heart pounds, and you watch James Milner step up and you are pleased he is there but know what it all means. It means everything.
James Milner scores and your heart speeds up. James Milner scores and you throb with what it means. Everything. On the replay Sadio Mane falls to his knees. Remember this: Sadio Mane needs to win this league more than you do. And you want it for all time.
There was a lot of hot air about this Fulham game. A lot arguing that it was a chance for Liverpool to improve their goal difference. As with so many football arguments that manages to be both true and untrue, all that is seen and unseen.
The fact remains this was the end of a massive Liverpool week, a Liverpool week that ends with all of its objectives intact.
Fulham were poor, a team who spent more time in crisis at the back than many but Liverpool could never be as crisp as we'd like. They should have done more, won by a distance, streaked away and proved the argument right.
In the end we are delighted with the one-goal win, the three points in the boot, flying up the North Circular our dreams held together with spit and string and a bloody minded unwillingness to yield.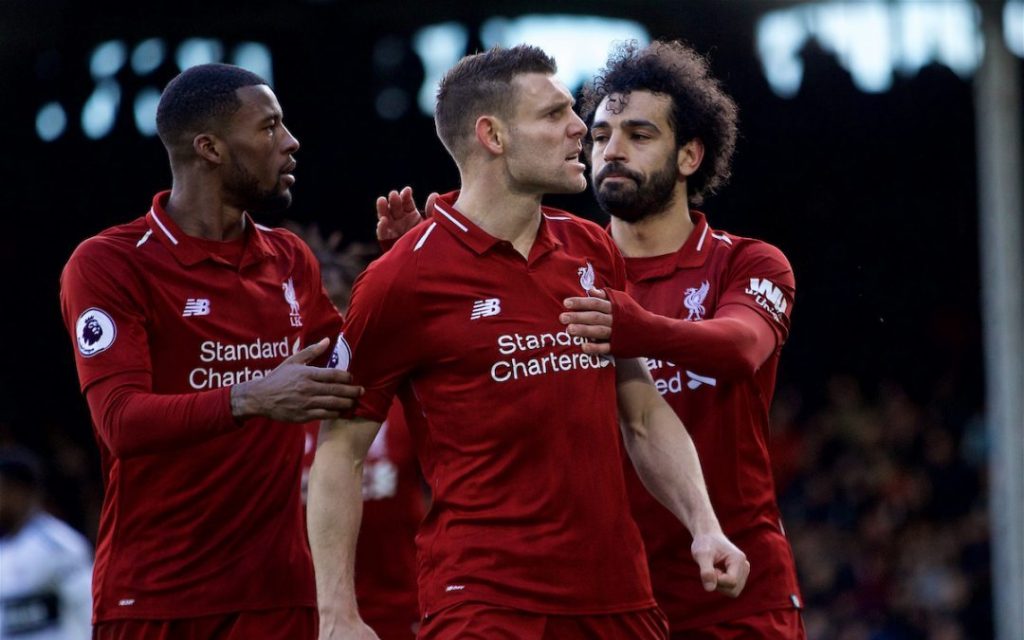 Liverpool were by a mile the better side, the game's dominant force. But across the pitch performances became sloppy, sharpness dwindled.
The only exception was Fabinho who had his sharpness taken from him by the yellow card and follow-up challenge. He had to be supremely disciplined second half, his manager keeping him on for his height and his quality but his brilliance going to ground diminished.
Elsewhere performances were bumpy, Arnold and Robertson epitomising the inconsistency, almost as if they had had a big night in Munich midweek.
The goal Liverpool concede is a howler but they should have conceded prior to that, Fulham wasting a three on one. It became a three on two and a three on three as Salah and van Dijk ran back.
Salah will get a lot of chatter but in that moment you saw what this side and this opportunity means to him. His job was to harry there and then and harry he did. He needs a goal but nowhere near as much as we just need him. He is a treasure, a grafter, a true believer.
The performance from van Dijk and Alisson after the goal that they concede is simply marvellous. The level of assurance and certainty from the pair shows their character and their confidence. The goal itself is dreadful. Everyone needs a shout but no one should need a shout. Ryan Babel's finish ends up being sheepish, he practically apologises as he kicks it over the line.
Yet again Sadio Mane is the best of Liverpool's front three, yet again he scores. He is irresistible currently. Part of Liverpool occupying the half spaces.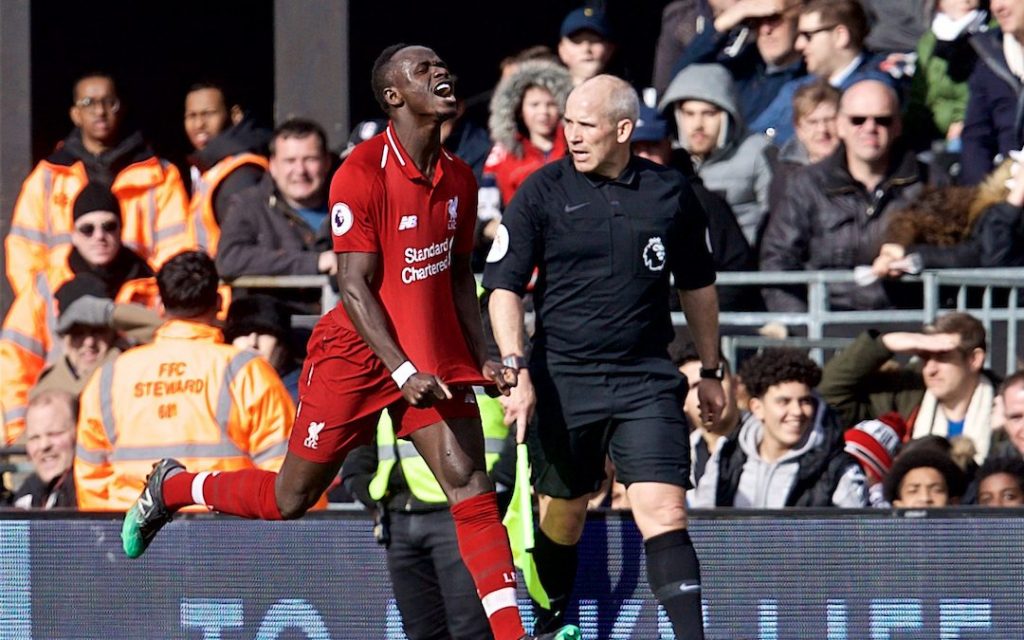 Out of possession Adam Lallana was again excellent until he tired. It's fascinating this small lad suddenly being Liverpool's enforcer but that he is. He is a barrel of aggression and nous. He knows when it is there for him, for us, and hunts accordingly.
Divock Origi came on and made all sorts of sense, switched on, sharp, doing bits, being part of the enterprise. James Milner the best of us, celebrating in front of the collected Reds. Nothing but sense as the clock ticks down.
When the whistle goes Trent on his haunches, Trent punching the air. When the whistle goes Liverpool are indeed released and relieved and realised. Top of the league.
Fulham away in spring, man. You remember it. You remember it for Yossi and you remember it for Steven. You remember it for sounding the siren — there is a title challenge happening here.
Steven Gerrard doesn't need to whirl the shirt. No one needs to sound the siren. Liverpool want to be champions. And while they put you through the wringer they are your boys, each and every one of them. You will hold them close. You will forgive them everything. You will adore them.
They are the kings of Europe, they have scraped through against 19th. Lord, lord, lord, let us adore them. You know they deserve it.
Thirty-one hurdles cleared. Seven to go.
"Liverpool, Liverpool, top of the League." 🎶

🗣 Subscribe for all of reaction to The Reds' 2-1 win over Fulham, live from Craven Cottege, here 👉 https://t.co/XZAK9veWt7 pic.twitter.com/m80p4jcawE

— The Anfield Wrap (@TheAnfieldWrap) March 17, 2019
Recent Posts:
[rpfc_recent_posts_from_category meta="true"]
Pics: David Rawcliffe-Propaganda Photo
Like The Anfield Wrap on Facebook