ABSOLUTE scenes. The big one we have all been waiting for.
Liverpool's win means everything. It means they can be the best team in Europe. It means they can be the best team you have ever seen. The expectations should no longer be managed because this was the big one we were all waiting for.
Nothing should be minimised after this. Liverpool thought and played their way through 90 minutes in Munich with aplomb. They were stern for 15 and then dominant for 20 minutes or so. Dominant didn't mean owning possession but it meant owning space, pushing in quick moments, finding ways to expose and panic Bayern Munich.
A valid takeaway from the game is that Bayern Munich hated all of it. Bar the last 20 minutes at Anfield there is an argument that Bayern have had 180 minutes of sheer hell, of knowing they can never let themselves play, of accepting they were the junior partner in this marriage of European royalty.
To be Jürgen Klopp tonight and know you have decimated those who decimated you in the past must be so very satisfying. Munich are marvellous and are top of their pops. But they aren't Liverpool Football Club. They haven't got what we have at the minute.
We have this: Sadio Mane. Currently there is a fighting chance the best attacker in Europe who isn't the greatest player ever to play the game plays for Liverpool. Tonight Mane has shown everything his game has, there isn't a third of the football pitch he isn't outstanding in.
His finest attribute isn't his speed or his touch, it is his brain. The pictures in his head and his ability to disrupt those pictures is second to absolutely no one. He gets the game in ways which stagger.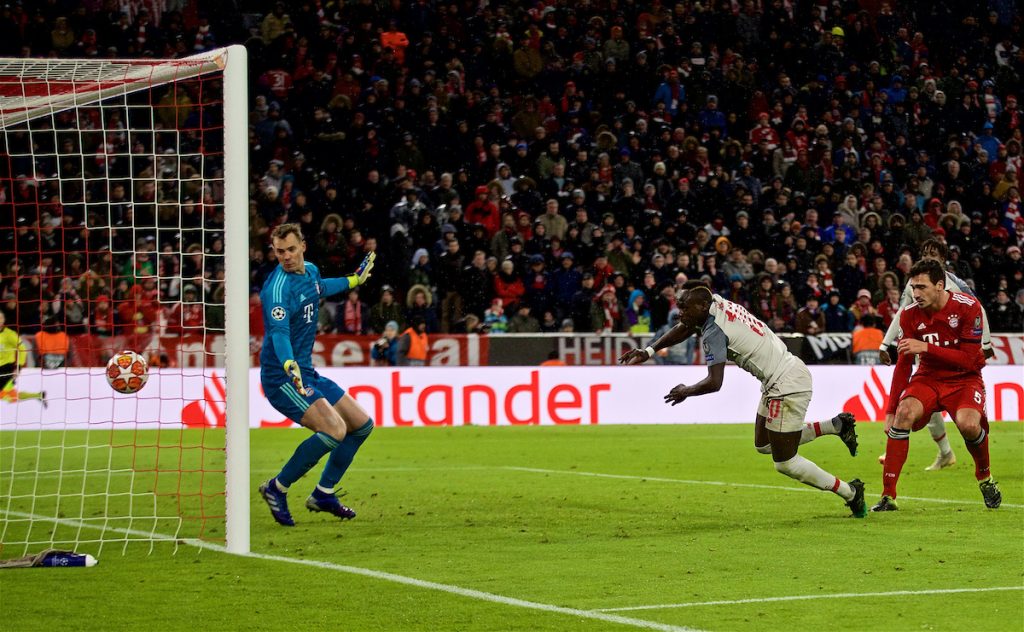 We rarely praise decision making in forwards, but Mane's has verged on pristine for sometime now. He is a modern Liverpool great, adding silverware is all he needs to do to be a bonafide legend of one of the great clubs in world football.
Tonight is indeed that sort of night, a night which adds to the list of immortals. These are the lads who got to Kyiv on the whole, lads who send Liverpool deep in Europe again.
Mo Salah tortures another defence without scoring but while doing everything but. As we tick towards the hour I lament Milner and Wijnaldum not adding more and hope for a change. By 70 both have made fools of me, both running the show.
The barrel of Milner, endlessly wiping his nose on his sleeve, endlessly showing five more yards, endlessly dying for his teammates stays on the retina. Wijnaldum all hips and makers, cunning and present and crucial. Atkinson left daft, not for the first time.
Munich fall back then. The heady days of equalisers where Liverpool's pristine left side proved poor long gone. Robert Lewandowski the loneliest man in Munich, the only living boy in Bavaria. Serge Gnabry plays well and hurts The Reds but can't sustain it.
Joel Matip takes his own goal as well as you can and does the business. Fabinho recovers from a very wobbly 10 to be the game's dominant midfielder. But Liverpool's attack. Good god. Smarter than you, faster than you, stronger than you, technically better than you. Good god. What are you meant to do?
What are we meant to do? Let me tell you. Start acting like they are worthy, worthy of tonight, worthy of being thought of as potential league and European Cup double winners, worthy of the greatest acclaim imaginable. Worthy of unconditional love.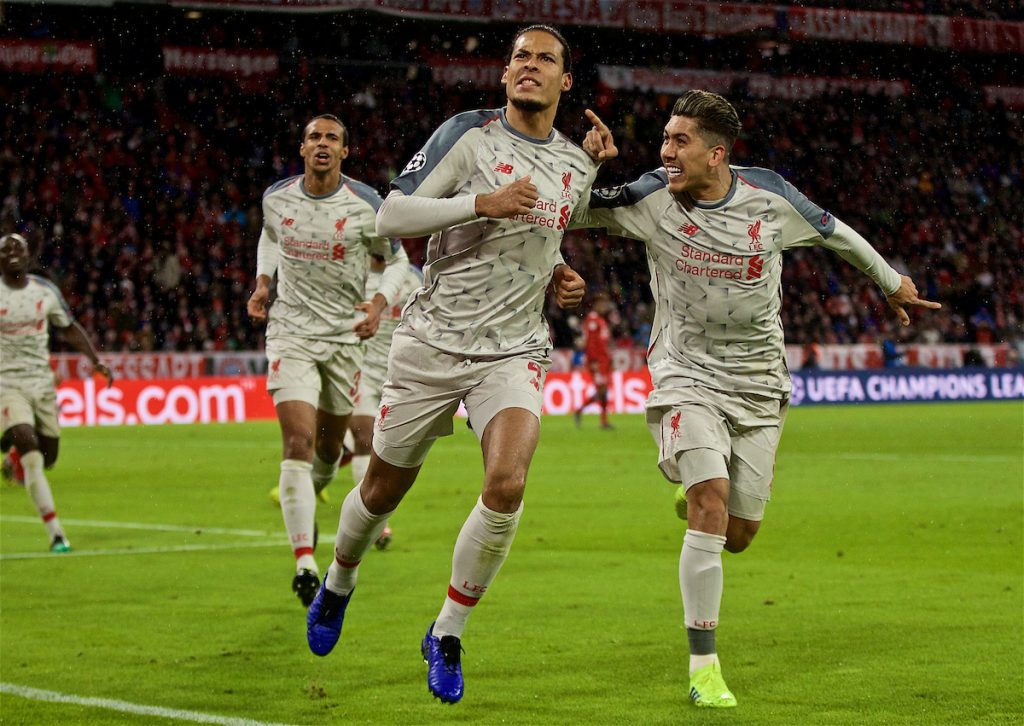 This column has been saying it for weeks. These lads are our lads. That manager is our manager. And they will do for us. Winning 1-3 in the gaff of the side who has made six of the last seven semis should tell you that.
Belief is everything; belief they can win this competition. Belief they can win this league. Belief they should fucking bounce into Fulham. Belief that anyone else's crowd are from now till the bitter end only half a football team compared to the boys in red.
Our boys. Our belief. Our competition. Look at who is left. Look at who won in Munich.
Liverpool Football Club. European royalty. I whisper things, the continent sings them back to you.
Scenes.
"This is a phenomenal football club, one of the very best in the world… and then there's Bayern Munich as well." 🔥

🗣 Subscribe to #TAWPlayer for our immediate reaction as The Reds beat Bayern 3-1 in their own ground to reach the quarter finals 👉 https://t.co/XZAK9veWt7 pic.twitter.com/kSjW6MCemg

— The Anfield Wrap (@TheAnfieldWrap) March 13, 2019
Recent Posts:
[rpfc_recent_posts_from_category meta="true"]
Pics: David Rawcliffe-Propaganda Photo
Like The Anfield Wrap on Facebook