BOTTLE.
They love goading you with bottle.
There are many things you learn when you find yourself setting the pace. The empathy you feel for those who become so invested in your club's fate due to their own lack of stimulation being one.
They make it all about bottle.
It is possible that a game of football may not go your way. It is possible that there are currently two, maybe three, absolutely fantastic sides competing for the football league. It is possible that, every now and then, those teams show themselves to be human.
It is certain that all the above has absolutely fuck all to do with bottle.
Every Liverpool season will throw up a game like Wednesday night.
Last season was West Brom at home, the campaign before Swansea City.
Braving the wind and hail against the elements around the streets of Anfield, while feeling a sense of seemingly eternal winter darkness taking its toll, 2018-19's encounter of sheer drudgery was in full effect on and off the pitch against Leicester City.
Anxiety ravaged the game on Wednesday, with the side's inability to be either forceful or fluid enough leading to a despairing crowd that bared their angst for all to see.
It isn't for me or anyone else to advocate how to measure your own sense of fate or expectation in relation to this season. This isn't me telling you how to behave at a game of football.
Yet it is clear the concept of *insert number of games remaining* being a cup final, or treating every home game with the level of gravitas displayed Wednesday may not be particularly healthy just yet.
Essentially, there is a lot of football to be played. Think of some of your own cup final experiences. They are often games you can still relive every minute of, for all the joy and anguish they bring, due to all that hinges on 90 minutes of football.
To be doing that, to be going through that torturous process at home to Leicester on a Wednesday night in January is simply not sustainable.
Comparisons to 2013-14 are a lesson in many things, maybe most notably how too much intensity can become a negative. While Liverpool were emptying themselves physically and emotionally into fixtures before the finish line was in sight, their rivals expeditiously went about doing their job.
The hardest thing about appealing for mitigation is that we all have our own desires, will and sense of entitlement attached to wishing this team to be successful.
So, to now be in the position of pacifier, to say essentially keep your nerve and trust the process is reassuring to some, yet antagonistic to others..
That appeal for calm will prove justified should Liverpool show on the pitch that the result against Leicester was The Reds at their most stretched, disjointed and injury hit in key areas and was therefore in isolation when it comes to dropping points outside the top six.
Everything felt stretched on Wednesday. For every problem there was a counter problem. The lack of experience and options at right back disrupted the rhythm of the midfield. The lack of midfield options led to an imbalance between attack and defence as well as an inability to retain possession and pressure in key moments.
Couple that with a lack momentum from playing games and a pitch which makes you think of either an injury or a card two seconds before you've decided what to do next, led to factors that meant it simply wasn't our night.
Liverpool's priority should now be on reasserting their control of games on and off the pitch.
The mastering of balance between expectancy and caution from team to fans is a strong undercurrent of the wave that has carried Liverpool this season.
The fans have been there when the team have needed. Any anger or frustration has been aimed at opposition or incompetent officiating.
The team have been there when the fans have needed. Any doubt or fear has been quashed by shows of character and maturity.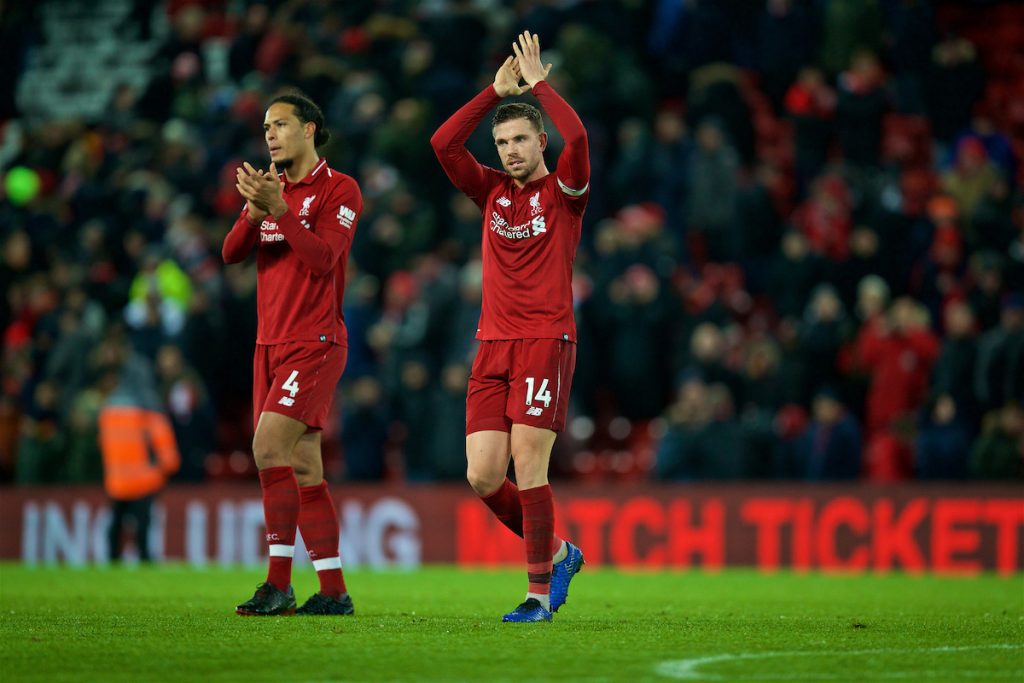 That trust in each other, of them and us, needs to remain for the season to stay on the course it has so far.
Liverpool could probably do with getting back on the pitch right away. A Saturday lunchtime kick off looks more desirable than a Monday night, right now.
Either way, a fixture away from Anfield may not be a bad thing. The barstool or sofa will get the opportunity to act as a hypothetical counsellor's chair as we all look to revise the collective angst created on Wednesday.
A win on Monday in what is another tough fixture offers the chance for us all to reset and regain the trust we've invested so deeply, with good reason, into the temperament and character of this team in recent months.
The fate of Liverpool and their title rivals remains unclear, yet fans of all can take comfort in the fact in no way will their team have "bottled it". They will have done their utmost to win a league title which was relentless in its pace from the get go, and should be praised for the achievement.
Your own bottle is another matter entirely.
"If Liverpool and Man City had both won this week then we would all feel a lot better, even though we would be in a worse position." 👏

🗣 Subscribe for all of our reaction after the Reds extended their lead at the top of the League 👉 https://t.co/lmNtBz4ADz pic.twitter.com/EM0u4Kkw48

— The Anfield Wrap (@TheAnfieldWrap) January 31, 2019
Recent Posts:
[rpfc_recent_posts_from_category meta="true"]
Pics: David Rawcliffe-Propaganda Photo
Like The Anfield Wrap on Facebook