THEY call Anfield, "Juanfield", you know.
In reference to Juan Mata's brace in a 2-1 Manchester United victory at Anfield back in March 2015.
I'm completely fine with it, as I generally always have been with the Man United rivalry if I'm being honest.
As a millennial, having to spend my upbringing watching them be perennial winners and having zero say in the matter, a begrudging respect was automatically formed. It was sheer envy, plain and simple.
What makes me chuckle most about "Juanfield" is that, come the end of the 2014-15 season, United finished fourth.
Now, I'm not one to pour scorn on occasions and people having a lovely time at a football game in isolation. It's just that, from my own experience, Manchester United victories at Anfield meant a lot more come the end of the campaign.
As Liverpool gear up for yet another mammoth test of character and will in Sunday's clash at Old Trafford, they find themselves in an unfamiliar position of strength and superiority.
Sunday is about business for Liverpool, that business is the league title.
Not since a comprehensive 3-0 victory at Old Trafford in 2013-14 have Liverpool gone to United with priorities bigger than the fixture itself. Incidentally, this was also the last time The Reds were victorious away in the fixture.
For Ole Gunnar Solskjaer and his team, the aim purely and simply will be to halt Liverpool's surge to the summit of English football.
United have been, and remain in transition since the departure of Alex Ferguson in 2013. So much so that they now have to prioritise which of their rivals they want to win over the other.
If the day comes when we are having adult conversations over the prospect of United or Everton ruling the roost, then we will all have to revise how we are spending our weekends.
While United will be pumped up to a frenzy both on and off the pitch, Liverpool's approach will be a lot more interesting to observe.
Jürgen Klopp will send his players out with a tactical plan that will hopefully ensure his team can come away with three points, yet his boys will have to show themselves as mentally superior to their opponents if they are to prevail.
Liverpool's 11 need to be ice cold in their approach, while also ensuring chests are puffed out and no hint of a flinch is in sight.
The psychological advantage of United being pretenders in their own backyard is already present before a ball has been kicked. For Liverpool, in many ways, it is about reinforcing that notion early on and not becoming embroiled in a fixture their opponents want to play.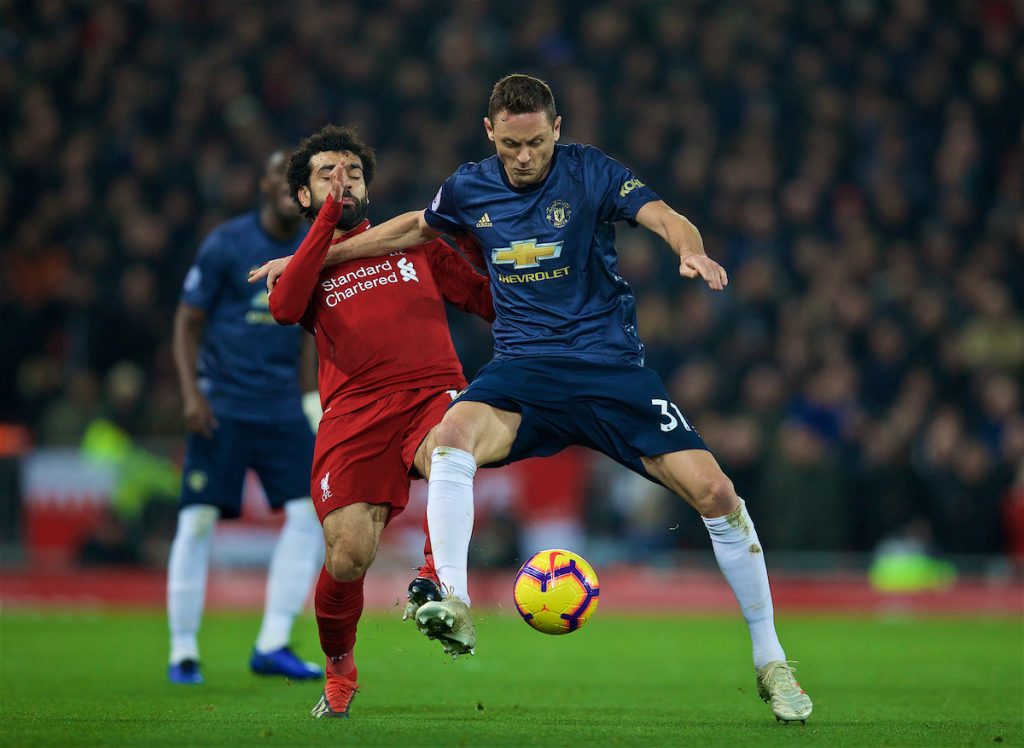 This remains one of the most watched fixtures in the world. It's global audience enthralled by a rivalry of two footballing powerhouses in the north west of the country.
Liverpool have shown this season they have a will and determination to be the best. To showcase that notion on a stage as big as Sunday will be something our players should relish.
For someone like Mohamed Salah, who is yet to register a goal for Liverpool against United, the chance to make the difference for his team and catapult them closer to a league title will be something he will be striving towards.
The same can be said for United's Paul Pogba in a showcasing sense, yet it is Liverpool who carry the mantle of pacesetters across the season and going into the fixture with such a fillip will only inspire more determination, along with the importance of the occasion itself.
Sunday will also represent the last top six away fixture for The Reds this term. With five points from four games already accumulated, a marked improvement has been seen from the form of 2017-18 when Klopp's side managed just one point from five encounters.
The disappointment of the Manchester City defeat aside, Liverpool have looked far more assured and capable in their big away fixtures this season.
If anything, the manager can point to this pre game and offer his players the chance to round off these games with a points tally worthy of a team challenging for, and winning, the title.
Liverpool and Manchester United will always remain colossal. A weight of history on the backs of both that means any type of victory can be a marker of signifying what's gone before.
In this very moment, Liverpool have the chance to ensure that beating United on their own patch means something more than just that.
It means they remain leaders of their own destiny, they remain surging to an achievement which changes everything for the club and the fans. It means they are relevant.
Relevance should be paramount to everyone draped in a Liver bird come Sunday. The mighty Manchester United want to beat you so their rivals can win instead, the absolute state of that.
Make them look like what they currently are. Go there and tell them they have no right to be in our company.
Look the part, be the part.
Recent Posts:
[rpfc_recent_posts_from_category meta="true"]
Pics: David Rawcliffe-Propaganda Photo
Like The Anfield Wrap on Facebook