"A SELF-fulfilling prophecy is a prediction that directly or indirectly causes itself to become true."
Cojones is a Spanish word, and a loan word in English, that can mean:
Testicles, in profane slang.
Courage or boldness, as in the expression "tener cojones", equivalent to the English idiom "having a lot of balls".
This is new ground for many people.
Three points clear in the league with one defeat all season isn't something that comes with most Liverpool seasons. Our Februarys tends to be a hope of a cup or pushing for the top four. Few thought we'd be at the summit ahead of a quadruple-chasing Manchester City side keen on leaving all in their wake.
The obvious exception was 2014 when we were keen to do some destroying of our own, but even then the run to the top took a little longer. The 25th league game that season saw The Reds massacre Arsenal 5-1 at Anfield — a statement of what was to come — but even that win kept us in fourth place, some six points off leaders Chelsea.
We were closer to Everton in fifth than the top of the table.
That was a campaign where things coalesced, leading to a brutal run of wins which catapulted us to the top and took us so close to winning it at last. This season is different. We've gone big in the autumn and established a points buffer. That lead was eroded last night, but there was always going to be a dry patch.
No, what is more upsetting about the last two games has been the self-fulfilling prophecy ever since City crawled off the pitch at St James' Park by our own supporters. Don't get me wrong, I expect a little dissent to be injected into the ranks from the double-digit pundits and columnists — they have a wider media to entertain, after all — but not from us.
Sure, you can point at the lack of a right back, Gini and so on, but there were fans predicting a collapse before then. "It'd be typical if we blah, blah, blah…" Have you learned nothing? Do you think the players alone get us over the line?
Logic tells you that only footballers can stop a man running across the line to rifle in the ball because no one was awake enough to stop him, but it goes deeper than that. Football is as much about mood and momentum as it is on-the-soil talent.
Look at Arsenal. For a decade they've been capable of beating the world. Quality players, quality manager, but it has been said in the past that they lack the "cojones" once they're up against it.
That's escalated from incident to a problem to a narrative to a certainty. For the last few years they were famed for letting negativity into the heads and stumbling when push came to shove.
Do we really think that couldn't happen to us?
Last night at the London Stadium — a ground which would do well to be rebuilt in an area capable of handling large crowds trying to leave it, incidentally — the away end was in fine voice right until Michail Antonio did a horizontal tour of our penalty area. Then the gripes came in.
To Matip, Lallana, Keita and anyone who had the ball. Suddenly, Liverpool were playing two sets of opponents. West Ham and those amassed behind the ball. Belief had gone.
That's understandable, and I vented a fair bit of spleen myself, more so at the referee and his quest to find the most controversial decision he could give, but not before the game.
Yes, this is new. In 2013-14 we came from behind when no one expected a thing of us. Now, we're in a different battle, leading from the front. It's uncomfortable when City win before our game, but that's what this is about now.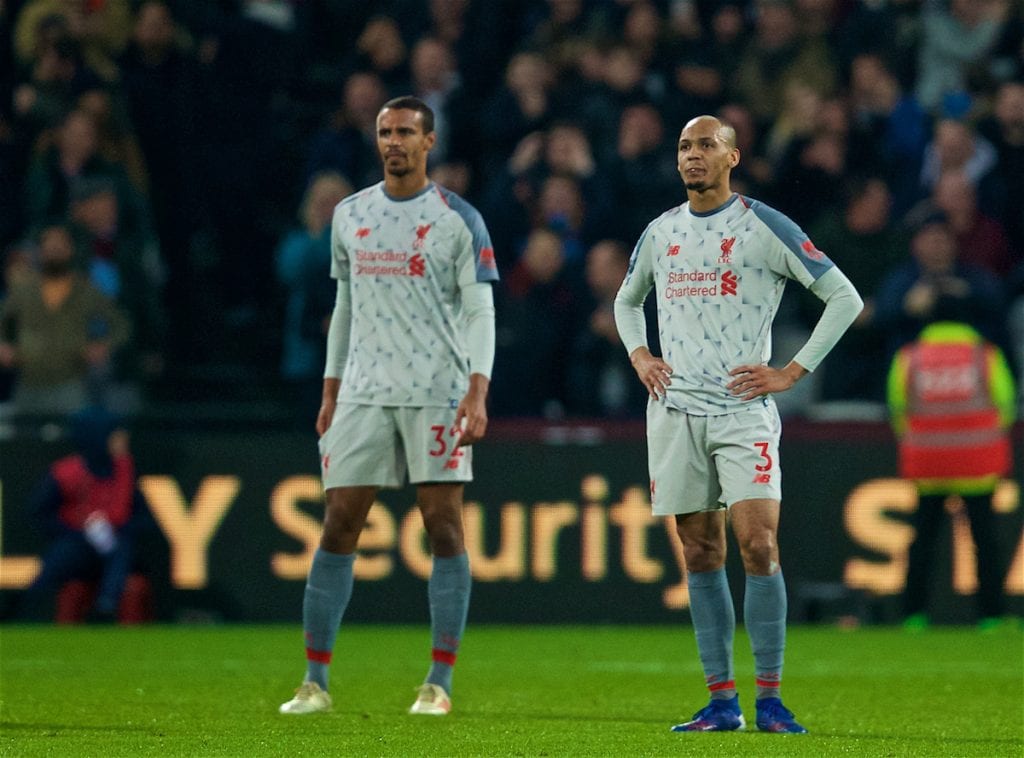 It may do your head in, you may not be able to sleep (a mate of mine recently told me that he was unable to get any kip in 2014 and would often be found in his kitchen drinking a can in the dark at 4am trying to get his head around what was happening to The Reds), but Jesus, look at the alternative. 1993? 2015? I'd take moments of contemplation over that dross.
But, give up before a ball's kicked? In 2019? No chance. This is a support which meets the bus at Anfield to remind them that we're in this together. Us and them. This is a support which sings our anthem when we're under the cosh in the biggest game in the world. This is now also the support where people say "I think we've had it tonight," in the face of a team which features Mark Noble.
Noble, incidentally, suggested we get behind our team a bit more. That was shameful as, let's face it, he had a point.
So where do you want to be? Doing this for the rest of your life? Reminiscing about a great August-February campaign until Dave from Twitter said we're definitely dropping points as the pressure was too much?
Negativity affects the team as much as it does us, so why boost our rivals?
Bournemouth come to Anfield with a raised eyebrow and a dream on Saturday. Let's be on our side of the divide rather than theirs.
This Liverpool side can win the league. It can win the league and that's the only self-fulfilling prophecy I'm interested in.
"In terms of the tempo of the side, Wijnaldum has been one of the strongest performers."

"Without him and the durability of Henderson, we don't have the same rhythm."

🗣 Listen to our FREE podcast reacting to Liverpool's 1-1 draw with West Ham here 👉 https://t.co/NVwHfuZ6vq pic.twitter.com/G28Crrgfzo

— The Anfield Wrap (@TheAnfieldWrap) February 5, 2019
Recent Posts:
[rpfc_recent_posts_from_category meta="true"]
Pics: David Rawcliffe-Propaganda Photo
Like The Anfield Wrap on Facebook