JÜRGEN Klopp has used a line a few times while at Liverpool about a match being one he would pay to watch if he was a punter.
I like that line because sometimes you wonder how it is to be on the inside of football. Anything – no matter how good you perceive it to be – must have an element of routine to it when you've been doing it for years. The kid in the sweet shop effect must fade eventually.
It's good then to hear that some ties get the blood pumping for the players and the manager just like they do for us.
The Reds have only faced Bayern Munich in competitive matches seven times, the last time in 2001 when they won 3-2 in the European Super Cup.
So tomorrow's match has some intrigue, some mystery – that feel of something special, particularly after the break for the FA Cup.
It's also has that "we'll show you" aspect, which so often seems to drive Liverpool, supporters and players, on to something more.
Bayern Munich will arrive giving it big balls. They're 28 times Bundesliga champions. They've got the big ground and the big reputation. And they're already trotting out videos putting the Allianz Arena alongside Anfield.
It's bigger, lads – so what?
All this, the feeling it creates, the buzz it generates, the lift it gives the city – it's why Gary Neville's comments earlier in the season still seem strange a few months on.
This was a player who won the Champions League twice with Manchester United yet suggested Liverpool should "kick it into touch" this season to focus on the title.
How you do that, no one could quite work out. But it's clear no one at Liverpool fancies taking that particular piece of advice on board.
"I know that's very hard to do but if they could go into February, March, April without it, I think they could have a real chance if they had free weeks," he added.
Piss taking aside, his point was the stresses and strains on the squad. Yet now we're here in February and Liverpool have a minimum of 14 matches to play in the Champions League and Premier League, and a maximum of 19 should they make it all the way to the final in Madrid in June.
Neville's cold analysis seemed to ignore what we know can make Liverpool special – the thrill of the chase, the enjoyment of the ride, the buzz when a big trophy moves within touching distance.
Manchester City fans may – oddly – still sing about Liverpool losing in Kyiv (and distastefully about being "battered in the streets"), but that run to the final made memories for thousands and is still discussed to this day.
How good was stuffing City at Anfield? Emerging victorious on their patch despite their perfect start to the match? Blowing Roma away at Anfield? The atmosphere at the away leg in Italy? Shevchenko Park?
It might have been fantastic for the club's fan culture, but it wasn't just a supporter thing either. Remember the manager and the players coming out to party on the pitch in Rome? They felt it. They loved it. And you can bet they want more of it.
Yeah, we lost the final. Yeah, it was tough to take. But it didn't wipe out what came before, for us or for them. For the team they were lessons, experience. For us, and for a largely fresh-faced end in Rome, it was new light under the fire of Liverpool in Europe. Perhaps that final was a reminder to the club about the need to invest in quality on the pitch, too.
Tomorrow night we get to do a European night again – out will come the banners, the flags, and the songs for a tasty looking match with a storied club. The world will watch on. And a victory against a fellow five-time winner of the European Cup would be the perfect statement of intent, after what has become an incessant negative noise around Liverpool's chances of lifting silverware this season.
Neville can still say he has a point and only has to highlight Liverpool's "crisis" at centre back to defend what he was driving it. But the counter is psychological. How much taller will Liverpool walk with a win over a European giant in their back pockets? What can this side, this squad, do with that confidence coursing through it?
If Liverpool can step up the gears and find more of the magnificent to match the machine-like in the coming months, anything is possible.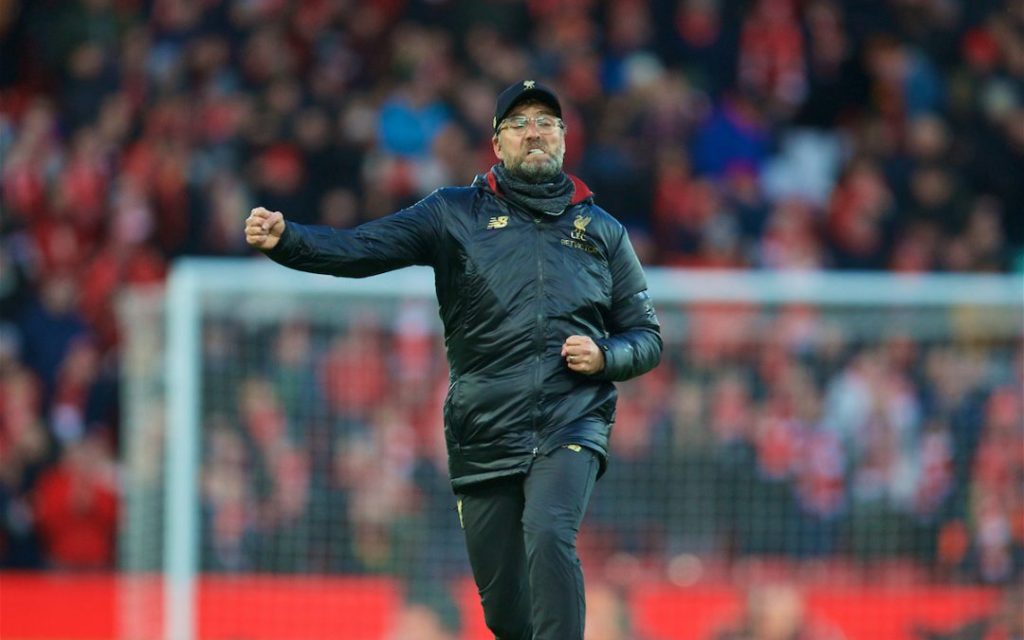 City, Roma, PSG, Napoli – all of those games proved Anfield can still do a European night and we don't have to dig deep in our minds to remember how.
Bayern's players might be trying the tricks of the mind when they say they aren't the favourites for this match, but you can bet they don't relish facing Liverpool. Why would you when The Reds have not lost a European match at Anfield since the red carpet was rolled out for Real Madrid in October 2014?
Then some wondered if it was too far removed from what once was; too many snapping Ronaldo and acting in awe of the opposition, sparking depressing debates about the atmosphere and the culture of the club.
Against Bournemouth, Anfield did it for a Saturday 3pm for a routine Premier League game. What can it do for one of the ties of the round in Europe?
We're paying to find out. And for games like these it's worth every penny.
"In 2013-14 we were all so swept up in the emotion of it.

"The club now, from top to bottom, exudes calm. That's the difference." 👏

🗣 Subscribe to #TAWPlayer for all of our buildup to Bayern Munich, Manchester United and more 👉 https://t.co/lmNtBz4ADz pic.twitter.com/GclLtWCuPW

— The Anfield Wrap (@TheAnfieldWrap) February 14, 2019
Recent Posts:
[rpfc_recent_posts_from_category meta="true"]
Pics: David Rawcliffe-Propaganda Photo
Like The Anfield Wrap on Facebook