SO, I've had a shit week. How about you?
Monday night saw Liverpool potentially hand the momentum in the Premier League title race back to Manchester City, just five days after having the opportunity to go seven points clear at the top.
The Reds remain at the summit for now, but will fall to second place on goal difference should Everton fail to get anything from their clash with City on Wednesday night (albeit with a game in hand).
West Ham fought for their 1-1 draw at The London Stadium. They really wanted that point, and put everything into getting it. It must be particularly annoying for Hammers fans that their team didn't put the same effort into their defeats to AFC Wimbledon and Wolves, but there you go. Teams raise their game markedly when The Reds come to town.
That's not supposed to sound as bitter as it definitely does. By and large, lesser teams have done the same against Manchester City and Chelsea this season, just ask Newcastle and Bournemouth.
Jürgen Klopp's men had dealt with it perfectly up until recently, having gone until late January without dropping a single point to a team outside the top five. They have now dropped four points in five days.
Both Leicester and West Ham put in infinitely more concentration and hard work against the league leaders than they did in their previous games, but as any champion will tell you, that is something that you have to get used to if you want to be king.
Perhaps nerves played some part, but to me that just feels like a lazy analysis when you can't quite put your finger on the real reason. Injuries? Wrong tactics? A simple drop in form that happens to every team from time to time? Nope. When a team is top and they drop points, it's entirely because they don't have the intestinal fortitude.
Opta doesn't measure nerves, but it might want to start doing so. Some sort of "nerve map"; which I assume would just be a bright orange rectangle for Liverpool right now, if the media are to be believed.
City and Spurs will be rubbing their hands together, not only seeing the two draws that Liverpool have had, but the relatively insipid performances that went with them. All of a sudden, passing more than 10 yards seems to be the hardest thing in the world, runs in behind are badly timed, two decisions which result in the wrong one 90 per cent of the time.
The only way to respond to boosting the confidence of your rivals is by taking it away again. There are no ifs, ands or buts now. Liverpool must go on a winning run again, starting with Bournemouth on Saturday — another team who are heading into the game off the back of looking appalling against a lesser team.
Klopp and his players should heed the warning that their two previous opponents were also shaky as a wet leaf until they met the league leaders. Eddie Howe's men will put in everything they have to halt the red charge, and Liverpool need to rise to that challenge in a way that they didn't against The Foxes or Hammers.
There's no getting around it (much like Mark Noble from a freekick), injuries are having an effect. For all the talk during the season that Liverpool have had "good luck" with injuries, they found themselves without Joe Gomez, Trent Alexander-Arnold, Dejan Lovren, Jordan Henderson, Gini Wijnaldum and of course Alex Oxlade-Chamberlain.
Put even half of those lads back into the team and they probably win both games in the last week, but these are punches you merely have to roll with. City and Spurs have had their fair share of knocks too, and they generally find a way to get the job done.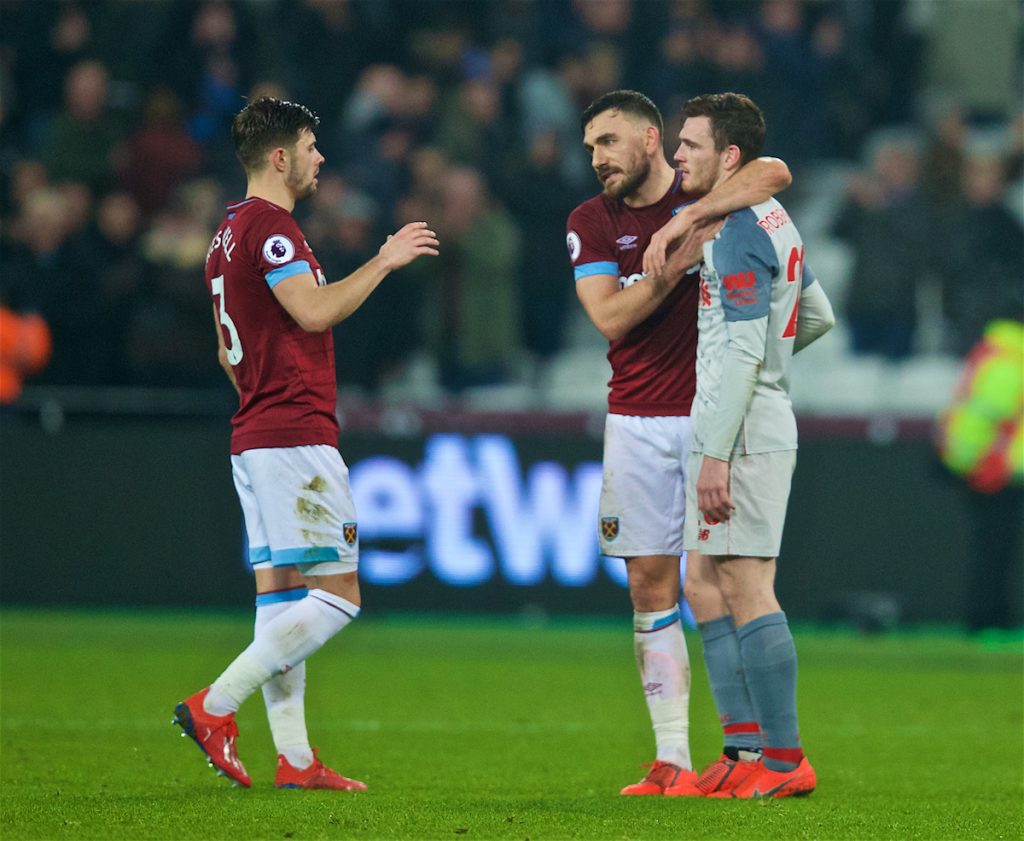 Liverpool have to make sure that isn't a difference maker. They are still likely to finish ahead of Spurs. However, while the North Londoners have struggled in their last three games against inferior opposition as much as The Reds have, they have nevertheless found a way to nick late winners in all of them.
Liverpool huffed and puffed but couldn't blow any house down against Leicester and West Ham, and the points dropped by them and gained by Spurs have allowed Mauricio Pochettino's side back into a title race they were well out of just a fortnight ago.
The bad luck for Klopp just seems to keep on coming, though. The extension to the time on the sidelines for Gomez and Lovren coupled with knocks to Henderson and Wijnaldum led to a bit of a wonky selection against West Ham, just when Liverpool badly needed some consistency in the team.
Considering the Twitter fume beforehand, I actually thought Adam Lallana played well. His role in the buildup to the Sadio Mane goal was frankly remarkable. The sort of play that would have Paul Pogba fansites bombarding us all with gifs for months on end had the enigmatic Frenchman pulled it off. However monumentally offside James Milner was, Lallana's play was superb.
Naby Keita continues to divide opinion. I am still in the pro-Naby camp, though certainly see what is frustrating others. His passing just seems a bit off, as if the reactions of Bundesliga players isn't quite as quick so he was able to pass it nearer to them without the ball being intercepted.
You did also see the good he can bring though, particularly near the end. As limp as most of his teammates looked, Keita was the one trying to drive into the box, trying clever balls into Mane and Salah, and his pass to Divock Origi at the end would have won the game had Divock the Toffee Slayer stuck it away.
Momentum has arguably shifted towards Manchester for now, but as things stand, Liverpool still hold the cards. They've left themselves with very little room for error from this point, but must now show the world that they are not for shoving aside.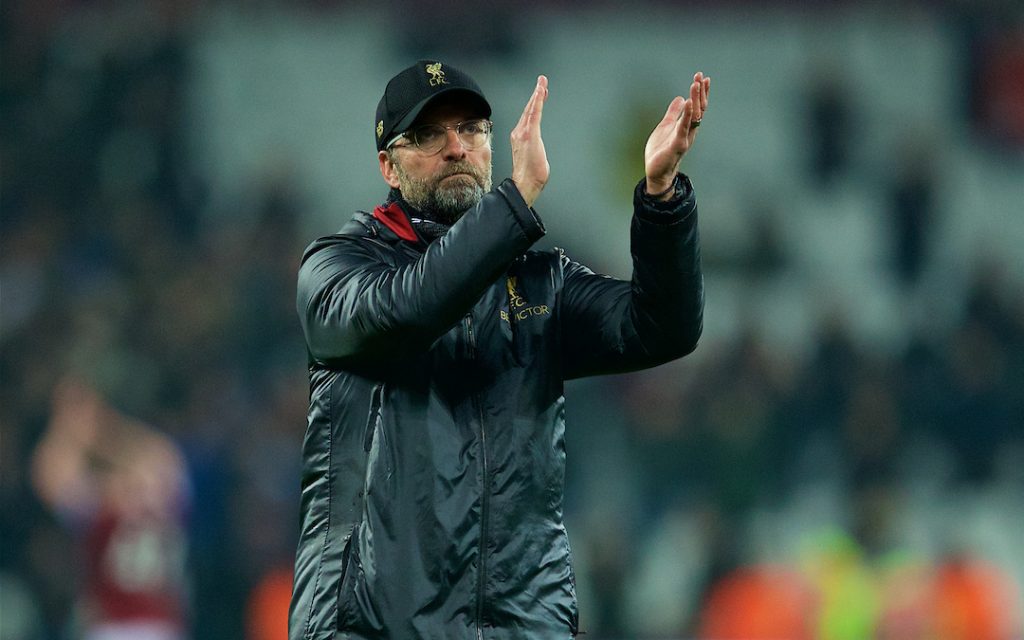 There is a long way still to go. Plenty of twists and turns, and if you're going to have a blip it's better to be doing it now rather than right at the end, and to still be picking up points, even if it is only one instead of three.
Liverpool have finally shown some weakness, but City remain the only side to beat them in the league. City can be incredible, but have also shown themselves capable of losing to anybody on any day.
Spurs, while doing the business now, surely cannot continue to rely on late winners, and still have to go to the Etihad, Anfield and Stamford Bridge (that's being painted as a positive for them by some pundits, which seems bizarre given their poor record in such games).
This can still just be a dropped stitch in the Premier League tapestry, to paraphrase Del Boy's dear old mum. Liverpool have had plenty of frustrating times under Klopp and have always bounced back stronger. They must do so again, starting with unequivocal and ruthless victory over Bournemouth.
The Reds can't let negativity creep into what has been such a positive campaign to this point. They just need to remember what got them here and drown out all the unnecessary outside noise.
Liverpool need to brush that dirt off their shoulder and fight. Anything worth having doesn't come easily.
"It's two points dropped, they're going to happen."

"But it's two games on the bounce and the concern is Liverpool haven't created a great deal."

🗣 Subscribe to listen to our post-match reaction show after Liverpool's 1-1 draw with West Ham 👉 https://t.co/XZAK9veWt7 pic.twitter.com/eFe8alYwjf

— The Anfield Wrap (@TheAnfieldWrap) February 5, 2019
Recent Posts:
[rpfc_recent_posts_from_category meta="true"]
Pics: David Rawcliffe-Propaganda Photo
Like The Anfield Wrap on Facebook