IT could well be Liverpool's best performance of the season.
Off the back of one of the most disappointing, that is quite something, off the concern rattling around the diaspora it is everything.
It is what happens when a unit is genuinely resilient, what happens when a team is absolutely brilliant. Liverpool top of the league.
I wish you could have been there.
Nothing is quite like a 5-0, nothing feels more like a weight off. Five-nil is the score of dominance, and the thing is Liverpool dominated a good side. Watford were actually quite good. They were tidy in moments and had a clear shape and plan. They had thought about Liverpool.
But they had no answer to Liverpool in the flesh, nothing they could do to cope with every single outfield player. Liverpool were irresistible. That was the point of them today.
Almost everything is based on the start from Sadio Mane, James Milner and Fabinho. The three of them dictated the early tempo. Mane absolutely ran the show from centre forward, a Bobby Firmino karaoke performance that took light, became better than the original, became everything. The header is tremendous, the backheel is the best thing I have ever seen in my whole life.
I wish you could have been there.
James Milner bombed about the pitch, it was like playing with 12, like playing with 13. Watford will sleep tonight with Milner on their retinas — closing, and moving, and shifting.
Fabinho loved it. Loved the pitch and the contest. He is a joy to watch, reading the game better than any other on the park. He plays his position with joy and he made clearly, early and often, that the game was a Liverpool game.
But Trent Alexander-Arnold has just thrown in the type of performance which would make David Beckham in his pomp blush. He has done it from right back.
There is a crazy conversation around Trent that is desperate to move him into midfield. The game shifts and changes, and right now it is easier to create explosively from full back rather than from central midfield. Trent shows that time and time again tonight alone.
Why be one of the best centre mids when you can be the very best right back? It will be a debate reheated for the whole of his time at right back.
Yet it doesn't happen with Robertson. We saw his brilliance tonight too. He came alive.
Mohamed Salah made Adam Masina's life awful. I felt for him when two down, legged time and time again. The gulf between them was astonishing. Salah kept asking him questions, at times holding his position with chalk on his boots.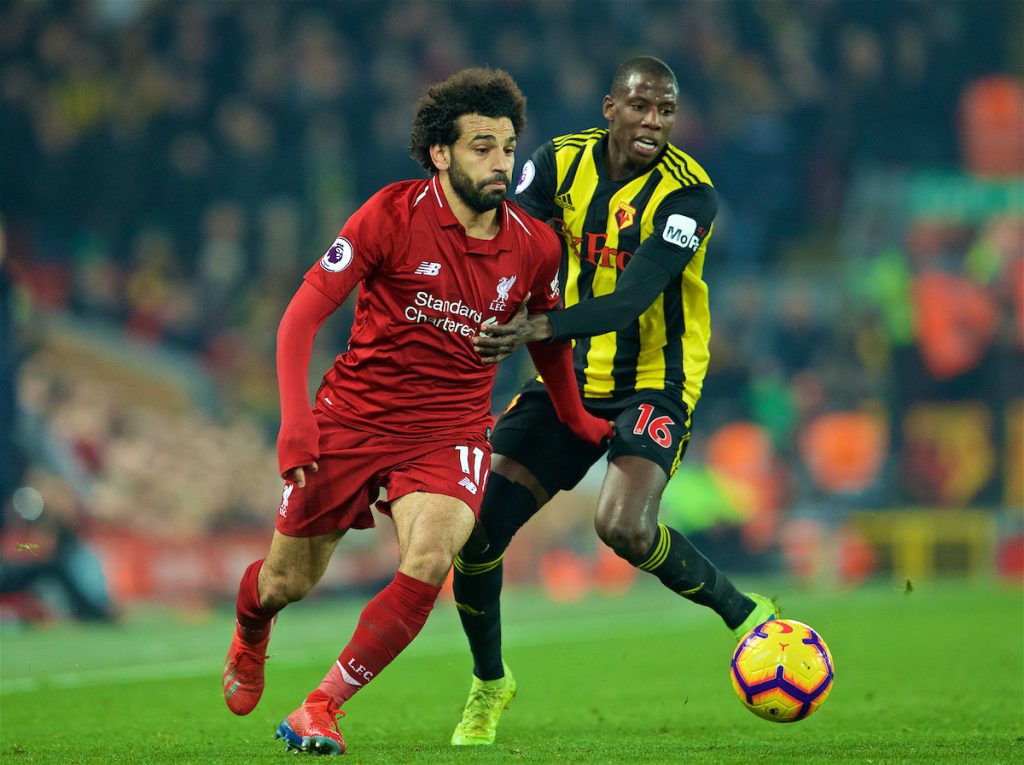 Imagine the courage it would take to hold shape knowing Mo Salah has 30 yards of space. Imagine the stress levels. I watched Masina not know whether or not to stick or twist, knowing that the doubt in his mind will be in the mind of his teammates, knowing that everywhere they are left uncertain.
Liverpool don't just outplay you on nights like tonight, they leave you spun, unsure, a wheel of fortune that cannot stop ticking. They tap one shoulder and walk past you. They put a pea in a cup and ask you to guess where it lands. And wink at you.
Divock Origi warmed up brilliantly for Goodison; always willing, always strong. He charged around, shuttles and then scored a goal that was never on until it was obviously in the back of the net.
Virgil van Dijk got his brace and left me willing a penalty, shades of Gary Gillespie in the run in of 1985-86. Liverpool battering sides while Everton squeak wins. Until they can squeak no more.
I wish you could have been there.
Let's see, let's see where we end up. For now, Liverpool are top and suddenly Liverpool are having a ball. Calm as you like. Anfield unwound tonight, Anfield enjoyed itself and Anfield stood agog watching the league leaders be outstanding.
Too many bottles have gone, you know. Too many of our lot have spent weeks secretly wishing they were having Manchester United's season. It isn't stressful, it is hopeful, playing for fourth, hanging on for a cup. Easy that. Being Liverpool has been weighty because of the number of points required, the sheer scale of the task. Fucking cowards, the lot of them.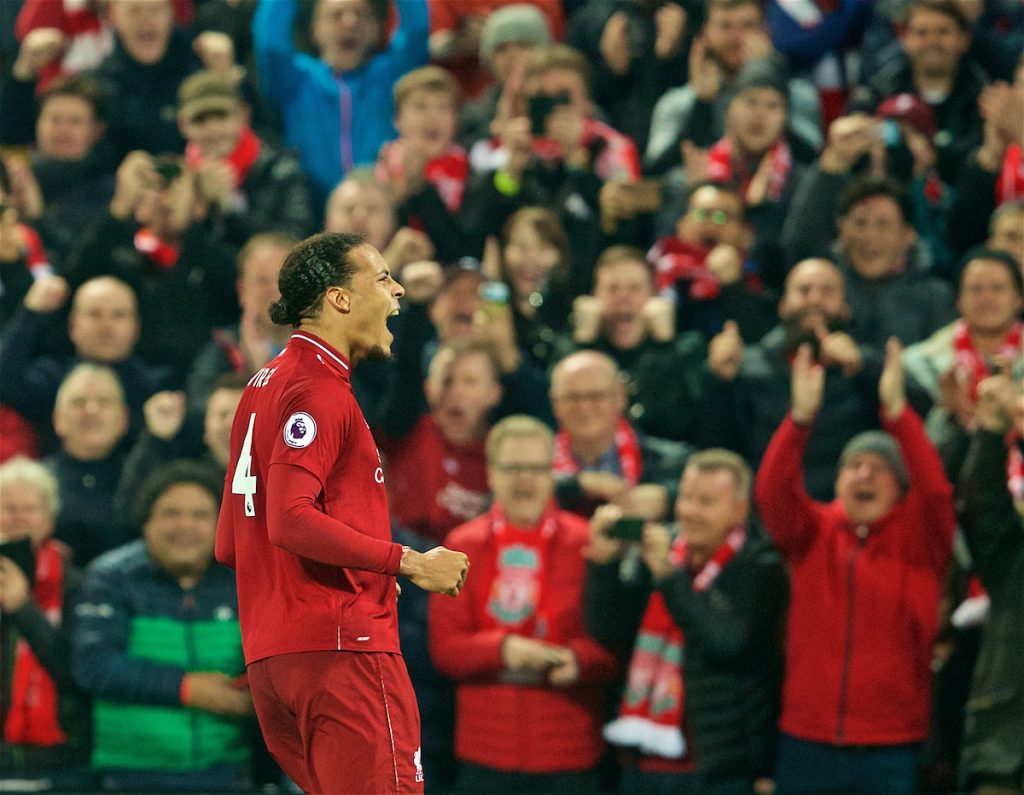 The scale of the task is nothing to the scale of the potential achievement. The scale of the night out, the scale of the sheer fuck-off dance we can have together. There is no scale greater than spending the summer sitting in trees smiling at passers by.
There is nothing better than Liverpool top of the league, everything else pales into comparison.
Opportunity knocks. The manager knows it and his lads know it. They knew it tonight.
One point clear.
Twenty-eight games gone. Ten hurdles to go. They were our lads Sunday, our lads tonight. They will do for me. They are not cowards.
Neither are you, handsome. Neither are you, queen.
I wish you could have been there.
"That's by a mile our best performance of 2019.

Liverpool were excellent tonight." 💥

🗣 Subscribe and listen to our immediate post-match reaction show after Liverpool 5 Watford 0 👉 https://t.co/XZAK9veWt7 pic.twitter.com/yCmZ1zawdU

— The Anfield Wrap (@TheAnfieldWrap) February 27, 2019
Recent Posts:
[rpfc_recent_posts_from_category meta="true"]
Pics: David Rawcliffe-Propaganda Photo
Like The Anfield Wrap on Facebook