NORMAL service resumed?
In a sense, yes. Liverpool cruise to victory against reasonable mid-table opposition, keeping a clean sheet, the question more about how many rather than how.
In that normal service sense, Mo Salah hits the bar, elicits a great save and scores. In that sense, Sadio Mane yet again opens the scoring and yet again leads from the front. In that sense, Virgil van Dijk barely breaks sweat and Jürgen Klopp gives it the big one in front of The Kop. In that sense, Liverpool are top, three clear.
Much hasn't been the norm, though. Naby Keita has promised but not served. Today he was sublime, deserved a goal, but his weight of pass was tremendous, his movement perfect. He clicked right into the shape and style of The Reds and raised them. This can become the norm quickly, could become a norm which powers the next 12. It's a suddenly exciting prospect. Big bowls of soup all round.
Gini Wijnaldum has 10 minutes which were abnormal from 22 or so. His entire performance is what we have almost become complacent about, glueing the side together, bringing everyone along. It is an ongoing act of quiet brilliance, generosity and determination. He will not accept anything less than his teammates' best but he will provide them the platform. That's the norm. What a norm.
But what he does from 22 hasn't been. He is ahead of the play, only Mo Salah near him. He is bursting forward. Liverpool have had too little of this but then something else happens. Twice he is generous, but the third time he is sublime, Boruc clawing at the air.
This Liverpool side with its clean sheets and its front three and its platform from midfield has missed one thing: goals from the centre of the park. Gini Wijnaldum delivering that as we know he can is also an exciting prospect.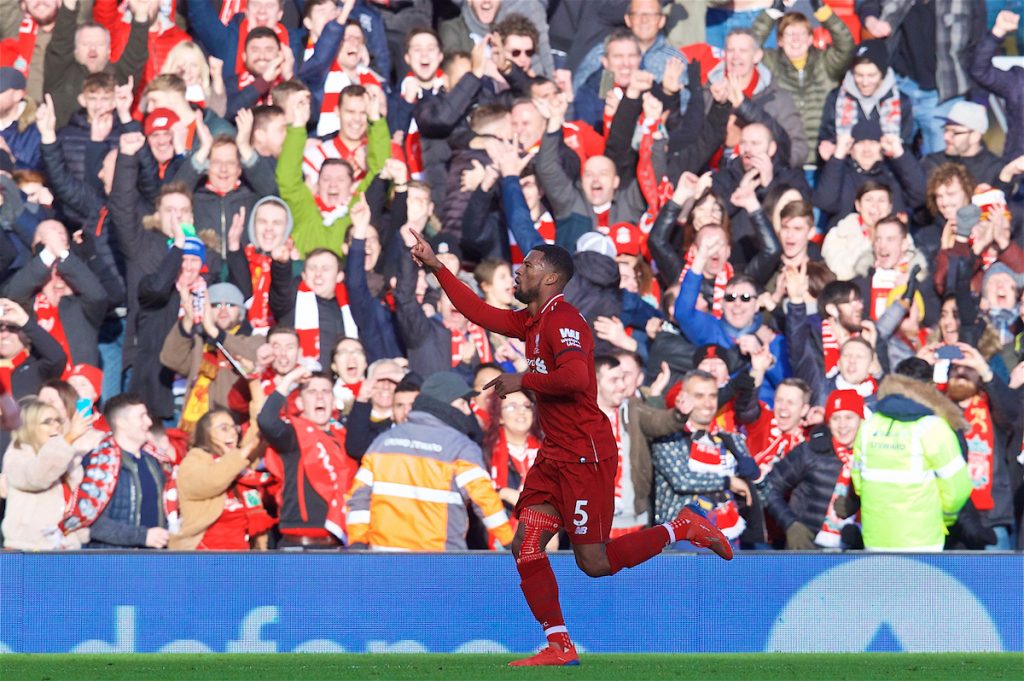 It wasn't just him; Keita, as mentioned, has a great chance, Trent Alexander-Arnold has a great chance, Milner and Robertson are around the box. I love the front three. Great lads one and all, but they cannot carry that burden alone, they have for too long. Let that change.
What hasn't been normal this season but was last season was the make up of that three. Today, the starting positions were back to last season's normal. Firmino mostly through the middle. But what matters isn't where you start, it is where you end up. And it is how involved you are.
In the last few games, the ball hasn't been with the front three often enough or early enough. Today, it was with all three quickly and where they wanted it. Mo Salah has just had more of the ball in 90 minutes from the right than he did in the last 180 centrally. This doesn't need to be a permanent change but should be remembered as a serious option.
What's also a serious option is getting right behind The Reds and enjoying it wholeheartedly and demanding more enjoyment. The first half was terrific, a tour de force from Anfield, Anfield roaring and raging in the right way. Anfield asking to be taken to the promised land, Anfield calling for Hallelujah in the highest, rather than blaspheming at the lowest.
Anfield showed love and respect and joy for the lads. This hasn't been normal. Don't get me wrong, this ground for 12 months has rarely been bad. I remember the end of Houllier, I remember the civil war. I remember the Rodgers equalisers, the Dalglish silences, the Hodgson disgraces. Leicester the other week was a Wacky Warehouse by comparison.
But the context mattered. It may have been a minor squall but one minor squall in the context of normalising brilliance, one minor squall for a side who have done so much for us was one too many. Even today, even when they are brilliant, they need us more than want us. And they want us for all time.
Imagine being a football player without a cauldron to play in. Imagine your crowd working against you. Imagine your childhood imaginings, your dreams of being a footballer and remember what happens when your daydreams turn brilliant. You turn to a crowd arms aloft. They respond.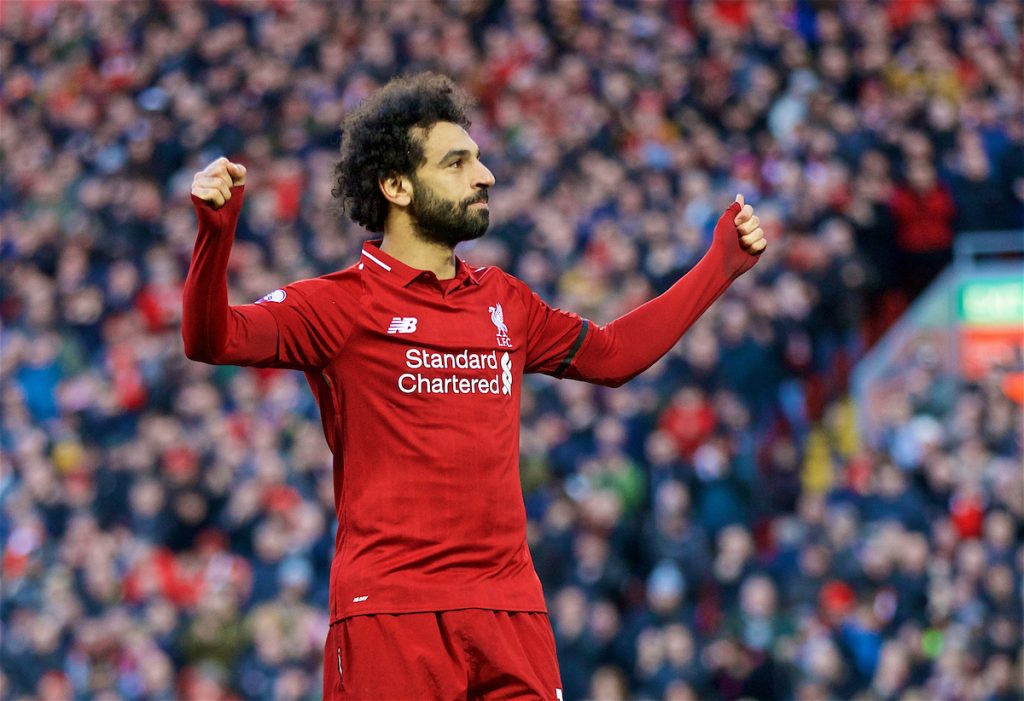 You can do this for the fame, and the money, and the sheer brio of it, but in that moment you do it for around 55,000 people who have lived and dreamed and breathed. You do it to show off. Naby Keita today showed off and fucking fair play to him for it.
Up the Reds, up the Reds who sang and roared and demanded, up the Reds who danced and chipped and passed. The only way any of this makes sense is if we are together through it, better or worse.
It came to my attention that it is five years yesterday since this mad indulgence of a column started happening, five years since Liverpool put five past Arsenal, four in 20 minutes, five years since we roared those Reds into the improbable and they responded with the impossible and I started to write down all that is seen and unseen.
Right now, I prepare to pass this phone to Steve Graves to sense check as I did five years ago.
Through those five years there has been a hell of a lot — and thank you for being patient and indulgent — but through those five years one thing has been crystal clear: this thing of ours is so much better when we display togetherness, kindness and love. This thing is an exchange, a transaction.
They give us reason to go spare, we go spare. They give us everything, we give it all back.
We get to do it from now to May with this current incarnation. We get to live this with them, for them and as them. We get to have these weekends and midweeks with each other.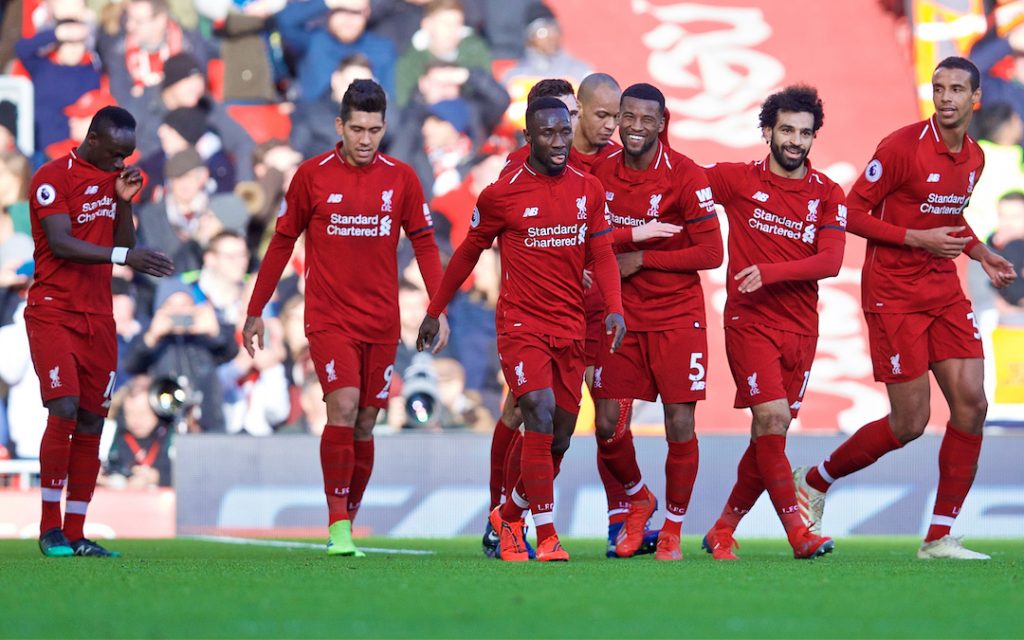 Let it become the new normal:
– Naby Keita's brilliance and big bowls of soup.
– Goals from around the pitch.
– Salah, Mane and Firmino flitting about.
– Us being marvellous.
Let it all become the new normal along with the rest of it.
What's always been there is needing more than wanting, wanting for all time. Love you, handsome. Love you, Queen. God has given us these days of leisure.
Twenty-six done. Twelve to go.
"Liverpool produced an outstanding performance in front of a buoyant Anfield crowd."

"Liverpool go back to the top of the league and they will take some stopping."

🗣Subscribe to listen to our 'Post Match Show' after Liverpool beat Bournemouth 3-0 👉 https://t.co/VjGiVAZ5VU pic.twitter.com/WA7GuvDTG4

— The Anfield Wrap (@TheAnfieldWrap) February 9, 2019
Recent Posts:
[rpfc_recent_posts_from_category meta="true"]
Pics: David Rawcliffe-Propaganda Photo
Like The Anfield Wrap on Facebook