IT'S funny how people see games so differently.
As the teams left the pitch on Tuesday, the BT Sport commentator exclaimed "advantage Bayern Munich!" Like it was practically a fait accompli. That was strange. I felt the opposite.
The German's played well at Anfield — or rather defended well — and they'll take the plaudits for the first half of that scoreline. "Liverpool 0" against this side is something to celebrate. Man City are the only side to come away with a clean sheet at Anfield this season. The last team to do so before them was Stoke City of all people back in April. I don't make the rules.
But at the same time I'm always a bit concerned if The Reds draw a blank in the first leg away from home. One deflected opposition goal at Anfield can pull a tie from Liverpool's grasp. Away goals are the highest of all risks in European competitions.
I mean, if it's 0-0 after 90 minutes in the Allianz Arena in three weeks' time, we get a whole 30 minutes extra to try to get the all-important strike. I'd rather have two hours than one and a half to knock one in if the opposition haven't laid a glove on us at Anfield.
It's a sign of progress that such a result can be met with disgruntled faces and mutterings of missed opportunities from Reds. Bayern are some side and were the last non-Spanish side to win the thing, after all. I'd gladly take some of their lads for our bench if they're offering.
Six years ago this week, we went out of the Europa League to Zenit St Petersburg. Times have changed.
The story before kick off was about all about the defence, save for the 23-hour Firmino virus which somehow made him play better than he has many times this season. If he reacts the way he did in the first half, I hope everyone sneezes on him before the United game.
With Virgil van Dijk missing through suspension and everyone else injured, the appearance of Fabinho in the back four was greeted with winces.
Oh, he's fine at the back, but he's more or less cemented the deeper role in midfield nowadays. You put that square in a round hole and you're automatically a man down in the middle of the park where you'd expect much of the game to be played. A weakening of two positions rather than one.
Of course, that gap would be filled by the captain, but that too came with its own debate.
Jordan Henderson occupies the strangest place in Liverpool fandom. Despite playing over 300 games for us and captaining The Reds more times than even Phil Neal, he usually appears high on the list on those ubiquitous "deadwood to be sold" lists that come about when we've lost.
The criticisms cover many areas. He's not Steven Gerrard. He's not Xabi Alonso. He's not Javier Mascherano. He doesn't grab the game by the bollocks enough. He can't thread a ball through. Too many square or backward balls. He's not aggressive enough.
Look at that score again. Bayern Munich 0. With a central midfielder in the back four next to a centre back with a head like a sheriff's badge. Without Henderson, very strong players would have ran at those lads and things could have been much different.
But he was there. And he was brilliant.
He was all over the park. A recovery run here, Robbo's best mate there. Can't pass a forward ball? Well, if Salah pokes in that gorgeous through ball in the first half you'd talk about nothing else for the next week. Poets would meet to discuss it and try to bend the language around it to do it justice.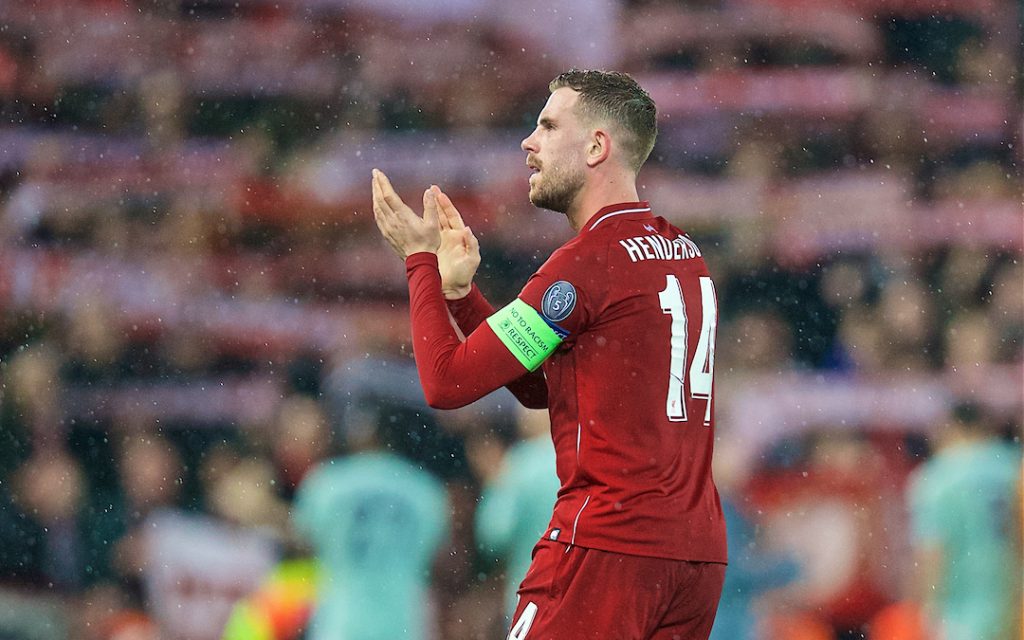 Not aggressive enough? He took every Bayern pass personally and in everyone's faces.
I understand the argument that a Keita-Fabinho-Wijnaldum is the most balanced and Keita is improving with every game, though not quite at the consistent level required just yet, but none of that should underplay Henderson's importance to this game or his position in the squad.
Maybe his playing style flies in the face of what many consider a Jürgen Klopp midfielder to look like. The idea that the German is obsessed with heavy metal football, with goals throughout the 11 and everyone running gung-ho at all times, is an exaggeration of his vision. Or bollocks, if you will. Not everyone can be a young Dirk Kuyt with a need to turn the game into one of those HIIT classes.
Every team needs its policeman. Its barometer. Henderson's chief aim is to protect his mates and then dictate the tempo. Fair enough, he can be a bit conservative at times, but there are the games when it's not really advisable to play Hollywood balls to tired runners when the opposition are keen on a breakaway.
This Bayern game was a case in point. With Keita and Wijnaldum pressing constantly, Liverpool needed a cool head to mop up the second balls and give it back to them. The difference this time was that he too played more aggressively while still keeping an eye a watchful eye on Thiago Alcantara and wide mates.
He was majestic in the first half, but as the game wore on and our full backs tired he was there to cover them, collecting the under-hit and intercepted passes to ensure there were no nasty surprises coming.
After all, no game has one theme. They have acts and scenes, each with a different theme. Jordan Henderson was the barometer of all on Tuesday night.
Not everyone is a number 10. That's the point.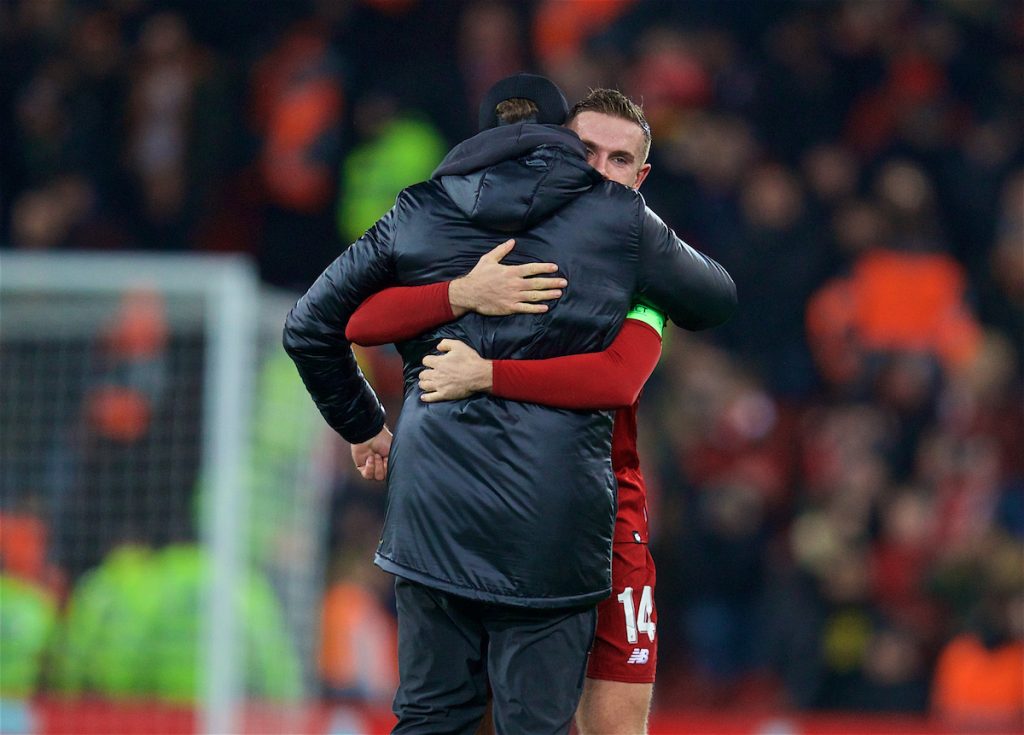 And yet the resentment drags on.
Some saw every Henderson inclusion as a slap in the face to Fabinho. While the much-fancied Brazilian was finding his way around the place — where the shops are, that sort of thing, Jordan was racking up early season appearances even though most of them were from the subs' bench.
The Echo was even accused of deliberately giving Fabinho lower match ratings, while Henderson's were inflated, as the captain has friends on the paper.
If that was a different club we'd laugh ourselves silly. In any case, that's the ludicrous levels of zealotry we're talking about. Suddenly it was Henderson v Fabinho rather than feeling pleased that we have the strength in depth for a crucial role.
Jordan Henderson has his faults, but so does every other Liverpool player. That's normal, but there are times when he's exactly what you want on the pitch. Against Bayern, he stepped up and showed Europe what he's capable of.
The manager loves him. The manager continues to give him the armband when he plays despite calls for "the big lad" (as Klopp called van Dijk post match) to take over. The players love him too.
It's just odd that not everyone else does.
"I'm not worried about this at all. We can turn them over in Munich." 👏

🗣 Subscribe to #TAWPlayer and listen to our immediate post-match reaction show 👉 https://t.co/XZAK9veWt7 pic.twitter.com/emM9vYHeHW

— The Anfield Wrap (@TheAnfieldWrap) February 19, 2019
Recent Posts:
[rpfc_recent_posts_from_category meta="true"]
Pics: David Rawcliffe-Propaganda Photo
Like The Anfield Wrap on Facebook