WE'LL get to the young lad.
Liverpool picked a team who looked like they had never played together before. Wolverhampton Wanderers picked a team who knew exactly what their jobs were.
God, could you tell. In the first half especially, you could tell. Barely a single Liverpool player had a sense where another one was, barely a single Liverpool player out of possession had any sense what a Liverpool player in possession was going to do.
Old truths made sense, what you grow up with; Divock Origi hitting channels and doing bits, James Milner splitting the centre halves. Rafa Camacho backed himself and his teammates but he was virtually alone in that.
We'll get to the young lad.
The truth of the matter was the footballers with many senior appearances disappointed with the three behind Origi the worst offenders. Daniel Sturridge, Xherdan Shaqiri – one exceptional freekick aside – and Naby Keita offered far too little in both halves but especially the first.
All three have mitigating circumstances, and the freekick wizard has earned a pass, but it should be concerning for them and their manager how little they were able to influence proceedings when they were centre stage to do exactly that. It was an opportunity to demand selection against Brighton, but for all the mitigation in the world only Shaqiri can knock on the manager's door on Monday morning if he doesn't get time at the Amex.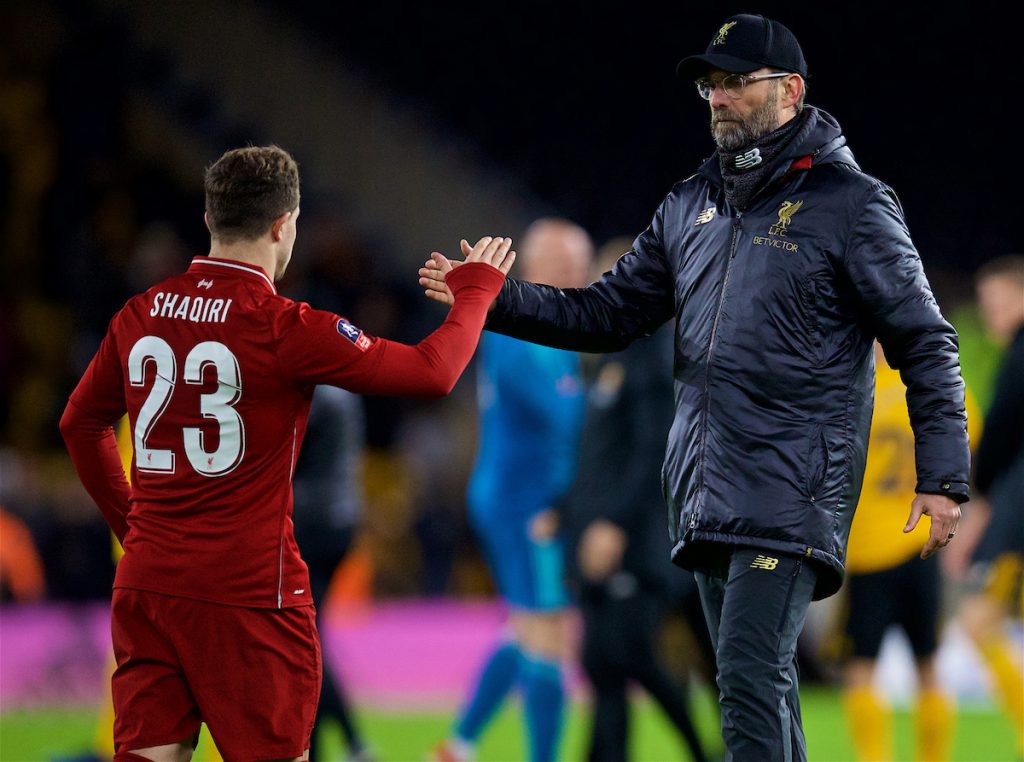 The opening goal is a pig's ear. James Milner looked to be playing all the dots on Football Manager up to the halfway line first half, and earns the assist for the goal in the second, but he should do better in the situation he finds himself in. He shouldn't be put there.
Alberto Moreno puts him in all sorts of bother and before we know where we are Raul Jimenez is bearing down on Simon Mignolet's goal and the Belgian does loads of sensible things. I mean that as a criticism. Raul Jimenez does loads of sensible things too and he is the one in possession of a goalscoring opportunity.
We'll get to the young lad.
Wolves, in truth, were just sense all game. Sense and size and a big switch. They never went for the throat, they never tried to dominate, they never capitalised on opportunities. If anything, this should be the most damming thing for the senior members of this Liverpool team.
They trusted they could hold Liverpool at arm's length and they waited for mistakes and they were right on both counts. Wolves played like the team they are — last season's Championship winners and this season's best of the rest.
Even the introduction of the boss lads didn't rattle them, not least because they funnelled where the boss lads could get on the ball. Liverpool played into Wolves's hands time and again, Willy Boly getting a second half entirely on his terms.
Boly may not have been the best centre back on the night. Fabinho excelled there for The Reds. He was Liverpool's outstanding performer and — along with the endlessly thinking and grafting Milner, goalscorer Origi and the effervescent Camacho — he can go to sleep tonight feeling like he produced what was required.
There is another sense where the again impressive Boly may not prove to be the best centre back on the night. Shall we talk about the young lad now?
What were you doing when you were 16?
Take the question seriously. Pause and consider it and please don't give it the big one. Whatever you were doing, Ki-Jana Hoever has just done that.
In fact, forget that; Hoever's best work, most precocious work, doesn't come tonight but comes in the days and weeks leading up to it. He has been at Melwood working with some of the world's best and has been good enough for them to have him on the bench tonight and urge him forward.
There will be some who will think along the lines of "well 16-year-olds have no fear". Firstly, defenders have to have fear. They have to make an uneasy peace with fear, acknowledge it exists, live in it but defeat it time and again.
Secondly — trust me — when I was 16 I had tons of fear. Was drenched in fear. Coming out of my ears. My job was cleaning show homes and I lived in fear of people working out how terrible I was at it.
There is nothing quite like what we have seen tonight. Play right wing and get lashed on and impress is one thing, but to do so at the heart of the defence is another entirely.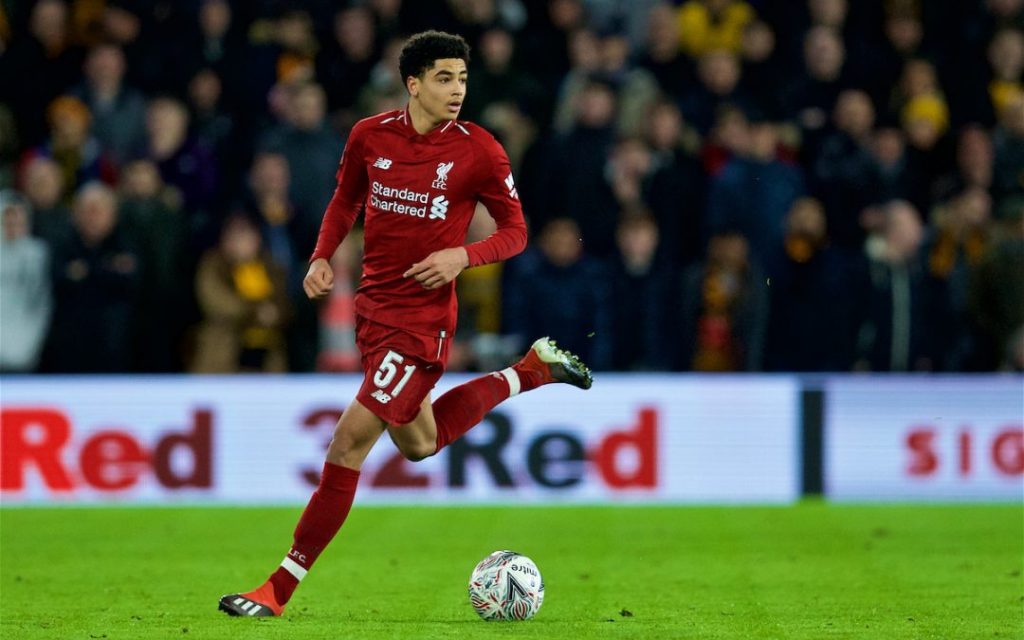 His performance wasn't perfect — how could it be? But his passing was assured, his positioning almost all fine (until it really wasn't) and when he sashayed up the pitch in the second half I felt alive more than any other time in the contest.
It was thrilling and exciting, like hearing a great new Lizzo single for the first time. Like realising a snooker player has 10 reds and 10 blacks. Like falling in lust across the bar. It tingled and the purpose of the enterprise was there. To live, but I've sung you that song before. You could see the Liverpool players felt the same as they leapt into life, inspired suddenly.
He looks a real player but also some character. A lot can go wrong from here but I am looking forward to seeing him again.
That may not happen for the first team again this season and that is fine. I may not see Curtis Jones who toiled valiantly again either, but I fancy both will be constants in my life for a while.
I will see Rafa Camacho again, and soon hopefully, but won't see the fourth round of the FA Cup. That is fine in a sense — we have bigger fish to fry — I just wish some of the lads who will need to be part of the fish frying had given me a little more reason to wish to see them in action on Saturday.
Recent Posts:
[rpfc_recent_posts_from_category meta="true"]
Pics: David Rawcliffe-Propaganda Photo
Like The Anfield Wrap on Facebook