I LIKE footballers but they don't half tell fibs.
They obey the laws of the game like I stick to the speed limit — when they think someone is watching.
We each draw our own red lines across the game's rule book. It's no more than a guideline, a paper for discussion. Last weekend, I saw a Premier League player tugging at his own teammate's shirt in a bid to fool a referee. They are all cheats.
As fans, we are art lovers in a gallery of rogues. It's just that some are more lovable than others.
Retired rogues adjourn to television studios to sit in judgment on the laws they routinely broke in their playing days. Every single decision is forensically reviewed in public.
More people registered a vote on Mo Salah's latest penalty claim than turned out for the last local elections. It's fair to say he didn't get a working majority last Saturday.
VAR is still a brand new toy that dad is trying to figure out how to work properly. Until technology can look within the murky minds of professional players, it is guessing at all but the issues that it can draw parallel lines across.
Ex footballers sound off about how referees don't "know" the game because they've never played it. Like you've got to do a stretch in E Wing to know you've been mugged.
No… Referees know the laws, which is more than most ex footballers do.
The problem with those laws is that they are as vague as the pundits when it comes to defining foul play.
Welcome to Law 12…
"A direct free kick is awarded if a player commits any of the following offences against an opponent in a manner considered by the referee to be careless, reckless or using excessive force…
"Charges, Jumps at, Kicks or attempts to kick, pushes, strikes or attempts to strike, tackles or challenges, trips or attempts to trip."
You will find no mention whatsoever of "going down too easily" or players "looking for contact" or how late the victim fell to ground. There is nothing that says you can hold an opponent's arm for a second or two, but no longer. So many of the criteria by which the experts deliver their sage verdicts are clauses of their own making.
A lot of the elder statesmen of the studio panels used to play the game like Monty Python's Black Knight. If you got the ball, any collateral damage was excusable. They are from the "man up" generation. It was an age when mental health was the stuff of stand-up routines. We've moved on, guys.
Football officiating has simply tried to move with the times; to show a duty of care to the most creative and gifted players; to protect them from the "careless", "reckless" and "excessive". They are the three words that are ringing in the referees' heads as they race to the scene of a crime pursued by screaming, gesturing players.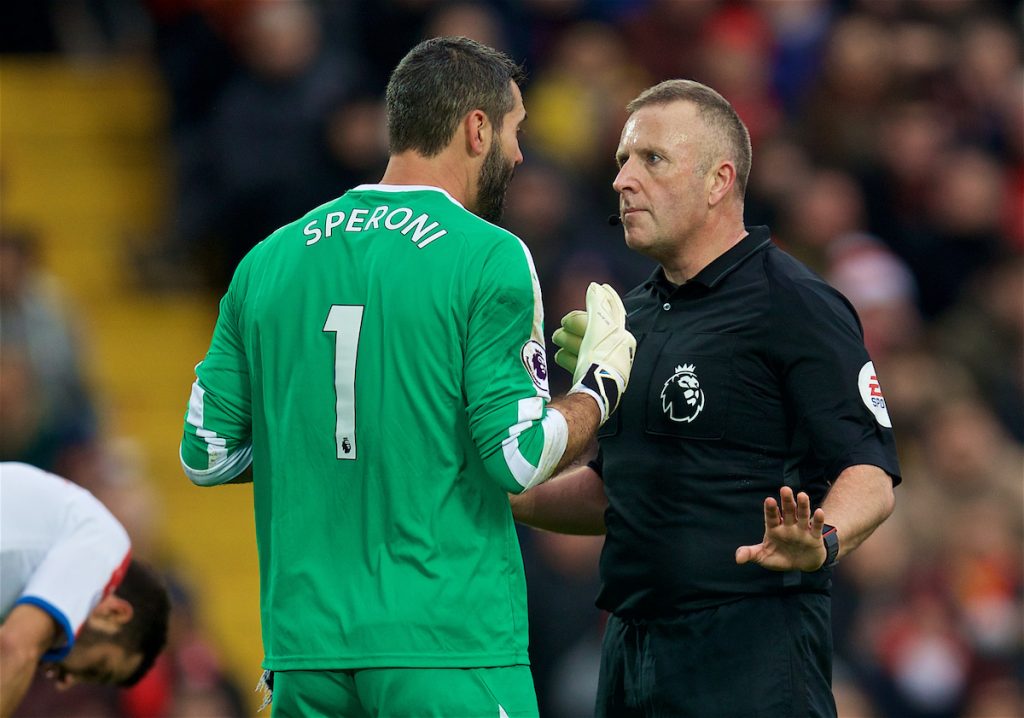 Law 12 offers them some help with loose definitions of the different levels of wrongdoing…
"Careless is when a player shows a lack of attention or consideration when making a challenge or acts without precaution. No disciplinary sanction is needed.
"Reckless is when a player acts with disregard to the danger to, or consequences for, an opponent and must be cautioned.
"Using excessive force is when a player exceeds the necessary use of force and endangers the safety of an opponent and must be sent off."
In addition, referees are offered advice on players initiating contact and other contemporary tricks of the trade, but their big calls are judgments of character as much as they are judgments of actions. They've got to decide who is telling the truth and who isn't.
They've got to decide who is telling the truth among a group of people that all appeal for it to be their throw in every single time the ball goes out of play; a group that earnestly make a round "ball" with their arms a split second after amputating an opponent's leg; a group that look accusingly at the pristine surface for an imaginary divot after skying a clear chance over the Annie Road roof.
If there is anything more duplicitous than diving, it is accusing someone you've just kicked into the air of diving. As a rough guide to those moments, the bigger the indignation, the bigger the guilt.
For what it's worth, I thought the ref was right to turn down Salah's claim last weekend but he was given a decision to make because there was an "attempt" to "challenge". Mamadou Sakho stuck a leg out. The Palace reaction was born more out of relief than rage.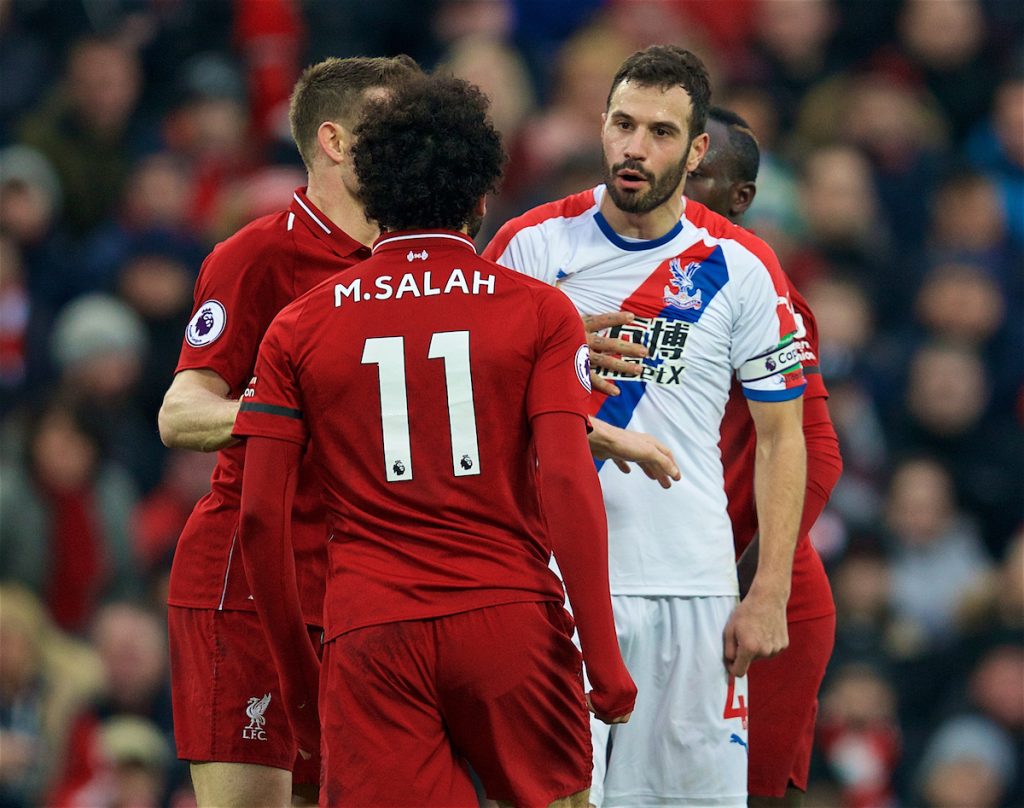 I'm not going to offer any advice to Mo. He can look after himself, but referees are good at their jobs because they take pride in their work. They review their performances and decisions. However independently minded they may be, they are human enough to store the names of anyone they suspect is messing with them or their profession.
Everyone in football is playing the game — not just the players with their innocence pleas, not just the managers who constantly work over the fourth officials, not just the TV jurors with their own agendas — everyone is trying it on except for the only neutrals in the house, the referees and their assistants.
City are apparently putting together a video compilation of all the penalties that Raheem Sterling should have had this season. I'm not sure whether protests of that kind truly help or hinder. Is it better to appear to be a referee that caves into orchestrated pressure or one that stubbornly resists it? We'll find out next time Raz goes down… Next time Mo goes down.
Salah was awarded three penalties in four games around the turn of the year, by three different referees in three different circumstances. All were justifiable. I'm almost certain they are the only three penalties given for fouls on him so far this season. Interestingly, he's not currently among the Premier League's top 20 "most fouled players".
Salah was guilty of a sad dive at Chelsea last spring and Jürgen Klopp didn't shirk criticising him for it. At Bournemouth last month, he rode a clear foul en route to scoring the second goal.
The evidence balances in Mo's favour if anyone cares to look at it properly. He's just got to keep it that way, that's all.
"Salah has gone from a pacey wide man to an out-and-out centre forward in six months, It's remarkable." 🇪🇬👑

🗣 Listen to this week's FREE Anfield Wrap show, after the Reds 4-3 win over Crystal Palace, in full here 👉 https://t.co/DMl2618MR1 pic.twitter.com/WtKtjGAB5m

— The Anfield Wrap (@TheAnfieldWrap) January 21, 2019
Recent Posts:
[rpfc_recent_posts_from_category meta="true"]
Pics: David Rawcliffe-Propaganda Photo
Like The Anfield Wrap on Facebook