IT is not like it's the first game Liverpool have lost this season. The defeat in Paris was more damaging at the time and they survived it.
This result was bad but the performance wasn't. It will be dissected in finger-pointing detail elsewhere but it was certainly not the performance of a team that couldn't stand the heat. It didn't lack for bottle or nerve. Liverpool didn't buckle under the pressure of the occasion.
Pressure.
It's a word you will see a lot in the coming days and months. It is the most overused and under-defined word in modern sport. The biggest pressure comes from within, from knowing this is your chance.
It is stating the obvious to say there is more of it at the bottom than at the top, but struggling on a shoestring in the lower reaches of a league comes with a degree of sympathy and understanding.
Nobody will feel sorry for the runners up in this title race. However slender the final margins, a proven winner will be declared and anyone else that dared to dream will be brutally cast as a loser. Maybe worse.
There is something perverse about dismissing a golfer who misses a putt on the 18th green to win the Masters as a choker. What about all the guys who missed the cut? What are they?
The great goalscorers keep putting themselves in a position to miss. They don't go hiding, and neither must this Liverpool team now. To win anything at all, you've got to risk defeat. Last night was only a turning point if they let it be.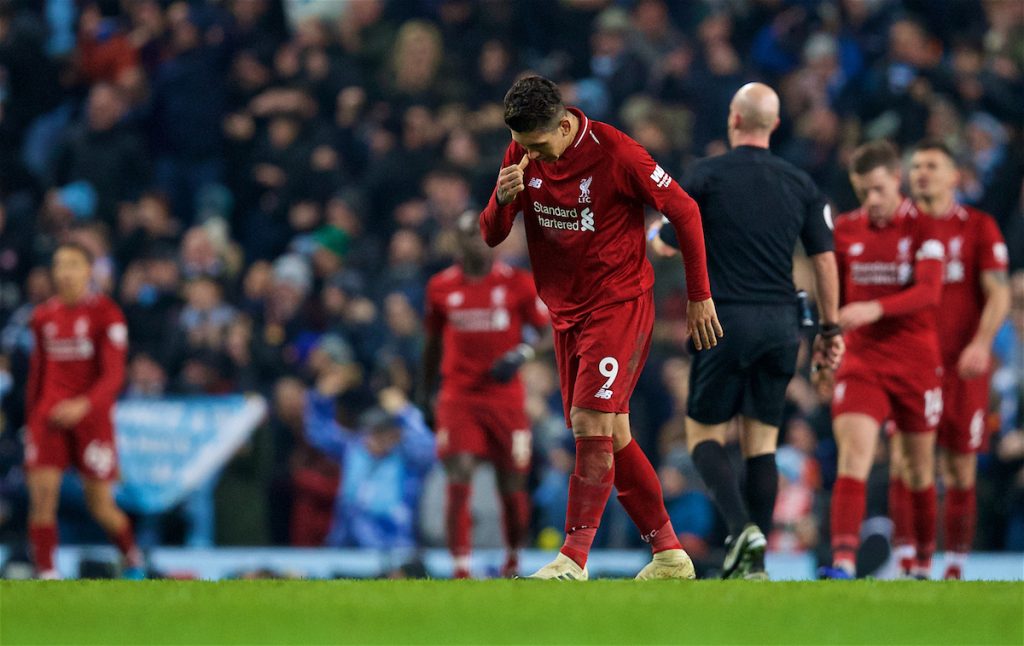 The pressure they will come under now arises purely from expectation. Not only their own expectations but those of their fans, their opponents, their history.
The learned media jury drawn from the random ranks of commentators, pundits and columnists will keep raising the bar but the players don't need telling how much louder opportunity is knocking than even a month ago.
A second-placed finish for Liverpool may well have been a realistic ambition, even the height of expectation, for most supporters back in August. Not anymore.
Be honest, how far into the season were you counting the points gap back to fifth and taking comfort from the prospect of securing Champions League football without the annual springtime stress?
There is only one gap that anyone is counting now. That's how far they have come already. It's the hope that both thrills and kills you. That's why it's "in your hearts" in the song.
All they will be counting off inside the Liverpool dressing room from here are the remaining games. One at a time. Stay in the moment, stay in the bubble, stay with your own hopes, your own expectations. They will be pressure enough.
Whatever the players' pre-season expectations, they have done nothing since August that they need be surprised about. They have not won a single game they didn't think they could win, not produced a single performance they believed was beyond them.
Delivering performance after performance is the challenge. You can just as easily win as lose a game like last night's, but if the performance is good, some momentum is maintained.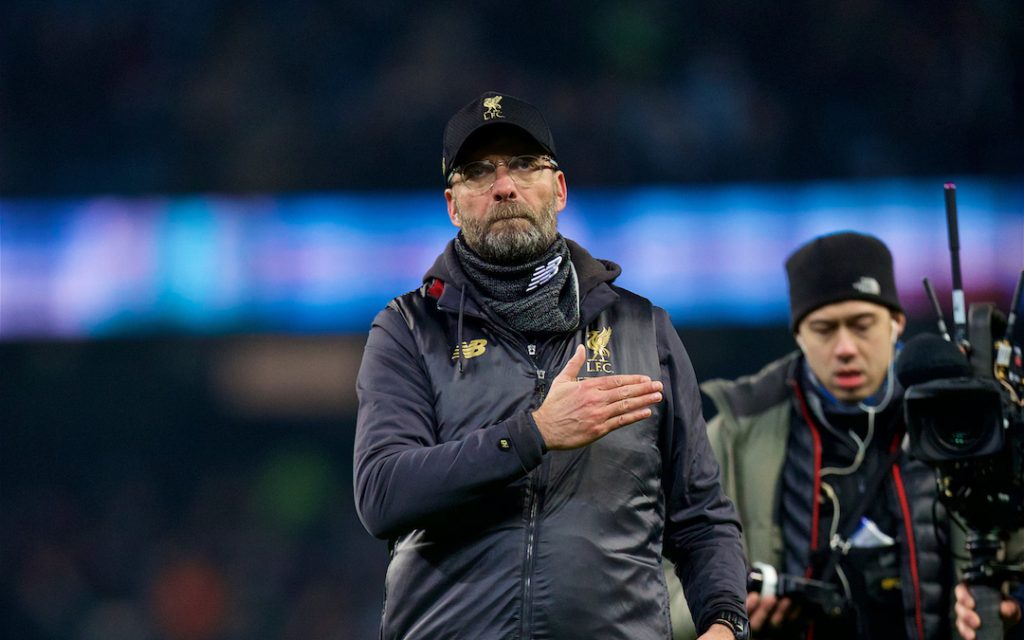 Quaffing champagne in celebration gives you the same head in the morning as necking half a bottle of scotch to drown your sorrows. It's how you deal with the hangover.
Moments pass. The first four defeats of the season were all followed immediately by good results – not all by victories but by performances and scorelines that got Liverpool moving in the right direction again.
It is going to be a strange week, more than likely a strange lineup for the FA Cup tie at Molineux on Monday. The squad goes deep enough to sustain a three-pronged campaign and impetus is important now, but most supporters' minds will already be wandering down to Brighton tomorrow week.
Liverpool play the day before both Manchester City and Spurs next weekend. The TV-staggered scheduling will be a feature of the title run in, another excuse to use and abuse the "p" word liberally.
Liverpool will create their own pressure, thank you very much. Liverpool always have their own expectations.
Do you really think that there is anyone outside the club that wants to see those nine letters back on the trophy more than Virgil van Dijk or Jürgen Klopp? Did either of them see anything last night that has left them feeling truly fearful for their chances?
No, me neither.
Recent Posts:
[rpfc_recent_posts_from_category meta="true"]
Pics: David Rawcliffe-Propaganda Photo
Like The Anfield Wrap on Facebook