IT was a brilliant 2018 for Liverpool.
The first half saw them reach the Champions League final in thrilling fashion, while the second half was made up of charging to the front of the Premier League pack.
A week into 2019 and they've suffered two defeats, one to their main title rival, and are also running out of centre backs at an alarming rate.
In both of the losses at Manchester City and Wolves, there were instances where Jürgen Klopp's men were within a hair's width of a goal that probably would have meant they'd have avoided defeat. However, the fortune that the rest of the country had arbitrarily decided Liverpool were having to be top of the league wasn't there, and when Liverpool needed an extra centimetre they didn't get it.
Despite the BBC forgoing the notion of context and acting shocked that the kids and second string didn't play like the team that's top of the league at Molineux, the side that Klopp selected to play in the FA Cup third round was never going to play particularly well.
It was filled with lads who should be loitering outside newsagents and throwing chewing gum at pigeons and/or old people, and supplemented by senior players who up until now have barely been trusted to sit on the bench, let alone feature from the start in a serious game of football.
The performances of Simon Mignolet, Alberto Moreno and Daniel Sturridge in particular will have done nothing to convince the manager that any of them are worth keeping around. Divock Origi showed flashes, including a superbly taken goal, but, that strike aside, never really looked like adding another.
You can make a valid excuse that some of them haven't had enough games this season to build up any rhythm — there was more rustiness on show at Wolves than at a scrap metal yard — but it's not ideal that one or two injuries will see some of these players have to come in to win crucial games as the season goes on.
James Milner played like someone trying to take all the responsibility on himself, which only served to magnify his limitations in midfield. Meanwhile Naby Keita, like Origi, showed glimpses of his ability but, given he's struggled to impose himself on games while surrounded by world class teammates, was never likely to all of a sudden reach the levels he can when surrounded by a team put together with sellotape.
The youngsters were all fine, considering. Curtis Jones started well but faded, not seeming all that comfortable with his role on the left wing. Rafa Camacho did some nice bits, though did get caught out of position a few times, but most impressive of all was Ki-Jana Hoever.
The Dutch teen would have been sat there on the bench twiddling his thumbs and wondering if his mum was going to do him some potato smiles and crispy pancakes when he got in after the game, only to hear Klopp call for him after just five minutes.
It was frankly remarkable that the 16-year-old came in to play centre back next to someone who had also never previously played there for Liverpool, and in front of a goalkeeper who doesn't save things, refuses to come off his line and will have no problem passing you the ball when you've got a striker stood so close you can smell his Lynx Africa.
Hoever was composed, accurate in his passing, won some crucial tackles and was arguably one of his team's best two performers alongside his makeshift centre-back partner.
The positive of Hoever's performance was overshadowed somewhat by the news that Dejan Lovren picked up a hamstring injury, which presumably means a few weeks out. Klopp has said that he may be forced into the transfer market if circumstance necessitates, and surely this is one such scenario he had in mind. Fabinho was largely excellent in his makeshift position, but Liverpool equally missed his influence badly in midfield.
With Joe Gomez and Joel Matip still out for another few games, now might just be the time for the kind of emergency signing that saw Steven Caulker arrive in Klopp's first transfer window in England. The German doesn't like signing players for the sake of it, but he also must appreciate that having too many players is infinitely more favourable than not having enough.
Hoever showed that he's likely to be a star of the future, but any situation that leads to a club the size of Liverpool needing to play someone at centre back who was still residing in his mother's womb when Nicolas Anelka was scoring the first goal of his loan spell, against Birmingham in the FA Cup third round in 2002, is crazy in any circumstance.
With Brighton to come on Saturday, it's likely that Fabinho and Virgil van Dijk will be at centre back, which means Jordan Henderson, Gini Wijnaldum and possibly Milner or Keita (but hopefully Xherdan Shaqiri) in midfield — and, of course, the main front three back from the start. That should be enough for a win and to shake off this bumpy start to 2019.
It might also be nice if a ball that's going in doesn't get cleared off the line by a stretched foot or a lost mole who's popped his head up to see what all the noise is.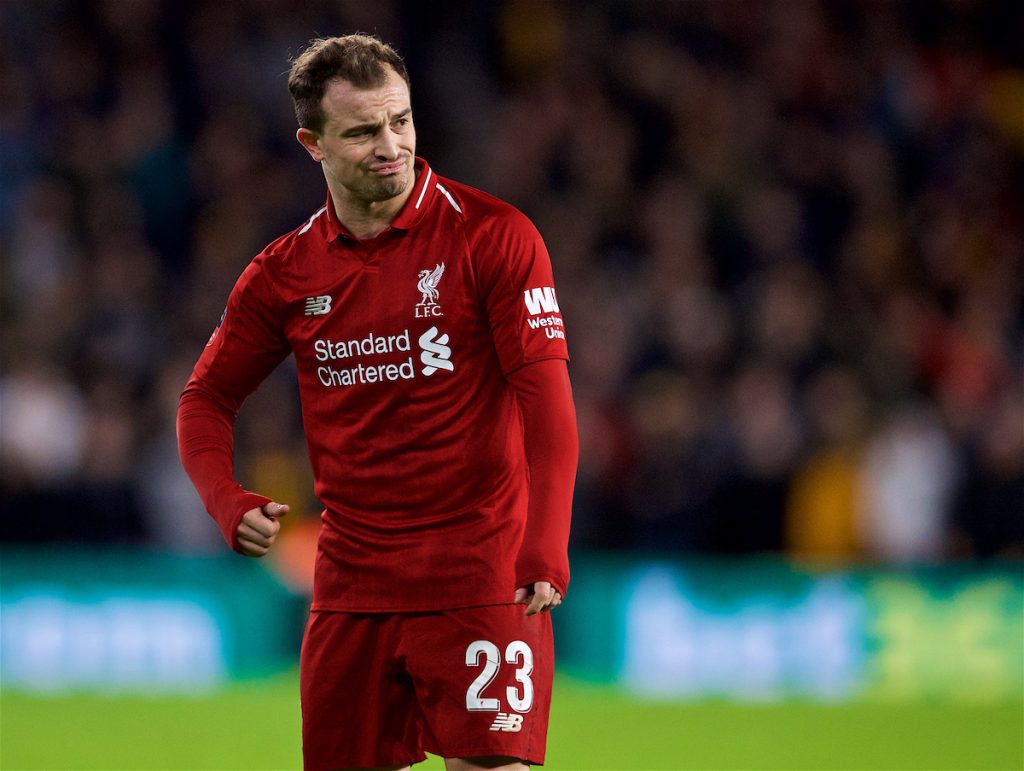 Liverpool have ridden the crest of a wave so far this season, and done superbly with it. This is really the first time they've had to respond to a bit of adversity, and there's no doubt that the characters in this team are capable of doing so. Minor setbacks in the Champions League group stage were swiftly put behind them, and that determination and attitude will bode well for the upcoming challenges.
There are five games between now and the Champions League restarting. Brighton away, Crystal Palace home, Leicester home, West Ham away and Bournemouth home. That should be 15 points and, if it is, the defeat at City will be remembered as a minor inconvenience, and the FA Cup will just be known as that competition that keeps our rivals distracted until one of them wins and nobody cares a few weeks later.
However, it might be time for Michael Edwards to put a halt to his negotiations to sell Bobby Adekanye to Bournemouth for £30m, a new sports car and all the tea in China, and start looking for emergency centre backs who can come in and aid Liverpool in their hour of need.
The one positive from the defeat to Wolves was that the long-term future of the club appears to be bright with such talented youngsters waiting to come through in the next couple of years, but now Liverpool must ensure that their short-term future is equally as promising.
They must get back on the horse and race away from Manchester City and Tottenham at a pace that leaves those two clubs struggling to keep up, especially with their much busier fixture lists. The Premier League is ruthless, and any weakness is magnified and punished. Liverpool must not blink.
This could still be the best season since 2001, almost a year before Hoever was born.
*Gets a packet of rich tea biscuits, puts on some slippers and a thick jumper, and sits in a rocking chair remembering the good old days*
"Liverpool looked like a team that had never played together before… because they were a team that had never played together before."

🗣 Subscribe and listen to our immediate post-match reaction show after the Reds' 2-1 defeat to Wolves 👉 https://t.co/XZAK9veWt7 pic.twitter.com/GNx1jn8EoH

— The Anfield Wrap (@TheAnfieldWrap) January 7, 2019
Recent Posts:
[rpfc_recent_posts_from_category meta="true"]
Pics: David Rawcliffe-Propaganda Photo
Like The Anfield Wrap on Facebook