SO, we're still top. And it seems they still don't like it.
In the buildup to yesterday's media-driven hyperbole of a "title-deciding" game at the Etihad Stadium, which it never at any point was, sections of passionately timorous social media tribes were collectively gathering in faux unification.
The message was that the whole of the country was behind Manchester City to beat Liverpool. The rationale peddled out was that the Liverpool narrative, should they end 29 years of league title destitution, would be too unbearable to comprehend.
Crests from several teams were stood hand in hand with their Manchester brethren. The born and not manufactured Everton and never ignored Manchester United were predictably present alongside the likes of Arsenal and Leicester City.
Although in no way representative of the clubs as a whole, the message was clear. And it seems City had revised the memo verbatim come the start of last night's encounter.
For a section of a supporter base who mocked the concept of crowd and player unity effectively influencing a fixture, with sniggers of "Atmosphere FC" in last year's Champions League quarter final, City fans finally found their voice and their players responded.
City's feral aggression on and off the pitch last night can be read two ways. The first being it was the response of champions, not relieving their crown without a fight and standing up to their pretenders vehemently with a response that reinforces a message of them not going anywhere.
The second is that City has become somewhat mentally perturbed and in some ways mentally inferior to Liverpool. The Reds annoy City players as much as fans. The captain wants to leave one on Mohamed Salah, and then seemingly call him a "pussy" twice afterwards, as much as the fans do.
City players and fans were wound up to the point of frenzy last night. This affected the game, with Bernardo Silva's running stats and Fernandinho's breaking up of play lauded as a catalyst of Pep Guardiola's team's frantic style throughout.
On reflection of the game, Liverpool can maybe count themselves unlucky not to have drawn. More pressing is the circumstances which led to Jürgen Klopp's team not taking anything from the encounter.
It is not unreasonable to have expected more at times from Liverpool. At stages the urgency needed to be intensified, the ball could've been kept better, and as ever the goals conceded could've been avoided.
Despite this, the air of desperation and release come the final whistle is a significant indicator of where both teams are. City were pinned back, shifted left and right in a manner they are usually renowned for.
They needed two goalmouth scrambles and a one centimetre margin when clearing off the line to merely cling on. They had no hesitation in indulging in time wasting after Leroy Sane's winner was scored.
City acted like a team who had the champions elect in town, not the other way around. On the pitch they did not exert the swagger of a team who were determined to show their class as the best team about. They did not blitz Liverpool with attacking flair and fluid football. This was not a reassertion of where everybody is in the food chain.
Instead they were turgid and living for moments, which in fairness they took, while being happy to cling on for dear life against a side nowhere near at their best on the night.
Off the pitch, the home fans showered their opponents with a version of a chant they took from them which is about them — before walking off the pitch singing along to the music of a band from the city of the same opponents, who are apparently so unbearable it is incomprehensive.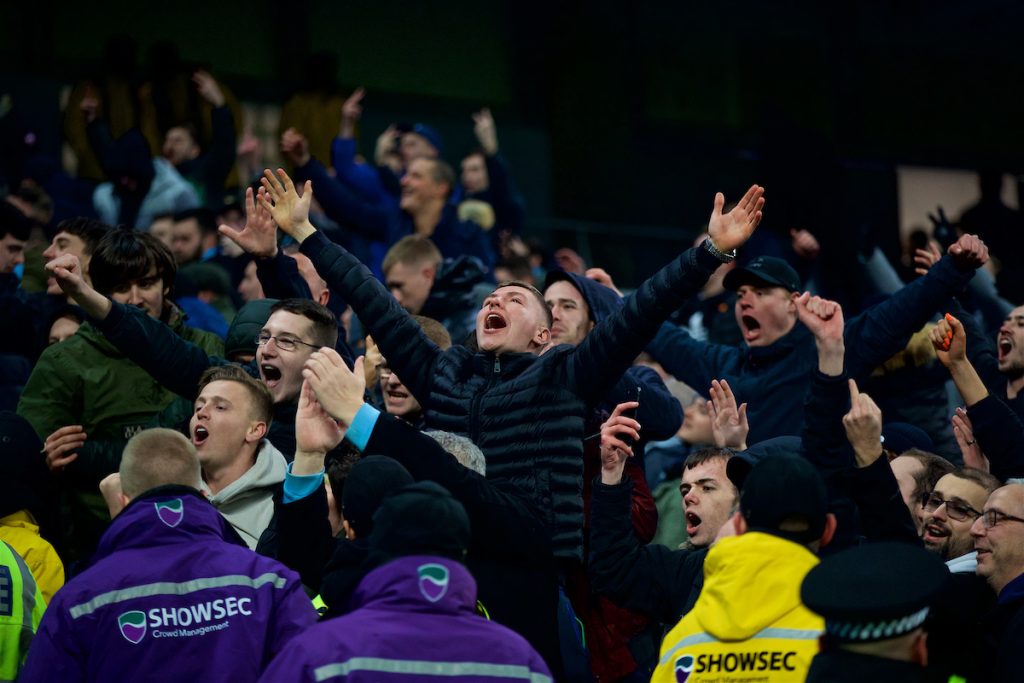 The wider context now is that Liverpool are carrying the notion that they are serious title contenders wherever they go. December's run of eight wins, no draws and no defeats, which threw up results such as a 4-0 victory at Bournemouth and a 5-1 win at home to Arsenal, barely an eyebrow was raised across the league. It certainly never led to any serious inquests from their opponents.
Tottenham and Man City know that they remain under pressure. The reason being that they both know they have to be pretty much perfect for the rest of the season, even that is no guarantee based on Liverpool's form in the first half of the campaign.
From our own viewpoint, there is a collective responsibility to not lose what got us to this point. What Klopp has built over three years at Liverpool remains the thing they all want, they all aspire to and last night is further evidence of that.
The rest of the country did not want City to win last night. City, Everton and a large portion of Man United fans wanted City to win last night. The rest were resentful and defeated individuals who don't like the idea of someone else enjoying themselves, because fundamentally they want what we have.
Games of football are lost. Although a basic concept fundamental to the game, it seems prevalent to remind ourselves of that in this season more than most.
The improvement of Liverpool this season has left us much more privileged, yet no less hungry, for a crowning achievement this group of coaches, players and fans deserve.
The only way to achieve that is to now look forward with anticipation and excitement, safe in the knowledge that we are still top, and it seems they still don't like it.
Recent Posts:
[rpfc_recent_posts_from_category meta="true"]
Pics: David Rawcliffe-Propaganda Photo
Like The Anfield Wrap on Facebook