DISAPPOINTMENT, frustration, but let's not pretend we are too surprised.
Liverpool have produced that kind of passable performance on a number of occasions this season but found a way to win. Last night they didn't. End of.
It's not too long ago that they might have found a way to lose.
It isn't meant to be easy. The squad is a little stretched, the nerves are a little more stretched. Pep and Poch are saying, "tell me about it". Everyone is feeling it now.
Jürgen Klopp's team have been breaking the records set by Liverpool legends, but the winning runs and points hauls don't qualify them for a statue. Not yet.
The single most exciting thing about this team is that they are already ahead of schedule. Closing a 25-point gap on City and winning the title would represent an advance on pre-season expectations. Winning it with several games to spare was never on.
This Liverpool are not the finished article, and yet they are still on course to finish ahead of the rest. Whether they do or they don't, most of them will improve over the coming seasons. The club is making and spending money. The best should be yet to come.
This has more a feel of the mid '70s, than the mid '80s. The beginning of something. This is not suddenly a generation of super players the likes of which Liverpool fans under the age of 50 have never seen.
Messrs Gerrard, Coutinho, Suarez and Alonso would have all got into last night's lineup. Actually, so would Alvaro Arbeloa or Steve Finnan!
Even the very best players in the current squad have their moments.
Alisson Becker is the most accomplished Liverpool 'keeper since Ray Clemence but his footwork can get a bit fancy.
Virgil van Dijk might be the best central defender in the world but with his effortless mastery comes a kink or two of carelessness.
Andy Robertson is as popular and feted a full back as the club has ever had but he does dive in from time to time.
Mo Salah is a revelation that keeps giving but he cannot escape his many pursuers every time he gets the ball.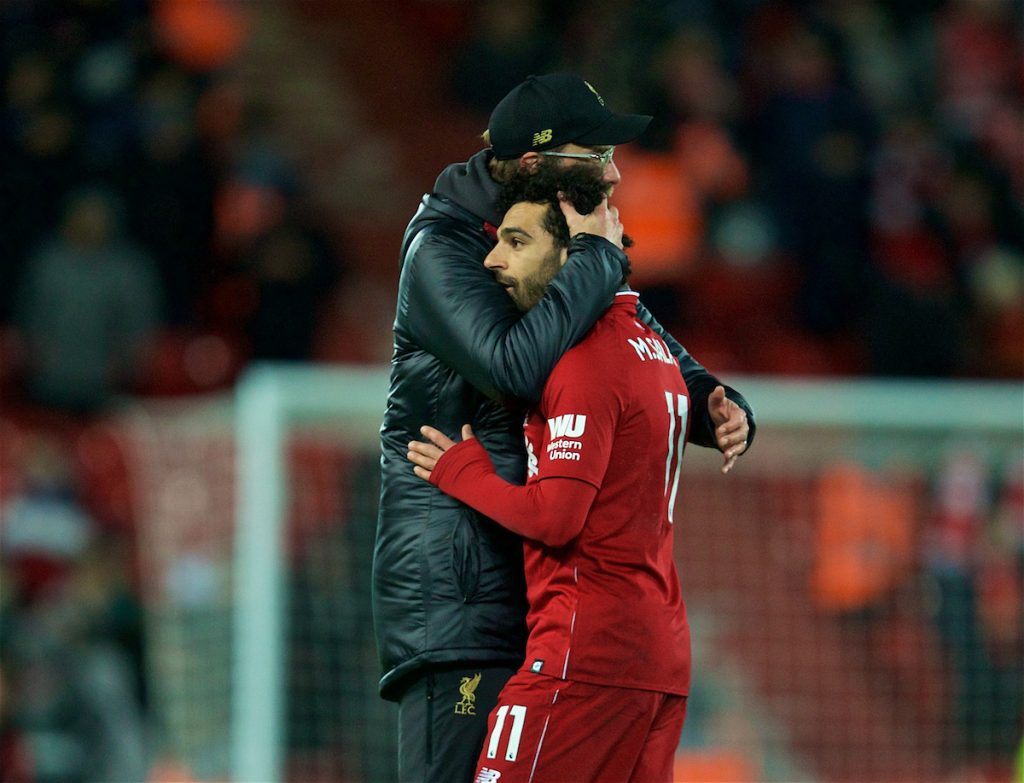 Every single one of them is instantly forgivable for all the wonders they have added to the strong sense of collective that is Liverpool's main asset. Flaws are fine. It is the joint commitment and pride with which they play that covers them up and makes this team so easy for you to support.
Romantic memory tells me that there were days 40 years ago when I would turn up for a game at Anfield with my local radio broadcast kit and plug in the cables in the sure-fire knowledge that I was going to describe another Liverpool victory. There was an inevitability about it. It was almost boring at times. Almost.
The excitement of this ride is that there is no such certainty. Klopp has fine tuned the style and approach this season in order to try to introduce more reliability, but game management and control of possession are still relatively new features to the overall development of this team.
Only last night I was hearing that there was "too much side to side" and not enough "rip roaring Liverpool". Have they not been watching? Liverpool have ripped and roared only occasionally this season. They have passed the legs off team after team that they have faced. Side to side. Patient, probing, pragmatic football.
If you have been missing those ballistic bursts of mayhem when Liverpool scored three times in no time against sides as good as City and Roma, the message has been to look at the league table. This has been a different grown-up team.
They had to summon up the spirit of Shankly to outpunch Palace the other week, but the football has been more Bob than Bill this season. Paisley's regime could forgive anything but losing possession. Klopp's answer to past defensive frailties has been to protect your goal by protecting the ball.
Twenty-five minutes into the Leicester match, they were doing precisely that and doing it well, doing it with a lead that could have been healthier still. Then Alisson had his second aberration, James Maddison had a clear chance and the mood changed.
Leicester were given a glimpse of last season's Liverpool. Palace got one with that free headed goal for James Tomkins that made it 2-2. Worse still, the Liverpool fans got a glimpse of last season's foibles too. The players felt it out on the pitch.
Yes, they could still have won if they'd got that penalty, but the security had been breached, the uneasy uncertainty had returned.
Get used to it. This is how it's going to be. It's what makes the prize worth winning.
I saw nothing from Liverpool last night that I haven't seen before this season. I learnt nothing about the team or any of the players that I didn't know already. There was nothing in that performance that they haven't been able to handle and still be five points better than anyone else so far.
This week's surprise was at Newcastle, not at Anfield.
"If Liverpool and Man City had both won this week then we would all feel a lot better, even though we would be in a worse position." 👏

🗣 Subscribe for all of our reaction after the Reds extended their lead at the top of the League 👉 https://t.co/lmNtBz4ADz pic.twitter.com/EM0u4Kkw48

— The Anfield Wrap (@TheAnfieldWrap) January 31, 2019
Recent Posts:
[rpfc_recent_posts_from_category meta="true"]
Pics: David Rawcliffe-Propaganda Photo
Like The Anfield Wrap on Facebook