LIVERPOOL v Manchester City — the prevailing battle.
Liverpool v Leicester City — the evening's affair.
Mathematics v Feelings — the inner struggle.
Had both Liverpool and Manchester City won you'd be bouncing, but we'd be as you were. As it is, we are a point better off in comparison to them and we leave Anfield frustrated.
What a daft game it is.
But what it feels like matters. What it feels like is the heart and purpose of the enterprise. If you didn't feel it, you couldn't love it. We aren't meant to be rational. Let the managers be rational in their post-match press conferences if they can. Let Thursdays be about rationality if we must. But let the Wednesday feel.
I felt the hail. Good god did I feel the hail. The weather was vicious and treacherous. It was no barrel of laughs for 22 good players. Twenty-two. Our lads and theirs.
For too long there has been the discussion prevailing around the league that there are six teams and then there are 14. Recently, a mid table has developed but it has suited to talk these sides down, so as to act like the very best are just putting fodder to the sword. This has been unfair and wrong.
Leicester City are full of good players, as are Wolves, as are West Ham. They can be inconsistent, they may not be the very best, but they get to be good. It masks Liverpool's (and Manchester City's and Tottenham's) achievement to act as though they should always win. It cheapens the winning that has been happening.
Tonight's game should put the previous 24 into perspective — that Liverpool have for the first time dropped points against a side outside of the top five only tonight should be marvelled out. How well we have done.
But there's that rationality again. In all fairness, tonight they should have done better.
They gave themselves the start that matters, the early lead, and for 10 minutes they had Leicester all at sea, unable to settle, a side without an anchor for whom the worst had happened. And then Leicester realised the worst had happened. That it couldn't get any worse than the one thing you don't want to do away from home and they found their way.
I was so impressed with the Foxes. Their shape was ace, they flitted and found angles nicely, they played their way into the game when they could, showed pace and power throughout and frustrated Liverpool for long spells. They deserved their equaliser and then they arguably deserved to be ahead by the hour. Liverpool shaded the last phase of the game without particularly working Schmeichel in the Leicester goal.
For The Reds too many seemed just off it, unable to contribute meaningfully. Jordan Henderson did well as a makeshift right back but the key word there is the qualifier — "makeshift". Liverpool missed both him and Fabinho in the centre of the park. Gini Wijnaldum played well. Xherdan Shaqiri couldn't find a path into the game and nor could Mohamed Salah. Roberto Firmino looked on the verge but stayed there.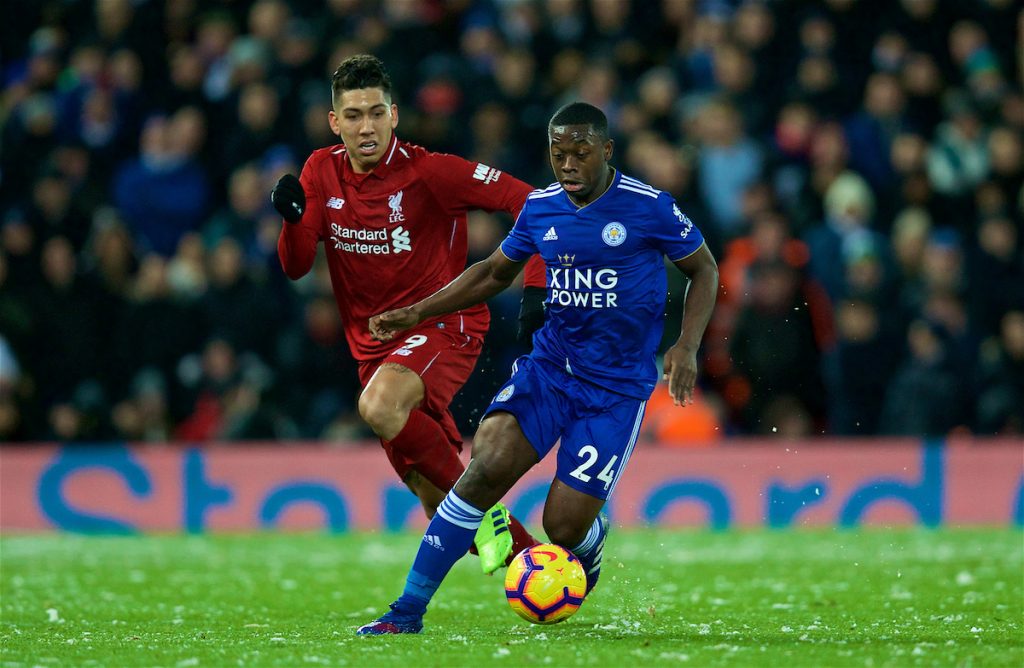 Sadio Mane was excellent, the best performer on the pitch for either side. He was constantly involved and alive and scored that lovely opener. He looked to be on when released first half, was unlucky in being fouled by Harry Maguire, for what we can possibly consider an orange card, and in general troubled Leicester City. Him swapping flanks lessened his contribution, but football managers get to try things.
Naby Keita nearly happened tonight. His performance felt like something better was just around the corner for the first time since Burnley and he was unlucky not to win a penalty. Had Keita had more on days then this was the sort of performance that would just look like a slight off day, if you see what I mean. It was a nearly showing and that is actually OK.
The referee was poor throughout. It looked an elbow in the face for Salah first half in the area but he was just in general inconsistent through the game, you name the decision and he was just off it. That said I wouldn't have fancied his job this evening for the now legendary big clock tonight.
Liverpool can have few complaints about their own performance in the final reckoning, however frustrating that might be. They should all be feeling like they could have done with being a little better.
The feelings do for you, the carrot of seven clear dangled for Liverpool and they failed to nab it. The feelings of slight regret always carry that ache rather than sting.
Fourteen more threes, Reds. Fourteen more. In the end it will be mathematics that sees us home, mathematics that unleashes all the feelings one way or another. And this is a week which has just gone our way.
Let that fact be the hot water bottle in your bed. It's not a night to be out forever, not a night to warm the cockles, but it is a night to look at the league table, think of our heroes and feel the spring open up before us.
"This is the first time we've dropped points against any team outside the top five, that's remarkable. We'll be absolutely fine." 👏

🗣 Subscribe and listen to our immediate post-match reaction show after Liverpool's 1-1 draw with Leicester City 👉 https://t.co/XZAK9veWt7 pic.twitter.com/FdxhWiNuHv

— The Anfield Wrap (@TheAnfieldWrap) January 30, 2019
Recent Posts:
[rpfc_recent_posts_from_category meta="true"]
Pics: David Rawcliffe-Propaganda Photo
Like The Anfield Wrap on Facebook