LIVERPOOL and Manchester City will not play Premier League football at the same time again until the last day of this season.
That's a prediction rather than a fact at the moment, but Sky and BT have not paid £5billion to miss a second of this title race now.
If you like watching your team kick off at 3pm on a Saturday afternoon, enjoy the Palace game this weekend. Just don't get used to it. The Sky schedulers have decreed that City's match at Huddersfield will be on Sunday.
The staggered start times are here to stay for the rest of the campaign. You may find yourself watching a lot of City, with fingers fiendishly crossed for their opponents.
Four of Liverpool's next six league games take place the day after City have played. If this really is a two-horse race now, the likelihood is that The Reds may have to get used to the sound of pounding hooves moving closer — the pounding hooves of a course and distance winner. Racing commentators call it "coming under pressure".
Cue Kevin Keegan, circa 1996. "And I'll tell you honestly, I will love it if we beat them. Love it."
His much-ridiculed outburst in Sir Alex Ferguson's direction is always portrayed as the pivotal moment in that title run in, the moment KK and Newcastle caved in to the wizened mind games of a serial winner. Squeaky bum time and all that.
Nonsense.
The title is decided on the field, not in television interview rooms. I happen to think Keegan's finger-pointing rant was a show of strength, not weakness. It was no more than a heartfelt outpouring of good, honest sporting rivalry and what it does to us all.
Only protocol demands a show of professional deference, a shake of the hand of an opponent you want to shake by the neck. If you want to compose a quiet hex wishing a curse on City's house it is not unsporting, it's a mark of clandestine respect. Give in to your inner Sergio Ramos. He bloody well does.
It's the short putt or the free throw you want the other guy to miss, it's the boundary catch or scoring pass you want them to drop, it's the dart you want to see bounce back off the wire, the black ball you hope will rattle in the jaws of the pocket but not drop. It's competition.
In 1996, Fergie wound Keegan up by claiming that opponents were "cheating their manager" with their determination to stop United winning the title. "You wait to see the difference when they play Newcastle," he protested. The Geordie Boys had the people's vote.
Who do the "neutrals" want to win this year's title? Er, probably nobody!
Certainly nobody in the top six. There is no Newcastle this time. No Leicester. If there is such a thing as a "neutral" in football, he or she probably would like to see Brighton or Bournemouth surge sensationally from the pack — someone with a nice manager and not much money.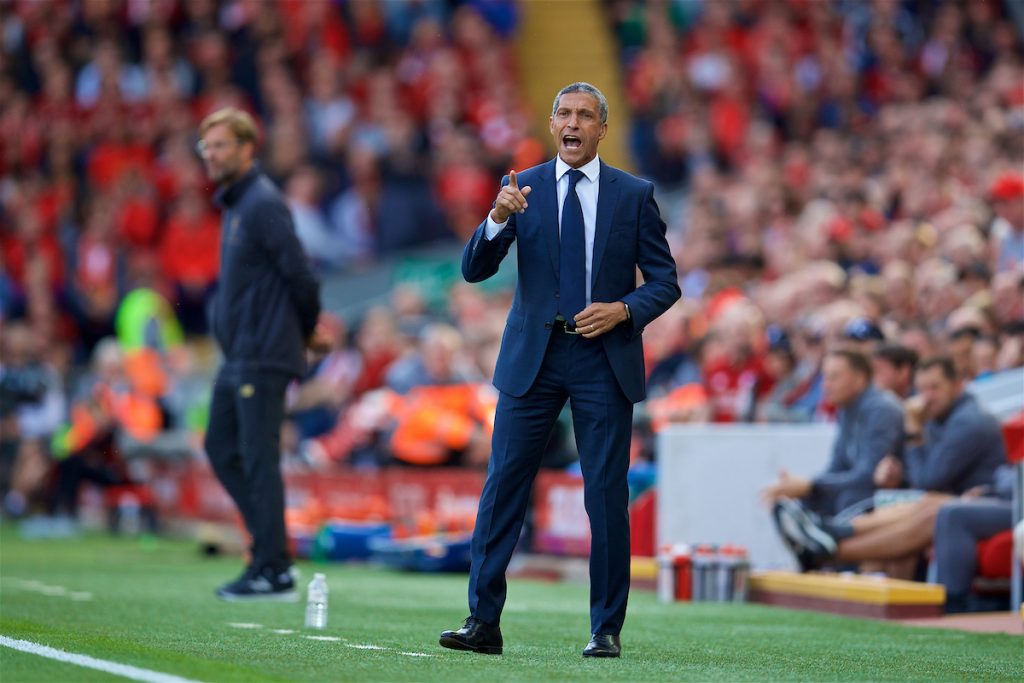 Liverpool or City is like a choice between Trump and Putin for most football fans. It's the only thing in the universe that Gary Neville can't arrive at an opinion on.
The race is on but it is not a race like the ones Mo Farah wins with a perfectly-timed change of gear on the final lap. This is more akin to a Grand Prix where the drivers have the foot to the floor from lights out to chequered flag.
Occasionally, both Jürgen Klopp and Pep Guardiola may just have eased off the throttle to preserve fuel and guard against tyre wear, but the pace has been pretty relentless since August. It's both a sprint and a marathon.
Sometimes in Formula One, two drivers pull clear of the rest with a few laps to go and they start to drive differently. Now, they are eyeing their wing mirrors as keenly as the road ahead. Now, each back marker appears stubbornly intent on not being lapped. Now, a stewards' decision to call out a safety car can seem like a travesty of justice.
Klopp and Guardiola are nose to tail but they are not duelling just yet. They are still making each other favourites, still pretending not to worry what the other is doing, still saying all the right things.
Something will happen. If the margins remain this fine – 11.7 millimetres – then something will rub one or both of the managers up the wrong way.
Back in '96, it was as much the fixture scheduling that lit Keegan's fuse as Fergie's familiar pot stirring. Newcastle had to play three times in seven days because of a diary dispute. The sequencing of the final games could be crucial again this time.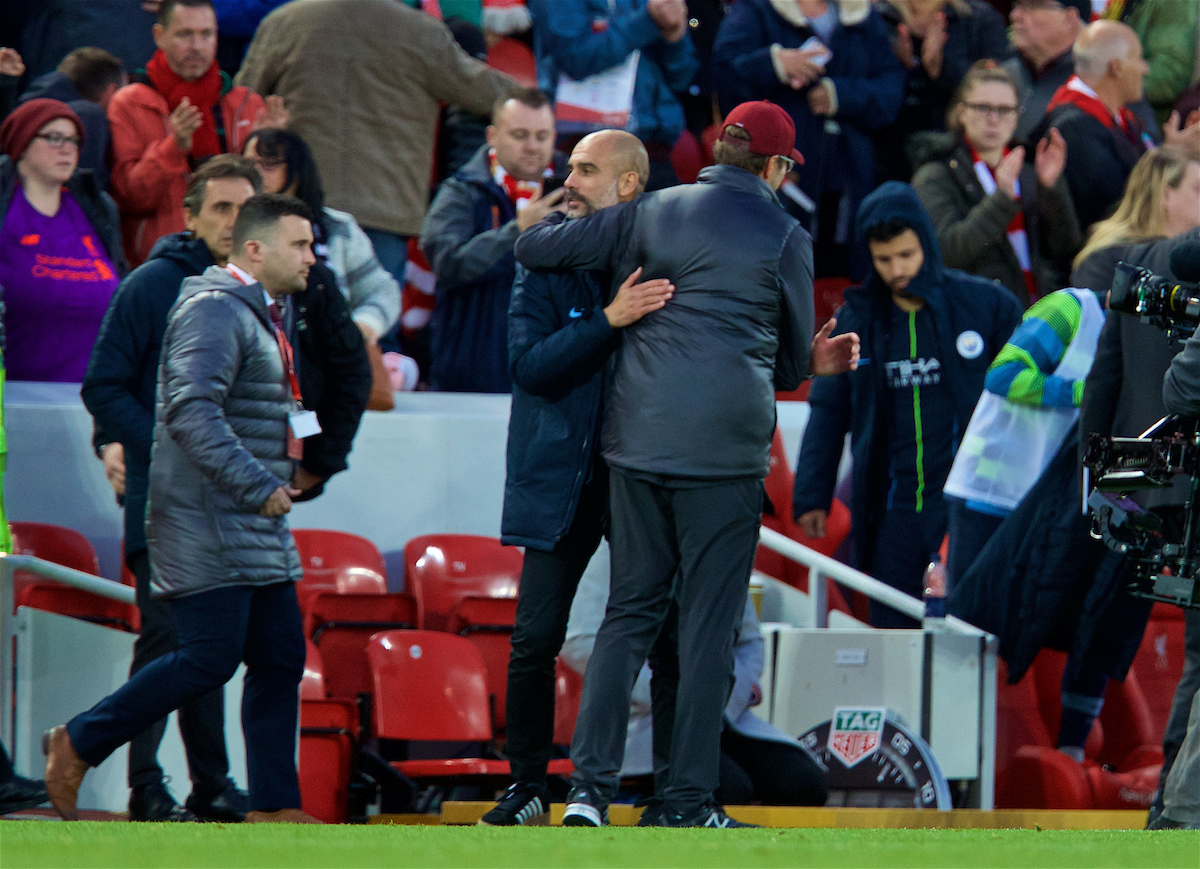 You only need to talk to Liverpool fans trying to figure out how to get home from West Ham on a Monday night at the start of next month to know who decides which games are played when.
I've been drawing a wage from broadcasting since Keegan was in the Liverpool attack, so it would be hypocritical of me to feign fury. Over 40 per cent of the club's revenue came from "media" in the last accounts. Another 37 per cent from "commercial".
You don't require me to tell you that your season ticket didn't buy Virgil van Dijk.
All that you would ask in return for supporting Virgil and the gang of pale imitators that preceded him is that the closing crucial fixtures are not played at midnight on a Thursday to serve the growing audience on Neptune (or something).
All you can do in the meantime is back the boys and continue your secret guerrilla campaign against their rivals. The pins you've been sticking in that Kevin De Bruyne doll you ordered from the Etihad online shop have been working fine.
This Sunday, make sure you have a big Yorkshire Pudding in the centre of your plate. Maybe a nice bit of parkin for dessert. Put your flat cap on and catch up with Emmerdale before you settle down to watch the game with a cup of Yorkshire tea.
Then you can really "love it" if Huddersfield do beat them.
"It was a really impressive, reassuring victory from Liverpool at the weekend. This is going to go all the way to the wire!" 👊@Knox_Harrington on @SkySportsPL yesterday 🎥 pic.twitter.com/FVs7ibkdtY

— The Anfield Wrap (@TheAnfieldWrap) January 16, 2019
Recent Posts:
[rpfc_recent_posts_from_category meta="true"]
Pics: David Rawcliffe-Propaganda Photo
Like The Anfield Wrap on Facebook