YOU know you are alive. My lord, you know you are alive.
Isn't that the point? It is, but you felt that maybe a bit too much.
It shouldn't have been this way. Eight minutes in, James Milner goes on a charging run from back to front, and you think Liverpool Football Club are going to command this game. For the first 14 minutes, we have total possession of the football game, edging inch by inch towards the goal. Side by side, piece by piece, we keep the pressure on.
Liverpool look cool. Liverpool are top.
And then. And then.
A freekick at the half-hour mark breaks the ice. Shortly after, Wilfried Zaha — a special player, by any measure — breaks Milner's wall and Townsend slices one past Liverpool's goalkeeper.
And from a team that was all in control and all on top of the pressure, chaos breaks out. A fixture that could always be straightforward but somehow never ever, ever is turns out to be pure madness once again. This could well have been the sixth most difficult game of our remaining 16. It became that before our very eyes.
Right at the point they score, we look strong at the front and OK at the back, and you would absolutely be forgiven for thinking that this game is going to end 2-1. If someone had said to me at half time, hey, this is going to end 4-3 with a sending off, I would have told them to do one. We don't do that sort of thing anymore. This is Jürgen's machine.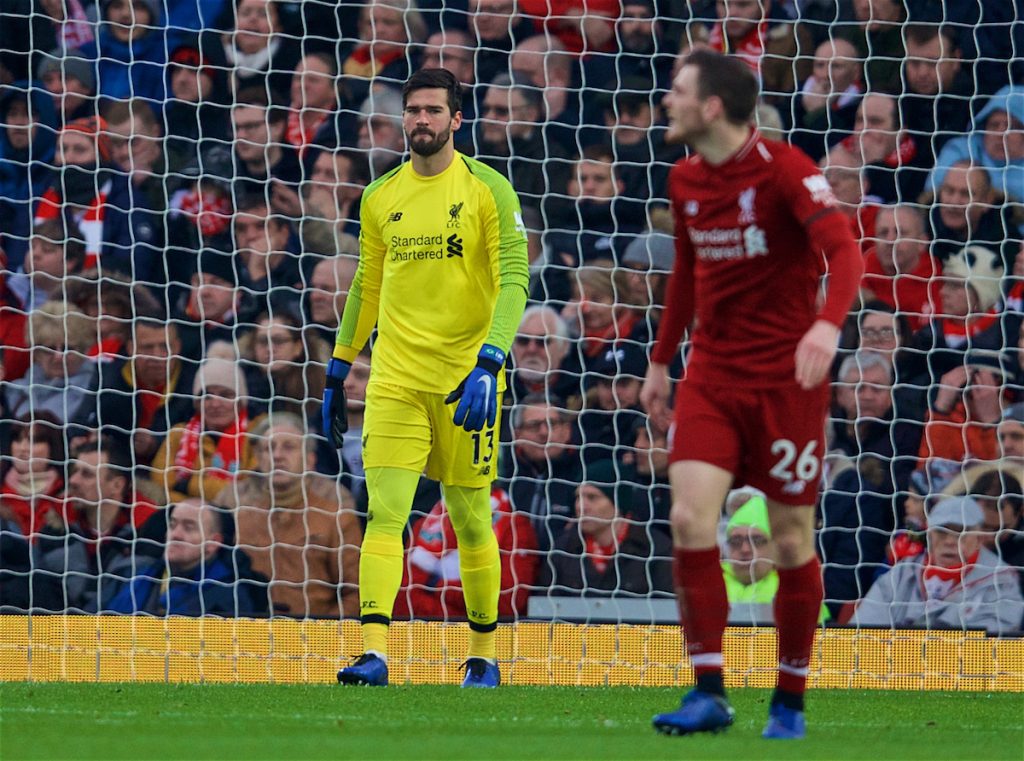 Crystal Palace are a well-drilled team. They look like plastic figurines on a table football set, such is the constant shape they hold especially that back four. The centre halves are terrific, van Aanholt tidy, Wan-Bissaka the business.
Palace look like a team that can control themselves against sides much, much better than them. They know what they are about. The Reds this season have been pure efficiency. At half time, this doesn't look like a game that is going to go wild with goals and mishapen defences.
But here is how it happens.
Half time comes at the right time, and resets the agenda. Bang. 46th minute, Liverpool take their chance at last and last year's golden boot winner shows that any thought that he is only going to win that for one season can be dispensed with. He should be box seat given Kane's absence.
Bang. At 53, Bobby Firmino does likewise and it is 2-1. Liverpool supreme, roared on. Anfield ablaze. It helps Speroni suddenly looks his age.
These two goalscorers look great. They look like a pair today. They are everywhere, everywhere on the pitch. They are our everything. The greatest thing you have ever seen.
This is maybe how things should end. Maybe if Joe Gomez was on the pitch, events might have stopped there. Maybe if Dejan Lovren was on the pitch. Maybe Trent.
But they weren't, and my god, it didn't end there. Here's the scene.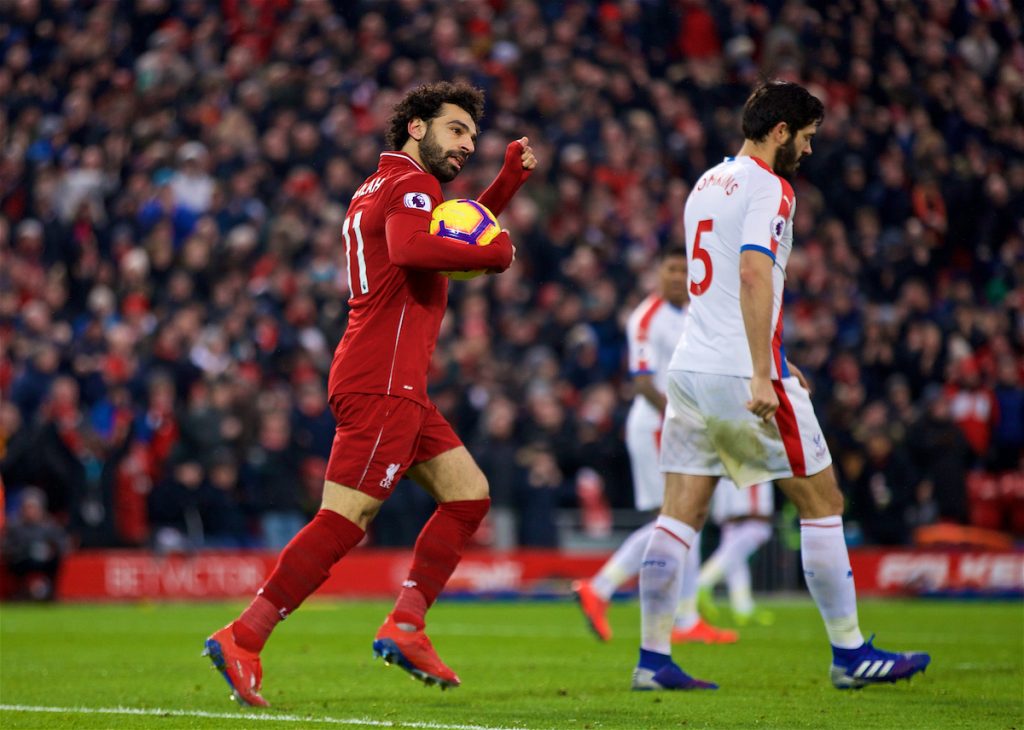 Palace go berserk. Their lads put Liverpool on the rack for five, punctuated with the exclamation mark of the Tomkins header. Wilf Zaha is a torrent. He's almost unplayable.
After Salah puts Liverpool ahead again at the 75th, you think that must surely be that and the thing should finish 3-2.
The goals have come thick and fast, with the ball hitting the back of the net every 10 minutes or so. But what is really mad is how the strength of Liverpool's possession and the firmness of Palace's shape collapses into a game where Bobby Firmino ends up covering at the back, Mo Salah hacking clear and the unflappable Virgil van Dijk is running into the goalmouth.
Milner flies in at an acute angle and, understandably given a previous yellow, gets himself sent off. Roberto Firmino goes right back, because why not? The best way for Liverpool to see the game out is to kill it and Sadio Mane does just that. All over.
But even then. Jesus, Reds. Jesus. It was never meant to be this way. The entire crowd is punch drunk at this point.
Ninety plus five. Palace get one back.
But in Anfield, The Reds, both playing and non playing, don't care, we've done it. Literally couldn't give a shit then. What we give a shit about is three points. Not one point or no points, but three points. Our points.
When you really want something, and that thing is really worth having, you have to constantly want it, and be constantly working out how to get it. Sometimes it comes easy, and sometimes it's hard, and sometimes, like today, the road is just crazy, a bit messed up, and all over the place. But the most important thing is to just work out a way, find a way through. Liverpool won the chaos today. Our heads may be swiss cheese, but they did it.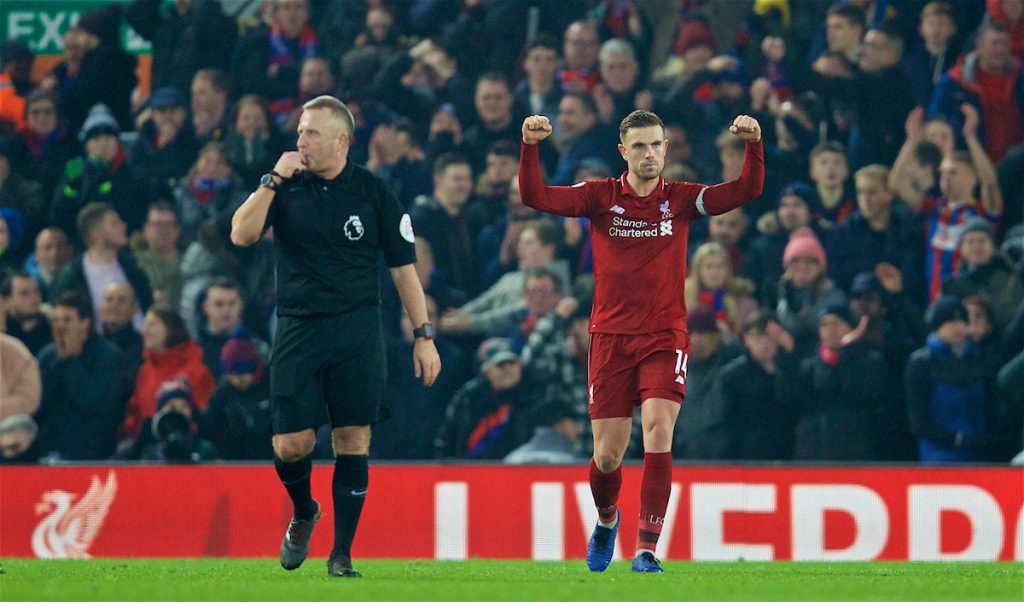 They did it at 0-1.
They did it at 2-2.
They did it at 3-2 down to 10.
They did it. They got it done. The final whistle sounds and while there are cheers there is this stillness, this peace absolute. That another challenge has been overcome, that we are three more closer to the promised land. A stillness that won't end till they take to the pitch again, frozen.
I'm glad of the 10 days. Part of me feels like I played. But part of me wants to scream, shout and jump. Contrary to the song that plays in my head when I go to sleep and starts again when I wake, we may well eventually be moved. Anything is possible. But, by everything that is holy, we will take some moving. We will take some shifting. We are here until the bitter end.
We've made that crystal clear today. We've made you feel alive, the most alive, face red, arms wrapped around strangers, teeth gritted and grinding because if you want to stop us you will need to consist of nothing but that want. We need this more than want this. And we want it for all time.
Fifteen more. Grit your teeth, Reds. Fifteen more for the greatest thing you have ever seen.
Until then we are alive. The most.
"The champions elect did the business." ✊

🗣 Subscribe and listen to our immediate post-match reaction show after Liverpool's 4-3 over Crystal Palace 👉 https://t.co/XZAK9veWt7 pic.twitter.com/A4DyZMKVfd

— The Anfield Wrap (@TheAnfieldWrap) January 19, 2019
Recent Posts:
[rpfc_recent_posts_from_category meta="true"]
Pics: David Rawcliffe-Propaganda Photo
Like The Anfield Wrap on Facebook