DANIEL Sturridge and Divock Origi have scored the two most important goals of Liverpool's Premier League season so far.
However, they may prove to be their parting shots.
Sturridge's stunning late equaliser at Chelsea in September rolled away a stone. It was the fourth goal of a heartening early season rejuvenation that seemed to have filled a hole in Liverpool's squad. He hasn't really looked like scoring since.
Origi's close-range header decided the Anfield derby in December in added time added onto added time. Alisson is still nursing bruises from the manager's manic response. Jürgen Klopp has picked Origi twice in the intervening five weeks.
Those weeks have been crucial weeks, busy weeks in which the depth of Klopp's bolstered squad has been proven in a series key matches that swept Liverpool clear at the top of the Premier League and into the last 16 of the Champions League. Sturridge and Origi have watched most of those matches with the rest of us.
Both will have felt for a while that the FA Cup tie at Molineux might provide a stage for them to restate their cases. The chance they have both been aching for. You wouldn't have known it. Liverpool "B" needed more from two forwards with 50-odd international caps between them on Monday.
There were extenuating circumstances by the bucketload. Jones and Camacho are not Mane and Trent — not yet, anyway. Nobody in red around Sturridge and Origi was firing. Wolves are compact, careful. A regimented corps of regulars against an auxiliary band of brothers.
But where was the hustle, the bustle? Where was the menace, the devil? Where was the example, the encouragement from two senior pros? Where were Sturridge and Origi?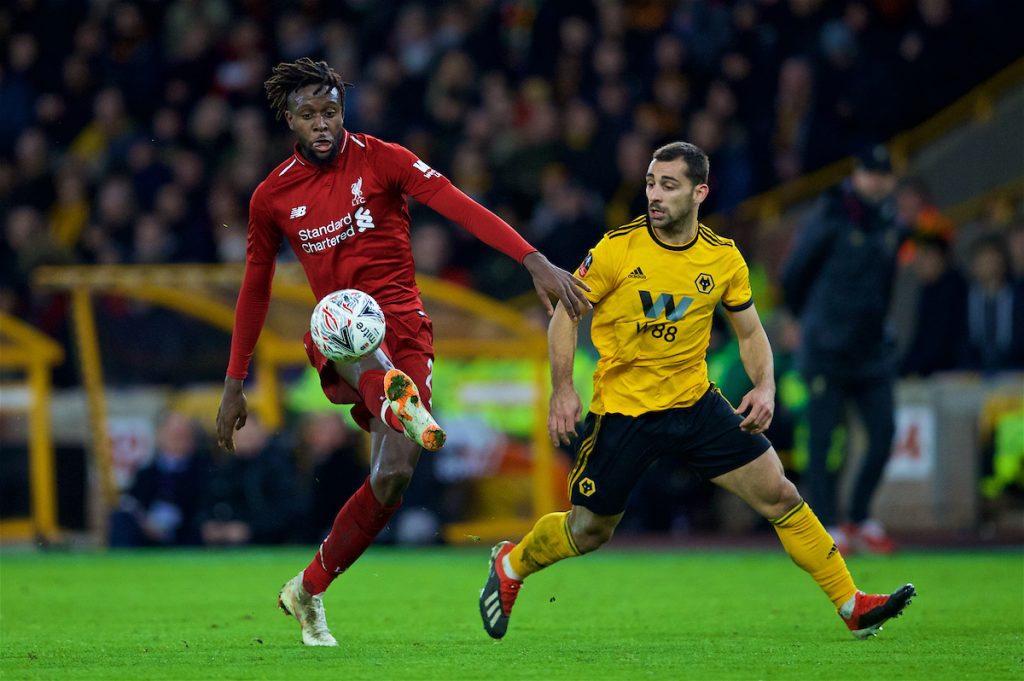 Divock scored a marvellous goal in a flash of inspiration, but flashes are all we have seen from either forward in a long, long time.
As substitutes go, they both carry an undoubted potential to change a game but Liverpool have moved on so far in the last 12 months, I fear they are joining the Mignolets, Morenos and Markovics — the ones that have simply been left behind.
With Sturridge, there will always be 2014. It was his marksmanship that triggered the last serious Liverpool tilt at the title. Such was his cool confidence in front of goal that Brendan Rodgers often played Luis Suarez from a wider position with Raheem Sterling on the other flank and Philippe Coutinho off the leash.
Sturridge belonged in that company. If he had been fit to start the fateful home game against Chelsea, who knows? The core problem is that he has only fleetingly been fit ever since. The injuries were not really his problem but they have become so. A reputation for being injury prone is a cruel curse on a footballer.
Sturridge earned his chance to lead the line against PSG at the start of the group stage. He headed a fine goal and looked a live alternative between Mo and Sadio that night. A week later, he was again at the point of a 4-3-3 and scored against Chelsea in the Carabao Cup. Further starts followed in Huddersfield and Belgrade, the latter in a 4-2-3-1 setup.
They were veiled opportunities for him, difficult games in which to make a mark. The early chance he missed against Red Star was his stock in trade. He could probably hear the doubters clearing their throats. "If he doesn't score those, what's he in the side for?"
And that's the pressure on Daniel Sturridge. That's why you feel his goals are so vital to him that he may ignore an obvious pass, why you feel his celebrations have been practised as lovingly as the finishes themselves.
Without those goals, what does Daniel — with all of his mazy, lazy meandering turns and stepovers — offer this urgent, energetic Liverpool? He is Drake in the Foo Fighters.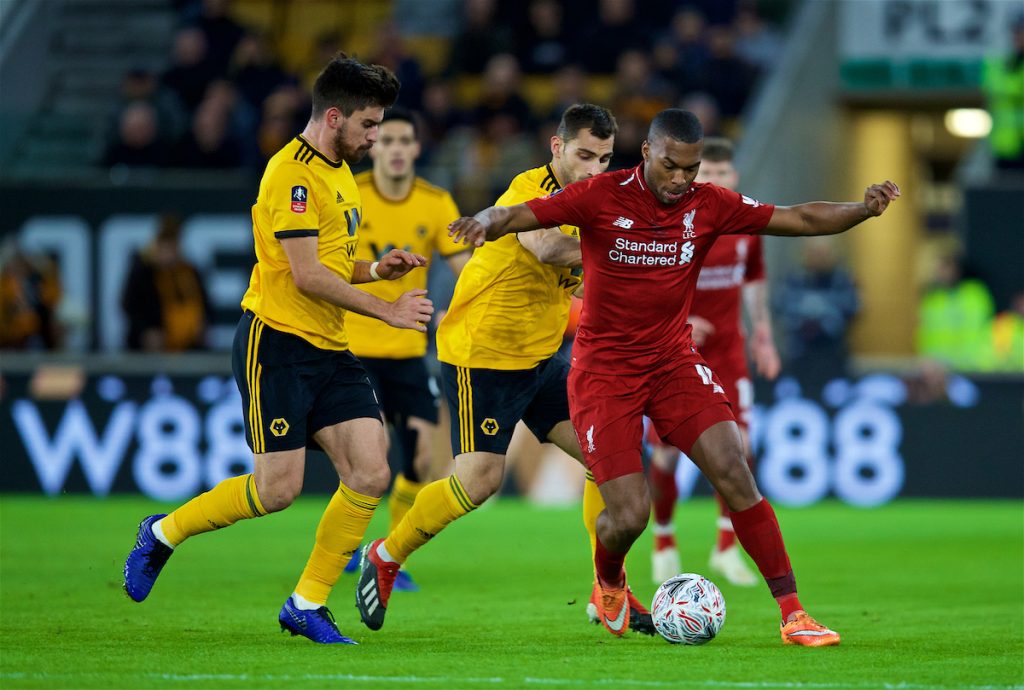 The last question may not be his to answer, because his contract is up at the end of the season and he turns 30 before the end of the year. Origi only has another 18 months on his deal. This need not be closing time for either but it is last orders.
I'm sure that Klopp released Dom Solanke with a heavy heart. I know that Gareth Southgate still has high hopes for him. It just didn't work out at Anfield. On the evidence of the planning behind landing Alisson, van Dijk and Keita, Liverpool will know their summer transfer targets already.
Klopp won his Dortmund titles with Robert Lewandowski upfront. I'm not sure I've seen a finer "number nine" in European football in the last decade. Klopp may now win a title with Mo Salah leading his attack. The 4-2-3-1 is becoming the default but I can't help feel it's still only a solution for this moment in time.
Mo may somehow find the strength of mind and body to get kicked up the backside and wrestle hairy assed central defenders, but that's surely not his chosen specialist subject.
If FIFA 19 or Fantasy Football was life and you could add whoever you wanted to the current Anfield mix, the majority would probably opt for a more creative midfield player. If Ox comes back fit and firing, he is tailor made for the kind of hard-running, hard-pressing midfield unit that has brought Liverpool this far.
I think I might be asking Uncle Fenway for the next Suarez, rather than the next Coutinho. And that should make Messrs Sturridge and Origi think.
If either or both could shake and shape themselves into the purposeful, probing "team" striker that the other forwards can play off and play around in a few key games between now and May, nobody would ever let them leave.
"Jamie Carragher…? He was shite!" 😂

🎈 Happy 32nd Birthday @LucasLeiva87

🗣 Listen to our hour-long, exclusive interview with the Brazilian, about his ten years on Merseyside, here 👉 https://t.co/1ArcEqVyFSpic.twitter.com/11sCcjkzJO

— The Anfield Wrap (@TheAnfieldWrap) January 9, 2019
Recent Posts:
[rpfc_recent_posts_from_category meta="true"]
Pics: David Rawcliffe-Propaganda Photo
Like The Anfield Wrap on Facebook