NEW Year, same old. It only went and happened again, didn't it?
Liverpool finished 2018 by embarrassing Arsenal, again. Bobby Firmino tormented the Gunners, again. On the first day of 2019 Harry Wilson scored for Derby County, again.
Few things rival the regularity of The Reds picking up three points this season, but the propensity of the Welsh loanee to scream into the headlines with his left boot is staggering in its own right.
Wilson's opener inside three minutes on Tuesday against Middlesbrough wasn't even that good. Well it was, just not by his lofty standards. In fairness, it was a very smart finish but it pales in comparison to most of the goals he has been scoring recently.
Belters, worldies, scorchers, beauties. Whatever you call them, he's scoring them like they're going out of fashion. Eight of the 10 goals the 21-year-old has scored for club and country so far this season have been from outside the box. His catalogue is so sparkling, so easy on the eye, so deserving of superlatives that it could exhaust the meatiest thesaurus in the world.
Those superlatives could certainly fill this page, but they won't. We can indulge ourselves once more in the one at the end of September that set the ball rolling though, can't we?
Of course, the ball didn't roll at all. It dipped and bent past a statuesque David de Gea before stinging the net, sending Manchester United towards the League Cup exit door. It was downright gorgeous and if you could name your child after it you probably would.
There's no better way to say goodbye to 2️⃣0️⃣1️⃣8️⃣ than with our favourite goal of the year…

Take it away, @HarryWilson_! 🚀 pic.twitter.com/AUd7G5NsPJ

— Derby County (@dcfcofficial) 1 January 2019
It was made all the sweeter for Liverpool fans by the five-finger gesture Wilson subsequently made, ala Fernando Torres nine years ago, demonstrating his clear affinity for Liverpool and disdain for the Red Devils in equal measure.
Three further freekicks against Birmingham, Stoke and Sheffield United rendered hapless Championship goalkeepers similarly useless. That's in addition to another for his country to defeat the Republic of Ireland in the UEFA Nations League, in the absence of Aaron Ramsey and Gareth Bale.
It's almost as if Wilson is having his own goal of the month competition every month. He seemingly needs to, having won Derby's version in September, October and November.
The agreement made with Liverpool a week after he signed a new five-year-deal in July was that Wilson would stay at Pride Park for the duration of the campaign. There is a recall clause available to Liverpool but Jürgen Klopp indicated last month that he won't trigger it unless injury depletes his forward options.
"Only if we really need him would we trigger that option. Otherwise, he's there in a fantastic team and I really like watching him", the German said.
"I am really happy with what Harry is doing, it is fantastic — it is the perfect example of being able to leave home and show up somewhere else. I really think Harry left in the right moment.
"Since I'm in, everyone said Harry Wilson needs to go on loan. I really thought he was too young and he scored a lot of goals for the Under-23s and then he went to Hull last season and was already good."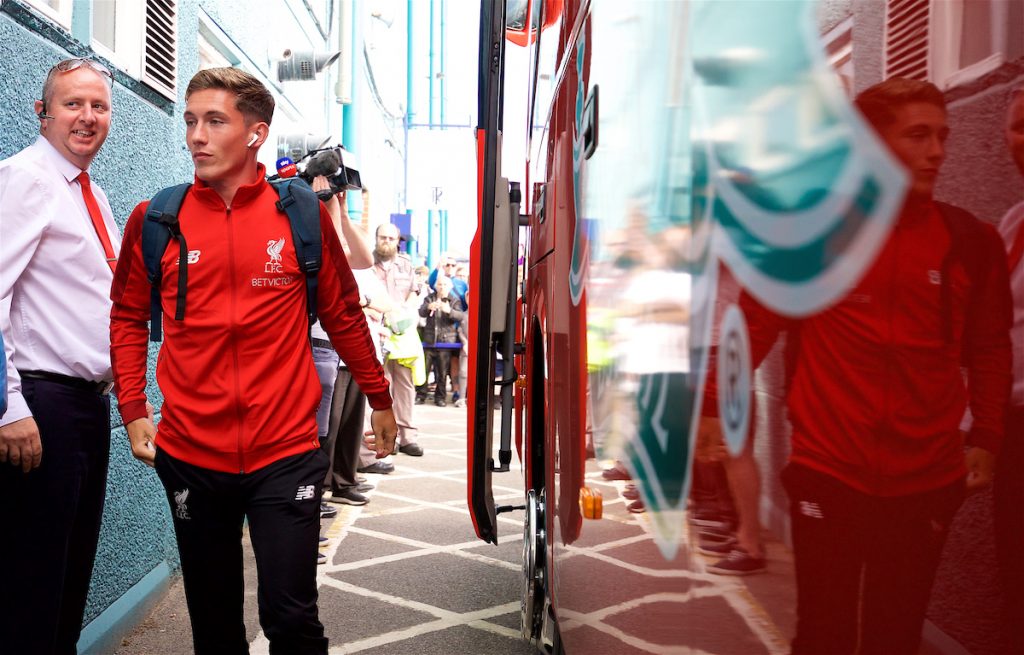 Indeed, the then longer-haired Wilson's seven goals in 13 games helped steer The Tigers away from relegation, winning the EFL Championship Player of the Month for April 2018 along the way.
While some may have seen that spell as proof that he was too good to return to that level, clearly Klopp saw the benefit of a full season starting every week in the Championship for Frank Lampard's playoff-chasing side. That game time simply wouldn't have been possible at Anfield with the quality at the German's disposal.
There is a difference between the Championship and the Premier League, after all. Wilson is up there with the very best performers in the former division this season, just as James Maddison was last season. He's bridged that gap admirably this term for Leicester City, becoming arguably their most important player since signing in the summer. Leicester are not top of the league, though.
Recent history shows few Liverpool youngsters have successful loan spells before breaking into the first-team squad. At 21, Wilson is 18 months older than Trent Alexander-Arnold, who has already played in a Champions League final and World Cup. Woodburn is another year younger than Trent and has a handful of Premier League appearances, while Wilson has none.
As Wales' youngest ever international he has become a regular feature for the national team of late, but there is a sense that that clock is ticking on his window of opportunity at Liverpool.
Sending him out on loan doesn't necessarily mean Klopp doesn't rate him, though. Wilson can take inspiration from Harry Kane, who was 21 at the start of his breakthrough 2014-15 season at Tottenham, after four loan spells in a three-year period.
For all the splendour of his highlights reel, perhaps Klopp didn't think Wilson was quite ready to fit into his plans to turn the spectacular Reds of last season into the ruthless, well-oiled machine of this campaign.
After that United goal though, the Liverpool manager sent Wilson a congratulatory text intimating that he was more pleased with the Welshman's overall performance rather than just the goal.
Klopp is meticulous to ensure that he works with players whose game will fit into the system he intends to use. As we saw with Andy Robertson, Alex-Oxlade Chamberlain and now Fabinho, he knows what, and indeed who, will and won't suit his methods.
So what role could Wilson play at Liverpool next season? All of his goals have come with his trusty left peg this campaign, but he can play off either right or left flank. His best work comes off the right, where he can cut inside onto his left and drift into a central position to dictate proceedings more and play incisive passes.
He often played on the left for Hull though, and that versatility shows potential for him to deputise for any of Firmino, Mo Salah or Sadio Mane. He has the pace to do so too, as he displayed in scoring his first goal for Derby on the counter attack against Brentford back in September.
If Wilson can continue his record of contributing a goal every 157 minutes this season, he surely will be incorporated into Liverpool's first-team squad next season. He could offer further competition, or perhaps even replace the likes of Adam Lallana. It seems highly unlikely that he would push for a starting spot, but I seem to remember us saying that about a certain stocky Swiss winger back in August.
If it doesn't work out, there will be no shortage of suitors for Wilson but it would be a shame for a player that the club have invested so much energy in since beginning his Liverpool journey in the under nines.
If Klopp has taught us anything over these three-and-a-bit years it's that good things, genuinely good things, take time.
"It's set up perfectly for us. What ever happens we still come out singing 'top of the League.'" ✊

🎥 Watch today's Talking Reds, ahead of the Liverpool's biggest game of the season, in full here on our YouTube channel 👉 https://t.co/Uucm48SnoO pic.twitter.com/NFhLDbJtKa

— The Anfield Wrap (@TheAnfieldWrap) January 3, 2019
Recent Posts:
[rpfc_recent_posts_from_category meta="true"]
Pics: David Rawcliffe-Propaganda Photo
Like The Anfield Wrap on Facebook