I'VE been thinking a lot about outrage lately.
I get the feeling outrage has been applied to almost all aspects of daily life in recent years, and as a result we're in danger of the whole concept becoming neutralised.
In a week where outrage has been attributed to all manner of topics, from parliament to PowerPoints, I think it's important we all now prioritise and preserve our outrage for the things that truly matter — such as Neil Warnock's preposterously insular outlook on world politics, or Ryan Babel's astounding ability to not look a day older than he did 10 years ago.
For example, I am constantly outraged when somebody behind me in the supermarket starts to put their food on the conveyor belt at the till before I've unloaded my basket. It transcends me into a fit of conscious fume every time.
Another good example, and this is one of my favourites, is the outrage from some — particularly those born not manufactured — around the running order on Match of the Day.
The Blues love nothing more than booing, probably from their own living room, the fact Liverpool is given early coverage on the highlights show and last Saturday was no different after The Reds' 1-0 victory at Brighton was handed the prime slot.
While enjoying Mo Salah's match-winning penalty and some conspiracy theorist tweets by those convinced the FA, BBC and Lee Harvey Oswald are all involved in a plot to see Liverpool win the league, a point was raised on the programme which had me thinking.
While discussing The Reds' impressive and diligent win on the south coast, panel members Ian Wright and Jermaine Jenas added a caveat to the performance and the overall credentials of Liverpool over Manchester City in the title race.
Liverpool weren't at their best today, but they got the job done.

The sign of champions?https://t.co/wU2mRvKA45 #MOTD pic.twitter.com/Th3CrGX2k3

— Match of the Day (@BBCMOTD) 12 January 2019
It was noted by the pundits that City's wealth of title-winning experience in their squad could prove vital come the run in.
A perfectly plausible point? Maybe. It lacked the irony it was steeped in as the performance they were analysing was all you could ask from potential league champions following back-to-back defeats.
Nevertheless, it was not the most outlandish thing you will hear from the BBC this year, certainly not if they plan to get Rio Ferdinand or Richard Keys on any time soon.
In this 1,000m neck-and-neck sprint to the finish, experience may well prove pivotal over the coming months, yet to contextualise experience in a single form is perhaps unwise, as it takes on many variables in a footballing sense.
For every experience argument there is both a maturity and leadership one to be had which are of equal importance.
"Pure logical thinking cannot yield us any knowledge of the empirical world; all knowledge of reality starts from experience and ends in it." — Albert Einstein
Having your hands on the Premier League trophy only a year before will only ever be seen as a positive in this situation. However, the fact no team has retained the title since Manchester United in 2008-9 shows this doesn't always prove beneficial.
Experience is a collective feeling in a dressing room. It harnesses your ability to draw strength from each other and take that forward to both rectify and repeat when a situation reoccurs.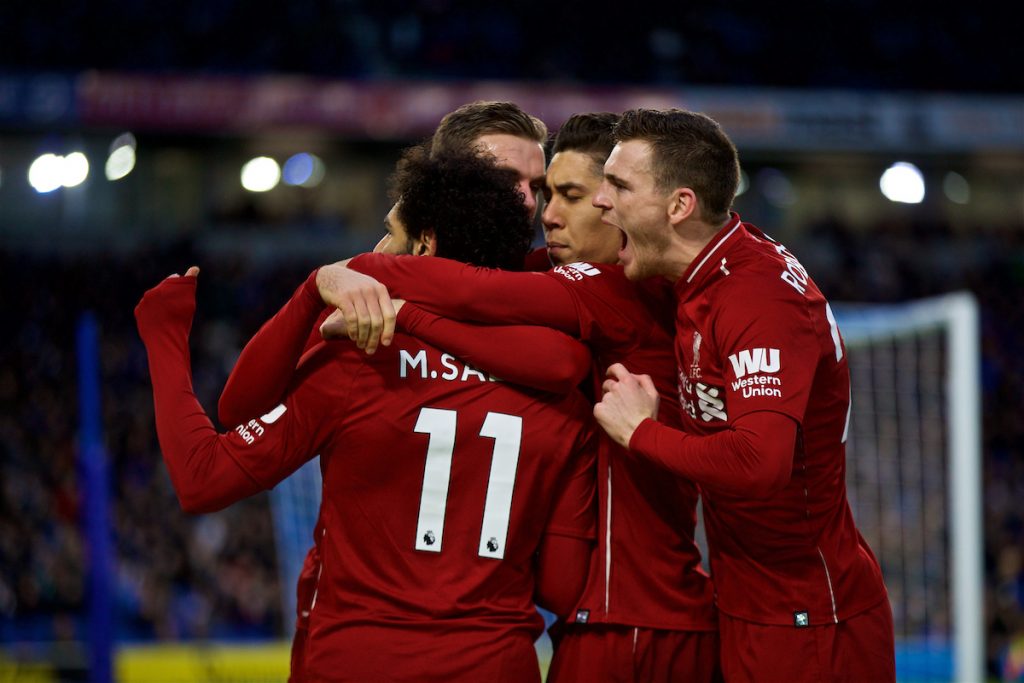 Liverpool have and will continue to draw on their collective experience and yearning to amend and evolve from a Champions League final defeat last May.
It is often the experience following heartbreak which can spurn the most burning of desires to succeed in future. The Reds look like they currently have that and are showing no signs of softening as the sense of importance increases with every fixture.
"I refuse; it's a sign of maturity, to be stuck in complexity. I demand all clarity." — Bjork
Liverpool's level of versatility around maturity has been phenomenal this season. They have answered all manner of questions from winning possibly damaging home draws to Manchester United and Everton to salvaging results from a goal down at the likes of Stamford Bridge and Turf Moor.
Saturday was another example of a team determined to give nothing away, to be defensively solid and prodigiously effective. To not allow for a media and opposition-led narrative of a "model" of how to play against them to surface in any form.
There is also a maturity around coaching of the team. The manager has referenced numerous times this season his ability to rectify things, both in game and at the interval, without the fixture ever getting away from his side.
The feeling of trust across the board that Liverpool can be more patient and influence games for the better in its latter stages is massive for players, staff and fans. The Xherdan Shaqiri substitution against United last month being a prime example of everyone's collective patience and trust in the process, which shows the maturity required to compete at the top level.
"In a shit dressing room there is no chance." — Jürgen Klopp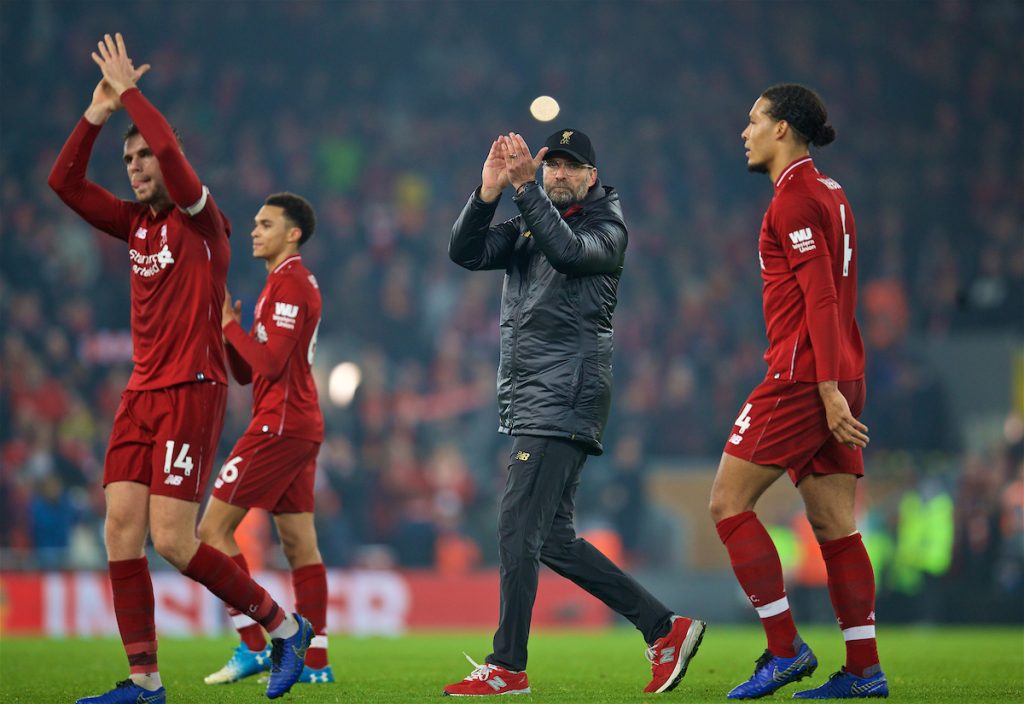 Liverpool's leadership comes in various forms. For every Premier League medal they lack, there is the countenance of them now having leaders in different forms throughout the squad.
It should not be forgotten The Reds currently boast more than one international captain in their ranks. They have two players who are pretty much carrying the mantle for an entire African continent onto the pitch with them every week. As well as this, they have the current Brazil number one who happens to play ahead of the goalkeeper he is currently vying for the title with.
In a recent interview with The Telegraph, Klopp was effusive about the increased sense of leadership around the squad which has undoubtedly taken his team to the next level.
"If you see who is talking in our dressing room before a game when the music is loud and people are shouting it is Milly and Hendo. Now Virgil starts, even Alisson throws in a few words. It is always the same players.
"I never had a problem with getting a dressing room like that. So far I always had a good one."
Experience is not something I'm going to spend time being outraged or concerned about any time soon. In this season of unbridled proficiency and massive potential from this Liverpool team, we can all afford to sit back and enjoy taking centre stage while the chasing pack fight over the insignificant running order which follows.
After all, the fact Liverpool are provoking such outrage shows that they are merely provocative in the aspirations of others who strive to emulate them.
In the long run, this will only serve as yet another experience to take with them on their journey from now until May.
"This shouldn't be taken for granted, he's one of the best left-backs in the world.

"He encapsulates Liverpool, as a club and as a city." 👏

🗣 Subscribe for more reaction to the news that Andy Robertson has signed a new, long-term contract 👉 https://t.co/lmNtBz4ADz pic.twitter.com/PKNou6GSS6

— The Anfield Wrap (@TheAnfieldWrap) January 17, 2019
Recent Posts:
[rpfc_recent_posts_from_category meta="true"]
Pics: David Rawcliffe-Propaganda Photo
Like The Anfield Wrap on Facebook