PRESSURE. Did you feel it?
I know I did. I was a quiet mess before the game and first half. I was a state, quietly bubbling, quietly seeing the worst at every opportunity. How's your bottle? Ask me on 23, there. Gone, mate. Gone.
The worst was only ever this: Nil. Nil. That was the worst I could see but that worst hurt a great deal. The worst was indeed the worst. Nil. Nil. Liverpool impotent. Liverpool stuttering. Liverpool knocking at the door. But. But. But.
And then Mo Salah happened to Brighton and then the game was different, the pressure (for me, at least) dissipated. Suddenly the birds were singing, the sky was blue and my shoulders unknotted. There, there it is and there we are. In exclesis deo. Did you feel it, though? God, it was fabulous and terrible in equal measure to feel it. It reminded us we are alive. The most alive.
The thing is that the mighty boys in red played the whole game with unknotted shoulders. They were cooler than I was, perhaps than you were. They were never in their groove but they were in their element and these are two different things.
Liverpool's spine had an excellent game without excelling. All of Alisson, van Dijk, Henderson and Salah were constant and certain. They don't always do what I would like but then their needs and mine could well be different. They have the game plan to implement. From my point of view I'd like us to score right now, if you don't mind.
Instead they pick their moments to force the issue and that forcing is as much about forcing Brighton back as it is creating a chance. It is to create space to then create a chance, and at times that is hard to watch but it is essential to see.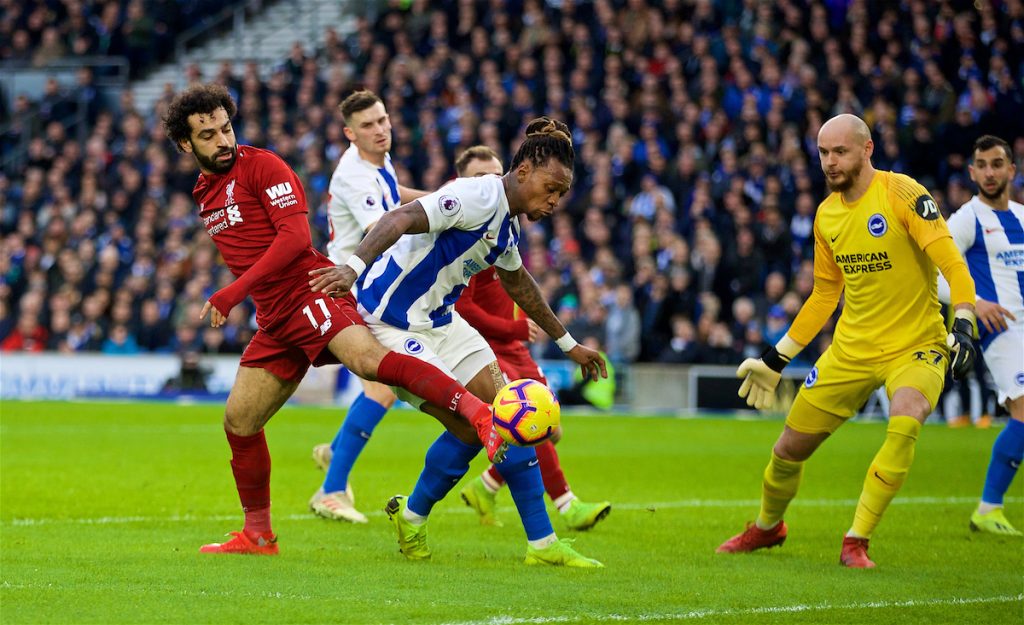 Between van Dijk and Henderson was Fabinho who produced, if not his best, his most important performance for Liverpool. He thought his way through the game with aplomb. He took the Glenn Murray elbow, shrugged and let him know 10 minutes later.
It was a performance of both character and nous, the performance of an excellent footballer who is now undoubtedly ensconced in this squad. He is one of the boys, one of the men.
It was a day that reminded you they are men. This column loves to remind you these are mostly lads in their 20s living our dreams, trying to match our ambition. We often think of them as far older, far wiser.
Today was that sort of day, that day where I am crumbling under the weight of it all, pressure pushing down on me, and they are standing up and being counted, they are shaming me with their certainty, their inevitability. How's your bottle? Mine is fine the other side of all that, but theirs was picture perfect before it.
The full backs constantly available and seconds away from being in. Brighton's blanket being compact and thick but struggling to stretch and Liverpool doing all the things that grown up teams do, make it so hard to break quickly, make everything feel arduous, make you yearn for the sweet relief of the final whistle whichever side you are on. Put us out of our misery, referee. We toil but we know. We know.
Brighton had a late semi flourish but there was not a shot on target. Alisson Becker saves something he should leave and in the end that was the dirtiest he got.
The achievement of this manager is that he has created and coalesced these most certain of footballers. They aren't getting carried away but theirs is a 22-game start which should carry us all away. They've been almost as close to spotless as is possible and they share that memory.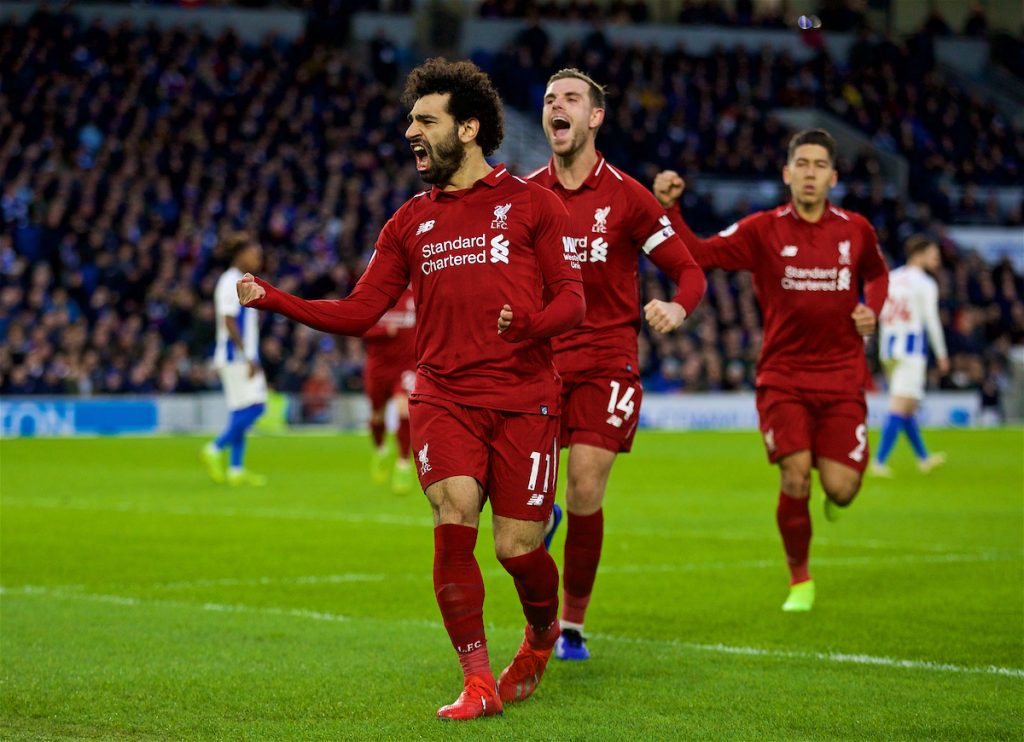 How's your bottle? Well mine is now absolutely glistening. Perfect. We're seven clear and we have the next two at home and we are back on track, back doing our thing. For the avoidance of doubt, our thing appears to be the avoidance of doubt.
Jürgen's boys are the steadiest, the most irresistible; their will is back to being what will be bent to, their certainty becomes the certainty of opponents and referees. And us. They lead us. They whisper things, the city sings them back to you. They live forever tonight.
You know the drill. Twenty-two down. Twenty-two. Liverpool top of the league. A state of affairs that will take some changing. Liverpool are certain. It will take a lot to make them uncertain. Sixteen to go.
See you next weekend you magnificent lads, you magnificent men. It will feel an age since we have roared them on at Anfield. Imagine. What are we in it for if not that? No trepidation, no pressure, see you next Saturday when we live. The most alive, on the edge of the night.
See you next Saturday.
"It wasn't pretty but Liverpool are seven points clear at the top of the League." 🏆

🗣 Subscribe and listen to our immediate post-match reaction show after the Reds' 1-0 win over Brighton 👉 https://t.co/XZAK9veWt7 pic.twitter.com/kfOYyyCXbc

— The Anfield Wrap (@TheAnfieldWrap) January 12, 2019
Recent Posts:
[rpfc_recent_posts_from_category meta="true"]
Pics: David Rawcliffe-Propaganda Photo
Like The Anfield Wrap on Facebook