HERE we are again.
The crucial Christmas period. When the games come thick and fast, and when every squad, no matter how strong or deep, is tested to the limit.
It's a time when some of the less-heralded traits of elite footballers come to the fore.
How fast can they recover? How easily do they declare themselves injured? What is their mental fortitude like? Can they keep their eyes on the prize when all around there is eating, drinking and being merry?
After Liverpool displaced Manchester City at the top of the Premier League at the weekend, the usual faces in the usual places were quick to denounce it. The football grinches were out in force.
Yes, it is only 16 games. True, there are 22 still to play. No, no silverware was ever handed out in December. But it still matters.
You might not win anything at this time of year, but you can certainly lose it. Just imagine being 16 points adrift of the leaders at this stage of the season: got to hurt that, hasn't it?
But back to the point. The hectic schedule. The pressure of a title race. The incessant talk all around. If you're a player embroiled in it, you have to focus. Stay fit. Get your mind and body in the right place over and over again to play and perform; a treadmill of routine and repetition that only the most dedicated can tolerate.
It's a time for leaders, for inspiration, for examples being set. And it's why every Red should feel warm inside when considering the latest member of the Premier League 500 club.
James Milner became only the 13th player to achieve the feat, and the second youngest to boot, as Liverpool cruised to a 4-0 win at Bournemouth on Saturday.
And that Milner's 152nd appearance for The Reds saw him line up wearing the armband while occupying an unfamiliar right-back slot said it all, as did Mo Salah's gesture with the man-of-the-match award post game.
Milner might not be the first name young Reds ask for on the back of their kit, and you're unlikely to see a compilation of him showboating on Sky Sports anytime soon.
Yet having a 32-year-old two-time winner of the Premier League around the place – and one as dedicated and determined as Milner – has to rub off on those that are more green around the edges.
Ask Jürgen Klopp, or Brendan Rodgers for that matter, what they think of Milner. He's played no opponent more in a Liverpool shirt than Manchester City – 10 times so far. When the biggest games come around, he's been a man the managers call on.
At Turf Moor in midweek, Milner could be seen, and heard, to dictate the tempo. He wanted it quicker and slicker, he wanted Liverpool to go through the gears, he wanted throw ins taken faster.
And when the man screaming at you to ramp it up has the medals at home and the sports science statistics at the training ground to shame your own, who are you to argue?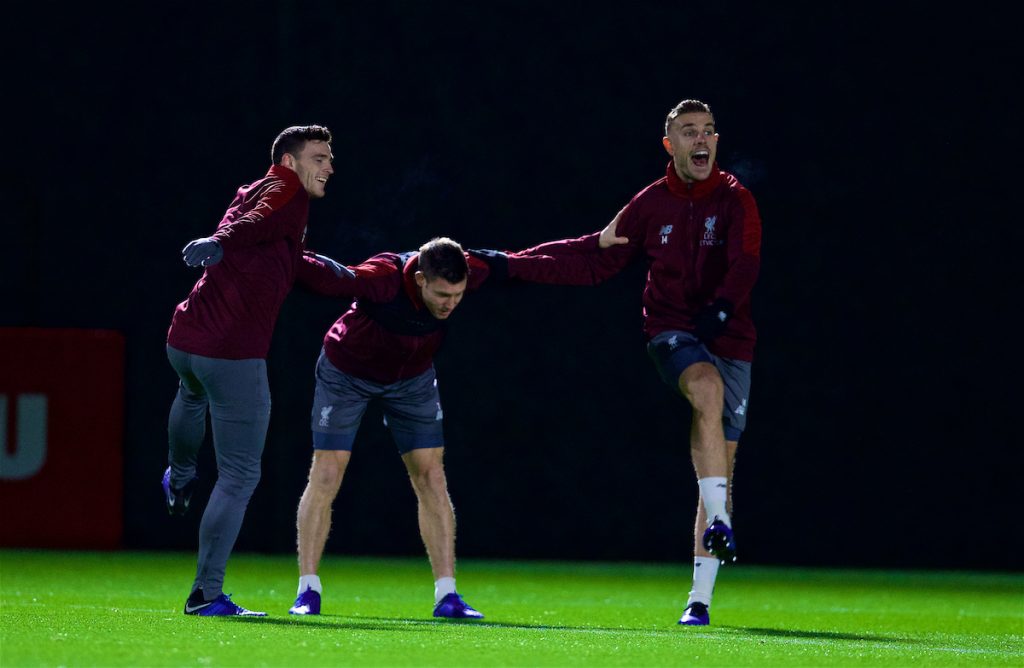 At Bournemouth, and not for the first time this season, Milner's controlled aggression when winning the ball back was in evidence. It's often only a moment, only a solitary action at times, but it can mark a mood, flick a switch, tell teammates and crowd that there is a moment to grab and that moment is now.
There is a talismanic feel to Milner's role at the club now, one backed up by his prowess from the penalty spot, and the statistic around never being on the losing side when he has scored a Premier League goal.
It's something similar to what we saw from a 35-year-old Gary McAllister in the treble season under Gerard Houllier.
Everyone remembers the freebie signing's crucial contributions, memorably at Goodison Park. But it was more than goals. It was nous, knowing, advice and game management.
As McAllister said on signing: "The manager explained that there was a need for some experience around the squad, an old head in the side. I've just had my best ever scoring tally in the Premiership with 13 last season, and I'm feeling as fit as ever. It's too early to say just how many games I will play, maybe people will be surprised."
He made 49 appearances in 2000-1, scoring seven, including goals against Everton, Manchester United, Barcelona, Tottenham and Alaves.
Those that watched in person, and listened closely, to the matches McAllister played that year will not have been surprised in the slightest to see the Scot follow Steven Gerrard to Rangers as his assistant. He talked Gerrard's talent, then accompanied by a skinhead haircut, through many a game that season, and with great end result.
We can see that from Milner, too. He has a great understanding with Andy Robertson. He is well liked by the manager and the squad in general, it seems. And he is also good when the cameras start rolling.
Hat-trick hero @MoSalah refuses to take his Man of the Match award and hands it over to @JamesMilner on his 500th Premier League appearance. 👏👏👏

📺 Watch the reaction to #AFCB 0-4 #LFC on Sky Sports Premier League or follow here: https://t.co/gCPPirCr0K pic.twitter.com/l7kmzOeuVt

— Sky Sports Premier League (@SkySportsPL) 8 December 2018
That, by his own admission, is not his favourite part of the job. Yet he always sets the right tone and calls the situation right.
While we, the fans, rightly go wild over a taste of top spot, herald the return to form for hat-trick hero Mo Salah, and drift into dreams replaying Naby Keita's double nutmeg, Milner knows there is more work to be done and tougher challenges ahead.
"It wasn't our best performance of the season by any means, but we were efficient and got the job done," said Milner.
Efficiency and getting the job done are just what Liverpool need right now. The talk of clicking, and better football to come, is all well and good (and worrying for rivals), but in the meantime, win. Anyway, anyhow, anywhere. Just win.
By and large Liverpool have done just that so far. And with leaders like Milner in the squad, who's to say those standards will be slipping anytime soon?
If this is efficient, boring even, long may it continue. The same goes for James Milner.
"We were saying that maybe there just weren't any good goalkeepers around anymore… nah, there is one, we signed him." 🔥

🗣 Listen to this week's FREE Anfield Wrap podcast after the Reds went top of the League 👉 https://t.co/rchQEIa9Cj pic.twitter.com/xxucMhjIdA

— The Anfield Wrap (@TheAnfieldWrap) December 10, 2018
Recent Posts:
[rpfc_recent_posts_from_category meta="true"]
Pics: David Rawcliffe-Propaganda Photo
Like The Anfield Wrap on Facebook