PERCEPTION is everything.
For example, I thought that people had an over-the-top dislike of Loris Karius, pre Kyiv, because he was too good looking, but then Liverpool signed an even handsomer goalkeeper in the summer and everyone loves him (some a little too much).
An often unfair narrative can build around a player though, and as time goes on it just gets accepted as fact by some. The obvious extreme of this example is Raheem Sterling, and the foul abuse he suffered at the hands of neanderthalic fools at Stamford Bridge who unleashed their impotent rage at the Manchester City winger after he dared wander over to collect the ball for a corner.
On a far less harmful level though, the day-to-day perceptions of players based on something as simple as their football ability rather than their skin colour (imagine such a thing) is usually merely a composite of their performances over a period of time.
However, such is the fast-paced – and some would say "fickle" – nature of football opinions, that process can be sped up somewhat.
Look at Joe Gomez. I remember conversations over the summer about defensive depth, and it being suggested that Gomez could play a more prominent role at centre back. The general response was: "play an inexperienced fella at centre back who gets caught out defensively when he's at full back? Are you crazy? We've got a title to win!"
Months later, following the news that Gomez had fractured his leg at Burnley and would miss six weeks of action, the general response was: "six weeks without Gomez at centre back?! Oh no! We've got a title to win!"
As much as we all love Joe, and his new contract, it felt like the reaction to his injury wasn't just about missing him. It was about a realisation that it would mean more appearances for Joel Matip.
With Dejan Lovren suffering from concussion, the Cameroonian would have to step in, and in some quarters, that spelled possible doom for Liverpool and their record-breaking start to the campaign.
It must be remembered though that it wasn't always this way. Matip was signed from Schalke 04 on a free transfer in 2016, and arrived with a pretty solid reputation. He was one of the star players in Gelsenkirchen and joined to shore up a defence that had been rather wobbly in Jürgen Klopp's first season, despite a run to the Europa League final.
Matip essentially replaced Mamadou Sakho, which allowed Lovren to move to his supposedly favoured left side, and the duo struck up a fairly decent partnership, certainly compared to ones that had preceded it.
It is often forgotten how generally highly rated Matip was during his first season at Anfield. When he was temporarily stopped from playing domestic football by the Cameroon FA, who were outraged that he had refused to be called up for the African Cup of Nations halfway through the season, he was forced to sit out several Liverpool games, and Reds fans were not at all happy.
Despite that, he made 32 appearances in all competitions in 2016-17, with 29 of those coming in the Premier League. Liverpool conceded 42 goals that season, which was an improvement on the previous campaign by eight.
It included the final few games that clinched Champions League football for the following year, keeping five clean sheets in the last six encounters to secure a top-four place.
The following season didn't start as well though, with Matip playing in games where three were conceded to Watford, four to Tottenham and five to Man City.
In January, Virgil van Dijk arrived in a world-record £75m move from Southampton to make us some cocoa, wrap us in a blanket and kiss us on the forehead. All of a sudden it was like a mask had been lifted and Liverpool fans were finally treated to a reliable defence, led by the former Saint.
Initially, Matip was a part of that defence. He started games alongside van Dijk against Everton in the FA Cup and Swansea in the league, but then came the 3-2 cup defeat against West Brom at Anfield.
Matip looked feckless on that night, second only in the farcical stakes to the use of VAR by the officials. He still played three days later though in the 3-0 win at Huddersfield, and then eight more times before the end of the season, conceding only four goals in those games and generally playing well.
However, in the main it was Lovren who was called on to partner van Dijk, particularly in the big games, of which there were many in the final few months of the campaign. The big Croat largely played well and went on to not only play (brilliantly) in the Champions League final, but also started for his country in the World Cup final two months later.
Lovren winning over the fans who once doubted him arguably more than they did Matip, coupled with the incredible form of Gomez in the opening months of this season, led to the former Schalke man being relegated to fourth-choice centre back. That, for some, meant needing to revert to the mean that fourth-choice defenders are always terrible, and thus so must Matip be.
Don't get me wrong, I agree that he is Liverpool's fourth-best centre back as things stand, although I don't think there's all that much between him and Lovren. Matip, for me, makes fewer mistakes, but the proactivity of Lovren is often more necessary for the way The Reds play than the laid back style of Matip, particularly when van Dijk is laid back enough for the both of them.
His style is probably why many don't rate him, or at least, not all that highly. It's a similar complaint to the ones we heard week in, week out about Sakho. "He's too casual." "He's too sloppy on the ball." "He always looks like he's about to make a mistake."
Now I did like Sakho, but accept that he's certainly been upgraded on. He's better than Crystal Palace but not at Liverpool's level anymore, but I felt that some of the criticism of his style was unfair, and that the same applies to Matip. Just because people might feel nervous when he's on the ball, it doesn't mean that they should, or that their insecurities are his fault.
I felt the need to out myself as a Matip sympathiser because I think we'll be seeing a lot more of him over the next few weeks, ironically during the period when he couldn't play in his first season. Lovren will likely be first choice once he regains fitness, but Matip will get minutes, and not just those weird ones at the end of games when Klopp wants to go three at the back (another thing I think people subconsciously hold against the player rather than the manager).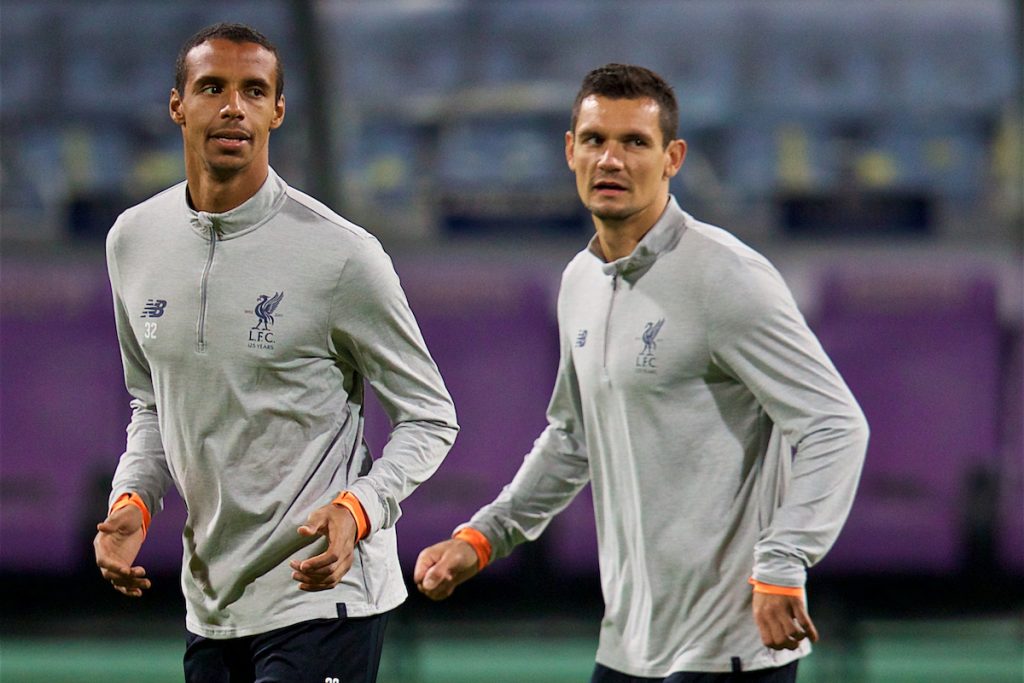 His performance against Burnley last week was perhaps the perfect microcosm of his Liverpool career. He had a shaky first half hour, looking awkward on the ball, giving sloppy passes away and letting runners get away from him, but once he settled, he was just as strong as the £75m man stood next to him.
Klopp felt the need to point out how well Matip played following the 3-1 victory at Turf Moor, and was quoted by the Liverpool Echo as saying: "I could write a book about Virgil's strengths and about Alisson's strengths, but look what Joel Matip did today.
"How good he was, and he has absolutely no rhythm. He trains on the highest level and he's not even in the squad sometimes. But when we need him, he plays."
It is not unlike Klopp to praise his players, but it wasn't the first time he has waxed lyrical about the big Cameroonian. He was very excited to secure the Bosman signing of Matip ahead of his first summer at the club.
When the agreement was announced in February 2016, he told the club website: "He is a top-class centre half, very young but experienced. You don't have that too often. To be honest, when I had my break I thought for the next club, I should think about Joel, if there was a need.
"He never played for my team, he did the extreme opposite – he played for their biggest opponent! Maybe that says a lot about his quality. Even when he played for the team you cannot love as Dortmund manager, you see his quality. Then that's real quality."
Then in October this year, when asked about his fringe players, Klopp said: "Joel Matip will play in 97 per cent of Premier League and Bundesliga clubs, I am 100 per cent sure."
Matip followed up the Burnley game with a more assured 90-minute showing at Bournemouth, clinching yet another clean sheet for the best defence in the Premier League.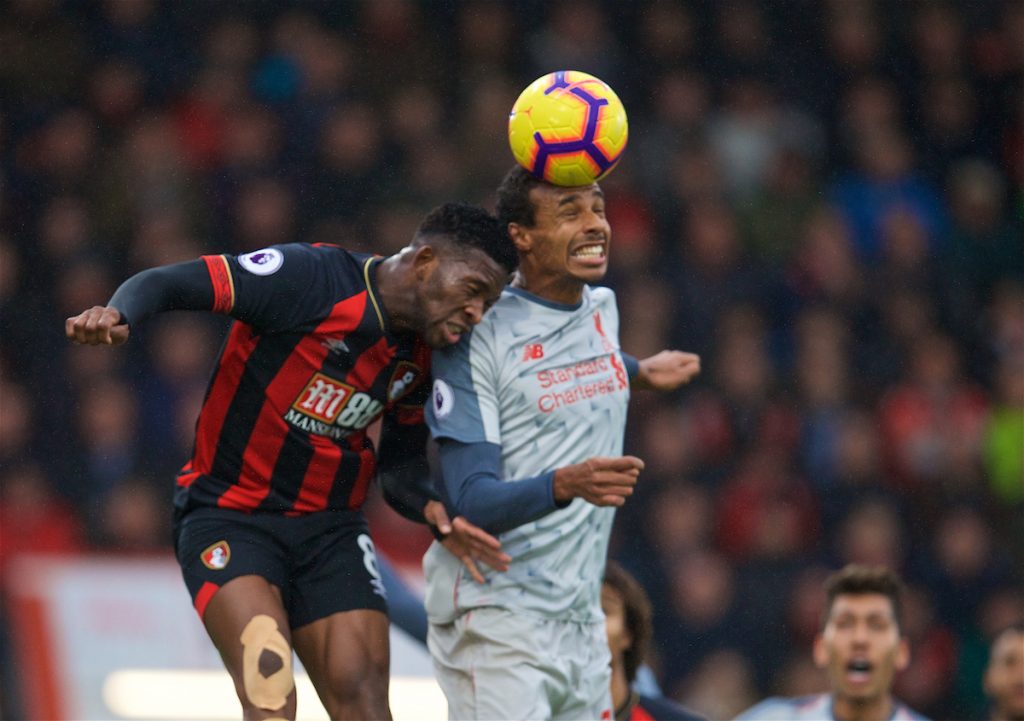 It must also be remembered that he now has a goalkeeper the quality of Alisson Becker behind him. During his first two seasons at the club he was stood in front of Simon Mignolet and Karius, and a much safer pair of hands behind him now could make all the difference, not least in his confidence both on the ball and in his movement – as you could see on Saturday.
That is a particular knack of his, and I think it dovetails well with van Dijk. The Dutchman plays like a quarterback, spraying long balls out to the full backs, while Matip takes it into the midfield and hands off a short ball to a more capable teammate.
As I said, don't take this as a "Matip is world class and anyone who says otherwise is a swine" piece, but more "Matip may not be perfect, but is almost certainly better than people seem to think he is."
He's not as good as Virgil. He's not as good as Joe is becoming. He's probably not as valuable to Liverpool in big games as Dejan.
However, there is a strong argument that he's the best fourth-choice centre back in the Premier League.
It's details like that that could be the difference between the top positions in the table come May.
"We were saying that maybe there just weren't any good goalkeepers around anymore… nah, there is one, we signed him." 🔥

🗣 Listen to this week's FREE Anfield Wrap podcast after the Reds went top of the League 👉 https://t.co/rchQEIa9Cj pic.twitter.com/xxucMhjIdA

— The Anfield Wrap (@TheAnfieldWrap) December 10, 2018
Recent Posts:
[rpfc_recent_posts_from_category meta="true"]
Pics: David Rawcliffe-Propaganda Photo
Like The Anfield Wrap on Facebook