ULTIMATELY it was only three points.
However, it was also much more than three points as the smiles, the hugs and The Kop's impromptu rendition of Wonderful Christmastime proved.
Manchester United – and Jose Mourinho – had long since cemented a place in the pain-in-the-arse category for Liverpool.
They're a side that has traditionally put sticks in the spokes of The Reds, winning more than they've lost historically, and seemingly doing it plenty when victory hasn't always been deserved.
Any Red can recall Liverpool hard-luck stories against Manchester United, while victory has always tasted sweet.
Despite their current problems, Mourinho's issues, and the general vibe around the team and squad, fears that they would turn up at Anfield and rip up the odds that had them as wide as 5-1 to win, weren't totally unfounded.
When Jesse Lingard pounced on a rare error from Alisson Becker to level the scores on 33 minutes, there was a palpable pin-drop moment at Anfield.
Everyone of a Liverpool persuasion looked around Anfield for a flag, waited for a whistle – after the utter domination from Jürgen Klopp's side up to that point in the match, how could a side as poor as United had been possibly have scored, and scored like that?
But they had. And the celebrations in the Anfield Road said it all – they knew they had nicked one and gave it the big one accordingly. A draw in those circumstances would have been celebrated like a win on the coaches heading back to Manchester.
For us, in that moment, it was easy to worry. This is what they do. This is what happens when we play them and play him.
We'd waited since Daniel Sturridge's winner under Brendan Rodgers for a league win against Manchester United on home soil. Was the wait going to go on even longer, with a side as good as this against a side as bad as that?
Then there was the Manchester City aspect. From players and supporters through to the manager Pep Guardiola, you know they were watching, waiting and hoping.
As Liverpool's defence was decimated by injury pre match, those hopes were surely raised another notch.
After doing their job against an obliging Everton, City wanted a favour from their Salfordian friends. In any race, any fight, any battle, you look for a sign of weakness. United's psychological voodoo – and any inability to overcome it – could have been just that.
A draw against Manchester United wouldn't have been the worst result given the context mentioned above. Yet Liverpool showed hunger for more. Klopp and the players will always say publicly they care little for what City are doing – it's exactly the right message.
Yet it can't have gone amiss that, having nosed in front at the top of the table last weekend, to fail to maintain that advantage just a week later would have been a boost to City – and a blow for The Reds.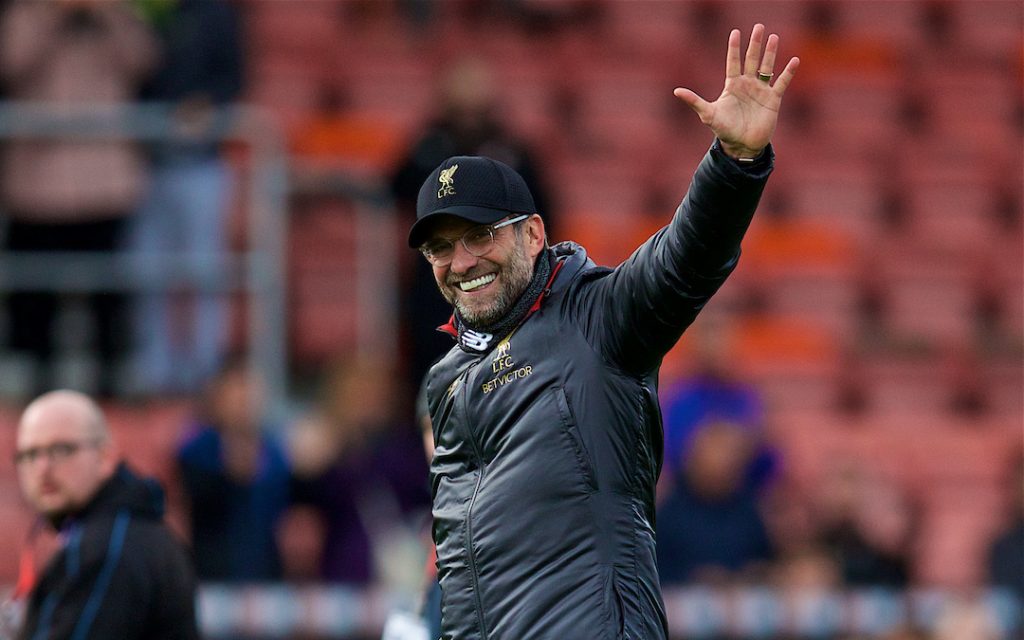 Instead, the reverse is true. Liverpool aren't going away. And if "luck" is playing a part, as Mourinho, suggested, then all the better. If that's the story, and the story helps us, then keep that story alive.
For years we witnessed Manchester United benefit from "luck" – the late winners, the dodgy penalties, the substitute turning the match that looked over and done. It became an art form under Alex Ferguson, much to our misery. "We never lose, we just run out of time," was their mantra.
And here's Liverpool doing the same. Divock Origi winning the derby. Nathaniel Clyne in from the cold to contribute and contribute well. And Xherdan Shaqiri winning it on Sunday, after arriving from the bench like a football superhero ready to unleash his powers.
There's belief, desire and confidence coursing through The Reds now – all of them. And what about in the stands?
While, yes, there was a little wobble post goal, what was noticeable was that it was shortly followed by a collective shrug.
Twitter's "banter" accounts might have been enjoying themselves slaughtering Alisson for the goal but there was very little of that inside Anfield. Two mistakes in 17 league games? Where's the fire? What he has brought to Liverpool is obvious to anyone who has watched the side regularly and a split-second slip up changes nothing.
Equally, where was the fire conceding an equaliser? Liverpool would come again and come good. The mid-table mediocrity suggested United were a busted flush. The performance on Sunday proved it. Surely Liverpool would prevail. There was little panic in the performance or the support.
A win over Manchester United, however poor and crisis-ridden they might be, is another tick in the box for the title credentials of this Liverpool team, as is bouncing back from an equaliser in such unfortunate circumstances.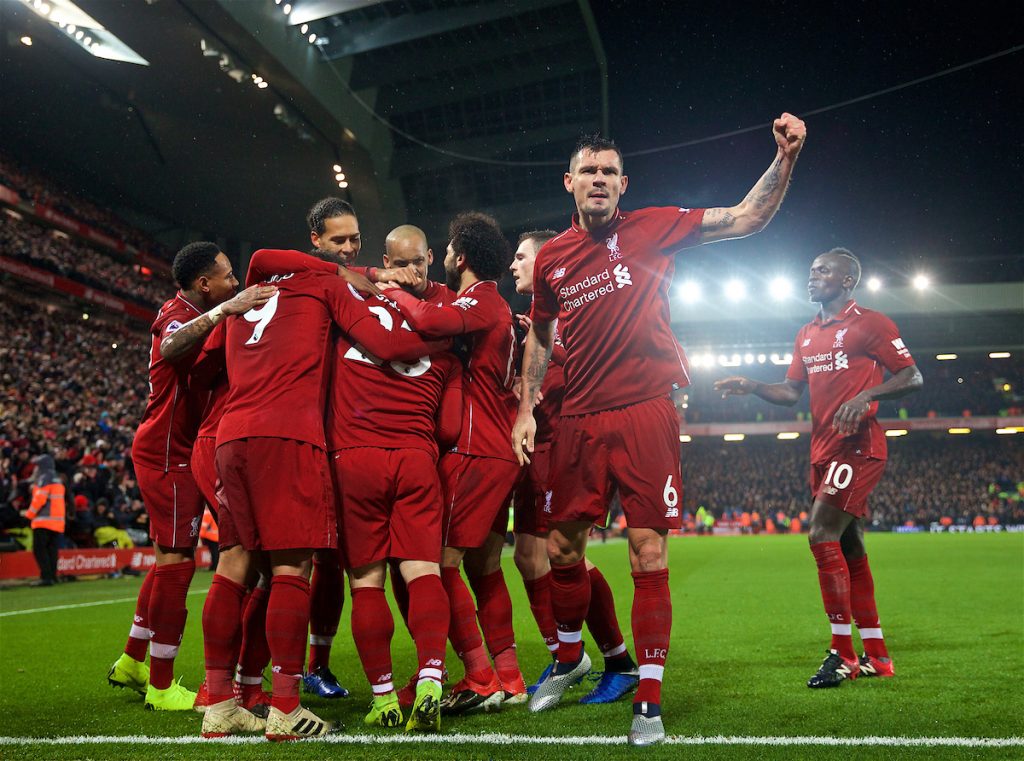 In the past, not so long ago, we have seen Liverpool lack the requisite mental fortitude in similar circumstances. We have seen fans file out the stadium. We've witnessed body language that is all wrong. There is none of that now.
Outside our bubble, there will be more talk of "luck". Inside it, we can add Shaqiri to the front three as a man who can now be looked upon as a bona-fide match-winner, from the start or from the bench. From talk of a player with an attitude problem, we're instead watching a star that looks determined to make an impact every time he takes to the pitch.
Next up, it's Wolves in a tough-looking Friday night fixture. Tough or not, it's also an opportunity to further underline those title credentials. A win where City could only draw, a four-point lead before City next kick a ball and a cementing of a position that has been too alien to Liverpool since the last title party. The motivation is clear.
Every three points feels huge now, every game matters. And this exactly how we want it. The same must surely apply to the players and the performances say so.
After 17 games last year The Reds were fifth, trailing leaders City by 18 points. This year they lead them by one having beaten Guardiola's side three times in 2018.
It has to be in their heads, it should definitely be in ours. This Liverpool is the real deal and is ready to tick more boxes between now and May.
A Wonderful Christmastime awaits.
"I think this is the midfield Klopp is working towards. The balance looks really good with Fabinho, Wijnaldum and Keita…"

🗣 Listen to this week's FREE Anfield Wrap podcast in full here 👉 https://t.co/ckVVdCbM4m pic.twitter.com/taGNRsImA9

— The Anfield Wrap (@TheAnfieldWrap) December 17, 2018

Recent Posts:
[rpfc_recent_posts_from_category meta="true"]
Pics: David Rawcliffe-Propaganda Photo
Like The Anfield Wrap on Facebook