I WHISPER things, the city sings them back to you.
Evening gorgeous. Evening handsome. I thought of you throughout. What a win. What progression.
Four things:
That is greatest save I have seen in me whole life.
The game was mad.
Mo Salah wants to be the best player in the world.
Liverpool are the business.
Shall we do them in order?
That is greatest save I have seen in me whole life.
It was spectacular but it crowned the last 10 days. The footballer who has announced himself most for Liverpool in the last five isn't Naby Keita or Fabinho. It is the goalkeeper.
Alisson has won points, been the pass before the pass for goals and has now provided Champions League progression. It's been underscored by phenomenal charisma. You can taste the pheromones.
He's the first lad to hit puberty, he's Rihanna walking out the restaurant with a wine glass, Rihanna in the red thing with her legs spread letting you know. He's more gorgeous than you, gorgeous. More handsome than you, handsome. Soz.
I mean come on. It is like cheating. But it is like cheating on ours. Cheating on ours is allowed. This cat is the cat. That Liverpool should have been over the hill and far away doesn't matter because Liverpool have the cat. You've got the cat, winning is far easier. Five-a-side rules, lads. And soz, he is on ours. So we win.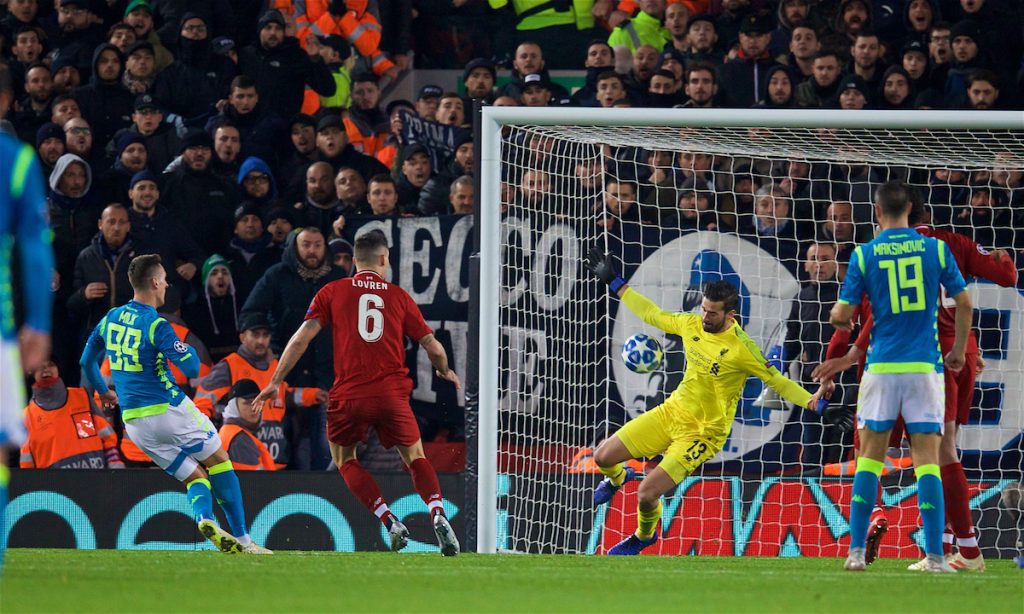 The game was mad.
The clock in games like this is a strange thing. A seesaw Liverpool, broadly speaking, managed well but my god is skewed the game.
My guess is 77:43. That's the moment when holding 1-0 overtakes wanting to get the second, to get the third. This isn't a science but that was it for me. Start time wasting.
It wasn't the same as a two-legged encounter then, all of a sudden. But through the whole match it was chaos. By me the poor fella who sits in front of me in his 60s spent most of it stood. I think he hates me but we had quite the moment when Jose Callejon missed. Across from me there was beef about standing. The younger lads were bang into The Reds. The older fella bang into sitting down. You know where my loyalties lay in advance, really.
It was huge this game. I barely sat second half, not least because of my man in his 60s. He got it, he understood it. Sitting down was just not an option. My point would always be this:
This is what we are in it for.
This is what it is to be alive.
The fella in his 60s who I think hates me, I now love him. Because he loves The Reds. Because he loves to be alive. Lord, let me always be him, not the lad having murder with younger people having a good time.
Lord, let Liverpool always win mad games.
Lord, let me always see the 94th minute with my heart pounding. Let me feel alive.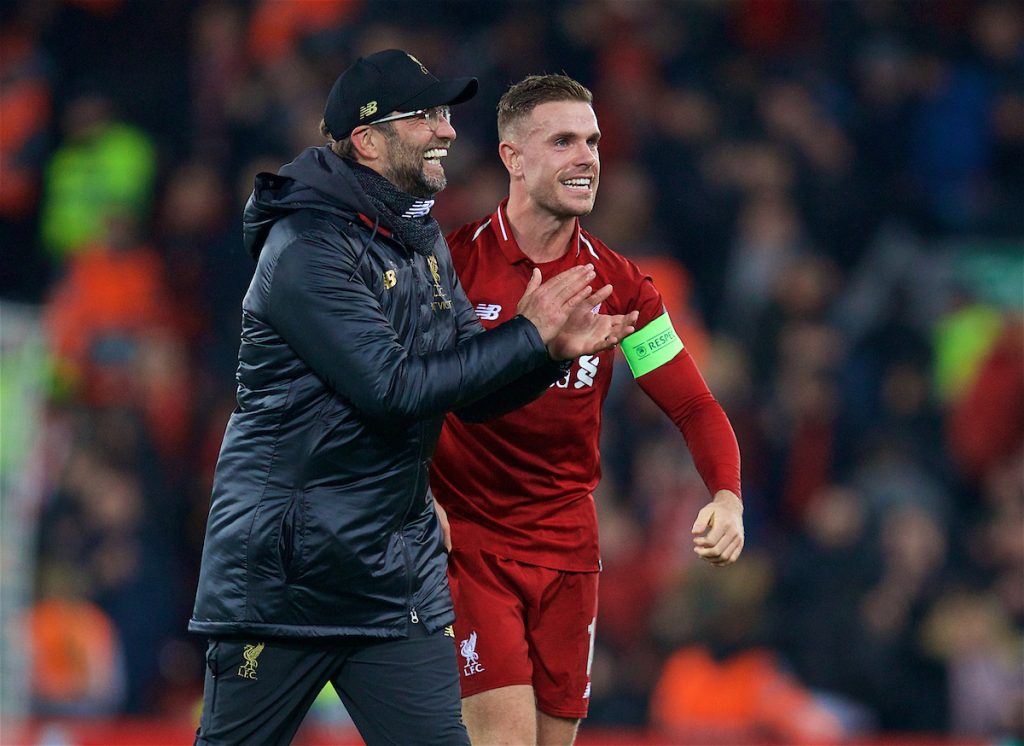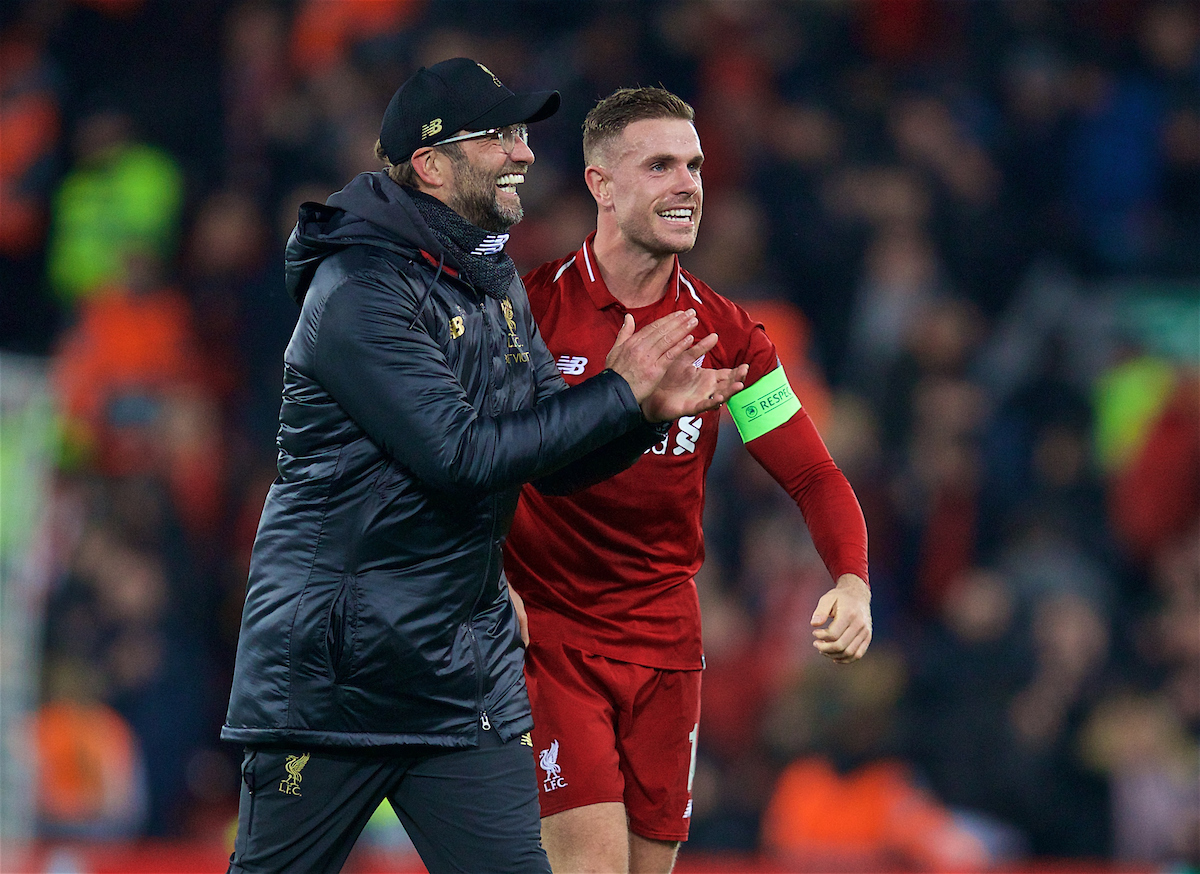 Mo Salah wants to be the best player in the world.
I loved Koulibaly tonight. Because he decided he was giving Mo Salah a tough test.
All the best.
All the best when you win seven from seven of the first battles and he just makes an absolute show of you. All the best when he decimates you. Because — this is important — you can be the best and be destroyed. You can win seven from seven and lose the eighth, and there it is.
Leo Messi is the best anyone has ever been at football but he is getting on. Cristiano Ronaldo is the second best anyone has ever been at football, but he is over a hill, though still irresistible in bursts. There is about to be a vacancy.
The thing about those two was you could stop them, but keeping stopping them was the thing that was almost impossible. They won't be denied over and over, whoever you are.
Mo Salah is in this category now. He is irresistible and he is getting better. He is the best in the country. And the country is a good one.
Someone will be the next best player in the world. He might play for Liverpool.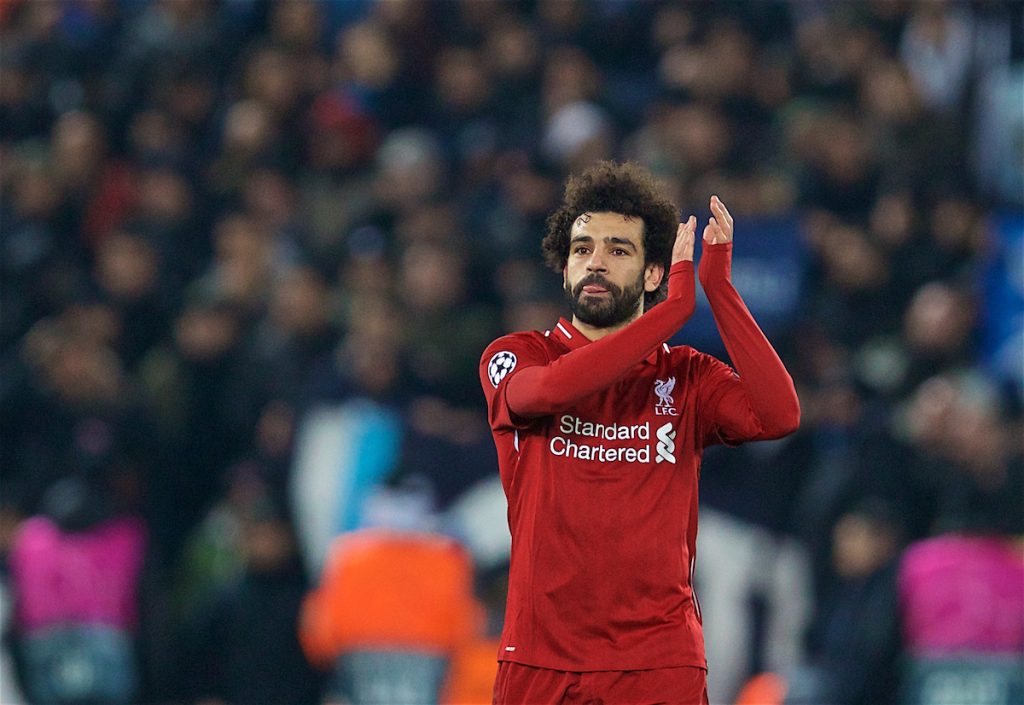 Liverpool are the business.
I wanted him to play Keita. I wanted him to play Matip. I wanted him to play 4-4-2, you know.
Henderson has a bad 10 and a shaky half, but then runs the second. Milner constantly likely without quite producing. Wijnaldum the best he can be. This team is astonishing and we take it lightly.
The facts:
They are won 13, drawn three from 16 league games.
This is the fourth best since association football started in the top flight in this country. Not since 1992 or since Shankly or since World War II. But since it began.
AND: They have progressed from a group with Napoli and Paris St Germain.
Both Napoli and Paris St Germain are really good.
It hasn't been perfect but then that is the point. Liverpool are being brilliantly managed and are able to ride their luck and are the absolute business. And it is possible they may now be coming to the boil.
Let's not pull our punches, they deserved to win 5-1 tonight. Sadio Mane missed a hat trick. Salah should have scored two, won a pen and got two assists. They didn't manage that but Liverpool still won, still prevailed.
These midfielders aren't clowns. These defenders aren't just Virgil van Dijk. Liverpool are excellent. They are an astonishing football team.
Walk around them, Reds. Green light, Reds. Let's be alive in February. Let's be alive now.
"I feel like we owe Roma more money. Alisson's save is one of the best I've ever seen." 🔥

🗣 Subscribe and listen to immediate post-match reaction podcast after the Reds go through the last 16 👉 https://t.co/Y74hlJ4yQF pic.twitter.com/YQfkaaSOrI

— The Anfield Wrap (@TheAnfieldWrap) December 11, 2018
Recent Posts:
[rpfc_recent_posts_from_category meta="true"]
Pics: David Rawcliffe-Propaganda Photo
Like The Anfield Wrap on Facebook