IT'S the 93rd minute at Anfield and the madness has taken hold.
The only disappointment is that Liverpool beat Arsenal 5-1, instead of putting six past Unai Emery's dishevelled, ageing cockneys.
That is the madness at Anfield just now. We score five against the fifth best team in the country. We'd love six. We are 6-1, 7-1, 9-1 better. We are head and shoulders. We are taking it easy. We are conserving. Show them the way to go home. Only half a football team.
It's the 11th minute of Liverpool playing Arsenal at our home ground and Arsenal's Ainsley Maitland-Niles receives a cross and slots it in past Liverpool's Alisson Becker. What the fuck. What the fuck. What the actual fuck? Thought the crowd and The Redmen simultaneously.
It's the 14th minute of Liverpool playing Arsenal less than an hour after second-placed Tottenham Hotspur have gone down 3-1 at Wembley to Wolverhampton Wanderers, the gradient suddenly too steep. The sudden dark horses wrapped in a blanket. And Roberto Firmino scores and it is bedlam.
The 16th minute. Roberto Firmino scores again. He scores like Barnes. He dances and shimmies and sways in the green light madness. In the stands, people fall over mad with the chutzpah. Driven mad with the passion and desire. Roberto Firmino is in charge of this game and he has decided Liverpool are going to win. How dare Arsenal come to fortress Anfield and score.
And there was the tone set for the rest of the game. They had the temerity. They had the gall. They even had the ball. But the game belonged to the mighty boys in red, to the best team in the land. Perhaps the best on our fractured continent.
It has been a while Liverpool were awarded two penalties in a game, but neither Salah nor Firmino worked that hard for it and in truth the referee had little choice but to allow both spot kicks at 47 and 65 minutes respectively. In truth you had to feel sorry for the Arsenal defenders who could do little else but to slash and burn once the dangerous forces of Liverpool's front three were staring them down in front of goal.
Yet this wasn't a Liverpool performance that was all about the men upfront. Gini Wilnaldum battled and won those battles to create a central frame through which the ball could pass from wing to wing. When the manager brings on the club captain we got the rare spectacle of Jordan Henderson enjoying himself, the grown-up job done, dominance secured.
It is hard to put into words how much better than any opposite number Wijnaldum was. This could be the best central-midfield performance anyone has put in at Anfield for three years. He was incredible.
Fabinho demonstrates why Reds weren't crazy to mark his signing as compensation for a European Cup lost cheaply after being adored throughout last season. In a game like this, when Liverpool's passing looked like the best in generation, Fabinho earned his place not by constantly being accurate but by being happy to lose it in the right way. Always smart and smart matters more.
Virgil van Dijk was, as always, godlike. Like an actual deity. The whole football match happens on his terms. He possibly didn't play as well as the Big Dog but manages omnipotence and omnipresence every time he gets on the pitch.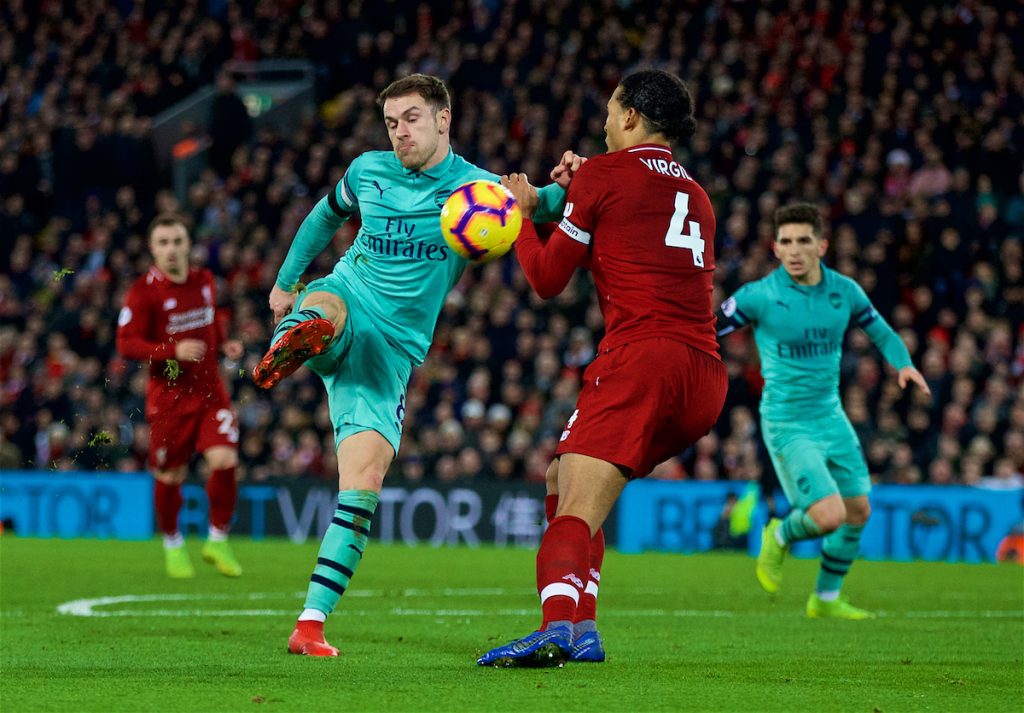 In recent games, opponents have taken to putting two of theirs on our one Mo Salah. Their only hope to double up. Against better defences, it's still not enough to control him, but in this game he escapes almost every single defensive move. He looks like the most proper number nine. He looks like a force of nature. He dominated the game while barely getting on the ball.
For the penalty he wins, the ball from Alisson should dominate this article. But Gini Wijnaldum, Roberto Firmino and the whole top of the league thing end up prominent.
People will ask, do you dare to dream? I say no. There is better than dreams, there is something better than dreaming. We don't need to dream.
Living. Living is better than dreaming and this is our reality to live right now. Make us dream, Reds? No. This is living, all right.
Twenty down. Eighteen to go. Liverpool just crushed the fifth best in the country. They had the absolute nerve. We had the goals. See you in town.
Don't dream. Just live. Another Liverpool Saturday night.
"The reaction to going 1-0 down, that's the sign of champions…" 🏆

🗣 Subscribe and listen to our immediate post-match reaction show after the Reds' go NINE clear at the top of the league 👉 https://t.co/XZAK9veWt7 pic.twitter.com/RyN9Hotzth

— The Anfield Wrap (@TheAnfieldWrap) December 29, 2018
Recent Posts:
[rpfc_recent_posts_from_category meta="true"]
Pics: David Rawcliffe-Propaganda Photo
Like The Anfield Wrap on Facebook