THE Premier League title race will not be won by a tactical system.
The numbers that count are not 4-3-3 or 4-2-3-1 (or whatever combination that was at Burnley), they are the digits in the far right-hand column of the league table.
Liverpool's tally is a record 39 points already and yet they still somehow have the look of a team in transition.
When a manager is not sure what his best team is it's usually seen as a sign of weakness. Jürgen Klopp may not even be sure what his best system is right now but Liverpool's emerging "Plan B" is making them more difficult to second guess, more equipped to meet different challenges in different ways.
The shift of emphasis is being felt most keenly by the likes of Xherdan Shaqiri, Roberto Firmino and Mo Salah because the changes in formation fundamentally change their roles in the team, maybe even their claims to being in the team in the first place.
There is a theory that the rise of 4-2-3-1 is a direct response to Shaqiri's claims for a starting place alongside Firmino, Salah and Sadio Mane. This view has been reinforced by Fabinho's apparent preference for being part of a "double pivot" midfield. I think some people are getting the chicken and the egg in the wrong order.
Klopp is not a manager who dreams up styles of play simply to squeeze certain individuals onto the team sheet. He is a philosophy major. When you hire him, he comes complete with an identifiable approach to winning football matches. My way or the autobahn.
Klopp has been thinking about developing Liverpool's approach for a while. He worked with a variety of systems in pre season while he was waiting for his World Cup players to return to the fold and was already talking about the need to evolve back then. It wasn't just about a deeper squad producing a different level of competition for starting places.
In September, he told the Echo's James Pearce: "It should not be that we are in any way predictable so that people say, OK that is how they play, 4-3-3, this is the front three, two of them can maybe change in midfield, the front line is always the same.' We have to create something where the boys not only push from the bench but they push with their performance on the field as well."
It is worth remembering that it is less than a year since Philippe Coutinho left Anfield. He was not only the creative focus of the team but also offered variations on the tactical theme with his versatility. Many have bemoaned the lack of a comparable replacement for the flair and ingenuity he possessed in spades. It's interesting to try to second guess where Nabil Fekir would have fitted into the current jigsaw.
Following Coutinho's departure, the midfield trio became an ever more powerful and energetic unit. I'm not sure how much that department actually created for the front three last season. Mane, Firmino and Salah were capable of conjuring up their own havoc with their sorcery and interplay. The midfield was the loudly-revving engine of the side, pressing and probing and keeping the fires burning. Maybe that simply wasn't sustainable for month after month, year after year.
Last week, Klopp reflected further in an interview with Sky Sports: "A lot of teams saw that we were good at counter pressing and realised they were overplaying. They now play counter attack against us so we have to be 100 per cent concentrated all the time. It means we have to control games more. This was a big part of our thinking in pre season. I like it more now, actually. It is more mature. That was the next step for us."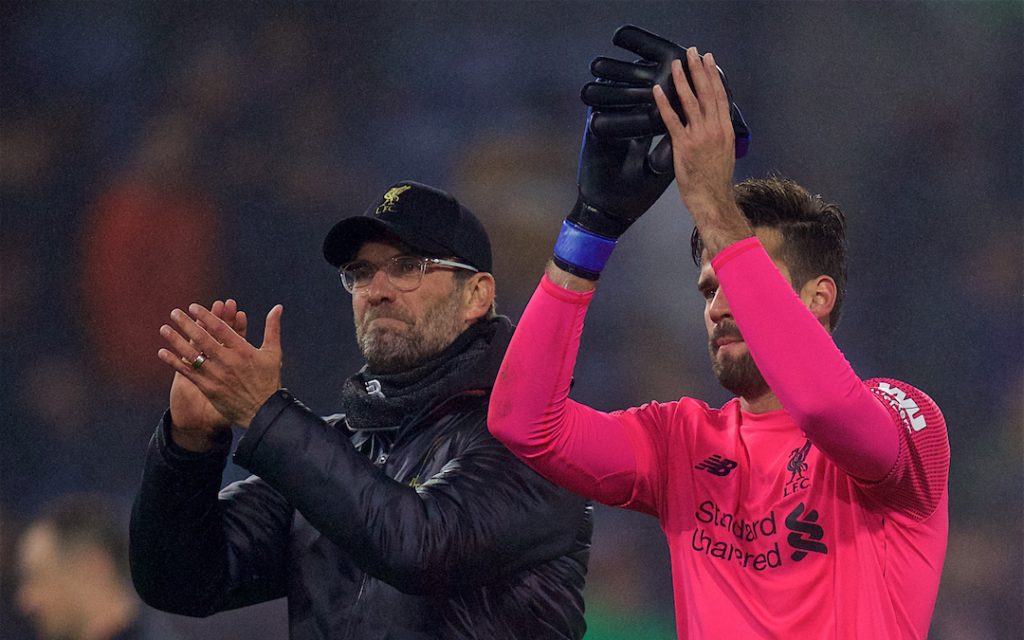 So, this more watchful, pragmatic Liverpool is no accident. They are more hard headed and hard to beat by design. When a team shows up ready to trade attacking blows like Everton did last weekend, Klopp will go toe to toe with them and take his chances with the kind of open game we saw more of last season. But if you want to sit in and wait for Liverpool to attack you, this Liverpool have the patience to wait too.
Part of that sense of a work still in progress comes from the gradual bedding in of the three summer outfield signings. Naby Keita excelled in a midfield three at Turf Moor, Fabinho caught the eye in a two in the derby. They have only started one League Cup tie together so far.
There have been times this season when Alex Oxlade-Chamberlain has looked a hell of a player because the mix hasn't been quite right without him. Even Shaqiri has been tried in midfield as the adjustments and adaptations continue.
In Paris, Klopp went with the old guard in his default setting and the team underperformed. All four defeats that Liverpool have suffered so far have come in games in which the team set up 4-3-3 at kick off.
The first genuine must-win game of the season is days away, and maybe 16 or more different players are in genuine contention to line up against Napoli next Tuesday. That's when we will find out what Klopp thinks his best team is.
"Liverpool aren't going fucking anywhere!" ✊️

🗣 Subscribe and listen to our immediate post-match reaction show after the Reds' 3-1 win at Turf Moor 👉 https://t.co/Y74hlJ4yQF pic.twitter.com/ZIgifFvPb7

— The Anfield Wrap (@TheAnfieldWrap) December 5, 2018
Recent Posts:
[rpfc_recent_posts_from_category meta="true"]
Pics: David Rawcliffe-Propaganda Photo
Like The Anfield Wrap on Facebook