VITALITY and purpose.
Nothing other than the title is our business.
Our business is nothing other than the title.
There is a purity to that.
Tonight told you that story and told you how much it matters to this club, this manager and his players, and what everyone is prepared to do.
Sunday was a local skirmish, a bit of internal business. Something you have to get through and Liverpool did so with class and elan. Brio some may say.
But tonight was back to the job in hand, the matter that matters. Tonight was about our title hopes.
There was a moment they wobbled. A moment when a big selection looked a wrong selection, when rolling the boulder up the hill looked beyond us. The task may prove to be Sisyphean but not tonight, not today. No way on earth.
Liverpool heaved, James Milner shoved and then the manager showed the courage of his convictions and got all his footballers on the pitch and backed them to box it for the remaining time in the game.
They boxed it. They repaid that backing. Naby Keita and Jordan Henderson were excellent in the middle of the park in the second half in different ways. The former all chorus, the latter all verse. Keita had been Liverpool's most likely first half.
Milner went to left back and reminded us he may well be the second best left back in the country, behind only the absent Andy Robertson; all sense on toast along with his galvanising, fantastic goal. Milner loved the battle, roaring at the away end, scrapping with purpose.
Xherdan Shaqiri spent much of the game struggling to get himself on the ball. The first half especially graft but the second anonymous too. But when he gets himself on it he can be sumptuous, scrumptious and finally, ultimately victorious. I'd say I loved his finish but I didn't see it. I saw him though, wheeling away never in doubt.
Daniel, oh Daniel. Daniel Sturridge grew into the game like ivy up an exterior wall. At times in the first half he was completely unable to assert himself. By 80 minutes he had the game in a headlock and walked it round the playground, rubbing its head. The game curved back towards him.
He truly is the best of us, eventually finding Mo Salah who found Shaqiri who finished. Sturridge came right towards us at the end. I thought of him, of you, of us. You got light in your eyes, and you are standing here beside me.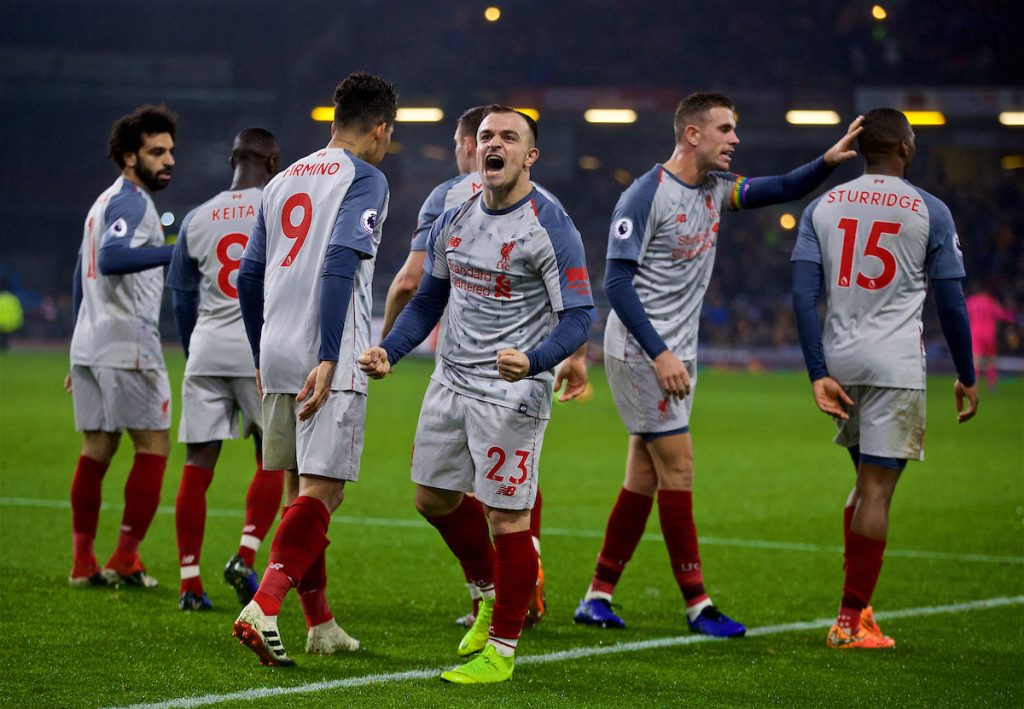 But the save, the magnificent save at 1-2, then keeping it in, then finding Daniel who found etc. Alisson Becker isn't currently the best of us, he's the best of them, the best full stop. He's galactic, fantastic. He's magic and constant and certain throughout. He's winning points and creating goals.
Roberto Firmino and Salah end the game the most super of subs, leading a charge. Firmino bags to make it 1-2 after brilliant work from Virgil van Dijk. They pressed Burnley right back.
It was clear after Sunday our manager had serious courage, moreso than his opposite number that day. Sean Dyche today sent his lads out to be absolute warriors. They left their foot in everywhere. This isn't a moan, it is what going to Burnley should be. That the refereeing should be better is the bigger issue. Dyche should be concerned; his lads tired before our eyes and there is a massive challenge ahead. Are they ready for it?
But their challenge is nothing to ours. Liverpool are ready, willing and able. They aren't going anywhere these Reds of ours. They are in this until the bitter end, whether they are his footballers or not.
Fifteen hurdles surmounted. The Reds have 12 wins and three draws. This is what it is to be alive. This is what it is to be vital. This is what it is to have purpose.
Nothing other than the title is our business.
Our business is nothing other than the title.
"Liverpool aren't going fucking anywhere!" ✊️

🗣 Subscribe and listen to our immediate post-match reaction show after the Reds' 3-1 win at Turf Moor 👉 https://t.co/Y74hlJ4yQF pic.twitter.com/ZIgifFvPb7

— The Anfield Wrap (@TheAnfieldWrap) December 5, 2018
Recent Posts:
[rpfc_recent_posts_from_category meta="true"]
Pics: David Rawcliffe-Propaganda Photo
Like The Anfield Wrap on Facebook