I'VE often pondered what constitutes a captain's performance in football.
There are some which instantly spring to mind, Steven Gerrard in the 2006 FA Cup final, Roy Keane away to Juventus in 1999 and Tony Adams against Everton on the final day of 1997-98.
All of them are a joyous culmination of desire, responsibility and leadership, in their own right. The sheer trench dragging of Gerrard, the stand and be counted of Keane, and the sense of resolve in Adams.
In the modern game the lines are somewhat blurred in comparison. A bygone era where Keane and Patrick Vieira would engage in a pre-match tunnel confrontation which led to phrases like "we'll see out there," being uttered by Keane feels lost in the corporate procession and formalities of Premier League football.
Naming the current captains of the established top six clubs is no given, either. Characters such as Gerrard or John Terry in recent years have been replaced with the likes of Antonio Valencia and Laurent Koscielny.
This throws up many questions; are these types characters no longer encouraged? What exactly is leading in today's game and, most importantly in Liverpool's case, what do we want from a captain of our clubs?
With all of the increasing social-media vitriol aimed at Jordan Henderson, one line in particular is an ever present in the plethora of sticks used to beat him: "He's not good enough to captain the club".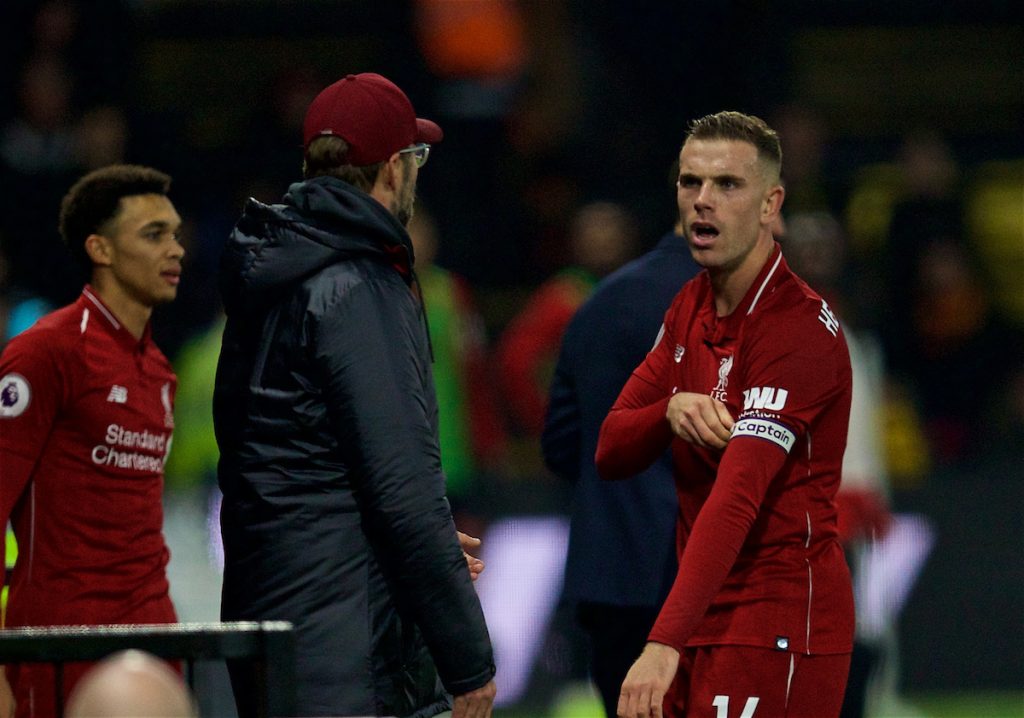 What this actually means remains unclear. Are fans saying he is not good enough technically as a footballer?
If so, then there is an argument we still hold captains up to the often impossible standards set and achieved by Gerrard, a player who was able to regularly use a now overlooked phenomenal footballing ability to single handedly rescue his team from the depths of despair.
If not based on technical ability alone, perhaps the presumption is that Henderson is then not a good enough leader. On the field, he can be guilty of being inside his own head too much, his own biggest critic. That, therefore, is an understandable concern that the midfielder does not emulate composure at a time of need.
The question persists, what type of leader do Liverpool want?
If we are saying the experience of James Milner or the presence of Virgil van Dijk is what is desired to bring out the best of Liverpool on the pitch then we have to consider all factors.
Would seeing Milner or van Dijk with an armband on against Paris Saint-Germain this week have contributed to a different result in Liverpool's favour? Would the game of either of them or the team as a whole be improved as a result?
Milner is a fantastic professional who leads in the way he conducts himself. He has lived his footballing life in the model every player should. He was wily and knowledgeable at the age of 21. His desire for success and self improvement is to be respected by everyone at the club.
In the case of van Dijk, the clamour for his captaincy increases daily. An image of him scoring last-minute goals and consoling grieving referees while captaining the Dutch national team has led to the assumption that is what Liverpool are currently missing — that father figure on the pitch whose actions tell us it will be alright.
Yet the imperious centre back has acted in this manner since he came through the door at Liverpool. His personality has not altered due to the lack of a piece of fabric around his arm; he has persevered in gaining respect and acting in a way which leads others to look up to him for guidance and reassurance.
In all of the blurred lines around football, a dressing room remains an unforgiving and brutally honest place. There is not one single totem that is looked at in times of mental deliberation. The right dressing room will have pockets of truth, hope and inspiration pitted around it at any given time.
From those who shout and ball, the types of voices who need to be heard for their own sanity as well as others, to the more astute and comforting characters, footballers will seek serenity in different ways.
In line with this is the often forgotten aspect of professional footballers being in a workplace with each other every week, all of them varying in personality, belief and attitude.
The concept that an equal in a workplace is charged every day with addressing the collective and individual wellbeing of the whole group sounds alien in comparison to our own respected existence.
Captains, therefore, cannot be judged on what they do on the pitch alone; Vincent Kompany's injury record in recent years is evidence of that. They must be accountable for general positivity and collective ambition while simultaneously ensuring their own development is met.
What is clear is that this Liverpool team are driven, collectively and individually. You feel there isn't one player who would put personal ambition or ego before the collective will of the team, the decision around allowing the sale of Philippe Coutinho last January points to that very factor.
If a problem was present and an area of improvement around captaincy was identified, Jürgen Klopp would address it, and I would be confident that someone like Henderson would fully reciprocate and put the club first.
Captains are often eulogised at club's because they symbolise a time and place better than most. The image of a skipper lifting a trophy above his head or pumping his chest in the heat of battle often act as a form of nostalgia to revel in and pine for.
Rightly or wrongly, the role of a captain has changed in recent years, and with it has undoubtedly come a more relaxed approach in comparison to the Roy Of The Rovers-type role Gerrard and some before him played at our own club.
The value of a captain will continue to be discussed until a trophy can be brought back to Anfield. Even that might not be enough for many who see the role as an underlying and unresolved issue in the quest for success.
Leading comes in many forms, and Liverpool currently needs all of them to be as effective in their own right if success in this ever-demanding season is to be achieved.
"We want to bring the city together." 👏

We had a chat with @ByrneLan of @SFoodbanks on this week's 'Weekender' show ahead of the derby…

🗣 Listen to this week's show in full here 👉 https://t.co/orM9HZxl2N pic.twitter.com/VBLHJ0XjY3

— The Anfield Wrap (@TheAnfieldWrap) November 30, 2018
Recent Posts:
[rpfc_recent_posts_from_category meta="true"]
Pics: David Rawcliffe-Propaganda Photo
Like The Anfield Wrap on Facebook