HOPE can do funny things to a football fan.
You hope that you will go into every game asserting the superiority you have made yourself believe your side has, regardless of who they're up against.
You eternally hope that you will support by far the greatest team… The world has ever seen.
You hope, you pray, you beg, for just one competent refereeing performance across a nine-month season.
Hope can distort your context in all manner of ways. In a negative sense, a previous lack of deliverance from such elevated levels of hope can lead to an air of self preservation going forward, an unwillingness to open up and love and be loved through fear of failure and all it brings.
In the case for all football fans of the Liverpool FC persuasion however, it is possible that the concept of hope is currently being dictated by external factors.
I have a theory, which is that Pep Guardiola and Manchester City are trying to destroy our collective soul. I think it forms part of every team talk the Catalan conducts. I think he spends as much time studying Liverpool and Chelsea off the pitch as he currently does on it. I think it is the reason he is sending his team out to win 10-0 every week.
Destroy their souls; make them feel like this whole concept is impossible. Give them no hope.
"We're not asking them to raise their game to new levels. If we get to 90% of what we were doing last year, teams won't be able to live with us." ✊

"We'll be a scary prospect." 👀

🗣 Listen to this week's FREE 'Weekender' show ahead of Fulham 👉https://t.co/5sutzzZoPN pic.twitter.com/DNZVAa7Gkz

— The Anfield Wrap (@TheAnfieldWrap) November 9, 2018
I think if you gave Pep one result to change that wasn't his own this season it would be Manchester United seeing through an injury time 2-1 lead over Chelsea at Stamford Bridge in October. If Man United hold on to that lead there are a lot of Chelsea fans packing up and going home, writing off a title challenge already and settling into this mindset.
If my theory stands, then Guardiola and his team will have taken huge encouragement from the social media reaction to Liverpool's credible 1-1 draw at the Emirates Stadium last Saturday. For the sections of supporters who were already existential about the possibility of losing the league on goal difference next May, conceding two points to City was a November hill they just couldn't get over.
This isn't a call to the masses. It isn't a plea to vote for calm among the Kopite demographic. Each of us is entitled to measure our own level of hope and despair based on what we see.
While it remains true that Liverpool are not at their best, both Jürgen Klopp and Guardiola know two points is far from significant at this stage. I suspect if you offered the Reds manager the chance to be five points behind City come March he may well take it, I know I would.
What Guardiola and City will be hoping is that City's form and the reclaiming of their seat at the top of the Premier League table — surrounded by several other empty blue seats of course — will kill the hope of Liverpool and Chelsea supporters and spread like wildfire across both squads.
Looking at the season so far, the domestic pace is unfaltering, a 1,500-meter sprint on loop for nine months. Liverpool is at a junction under their current manager which has enabled them to keep this pace and believe they are about this league, this season.
Yet even Klopp surely could not have envisaged a scenario in which, despite being unbeaten going into his 12th domestic fixture, his side are still trailing top of the league and others around them are on a similar points tally.
This type of relentlessness can lead to a mental as well as physical fatigue in players. When you constantly have to go again while your rivals seem to be victorious at a canter, with it being a case of not if they win but by how many, it is easy to become slightly disheartened.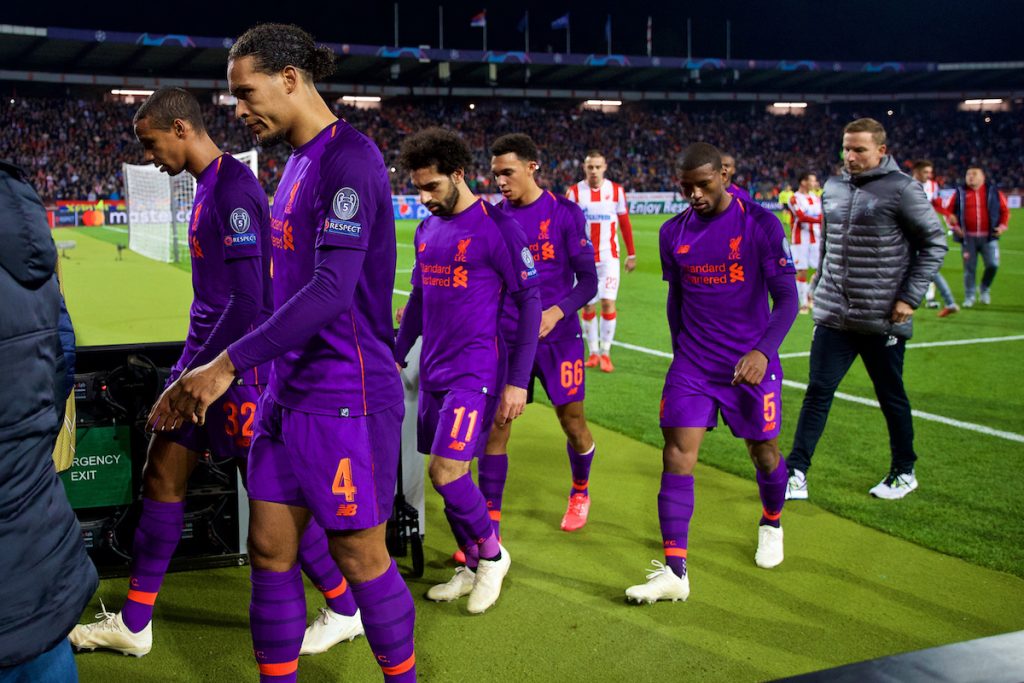 There is also a question as to whether such domestic pressures have led to a drop off in the cup competitions, notably Champions League away fixtures in which Liverpool have not quite looked as prepared or concentrated as they maybe should've been in Naples and Belgrade?
We have seen enough of this in football to know it has value. The visit of bottom of the league Fulham on Sunday will plant a collective gremlin in the mind of many who still believe it would be "so like Liverpool" to not emerge victorious in such a fixture, despite ridding themselves of these lapses in recent years.
While it remains true that players are human beings, it is not unreasonable to think they may relax their minds just a fraction when the cup competitions arrive.
All of this has culminated in a showing in Belgrade on Tuesday night many have said was coming. I don't necessarily believe that, however I do believe honest conversations between manager and players have been and will need to be had in the coming days and weeks for this to be fully rectified.
This isn't an excuse, none of it is. Liverpool's performances have felt generally incomprehensive so far this season and as such this all feels slightly too unpredictable for those who prefer their eggs cooked a certain way.
The important thing is that we try and hang on to everything still attainable this season. Nothing is yet lost, nothing is over in November. Given the manner in which this league has unfolded in recent years, that in itself is something to savour.
We often say it is the hope that kills us, yet if we're not careful, we may be guilty of allowing the actions of others as well as ourselves, to do the job for us.
We've been nominated for @The_FSF awards and we'd appreciate your help by voting for us in the Fan Media of the Year category! 🗳️

✅ Vote for TAW
✅ Vote for @Carra23
✅ Vote for @MoSalah & @VirgilvDijk
✅ Vote for @JNorthcroft

Nice one 👊

Vote here: https://t.co/wn2w7FrhjU pic.twitter.com/2qkyxWpYvZ

— The Anfield Wrap (@TheAnfieldWrap) November 6, 2018
Recent Posts:
[rpfc_recent_posts_from_category meta="true"]
Pics: David Rawcliffe-Propaganda Photo
Like The Anfield Wrap on Facebook