WE'VE conquered all of Europe. We've seemingly decided to have a rest.
Let's get this out the way…
Red Star played well in the first half, picked their moments well and produced two excellent finishes. They did sensible things in the second. It is worth pointing out decent defending and hold-up play but on the other hand worth pointing out composure and kicking a tame ball out of a goalkeeper's hands, are most definitely mutually exclusive.
And yet Liverpool managed to do so little to rattle that composure. Across the 90 minutes it is with regret I must inform you Liverpool are having shots again.
They are crossing hopefully too.
Your correspondent doesn't like shots. Finishes are the thing, and to keep playing until finishes are inevitable. It would be right to point out Belgrade's second is quite the shot but that is just the point — he buys a ticket and wins the raffle. Liverpool should be in the business of eradicating the raffle, or at least stacking the odds in their own favour.
There is a downside to a shot, especially when you are chasing a game, especially from outside the box or the D. It is that it is likely the ball ends up in the goalkeeper's hands, or, manna from heaven, it results in a goalkick. For a side two goals ahead to opposition it knows is superior there is nothing quite like a goalkick. I know this because I have enjoyed goalkicks for years watching Liverpool in similar situations. The pressure alleviated, the valve turned. Get our shape, get high, start again.
"That was fucking shit." 😩

🗣 Subscribe and listen to our immediate post-match reaction show, live from @Motel_Bar, here 👉 https://t.co/Y74hlJ4yQF pic.twitter.com/dO6QoNPjxj

— The Anfield Wrap (@TheAnfieldWrap) November 6, 2018
The floated cross is a different beast. It is possible it will be mistakenly cleared or some chaos caused. But it isn't the pull back from the byline, it isn't pressure mounting. It most definitely isn't irresistible.
Liverpool were not irresistible tonight. They were resisted all too easily.
Floated crosses and shots are what you do when you lack either composure or other ideas. Tonight, Liverpool lacked both and it was painful. In real time, no Liverpool player can go home pleased with his performance.
The manager makes big changes at half time but this for me is one of those aftermaths to games where naming names is harsh — the players who played poorly were the ones in purple with Liverbirds upon their chest. The manager who has to have a big think about things is the Liverpool manager.
The covenant always goes two ways, these are our lads who we are all in on for this season. But these are our lads who are struggling to up it.
When you don't regularly go through the gears, the ability to do so on demand wanes. There is a valid question to be asked about whether or not Liverpool are trying to do their business distinctly differently this season and how long that will remain the case, if it changes at all.
Liverpool looked like last season's Liverpool away at Chelsea and home to PSG but other than that they have been a different proposition. How different depends on how you mark the graph, how you view language even.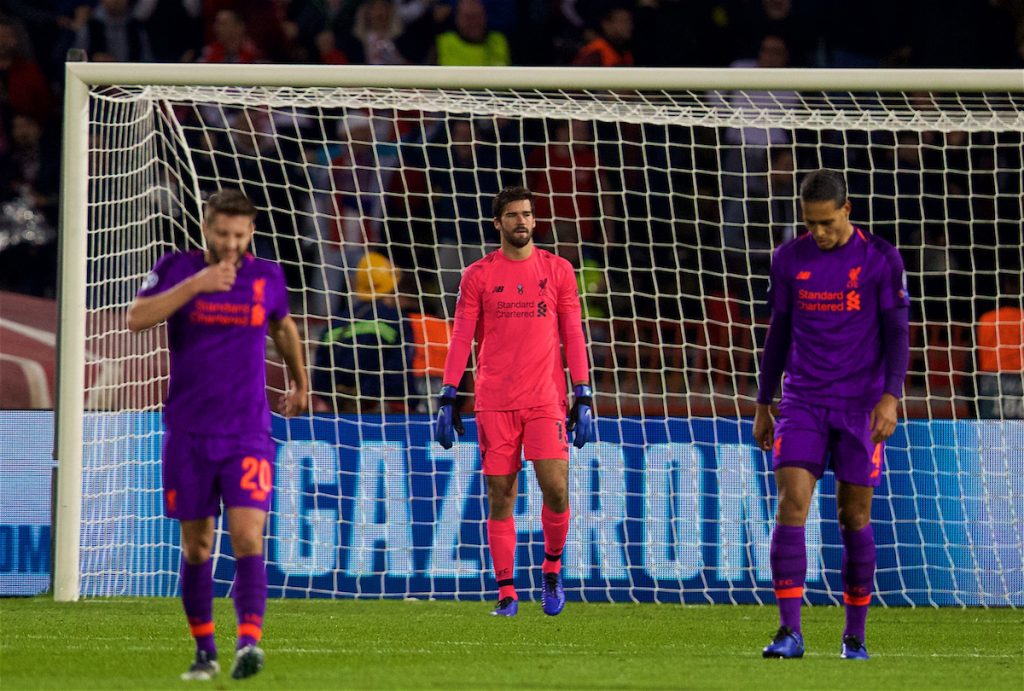 What they haven't done, however different we may each perceive them to be, is attack very well, at pace, for elongated periods of time. That, you may say, is the remit of the very best but it is the very best Liverpool aspire to join. Any side can be frustrated at 2-0 away from home, any side can miss chances but great sides don't look devoid of ideas on 55, 65, 75, 85.
But maybe they do. Maybe great sides have one of these every now and again. This was, after all, comfortably Liverpool's worst performance since Swansea City away in January. As ever, a bad result and performance is defined by what happens next. For Liverpool there are two aspects to that — Fulham and Watford need to be statements. Then PSG and Napoli need to be relentless.
Redemption calls. Redemption is the best thing about autumn; few seasons are irredeemable by the week of Bonfire Night and this one most definitely isn't — Liverpool are unbeaten in the league and have their European destiny in their own hands. Spark, though, is a thing and if Liverpool are no longer going to be a rocket they need to be some Catherine wheel.
I can't wait to watch them again because I need this time not to be the last time I watched them.
Roll on Sunday and redemption. Have your one of these, lads. Remember how horrible it is. Start again.
We've been nominated for @The_FSF awards and we'd appreciate your help by voting for us in the Fan Media of the Year category! 🗳️

✅ Vote for TAW
✅ Vote for @Carra23
✅ Vote for @MoSalah & @VirgilvDijk
✅ Vote for @JNorthcroft

Nice one 👊

Vote here: https://t.co/wn2w7FrhjU pic.twitter.com/2qkyxWpYvZ

— The Anfield Wrap (@TheAnfieldWrap) November 6, 2018
Recent Posts:
[rpfc_recent_posts_from_category meta="true"]
Pics: David Rawcliffe-Propaganda Photo
Like The Anfield Wrap on Facebook