GETTING beat is rubbish.
Yes it is. The fact is that Liverpool are a good team. No wait, a great team. But still, even a great team gets beat.
From back to front there is effort. As discussed after the match, the goalkeeper is probably the man of the match. The commentators describe his saves as "smart", but so often "smart" damns with faint praise. What they really mean is effective. What they should mean is excellent.
The story is told at the final whistle, the story is told when the Parisian central defenders chest bump because they win a goal kick. The story is this — beating Liverpool matters. It means something. Liverpool are class. They deserve to be here. They deserve this kingdom. Their castle, if taken, is a serious castle. Their name rings out.
Their name rings out. The challenge shifts. It gets harder and harder as you get better and as opponents think you're better. In that first half, PSG gambled the farm on their opening. They gave it everything they had and, trust me, that is a lot. These are a terrific side who want it all.
Still Liverpool were poor in the opening, every line five or 10 metres out from where they need to be, and their lines anticipated by Thomas Tuchel and his men. Liverpool wanted to win first balls but PSG wanted first balls to move so fast they were barely there, wanted everything to flick around corners.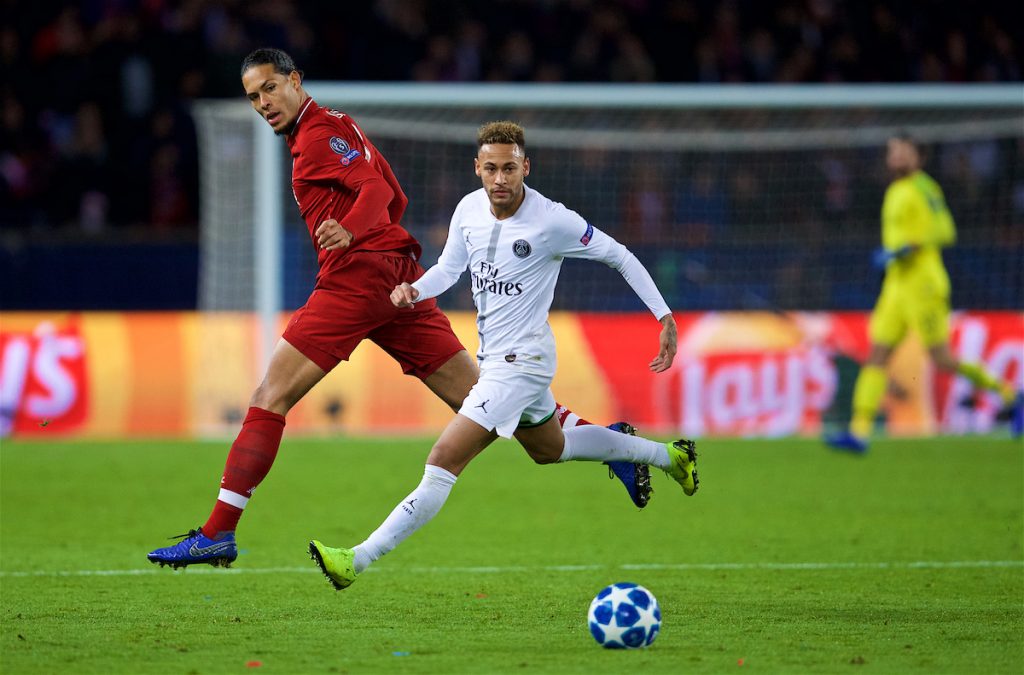 Liverpool for the first half an hour didn't so much lose the midfield battle as not be able to attend it. The ball was there and then it wasn't, and Jürgen Klopp didn't want anyone sitting. PSG played on the raggedest of edges in a manner for which they deserve enormous credit. The football was tooth and nail.
The referee was bald and so were his decisions. Marco Veratti should be sent off first half but that's sound as he should be sent off second half too. Repeatedly. But home and away means something, means decisions can go against you and for them. They knew what it meant at their gaff, again tooth and nail.
Sadio Mane was the outstanding outfield Liverpudlian. He showed until it hurt, PSG doubled and tripled up marvellously but still he was there. Big Virgil van Dijk found it a challenge. He wasn't as imperious as per. Mo Salah didn't quite nail things but he got very little opportunity. Jordan Henderson and James Milner grew into it, though the latter faded, but that wasn't enough in the context of what had gone before.
The biggest boost was Naby Keita who came on and nearly came alive. He should now be given his head; Everton and Burnley watch out, hopefully. Bright as a button and nicely vertical. The manager could have started him tonight. That could becomes a should. He can come alive for The Reds.
Knockout football without being knocked out is odd. It isn't quite right but it is the tightrope we always walk these days. One more go at home to Napoli is an upside. Liverpool can look at the video and have a big think because they are treated as the big dogs. And big dogs need to bark a bit more.
Can't wait for the 11th. Getting beat is rubbish. But right now not terminal. Glad we're all together, sweetheart. Glad we get one more go.
"They're the best side we've played this season… but there should have been an obvious red card for Veratti."

🗣 Subscribe and listen to our immediate post-match reaction show after the Reds' 2-1 defeat to PSG 👉 https://t.co/Y74hlJ4yQF pic.twitter.com/SryYmF52h9

— The Anfield Wrap (@TheAnfieldWrap) November 28, 2018
Recent Posts:
[rpfc_recent_posts_from_category meta="true"]
Pics: David Rawcliffe-Propaganda Photo
Like The Anfield Wrap on Facebook