LIVERPOOL face Arsenal on Saturday with the rare benefit of a full week to prepare for the game.
That, and the fact that it's second versus fourth in the table, means Jürgen Klopp will likely pick what he believes to be his strongest side for the game, odd injury aside. He's got tactical selection decisions to make, of course.
Does he pick Xherdan Shaqiri behind the front three, or go for a more solid midfield? Does he unleash Trent Alexander-Arnold at right back or go more solid with Joe Gomez? These are slight headaches for the manager, but nice ones. If such a thing exists. Maybe like a mild hangover as a reminder of a lovely night out. Jürgen has one of them.
But after that we have two games in a week before an(other) international break, after which it is non stop until 2019. Even if we are lucky with injuries and tiredness, wanting to finish the season strongly will likely mean starts or at least appearances for those outside the immediate first team.
Any club probably has 14-15 first 11 players. If that isn't too much of a contradiction to make so soon after the "nice headache" metaphor. Depending on form, the odd injury, and opposition every Premier League squad will have close to that number of players who a manager is happy to see start in a big game.
Any less, like Liverpool had in 2013-14, and by the end of the season half the team are playing with one leg. Any more, and arguably only Manchester City in the Premier League, have that now, you are going to need a lot of rotation or to pay people over the odds. Or both.
Occasionally, like last Saturday against Cardiff, you are going to need the lads who are positions 16 to 20 in the squad to do a job for you. If they are at a decent enough level, the opposition is right and the first-team players step up, it shouldn't matter. But that doesn't stop the grumbles and groans from the fans when they see their names on the teamsheet.
Maybe our expectations of these players are too high. It is hard to figure out what the perfect profile of these players are. It is a tough sell, after all. "Come here and play for Liverpool, but not really."
Maybe it is younger players? But they go so long without any action they don't develop quickly enough and then look off the pace when a chance does come. For someone like Dom Solanke, who rarely even plays for the under 23s, never mind our first team, the player and club must be looking at what Harry Wilson is doing at Derby County and wondering if that is a better option for all concerned, rather than occasionally being on our bench but not getting on.
Maybe it is first-team player from two or three years ago, instead. The idea being that you are constantly trying to improve the fist 11, so your replaced first-team players become your squad players. This is sound in theory, but the question becomes, why did they need replacing as first-team players?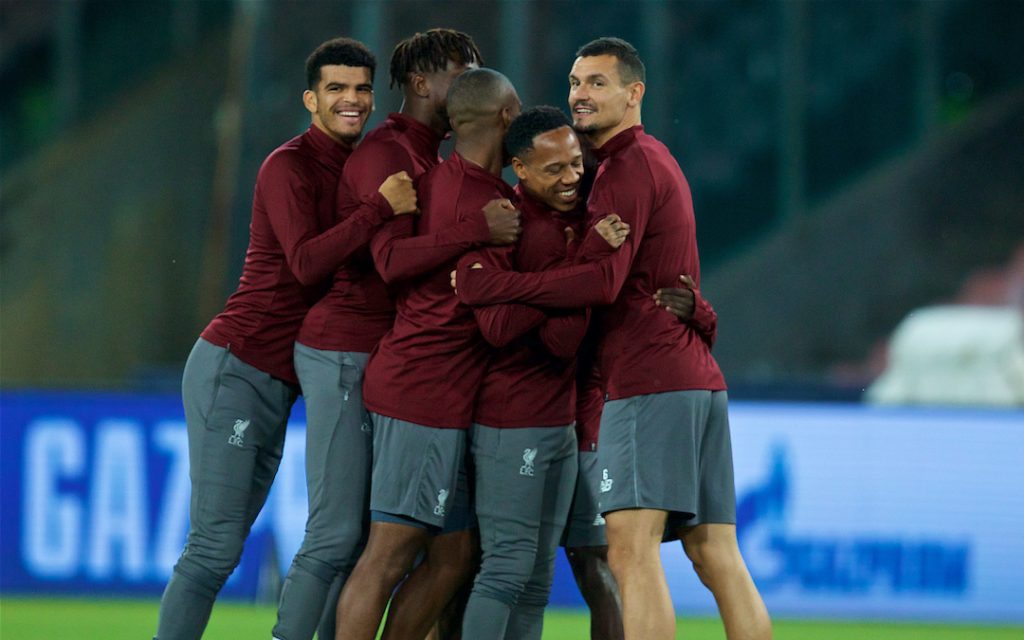 For someone like Adam Lallana it was largely due to injuries. Now he looks like he needs a run of games to get his sharpness back. His problem is Liverpool can't afford to play Adam Lallana for a month in the hope that he gets back up to the level of Gini Wjinaldum. We've got a league title to win. I'd rather we just played Wjinaldum.
There is also the suspicion that the team has moved on under Klopp without Lallana. That he spent last Saturday trying to play a two years ago version of Liverpool football when everyone else just wanted him to get on with it.
So maybe, and you are going to have to try and come with me on this one, the perfect squad player is someone like Albie Moreno. Maybe our number 18 is the perfect number 18 for Liverpool. Happy to play in the games no one else wants to. Really popular in the squad and never going to rock the boat. Actually, if we are honest, quite good at football, just not consistent or sane enough to start for a team trying to win the league.
Moreno looks likely to leave in the summer, and not many will shed a tear. But I will be one of the few who would be happy if he signs a new deal. Because if he is not around to make a handful of starts for Liverpool next season, then someone else will have to step up.
It's a tougher gig than we all think.
"If we got to the League Cup final and lost, Klopp would get more criticism than going out in the third round." 👀

🗣 Subscribe and listen to our latest 'Unwrapped' show, looking at the pressure Jurgen Klopp is under to win a trophy at Liverpool 👉 https://t.co/lmNtBz4ADz pic.twitter.com/OcHxIpirJz

— The Anfield Wrap (@TheAnfieldWrap) October 31, 2018
Recent Posts:
[rpfc_recent_posts_from_category meta="true"]
Pics: David Rawcliffe-Propaganda Photo
Like The Anfield Wrap on Facebook