TWO-three or not two-three?
That is the question to ask about Liverpool's new 4-2-3-1 formation, or at least it is when you're struggling to come up with a wittier opening.
It is, though, a question Jürgen Klopp has been asking himself lately, albeit probably in a less wanky way.
The decision to sign Xherdan Shaqiri and the attempt to sign Nabil Fekir in the summer indicated a new plan that Klopp had to add extra layers to his Champions League finalists, ahead of a season that promised to be one where teams would be prepared to put up barricades to halt the red machine.
Home games against Southampton, Cardiff and Fulham have seen the manager use Shaqiri as the fourth spike to his attacking weapon. It has meant the popular threesome of Sadio Mane, Mo Salah and Roberto Firmino moving around into slightly different roles.
Mane is arguably in a similar role on the left but has been playing wider than previously, Salah has been at the tip of the attack in a more central position, while Firmino has mostly been utilised as a 10, which could perhaps be the reason he has experienced a slight dip in obvious effectiveness of late.
The Brazilian predominantly made his name at Hoffenheim as a 10 who was riddled with numbers; with goals and assists coming out of both ears. However, on moving to Liverpool, Firmino initially struggled to adapt, although that soon turned around once Klopp got his mitts on him and turned him into a so-called 'false nine'. Since then he has established himself as one of the world's finest strikers.
"Every time Shaqiri gets the ball, his first thought is… 'what can I make happen?'" 🔥

🗣 Listen to this week's FREE Anfield Wrap podcast here 👉 https://t.co/M7zkv7ZGxa pic.twitter.com/yZ1HfCVapP

— The Anfield Wrap (@TheAnfieldWrap) November 13, 2018
Now that Firmino has been asked to, on occasion, revisit his old position, behind Salah rather than next to him, he has had a somewhat tougher time. He did, though, show an improvement in the second half against Fulham on Sunday, which perhaps indicates more of an understanding and a signal of adaptation to his new duties.
Salah is still being his useful and goal-threatening self, but has also needed some time to get used to not being able to cut in from the right as he did to such great effect last season. Centrally, he has found himself getting surrounded by defenders who know after the previous campaign how incredibly dangerous the Egyptian can be when left to his own devices. In turn he is creating space for others, which might be just the ticket for the new-boy Shaqiri.
The £13m signing from Stoke City divided opinion when he arrived but, as discussed on The Anfield Wrap's free podcast yesterday, he has not put a single foot wrong so far, and has been one of his team's most in-form players of late. The remarks from Gary Neville about his perceived laziness have been proven to be fecal matter of the horse variety, perhaps even motivating Shaqiri to prove him and an undeserved reputation wrong.
The particularly interesting thing about Shaqiri in his role on the right of the attack is that he isn't merely taking on the same role that Salah thrived in last season, but is adapting to the team and dropping deeper, pulling strings and is often the catalyst for some of his team's best moves.
What will also be interesting is whether this is a permanent future role for the Swiss maestro. He did play more as a 10, or advanced eight, in the 3-0 win over Southampton where, despite appearing to thrive, he was pulled at half time for allegedly not satisfactorily carrying out his off-the-ball instructions.
Whether it is something Klopp revisits down the line may depend on whether Shaqiri's form is seen as an improvement in understanding what is necessary, or if the manager sees his current position as ideal for him. A move back centrally, though, may just allow Firmino and Salah to return to more familiar roles.
The 4-2-3-1 is not a formation that will be used all the time, but is likely Klopp's way of forcing the opposition to have to second guess Liverpool's setup and tactics, rather than be allowed to prepare for last season's electric 4-3-3 every time.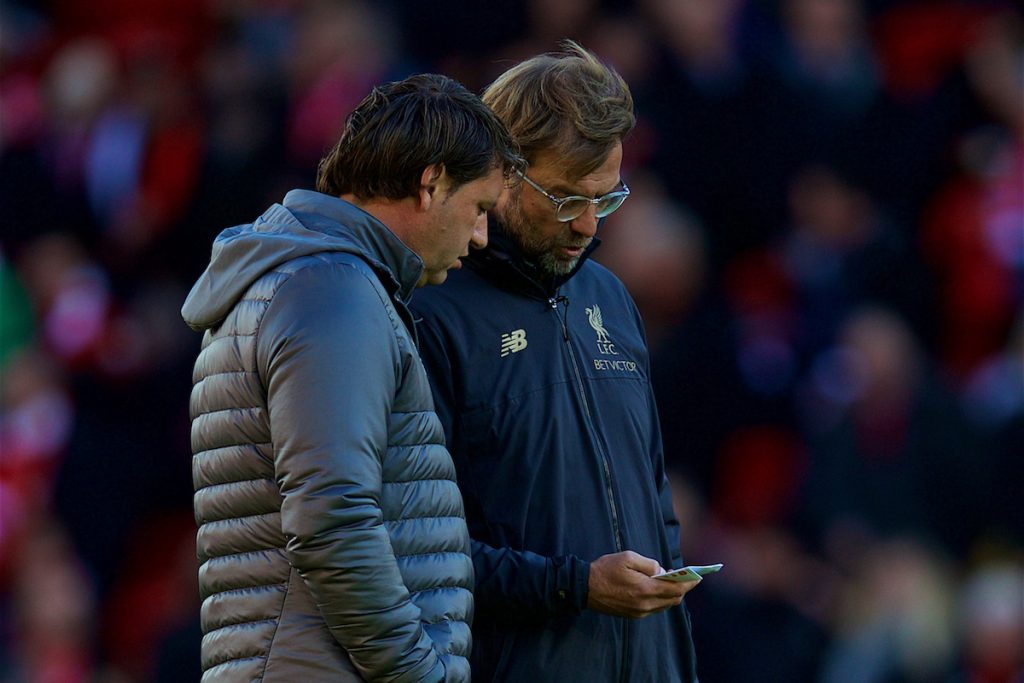 The midfield will need to adapt as well. Fabinho and Gini Wijnaldum didn't seem to always know where they needed to be against Fulham, sitting too deep and not being able to find much in the way of options in front of them. Neither played badly but both will need to adapt to a system that effectively requires two sixes, as will the returning Jordan Henderson and Naby Keita.
It was interesting to see Klopp allow a period in which Fabinho and Henderson played together on Sunday, whereas the previous assumption was that it would be an either/or situation between them, happy enough to see two naturally deeper players patrol the midfield at the same time.
In essence, it is a system that requires the whole team to adapt, but so far it has at least shown promise of being a viable way for Liverpool to break down parked buses.
It was, of course, the regular formation of choice for Klopp when he was doing wonderful things at Borussia Dortmund. It would be no surprise whatsoever to see him utilise it more often with his ever-improving Reds.
It is merely evolution rather than revolution, but once the players have got used to it as a further option to an already devastating arsenal, it promises to give even more reason for opposition teams to fear this Liverpool side.
Who knows, it might even lead to new recruits who specialise in the number 10 position being brought to the club in future transfer windows. Maybe someone like, say, Fekir…
Oh God, he mentioned Fekir. How thoroughly wanky…
We've been nominated for @The_FSF awards and we'd appreciate your help by voting for us in the Fan Media of the Year category! 🗳️

✅ Vote for TAW
✅ Vote for @Carra23
✅ Vote for @MoSalah & @VirgilvDijk
✅ Vote for @JNorthcroft

Nice one 👊

Vote here: https://t.co/wn2w7FrhjU pic.twitter.com/2qkyxWpYvZ

— The Anfield Wrap (@TheAnfieldWrap) November 6, 2018
Recent Posts:
[rpfc_recent_posts_from_category meta="true"]
Pics: David Rawcliffe-Propaganda Photo
Like The Anfield Wrap on Facebook