THINK back to the person you were three years ago.
Have you changed? Have you matured in any way? Have you ever given it a second thought?
I can categorically say that both I and my life have changed for the better. This is likely to do with me evolving past my 20s and no longer being able to dismissively tell myself I will sort everything out at 30. But I've grown up a great deal, learnt things about myself and am generally a better person for it.
Jürgen Klopp has also changed. By his own admission, he has improved himself on both a professional and personal basis. He is worldlier, more adaptive and considerably more informed about the trials and tribulations of guiding an elite-level, English football club in their quest to reclaim domestic dominance.
Klopp touched down in Liverpool just over three years ago now and allegedly uttered the phrase: "OK, let's build this". Fast forward and the building in question has been unmistakable to the eye.
Liverpool Football Club has returned to the top of the European assemblage at a time when its whole sense of purpose and ambition was in doubt and the future seemed bleak and distorted.
It felt at the time Klopp was Liverpool's last hope to do things their way, as someone who understood the values we so cherish and place upon our footballing ambassadors. Thinking back, the picture painted of the manager and the future of The Reds was not always in keeping with the reality that came to pass.
Video clips and articles were fervent at the time, seducing us all with talk of Gegenpressing and swift counter-attacking football. We were selling ourselves a brand of heavy metal football we had yet to witness in the flesh, in the resplendent red of our lads.
Klopp's early days were true to form. The opening fixture at Tottenham was awash with heat maps, running stats and images of Adam Lallana collapsing exhausted into his manager's arms.
Yet even early on, Klopp wasn't without criticism and objection from certain quarters. His dalliances and persistence with certain players in line with pretend Twitter fitness gurus labelling every hamstring twinge this side of the Mersey a product of Klopp's overexertion on the training pitch, was enough for there to be questions among some regarding his management techniques.
Another early stigma the German faced was his side's inability to defend and particularly defend a lead in games. Liverpool had suffered with inconsistencies and mistakes during the end of Brendan Rodgers' reign, and it was quickly assumed Klopp was unable to stem the flow of cheap goals and lack of concentration in key moments.
Yet all of the perceived vulnerabilities during the manager's early days were offset by some spellbinding attacking play, which led Liverpool to frontload their offensive style and outscore opponents with a fierce tempo added to their game.
The point being the manager has always found a way, always worked things out and always done things his way.
Throughout the past three years a developing identity on the pitch has been clear. From the high-scoring and the high-conceding emotional rollercoaster to the defensively solid and sensible unit we're now seeing.
"We are ready for a big, big fight." ✊

Three years ago today, Jurgen Klopp took over as Liverpool manager… 🇩🇪

🗣 Subscribe and listen to our exclusive, 30-minute interview with the boss 👉 https://t.co/lmNtBz4ADz pic.twitter.com/rcBep6b55a

— The Anfield Wrap (@TheAnfieldWrap) October 8, 2018
Liverpool have always felt on a journey and one that has left room for improvement.
This was never going to be fixed overnight. The general care Klopp invests in people along with some inevitable bumps in the road and genuine mistakes made have meant that he has had to reflect and adjust on numerous occasions and will continue to do so.
The morals and ideologies Klopp holds as both a person and a football manager further highlights why this has been such a mammoth effort to maintain, in line with keeping Liverpool on an upward trajectory.
Take Trent Alexander-Arnold as an example. It can be argued the young Scouser may never have developed at the frantic pace he has without being given such opportunity, faith and responsibility that Klopp has placed in him, and undoubtedly had repaid.
Not many managers would thrust an untested teenager into the melting pot of Old Trafford when Liverpool come to town, yet Klopp was unwavering in his belief in both the youngster and his own identity.
There are undoubtedly occasions when Klopp has been made to look slightly hypocritical, also. His earliest comments around the loaning of youth players and the baulking at the transfer fee of Paul Pogba meant he had to eat a small portion of humble pie.
Yet he has been the first to admit this, as candidly as saying at times he talks shite. To dig somewhat deeper, there came a realisation early on with Klopp that the game wasn't straight for the way he wanted to play it, or like he previously played it in Germany.
Klopp realised that he had to take the opportunity to improve the club when it came, from transfers and tactics to backroom staff and long-held affiliations. The departure of Zeljko Buvac is something still disputed to this day, yet what is undoubtedly true is that Klopp's emphasis on togetherness and cohesion club wide will not be damaged at any cost.
It is true that the manager has constantly had to battle imbalances throughout his time at Liverpool. A clear emphasis on attacking football at times felt like overcompensation for defensive frailties both collectively and individually.
Klopp always maintained that he was as good a defensive coach as he was offensive and that defending started with his forwards, emphasising the need for the team's balance to be correct for his side to flourish.
This season we have seen a side to Liverpool many never expected. The longing for last season's halcyon attacking football is understandable to an extent, but the riddance of needless errors from last year and before has been a welcome factor to life at Anfield.
Virgil van Dijk and Alisson Becker, alongside the continued development of the likes of Trent, Joe Gomez and Andrew Robertson, have given The Reds a more solid and stable unit to build on and there is less feeling of a lottery element to Liverpool matches.
What has not been as reliable is the ruthless attacking play Liverpool have become so famed for. A question of whether abandonment or conservatism is present in the attack is now persistent. A counter argument is that small details not being executed at key times is the only thing still keeping the shackles on.
There is also a consideration to the physical conditioning of his players Klopp is renowned for. This has influenced decision making in both of Klopp's previous full seasons at Liverpool with the blistering start to 2016-17, offset by the impeccable form in the second half of 2017-18, exemplifying how lessons were learnt and adjustments were made.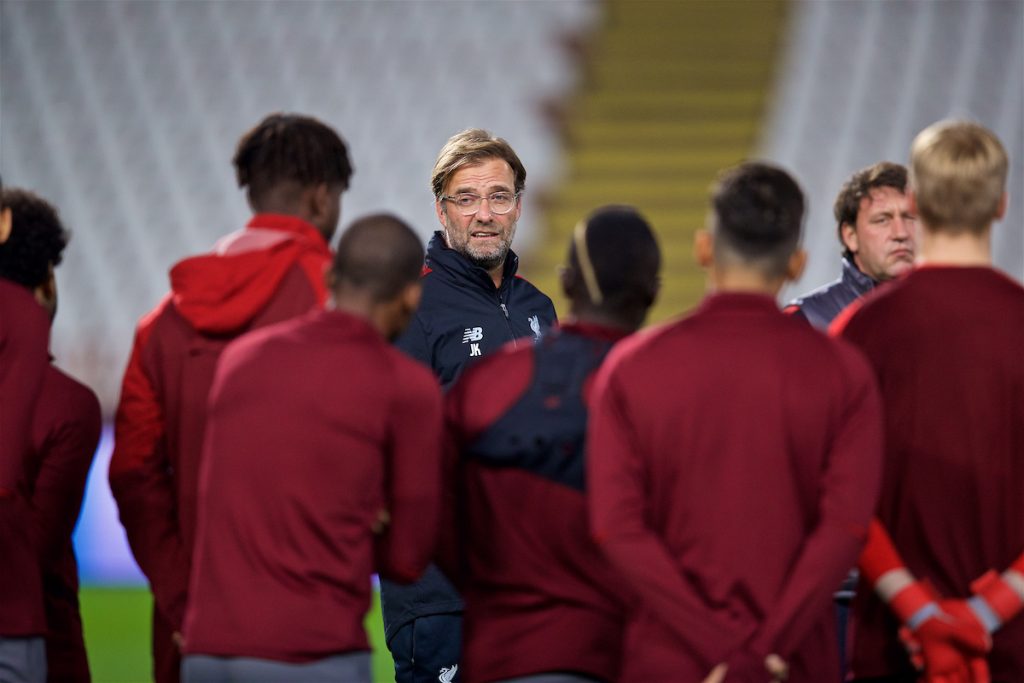 In a post-World Cup summer which went long into the night, every elite team in Europe has had major preparation disruption and a major call to make on how they physically manage their stars without facing an end of season burnout.
Whether this current incarnation of Klopp's team is by default or design, or maybe both, remains unseen and can only be properly judged with time.
Yet the one thing which remains, without question, is the trust the manager has earned to adapt and manoeuvre his team to where he wants them. The pressure of where our next steps now lead is not only a testament to the assemblage of players at the club, but the sense of elevated expectancy from the continued improvement in recent seasons.
That comes from a coach who has always had a penchant for answering questions and doubts by improving his team for the better. If there is more to come from Liverpool this season, then a record points return and unbeaten start at this junction is not a bad platform to build on.
In three years' time, we will all be different people. We will all have memories to fall back on as a reference point to help us further evolve and better ourselves
If the experience gained through having Jürgen Klopp in our lives tells us anything, it is that sometimes trusting the process hopefully leads to the greatest of rewards of all.
We've been nominated for @The_FSF awards and we'd appreciate your help by voting for us in the Fan Media of the Year category! 🗳️

✅ Vote for TAW
✅ Vote for @Carra23
✅ Vote for @MoSalah & @VirgilvDijk
✅ Vote for @JNorthcroft

Nice one 👊

Vote here: https://t.co/wn2w7FrhjU pic.twitter.com/2qkyxWpYvZ

— The Anfield Wrap (@TheAnfieldWrap) November 6, 2018
Recent Posts:
[rpfc_recent_posts_from_category meta="true"]
Pics: David Rawcliffe-Propaganda Photo
Like The Anfield Wrap on Facebook