I WAS commentating on the Napoli vs PSG game on Tuesday night.
The good news is that it was a draw, the bad news is that it was a bloody good draw.
If Liverpool are to play any Champions League football after New Year, they will first need to play some of that Champions League football they were playing at the start of this year.
The accident that was waiting to happen in Belgrade will receive more than enough discussion elsewhere on TAW, but it was an untimely reminder that the Champions League represents the highest level of club football in the world. Even the minnows have a bite.
On the evidence of the two close encounters I've witnessed over the last couple of weeks, both Paris Saint-Germain and Napoli are capable of playing at that highest level.
It is true that a proper Anfield European night on December 11th could right all the wrongs and deliver the requisite win over the Italians. But don't count on it.
Liverpool cannot simply rely on tradition and history to magically spirit them past the company they are keeping in the group phase this season. They were third seeds, remember. Brinksmanship doesn't always deliver. 2004 was then, this is now. Neil Mellor, Florent Sinama-Pongolle and that other fella have all left the building.
PSG have spent a couple of deep oil wells on trying to gatecrash the top table of European football. They are still to get beyond the quarter finals of the Champions League and have the air of a spoilt rich kid who can't make his own way in the big bad world beyond the French League.
"We're not asking them to make a magical step into the unknown… we're just asking for them play like they did six months ago."

🗣 Subscribe and listen all of our reaction to Liverpool's defeat to Red Star and looking ahead to Fulham at the weekend 👉 https://t.co/yixggu7yvj pic.twitter.com/GuCTFZIk5c

— The Anfield Wrap (@TheAnfieldWrap) November 7, 2018
Liverpool needed a late goal to beat them in September but played with an intensity and drive that PSG couldn't stir their souls to match that night. More of the same will be required in Paris.
In their first game with Napoli at Parc des Princes, PSG found themselves 1-0 down at half time. Thomas Tuchel, the latest manager hired to try to add up the sum of their precious parts, changed tactical tack. A switch to 3-4-3 helped make them more of a team. They still got dogs' abuse in the French press but they deserved the solace of Angel Di Maria's late equaliser.
Last Tuesday, they started the game with the same setup. Three at the back. No Edinson Cavani, no Adrien Rabiot, no passengers. PSG owned the first half in Naples playing with authority and control. They certainly merited the lead they grabbed on the stroke of half time.
Cue Carlo Ancelotti. The Napoli he sent out for the second period were totally reenergised, pressing high and pushing PSG back until they forced the penalty that squared the rematch.
Napoli have a reputation for not travelling well but Kalidou Koulibaly is currently playing as well as any centre back in the world and the Brazilian Allan proved a determined defensive shield in central midfield on Tuesday. Ancelotti's diddy man strike force of Lorenzo Insigne and Dries Mertens are both smart, canny players.
There is little genuine pace in the team and they sat deep and allowed PSG to dictate to them for 45 minutes on Tuesday before upping the ante with a more aggressive, progressive approach after the break.
Tuchel's side didn't lie down when Napoli got in their faces and challenged their grip on the game. Quite the opposite. Both Neymar and Marco Verratti began to get mardy and confrontational. Their yellow cards were only a matter of time.
Up to that point, Neymar had been outstanding. I spent most of the World Cup dying to give him a good talking to, but on Tuesday he took responsibility for himself and the team, constantly looking for the ball to run past defenders and combine with the blur that is Kylian Mbappe. Only when he lost focus did he lose his way in the game. Memo to Virgil van Dijk.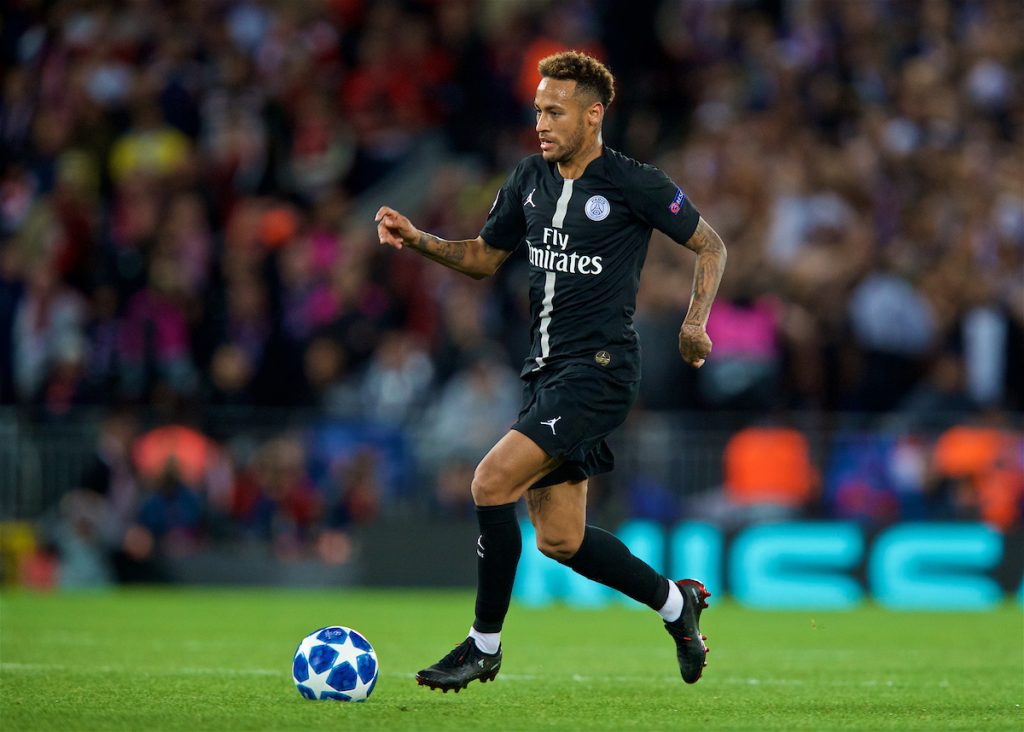 The worst you could say of PSG is that they didn't kick on from half time and win the match, and it is their failure to realise their full potential that is the recurring question mark against them. When push comes to shove you just wonder if they truly believe they can see off the best in the Champions League.
Liverpool must try to push and shove them towards those doubts in three weeks' time… Rattle their gilded cage and ruffle those preened feathers, and find out how deep their desire to succeed really goes.
Napoli did a bit of that to Liverpool in Italy last month. Their pugnacious Portuguese left back Mario Rui showed the way, fancying himself to force Mo Salah back down the flank they were contesting. His teammates caught the drift.
Napoli are not as talented a team as PSG but they "avere i coglioni" (look it up). Their visit to Anfield will rock the rafters but if Liverpool are back on song (and there's an "if" in that sentence), they can win a few of those battles of will and impose themselves on the night.
European football is awash with rumours and accusations just now. FFP is under scrutiny, a Super League is (apparently) under discussion. This is not the Europe that Bob Paisley and Joe Fagan conquered but it is no less contagious.
The trophy that Klopp's boys had to walk past in Kyiv is still the same and so is the kudos. Liverpool recently went six years with only a glimpse of the giddy pressure they face in the remaining two group games. Embrace it. This is the place to be.
Going deep into this competition requires more memories of the kind Liverpool made against Manchester City and Roma. That's why it's special.
Bring it on.
We've been nominated for @The_FSF awards and we'd appreciate your help by voting for us in the Fan Media of the Year category! 🗳️

✅ Vote for TAW
✅ Vote for @Carra23
✅ Vote for @MoSalah & @VirgilvDijk
✅ Vote for @JNorthcroft

Nice one 👊

Vote here: https://t.co/wn2w7FrhjU pic.twitter.com/2qkyxWpYvZ

— The Anfield Wrap (@TheAnfieldWrap) November 6, 2018
Recent Posts:
[rpfc_recent_posts_from_category meta="true"]
Pics: David Rawcliffe-Propaganda Photo
Like The Anfield Wrap on Facebook