EVERYONE remembers where they were when John F. Kennedy was shot, or when man walked on the moon, or when Deirdre Barlow got sent to prison.
However, few people probably remember where they were when Liverpool announced the signing of Dominic Solanke from Chelsea. I do, though.
I was on holiday in Malaga, sat by the pool trying to figure out if the fella on the sunbed next to me was Kieron Dyer (it was). I checked my phone to remind myself of who Dyer had played for so I could start a conversation and become his best mate, only to see headlines that enticed me more. "Liverpool confirm signing of Chelsea striker."
There I was contemplating how well Roberto Firmino and Diego Costa would dovetail, only to find that it was actually Solanke heading to Anfield.
Not to say I didn't like Solanke. I'd heard the name and was aware that he was highly-rated in youth football circles, but it was a Liverpool squad that needed proven goals and proven goals right away heading into the following season. Who else was going to score them? That Egyptian fella we were getting from Roma? Yeah right…
The then-teenager impressed in his first pre season, winning the golden boot as England claimed the U20 World Cup, before firing in an impressive opener for his new club against Crystal Palace in the Premier League Asia Trophy.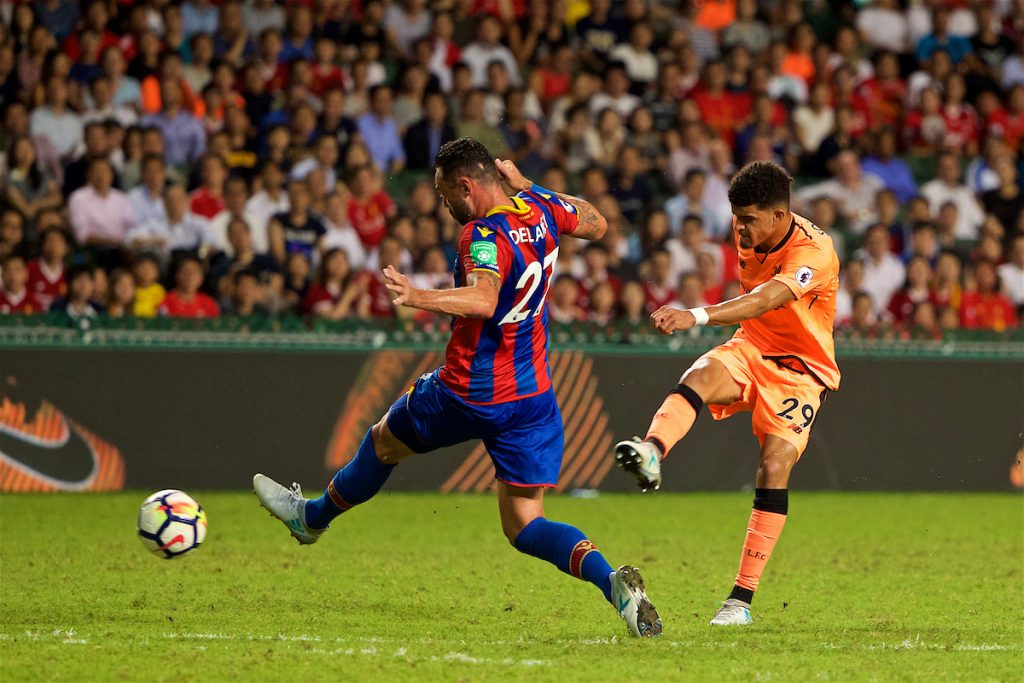 Despite looking the part in friendlies, when the competitive stuff began it was bench duty for Solanke, but that was fine. He needed to be handled with kid gloves and to learn from teammates such as Firmino, Sadio Mane, Mo Salah and Daniel Sturridge.
He did get game time though, perhaps more than some anticipated. By early November 2017, Solanke had made nine sub appearances and started the EFL Cup defeat at Leicester City. Also, on a cold Wednesday night in Stoke in late November he was a surprise starter in the 3-0 victory against The Potters. Jürgen Klopp clearly trusting him enough to ignore the overused cliche.
A week and a half later, even more surprisingly, he started in a Merseyside derby, and was denied a late winner against West Brom a few days after that by a handball ruling.
Overall, Solanke made 27 appearances for Liverpool last season, with six starts. Not what you'd call a busy campaign, but one where he was very much involved. His one and only goal against Brighton on the last day promised to be a catalyst for him to push on in his second year on Merseyside.
However, so far in 2018-19 Solanke is yet to make a single appearance for his club, or even feature in a Premier League matchday squad.
During some of that time he has been injured, but for the most part he has been available, yet for one reason or another Klopp has decided not to use him.
Concerns were raised about his lack of goals. Even if most appearances were off the bench, one in 27 games does not sound great for a striker. However, Klopp had kept faith with him all through last season despite that, because his performances had shown promise.
Perhaps it's down to the increased pressure this season to win every single game, given the last year's discovery that it somehow takes more points to win the league than there are available to beat this Manchester City team to the title. Firmino has played most games so far, while the experience of Sturridge has been the fallback option on occasion. This Liverpool team is no longer one that can afford to carry a young player who is still finding his feet at this level.
Maybe last season, with Liverpool playing at such a high tempo, it was necessary to give Firmino more rest time, and with Sturridge largely injured or untrusted at the time, Danny Ings slowly recovering from long-term injury and Divock Origi out on loan, Solanke was the go-to spare. Not anymore. Sturridge has regained a bit of mojo, Origi is back and Liverpool's slightly less intense style is perhaps keeping Firmino fresher for longer.
As well as trying to oust Firmino, Sturridge and Origi, Solanke also has the threat of Rhian Brewster behind him. A younger talent but one who is very highly rated and has apparently been assured of chances in the first team in the second half of the season once he has recovered from injury. Beyond that, the promise of under-18 strikers Paul Glatzel and Bobby Duncan might even be cause for concern in terms of future competition, albeit likely a good couple of years from now.
That pressure should be motivation for Solanke. His record at Chelsea and with England at youth level has been exemplary, but now, at the age of 21, he needs to assert himself at the top level.
Starting with the trip to Watford on Saturday, Liverpool are set to play 12 games in a six-week period, so this could be the stretch of games that Klopp has been saving Solanke for, believing that a fresh young striker might be the difference maker on certain occasions, especially around the Christmas schedule.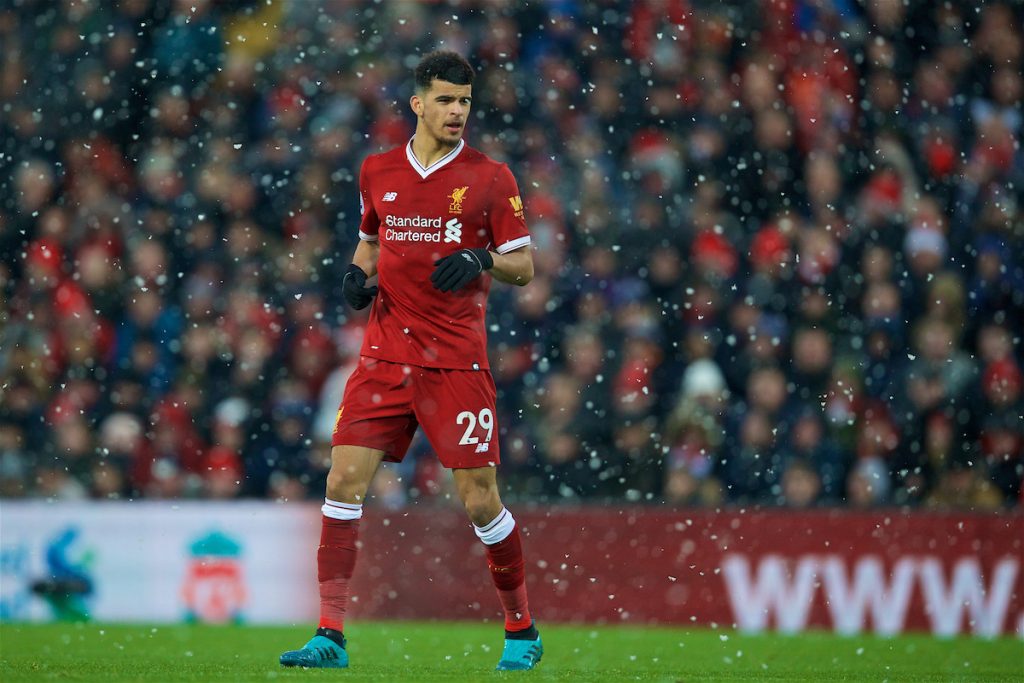 Solanke's lack of minutes has started to become a topic of conversation, particularly after his brace against Italy under 21s for England last week. With English youngsters like Jadon Sancho, Harry Winks and Marcus Rashford thriving, attention has moved to whether players such as Solanke can reach the heights expected of them if they aren't playing regularly for their club.
Some have suggested that Solanke just doesn't look quite up to the required standard, but it's important to remember how underwhelming Harry Kane looked until the age of 21, with only some unremarkable loans in the Football League to his name. He was all set to go out on loan again to Crystal Palace in 2014-15, only to be kept around as an extra body for Tottenham's Europa League campaign. The rest, as they say, is history.
That is, of course, not to say that Solanke will reach Kane's levels. However, as with England's captain, there is a good base there to work from and a player eager to learn and improve. Seeing what Kane has achieved should be motivation for him, but he will struggle to climb those heights without more game time. Kane may not have looked spectacular during loans to Leyton Orient, Millwall and Leicester, but the experiences will have shaped the player he has become.
Solanke could come in useful during the next month and a half when Liverpool play pretty much every three or four days on average. Beyond that, when the real business end of the season kicks in, you wonder if he'll be made to retreat to the shadows once again, in which case perhaps a loan from January onwards could be the answer. Rangers, Huddersfield, Newcastle, Fulham and West Ham have already been linked.
It seems that the player himself isn't overly concerned just yet, though. The Daily Mail reported last night that Solanke is happy enough at Liverpool and appreciates that it will take time and patience for him to force his way back into Klopp's plans.
He said "Jürgen is a great manager and he knows what he is doing, especially when he is bringing people through.
"You can see what he has done with Trent (Alexander-Arnold) and Joe (Gomez) at the moment and how far they have gone. They have been two vital players for us this season. I have known them for a few years now so I have seen them breakthrough and he definitely helped them.
"All the team are good (providing support and advice), really. Everyone has helped me. From the moment I got to Liverpool, they all made me feel welcome and I settled in quite quickly. Whenever they see someone they can give a hand to, they always will."
It's a good point that Solanke makes regarding Alexander-Arnold and Gomez. Both were trusted when Klopp felt they were ready, and they have repaid their manager's faith and then some. It might not seem an attractive proposition to fans to suggest that Solanke could be called upon in upcoming games, but then those same fans would have likely winced had you said to them at the start of the season that Gomez would be Virgil van Dijk's main partner at centre back over the first few months of the campaign.
The time is now for the player to take any opportunities that come his way. His double for England under 21s last week brought his name back to the fore, and it will be goals and high-level performances that will be required of him at club level as and when his manager hands him the chances.
As I sat there in sunny Spain with Kieron Dyer giving me a dirty look for staring, I contemplated my next move. I'd been thinking and drinking for long enough to convince myself that Solanke would be the real deal. That Klopp wouldn't sign off on the deal if he wasn't convinced he could turn him into the next Robert Lewandowski, and then I imagined all the times I'd celebrate his title and Champions League-winning goals.
I turned to Dyer and said "Kieron… You don't happen to know where I can buy some pyro, do you?"
"This year we *can* win the League, we're in position now where we can win the League.

"Man City can twat teams 10-0 if they want, but we'll still be there." ✊

🗣 Listen to this week's FREE Anfield Wrap podcast 👉 https://t.co/CULYfNh2fs pic.twitter.com/oT0M2eV4Qq

— The Anfield Wrap (@TheAnfieldWrap) November 19, 2018
Recent Posts:
[rpfc_recent_posts_from_category meta="true"]
Pics: David Rawcliffe-Propaganda Photo
Like The Anfield Wrap on Facebook