IT'S dead hard playing centre mid for Liverpool.
Been saying it for a while and today that hopefully has been made crystal clear. I say "hopefully" because there have been people refusing to accept this for an astonishing length of time. I say "hopefully" because I do hope. I genuinely think that people desperate to talk about football should acknowledge this.
There is an argument the hardest job in football could well be playing centre mid for Jürgen Klopp's Liverpool. That he asks so much. That he wants the lad in the middle of his three to do about five jobs, to be almost everything, to be the three things you can be in a 4-2-3-1. It could be that that is unfair.
Liverpool spent £40m on a really good midfielder in the summer but today it was all too much for him. Fabinho looked like he wasn't fit enough, sharp enough, smart enough. Like his touch wasn't good enough. He looked absent while present. He looked a million miles off.
For years this column, your correspondent, has found himself criticised for being too kind about Jordan Henderson. For being too upbeat about Liverpool's captain. The truth of the matter is that for an age Henderson has had the world asked of him and has been too harshly criticised.
And this will extend to Fabinho. He scraps and works. He never shirks and I bet he would have liked to. I would have in his shoes. But he shows and is keen. The truth is that it is dead hard playing centre mid for Liverpool.
The hope and expectation is that Fabinho learns from tonight. He watches the video. He has a think about it. He redoubles efforts around being 10 per cent fitter. He takes it on the chin. He recognises the size and scope of the challenge. Because while this manager made it easier for him for a half, that will not happen again. There should be no doubt about two things:
Fabinho has the talent to become the starting centre mid for Liverpool.
Being the starting centre mid for Liverpool could be the hardest job in football.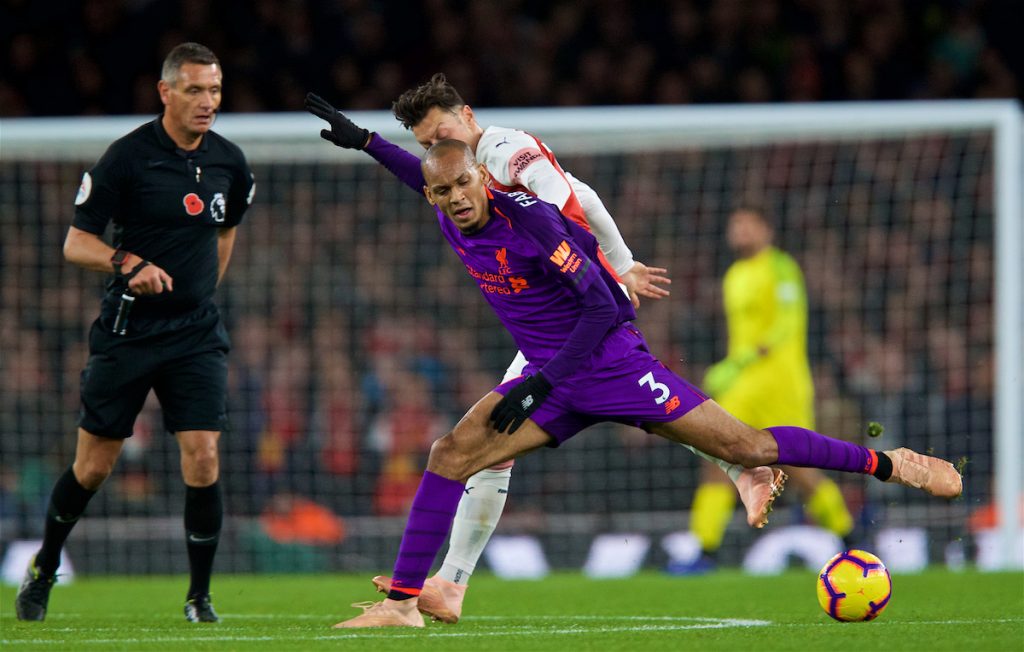 And so the remainder which isn't impacted like this lead weight on a rubber sheet. The Reds were the better side for much of the first half. They were the side most likely but this Arsenal is worth watching and liking. They are in the business of being in business. They are a migration of a football team, an avian swoop and shift. They are the boys and are enjoying being the boys.
There is a chance that no team in the country could be more fun to support this season than them. They are effervescent and teeming with brio. They want a bit of it. Whatever it is. Their manager has looked at his squad and backed them not to find glory but to be glorious. Fair play to them.
But The Reds should still have beaten them. Virgil van Dijk should have had a hat trick. Andy Robertson could have had three assists. Sadio Mane spent his evening just being in vain. Everything nearly there, nothing quite right. Liverpool, even while poor, even while not functioning or while accommodating in central midfield, were the better side at all the football that matters.
We can have 10,000 words on the James Milner finish for the opener. Its values were Yorkshire and Protestant, the ball fell to the most ideal man to make sure what had to happen did without a flourish. He roared at the crowd because he knows what it means. He is a man you would follow to the very jaws of Hell or beyond. He is the best and the finest of us yeoman. An artisan better than most artists. He should never be damned with faint praise, he should be overwhelmed with adoration. He is the business. The footballer you would call upon.
It was 90 minutes of Mo Salah almost getting in. God I love him. The less he succeeds the more he becomes ours. He is a man of so much brain. Talk about his speed or his touch by all means. But he outthinks you three times before he even has the ball under his spell. He will have the finest season.
A point isn't a shame. Klopp's Reds remain unbeaten having faced four of their six closest rivals by this stage — and three of them away from Anfield. A point only feels it because of Manchester City's class. The bigger issue is perhaps what we ask of our boys time and again, but you know what lads? We're all in this together, for better or worse. They are our lads. They always were. They always will be. Let's encourage them and understand the scale of the challenge in both micro and macro senses.
Eleven down, 27 to go. They are our Reds and they have very hard jobs.
"He's Virgil van Dijk…" 🎶

🗣 Subscribe and listen to our immediate post-match reaction show after the Reds stay unbeaten and go top of the League 👉 https://t.co/Y74hlJ4yQF pic.twitter.com/MAM92dbrJ5

— The Anfield Wrap (@TheAnfieldWrap) November 3, 2018
Recent Posts:
[rpfc_recent_posts_from_category meta="true"]
Pics: David Rawcliffe-Propaganda Photo
Like The Anfield Wrap on Facebook