SEVERAL talking points have emerged in recent weeks following Liverpool's most difficult run of fixtures in over a decade.
From the underwhelming impact of some new signings to the ponderance of the midfield axis, this was a period of football which culminated in Jürgen Klopp's men being perfectly placed for the harsh winters of demanding domestic and European tribulations to come.
Yet among all the furore over front-three synchronisation, Pep Guardiola's tactics and Daniel Sturridge's worldie, there were some off-pitch stories which came to the fore.
During The Reds' 3-0 victory over Southampton in September, Labour leader Jeremy Corbyn, along with Shadow Chancellor John McDonnell and Walton MP Dan Carden were pictured at Anfield engaging with fans and taking in the game, which was played during Labour's party conference in the city.
A week later when Liverpool visited Chelsea at Stamford Bridge in a pulsating 1-1 draw, the travelling support unveiled a banner in support of justice for the victims of the Grenfell Tower fire in West London, which took place on June 14, 2017, tragically killing a reported 72 people and injuring countless others.
Both incidents drew attention from the Liverpool-supporting world and beyond, drawing a range of opinion.
Some felt and, will always feel, there is no place for political or social influence in football.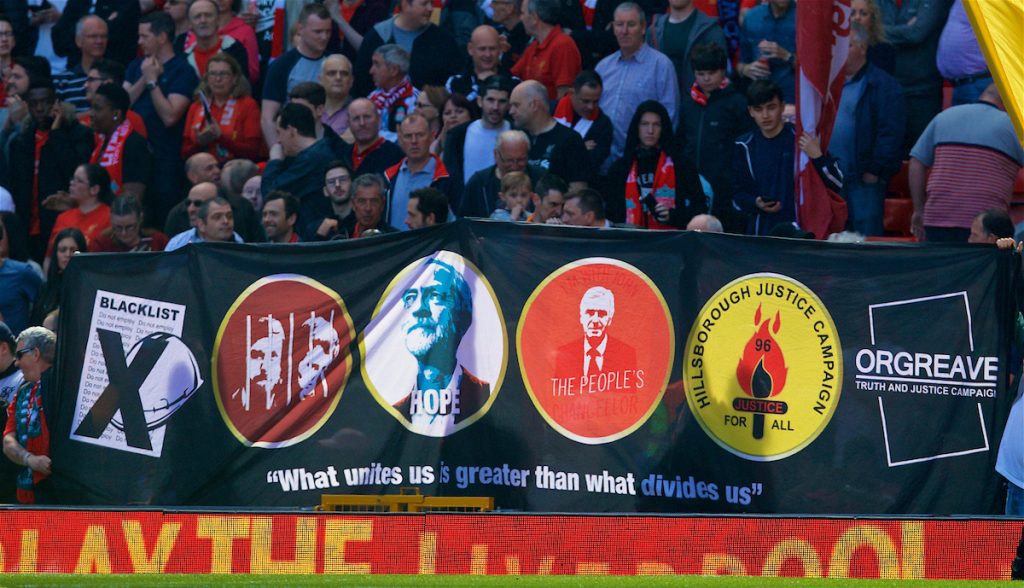 Some were fully behind the social and moral ethic to both stories and would insist on them being intrinsic to the very fabric of Liverpool Football Club.
Then there were those supporters from across the country, a section of whom were based in the same West London district where the Grenfell Tower stood, who took such a personal affront to what I can only assume they perceived to be acts of rogue individualism and indirect confrontation from Liverpool, that they felt it necessary to meet it with the repetitive and tiresome rhetoric of insults towards the club and fans using various social media formats.
Here is the thing; it is important — no, imperative — not to group. It is the thing I'm most conscious of writing this article.
Even grouping our own fans is completely nonsensical given the demographics far and wide that make up the support of Liverpool Football Club. The whole concept of grouping is murky, to say the least. Yet with Liverpool, there are certain ideals that should be acknowledged and accepted, it is what makes the club affectionate to so many and is what makes others despise it so.
For me to also suddenly label another set of fans in a generic way would be completely counterintuitive to what I'm trying to put across, which is that everyone is different. Even if we're all affiliated to our own certain associations that we get behind every weekend, each of us functions in a different way.
And still the same questions of political and social crossover in football remain. When taking them in the context of the incidents referenced, the following things are unequivocally true:
Jeremy Corbyn, an Arsenal fan, didn't happen by chance to be passing Anfield on a Saturday afternoon and decide to take in a game of football with some mates.
Nobody in that Liverpool away end, not least the people responsible for the Grenfell banner, did it to curry favour in any way with anyone, or act with elitism in a footballing or social sense. Quite the opposite, in fact.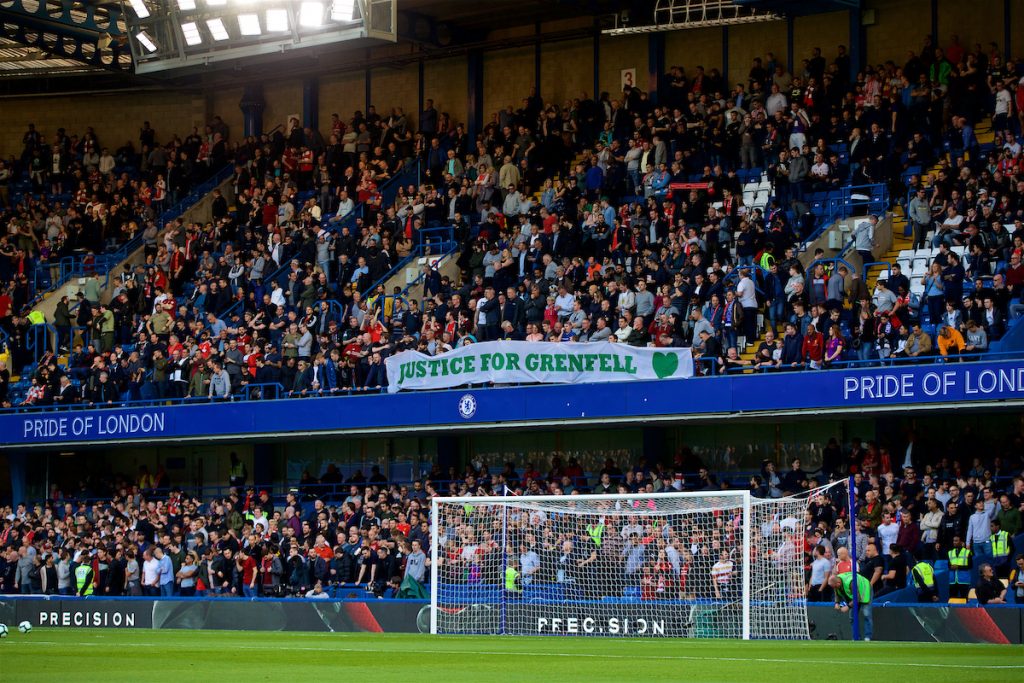 The next question then is why Liverpool? Why is it down to us to highlight the need for accountability in one of the biggest British tragedies in modern time? Why does the leader of a party whose values are based on social equality and democracy chose our club out of the 91 others in the country to be seen at?
The history of Liverpool is prevalent. How can it not be given that we suffered an excruciating tragedy of our own that to this day is being played out in the high courts some 29 years later? Any sense of others having to go through such incomprehensible grief and mistreatment is surely going to resonate.
The political alignment going back to Bill Shankly also plays a part. Liverpool has always had its roots in socialism and to this day will strive, on the terrace level at least, to see these types of value implemented. The ongoing Fans Supporting Foodbanks campaign and past rebuffing of ticket-price increases are evidence of such moral standpoints.
Yet perhaps the biggest indicator is the city and its people. We are a unique city, one that is in the main completely welcoming to diversity and culture, yet with a fierce sense of identity that should be upheld and adopted by all who embrace it.
This is sometimes interpreted as Liverpool believing they're special, elitist from the rest of the country even. When, in fact, history will tell you that this city has had no choice but to fend for itself and intrench itself in order to just survive down the years.
Thankfully those darkest days no longer remain, and progression in Liverpool has clearly been made. However, one thing that remains true to the city and will continue to do so is the impact of its football clubs.
Both Liverpool and Everton have a huge mouthpiece of representation for the city and its people, and therefore both clubs have been used to send out wider views that don't just influence what is happening on the pitch.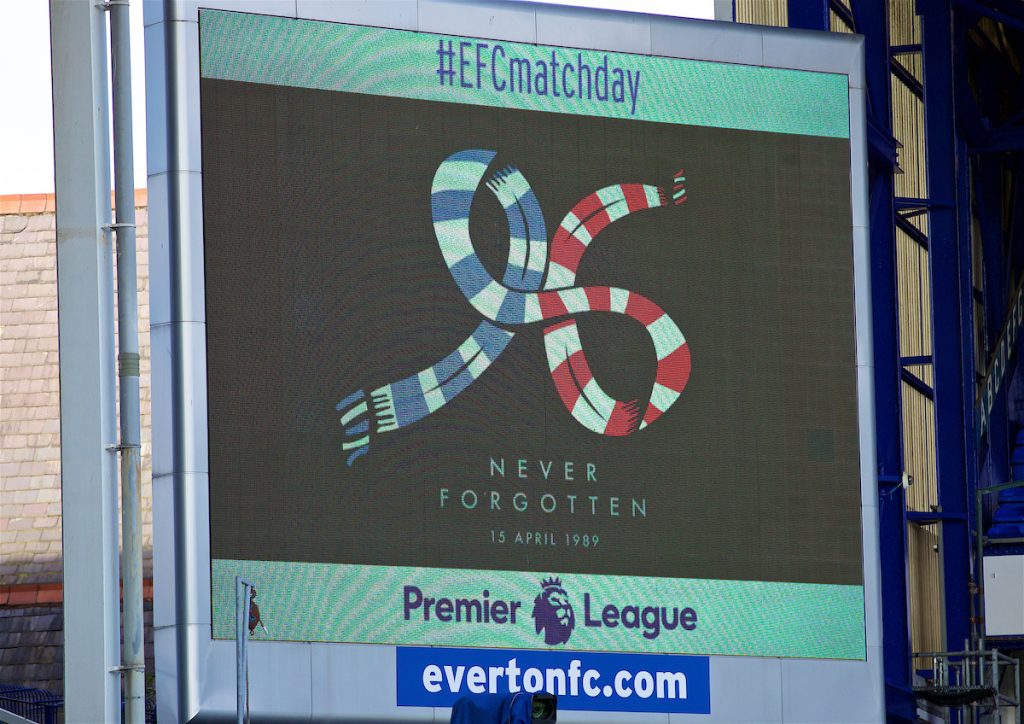 Both clubs are increasingly using their own status to impact positively on the communities they serve and a strengthening of those sorts of bonds will only serve as a positive going forward.
Essentially, football is tribalism in its oldest form. You choose your tribe and you base your agenda and narrative around it. Through this you identify who you perceive as your enemies and look at ways to make them unappealing to you.
People will often cite fact when doing this and label hypocrisy at their foes when doing so. Fact can be found in any argument, it's just in most cases it is given a certain context to support a narrative which does not make it objectively so.
There is no rulebook to follow when it comes to this type of subject and nor should there be. In saying that, the one thing that should be made abundantly clear is that Liverpool as a supporter base fully believe in their right to be unique and to want to do things their way.
If that includes standing up for humanist tragedies such as Grenfell, then I for one am certainly behind it.
After all, it would be much more mundane if we were all the same.
"We are ready for a big, big fight." ✊

Three years ago today, Jurgen Klopp took over as Liverpool manager… 🇩🇪

🗣 Subscribe and listen to our exclusive, 30-minute interview with the boss 👉 https://t.co/lmNtBz4ADz pic.twitter.com/rcBep6b55a

— The Anfield Wrap (@TheAnfieldWrap) October 8, 2018
Recent Posts:
[rpfc_recent_posts_from_category meta="true"]
Pics: David Rawcliffe-Propaganda Photo
Like The Anfield Wrap on Facebook